Wondering if the Beautycounter Overnight Resurfacing Peel really works and is REALLY clean? I've got all the details for you!
Why I'm Passionate About Clean Beauty
When I first began my fertility journey, I was dead set on replacing all of my personal care items with nontoxic alternatives. (And toiletries, cleaning supplies, and pots and pans, and perfumes… The list goes on.) If you're on the hunt for clean skincare that works, you know just as well as I do how difficult it can be to find a winner.
It can be hard to get your hands on simple nontoxic skincare product like a moisturizer that does the job… but things like chemical peels? Forget about it! That's why I'm SO excited to share my review of the Beautycounter Reflect Effect Overnight Resurfacing Peel with you today. This stuff doesn't just work- it's a total game-changer in clean beauty. This pregnancy-safe overnight resurfacing peel is the secret to radiant, glowing skin.
(Seriously, I'm convinced that this stuff works miracles.)
Also, my favorite non-toxic moisturizer is the Ceramide Water Cream, in case you're interested!
Beautycounter Reflect Effect Overnight Resurfacing Peel Review
The Beautycounter Reflect Effect Overnight Resurfacing Peel is a leave-on AHA/BHA peel that improves skin texture and clarity without creating dryness or irritation. AHA stands for Alpha Hydroxy Acids while BHA stands for Beta Hydroxy Acids. Both of these work together to exfoliate the skin.
The concept of a chemical peel may sound intimidating, but this product is completely safe and gentle enough for most skin types. It sloughs away dead skin cells overnight, revealing bright, radiant skin. It has soothing and nourishing ingredients to keep your skin feeling hydrated while looking healthier. What I like so much about this product is that it's a chemical exfoliator rather a physical exfoliator, so it gives that fresh-faced look without having to manually exfoliate your skin. Although, I do love a good physical exfoliator also!
My Experience with the Beautycounter Overnight Resurfacing Peel
Personally, I'm a huge fan of the Reflect Effect Overnight Resurfacing Peel. The ingredients in this product are AMAZING (more on that below) and work together to make a major difference. I noticed a difference right away when using it; the next morning, my skin felt brighter, glowier, and smoother. It reduced the appearance of my pores, made my skin look tighter, and my face feels WAY softer now. I also like to use it right before my menstrual phase when I am prone to a pimple or two. It takes care of those pimples overnight!
This product is ideal if you have dark spots, acne scars, or discoloration because it evens out your skin tone. It also does a great job of reducing the look of fine lines and wrinkles. At $77, it's a steep investment, but it lasts for a long time since it's not an everyday product. I'm pretty picky with what I choose to spend my money on when it comes to skincare, and this resurfacing peel is truly worth the investment.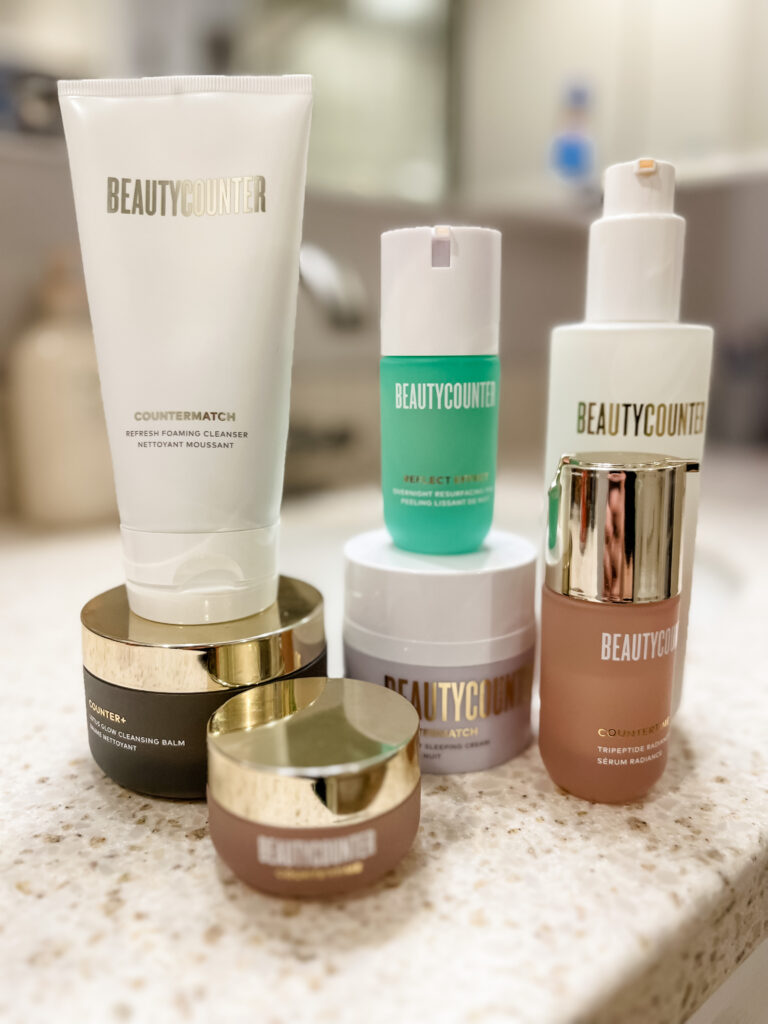 What Is a Resurfacing Peel?
If you're unfamiliar with what a resurfacing peel does, it's not as scary as it sounds. A chemical resurfacing peel doesn't melt off your face or make your skin peel away; it aids in quick cell turnover, regenerating the skin cells and resulting in "new" looking skin that's brighter, clearer, and tighter. Basically, it's really powerful exfoliation. The Reflect Effect Overnight Resurfacing Peel is a super safe, nontoxic alternative to many of the more popular chemical peels on the market. When used consistently, it helps to give you glowy, radiant skin!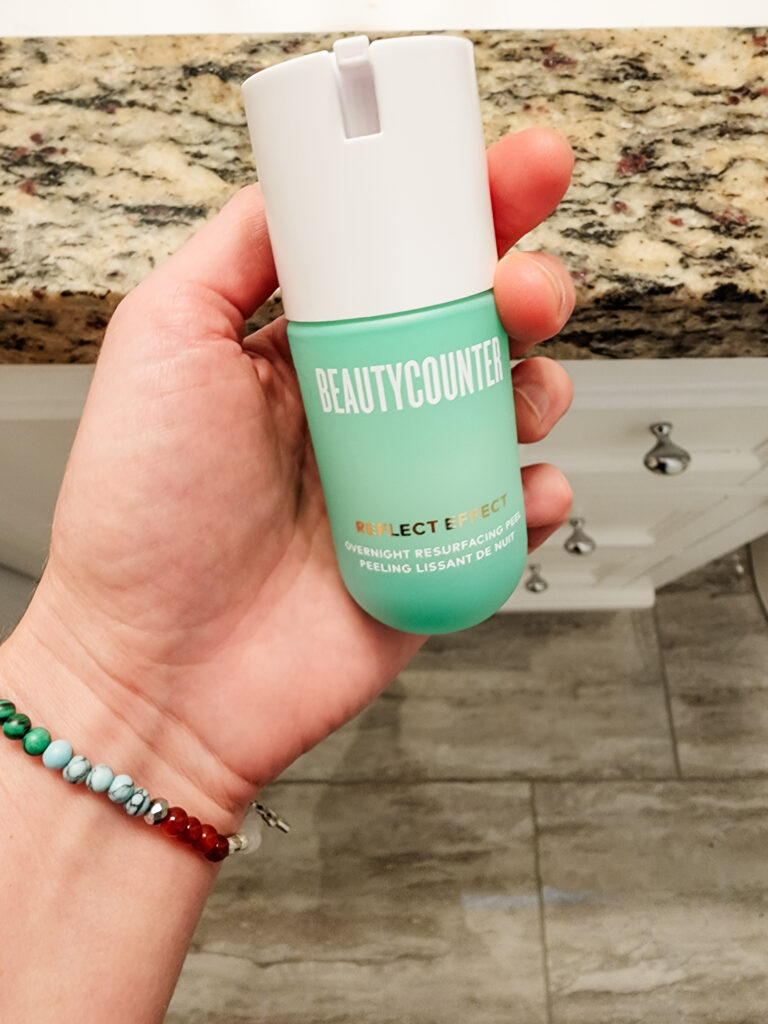 Are Chemical Peels Safe During Pregnancy?
Typically, the answer to this question would be NO. The incredibly high levels of salicylic acid and glycolic acid are not considered safe during pregnancy. For this reason, although during pregnancy you may get discolored skin or acne issues, traditional chemical peels are not recommended during pregnancy by physicians, out of an abundance of caution. I personally would not do any traditional chemical peels during pregnancy. However, the Overnight Resurfacing Peel has been specifically formulated to be safe for pregnancy, just like all of Beautycounter's products.
Is the Overnight Resurfacing Peel Safe for Pregnancy?
The Overnight Resurfacing Peel has been specifically formulated to be safe for pregnancy, just like all of Beautycounter's products. The amounts of different acids in the Overnight Resurfacing Peel adhere to the amounts recommended in pregnancy by the American College of Obstetrics and Gynecologists.
In fact, it's a great pregnancy-safe alternative to retinol! It encourages cell regeneration and improves your skin texture without any harmful chemicals that are unsafe for pregnancy. The Overnight Resurfacing Peel is made without retinol, synthetic fragrances, PEGs, or formaldehyde-based preservatives that might be found in traditional peels.
Read here for more details on Pregnancy-Safety and Beautycounter.
Are Chemical Peels Safe During Breastfeeding?
While peels are safe for breastfeeding, the Reflect Effect Overnight Resurfacing Peel is much safer and gentler than traditional peels, and avoids retinol, synthetic fragrance, PEGs, and formaldehyde-releasing preservatives. It's made without any harsh or dangerous chemicals and is a great option for breastfeeding so that you can use it without having to worry.
Are Chemical Peels Safe When Trying to Conceive?
I would not recommend traditional chemical peels when trying to conceive. However, the Overnight Resurfacing Peel is made without any harmful toxins or harsh ingredients and is completely safe for TTC. It's a great effective option for a chemical peel that you can use without having to worry about compromising your fertility. That's what I love so much about Beautycounter- all of their products are safe for pregnancy, breastfeeding, and TTC.
Are Chemical Peels Safe For Sensitive Skin?
Chemical peels are considered safe for sensitive skin- but the Reflect Effect Overnight Resurfacing Peel is a worry-free option that is on the gentler side. Chemical peels can sometimes end in less than favorable results if the ingredients are too harsh. This resurfacing peel is going to be much safer and gentler than most options, so you can use it without experiencing an adverse reaction. If your skin is super sensitive, I would recommend doing a patch test first (like any other skincare), just to be safe! You can also start slow and work up to using it a few times per week (up to every other night).
Reflect Effect Overnight Resurfacing Peel: Key Ingredients
Unlike most chemical peels, the Reflect Effect Overnight Resurfacing Peel is made with nontoxic ingredients that you can feel good about using on your face. Its ingredients work together to regenerate your skin and give you a whole new youthful glow:
Lactic Acid, Glycolic Acid, and Malic Acid– Promote cell turnover and reduce the appearance of fine lines
Salicylic Acid– Fights acne and breakouts
Linoleic Acid– Provides lightweight moisture and plumping effects
Sodium Hyaluronate– A form of hyaluronic acid that improves skin elasticity
Ascorbic Acid- Gently resurfaces the skin to improve appearance
Arginine- Soothes and nourishes skin while providing anti-aging benefits
Phytic Acid– Promotes cell turnover and exfoliation
How to Use the Reflect Effect Overnight Resurfacing Peel
Although this resurfacing peel is a super gentle option, you still don't want to overdo it. For best results, you want to use it 2-3 times per week, and make sure not to use it more than every other night. Don't worry if your skin tingles a little bit- that's normal. Follow these steps when using the Reflect Effect Overnight Resurfacing Peel for radiant skin:
Use this chemical peel in place of your regular serum. Apply 1-2 pumps of the overnight peel to your hand and gently rub into your face, neck, and chest. (P.S. If you're not applying your skincare down to your chest, this is your sign to start today. It ages the same way your face does!)
Cleanse your face to get rid of any makeup or dirt. This helps the peel penetrate your skin and work better.
Make sure to leave this peel on overnight- don't rinse it off!
Once the chemical peel has completely dried (wait 3-5 minutes), follow with your favorite moisturizer. (Don't skip this step- it's super important to add hydration to your skin!). If you have super sensitive skin, apply moisturizer a little bit sooner at first and work up to waiting 3-5 minutes.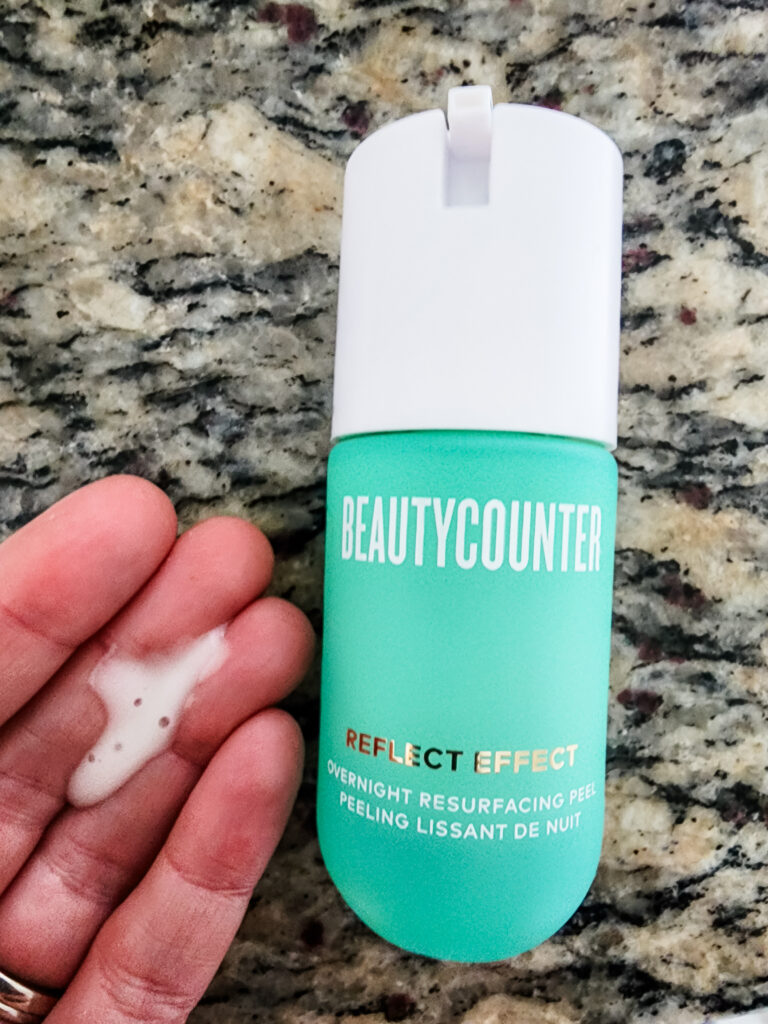 Who is the Reflect Effect Overnight Resurfacing Peel Right For?
The Reflect Effect Overnight Resurfacing Peel improves skin texture for all skin types, so I would recommend it to anyone. This is an especially great product if you struggle with bumpy skin or if your overall complexion has been feeling dull lately. This peel promotes bouncy, lifted, smooth skin with lots of glow. It's great for aging skin, uneven skin tones, and isn't too harsh on sensitive skin. In my opinion, the only setback to this product is the price tag. Although it's expensive, I still believe it's 100% worth the price if you can make the investment.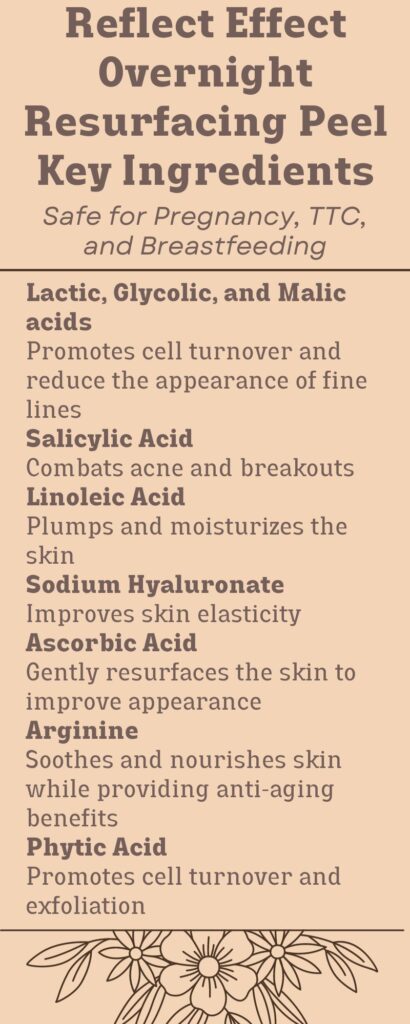 Why You'll Be Obsessed with the Reflect Effect Overnight Resurfacing Peel
This resurfacing peel is high on my list of recommendations because it works really well. If you've been experiencing a lackluster complexion, this peel will help give you that "glow from within" look. I love that it's made from safe ingredients that all work together to deliver several noticeable results:
Improves skin texture and clarity
Removes dull surface skin cells
Soothes and nourishes skin
Works to renew skin and brighten complexion
Minimizes pores
Boosts skin radiance
Reflect Effect Overnight Resurfacing Peel Results
One thing I love so much about Beautycounter is the way that they clinically test their products and share the results to prove their effectiveness. The proof is in the pudding, people! They tested the Reflect Effect Overnight Resurfacing Peel on 30 individuals for a 2-week study using the product every other night.
After two weeks of use:
100% said skin felt and looked smoother
90% said they had more radiant and glowing skin
97% examined that skin felt resurfaced
87% reported pores looked minimized
Clinically proven after four weeks of use to:
Increase skin radiance
Smooth and improve skin texture
Are the Preservatives Used In the Overnight Resurfacing Peel Actually Pregnancy-Safe?
Yes- ALL Beautycounter products are safe for TTC, pregnancy, and breastfeeding- this goes for the preservatives as well. Beautycounter's Never List details over 2,800 ingredients that they vow to never include in their formulas, including common harmful preservatives. When using a water-based product, you want to make sure that there's some form of preservative to prevent harmful bacterial growth- you do NOT want to use a water-based product without them. (Oil-based products are okay without them, but then you have to watch out for rancidity.) Commonly used safe preservatives are sodium benzoate, potassium sorbate, and phenoxyethanol.
When shopping for personal care products, I aim for ones that keep the preservative levels as low as possible. I also never use products that include anything ending in -paraben, methylisothiazolinone, methylchloroisothiazolinone, and any formaldehyde-releasers (i.e. quaternium-15, DMDM hydantoin, imidazolidinyl urea, diazolidinyl urea, polyoxymethylene urea, sodium hydroxymethyl glycinate, or bromopol). These are toxic preservatives- avoid them at all costs.
Like I said before, Beautycounter never uses these ingredients, so you can use their products without worrying. The Reflect Effect Overnight Resurfacing Peel uses phenoxyethanol (totally safe) to protect the formula from harmful bacterial growth.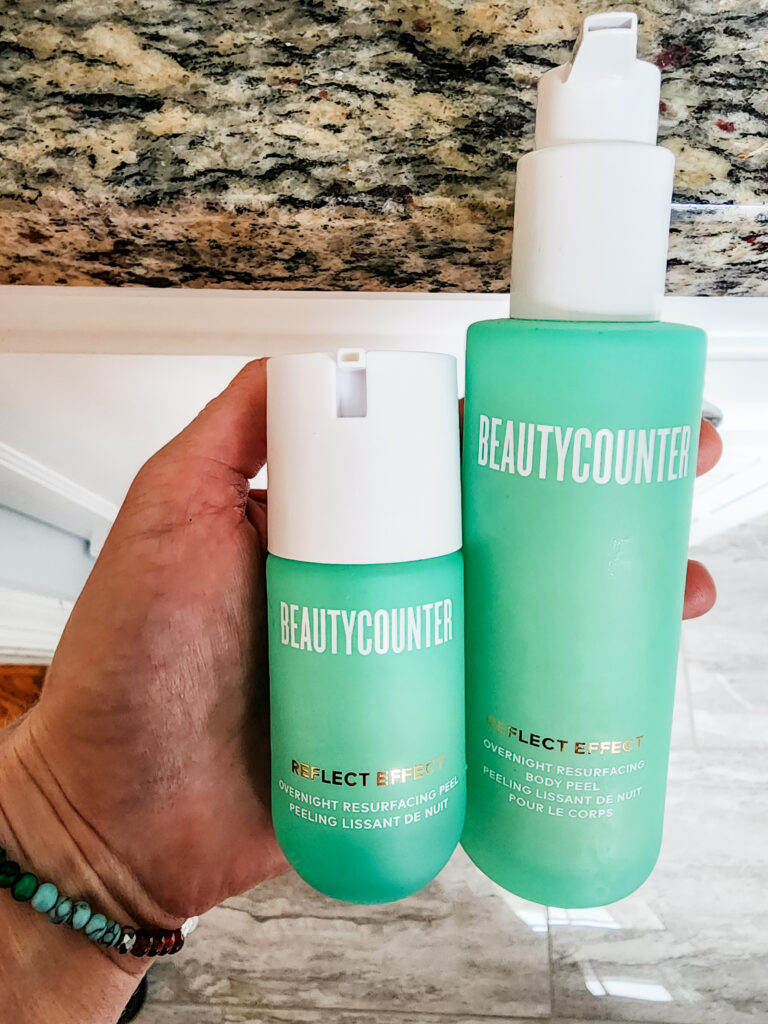 Bottom Line on the Reflect Effect Resurfacing Peel
If you haven't tried this resurfacing peel yet- do yourself a favor and add it into your routine! This is the gold standard of chemical peels in the clean beauty world (and nontoxic chemical peels can be really hard to find). It's a great alternative to retinol as well, especially if you're pregnant and in need of a clean swap. Go try it for yourself and let me know what you think. (P.S. They also have a Reflect Effect Overnight Resurfacing Body Peel, which I LOVE.)
If you're looking for more clean skincare and beauty products that actually work, I have an entire post dedicated to Beautycounter products and my recommendations. This company has taken all of the mental gymnastics out of investigating nontoxic products!
Sign up for my Non-Toxic Beauty Newsletter and join my Facebook group Non-Toxic Beauty with Anna Rapp to learn more about my favorite clean beauty products!
Want to read another blog post on products that are safe for TTC & Pregnancy?
✕
Want to get pregnant fast?
Love lists? Me too. Grab my 79 Things I did to transform my life and get pregnant in less than 3 months after 2 years of infertility and miscarriages! Totally free!

Anna Rapp is a fertility journalist and non-toxic living expert. When Anna Rapp was struggling with infertility and recurrent early miscarriage, she was diagnosed with diminished ovarian reserve, High FSH, low AMH, low follicle count, endometriosis, and an MTHFR mutation. Despite being told donor eggs were her only solution, Anna used her graduate training in research methods and analysis to read everything she could find on fertility and egg health. Ultimately, she lowered her FSH and got pregnant naturally (twice). She blogs about how she did it and encourages her readers to take charge of their fertility journey and get happy, healthy, and pregnant!