If you're looking for the best deodorant for sensitive skin, you might need to switch to a non-toxic, all-natural deodorant. Many times the toxins in deodorants and antiperspirants can irritate sensitive skin! Also, some deodorants aren't pregnancy-safe. So, if you're looking for pregnancy-safe deodorant, you're in the right place! While there are some products that claim to be "organic deodorants" please remember that only food can be USDA certified organic, so you'll want to double-check the ingredients of any organic deodorant to see why they are labeling it like that!
Check out all my non-toxic blog posts here!
Check out all my favorite non-toxic toiletries and household products here!
Non-Toxic, Pregnancy-Safe Deodorant
One of the most toxic items we can put on our bodies is deodorant! The stuff we grew up with at the store- Secret, Suave, Teen Spirit, Soft & Dri, Dove, etc., are all super toxic and have ingredients linked to infertility, cancer, thyroid problems, and obesity. The good news is that there are SO MANY safer options out there now! The beauty and wellness industry has come a long way and now there are so many non-toxic deodorant options!
In this post I'm going to talk about the worst ingredients in deodorant that you absolutely need to avoid if trying to conceive or pregnant (or, you know, a human!!!!). Then, I'm going to talk about SAFER, non-toxic deodorants and why the ones you've tried before might not have worked (and what to do!). I'm also going to explain how to do an easy armpit detox. Then I'm going to share my absolute favorite non-toxic deodorants that hubby and I use, and I'll provide you with a long list of other safe options!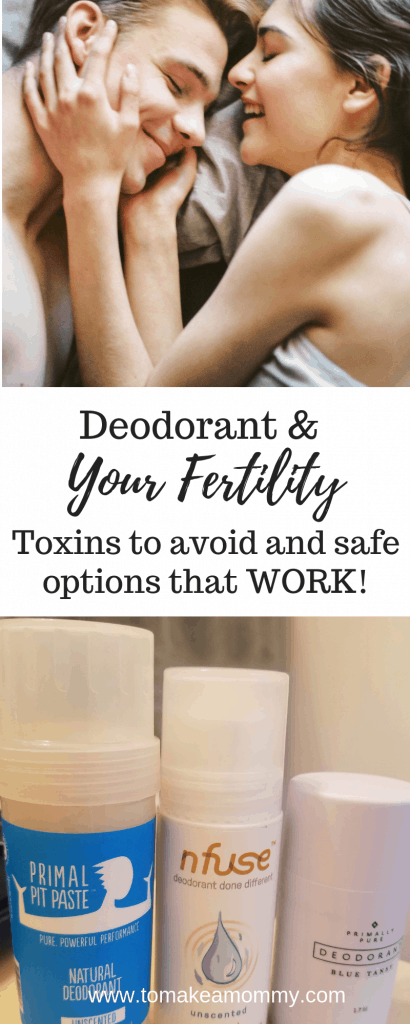 The dangerous ingredients in conventional deodorants
For anyone trying to get pregnant, stay pregnant, have a healthy pregnancy, or avoid hormone-driven cancers like some breast, ovarian, uterine, endometrial, and prostate cancers, the worst ingredients in deodorants are the endocrine disruptors. I'm talking about parabens and phthalates primarily. Also, some deodorants sneak in triclosan, an antibacterial that has been banned in many other personal care products in the U.S. but is still lurking in deodorant and toothpaste.
Phthalates
Ohh, the destroyer of sperm! Phthalates are linked to decreased fertility in men and women, miscarriage, and pregnancy complications. They are also linked to cancer and to intellectual and emotional developmental complications in children. In other words this is stuff you DO NOT WANT in your deodorant.
You want to find a deodorant that specifically says "pthhalate-free." Watch out for any ingredients such as "fragrance," "perfume," or "parfum"- these are the phthalates.
Parabens
Parabens are nasty ingredients that act as endocrine disruptors and have been linked to diminished ovarian reserve. In other words, they AGE YOUR EGGS. They are also linked to male infertility. Meaning, they RUIN YOUR SPERM. They are also linked to breast cancer. Run from these!
Only buy personal care products that state they are "paraben free" and avoid ingredients such as methylparaben, ethylparaben, propylparaben, butylparaben, and other ingredients ending in -paraben.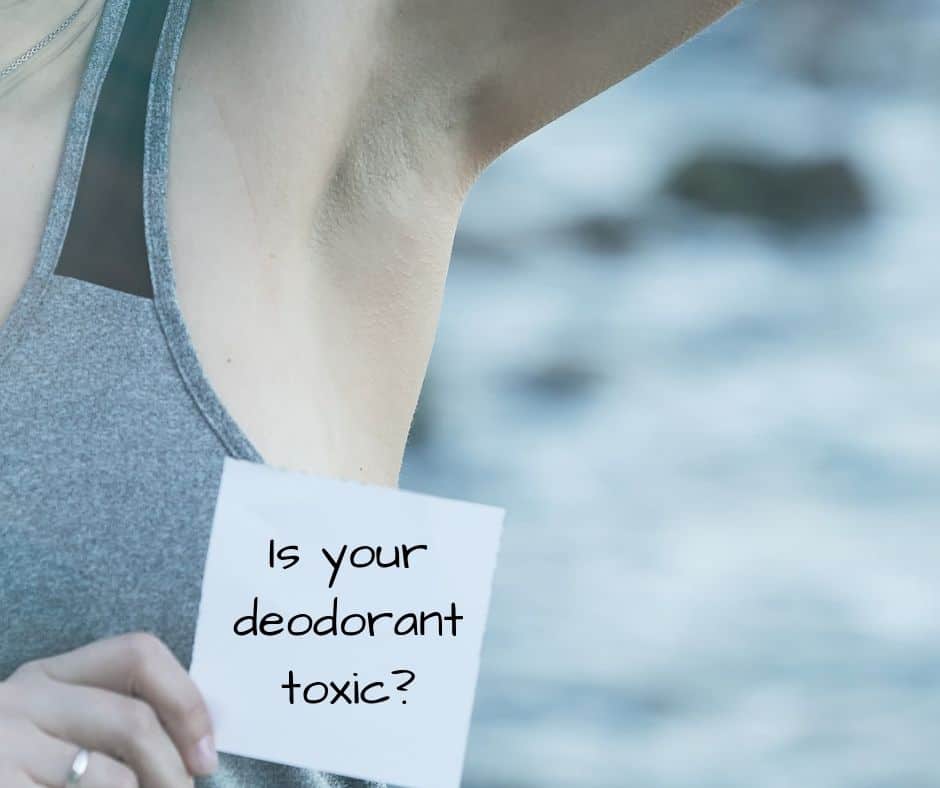 Triclosan
Triclosan is a gross ingredient in almost all products claiming to be "antibacterial" or "antimicrobial." It is an endocrine disruptor, linked to decreased thyroid hormones, and can wreak havoc on your hormone system and your hubby's sperm quality.
Ingredients to watch out for: triclosan, or triclocarbon. Double check to make sure it isn't in your toothpaste!
Diethanolamine & other Ethanolamines
Ethanolamine Compounds like diethanolamine (DEA) and triethanolamine (TEA) are linked to cancer, bioaccumulation (i.e., it stays in your body and builds up), and organ toxicity. Worst, they are shown to really screw up sperm. Unfortunately companies use this in deodorant to manage PH levels.
Ingredients to watch out for: Triethanolamine, diethanolamine, DEA, TEA, cocamide DEA, cocamide MEA, DEA-cetyl phosphate, DEA oleth-3 phosphate, lauramide DEA, linoleamide MEA, myristamide DEA, oleamide DEA, stearamide MEA, TEA-lauryl sulfate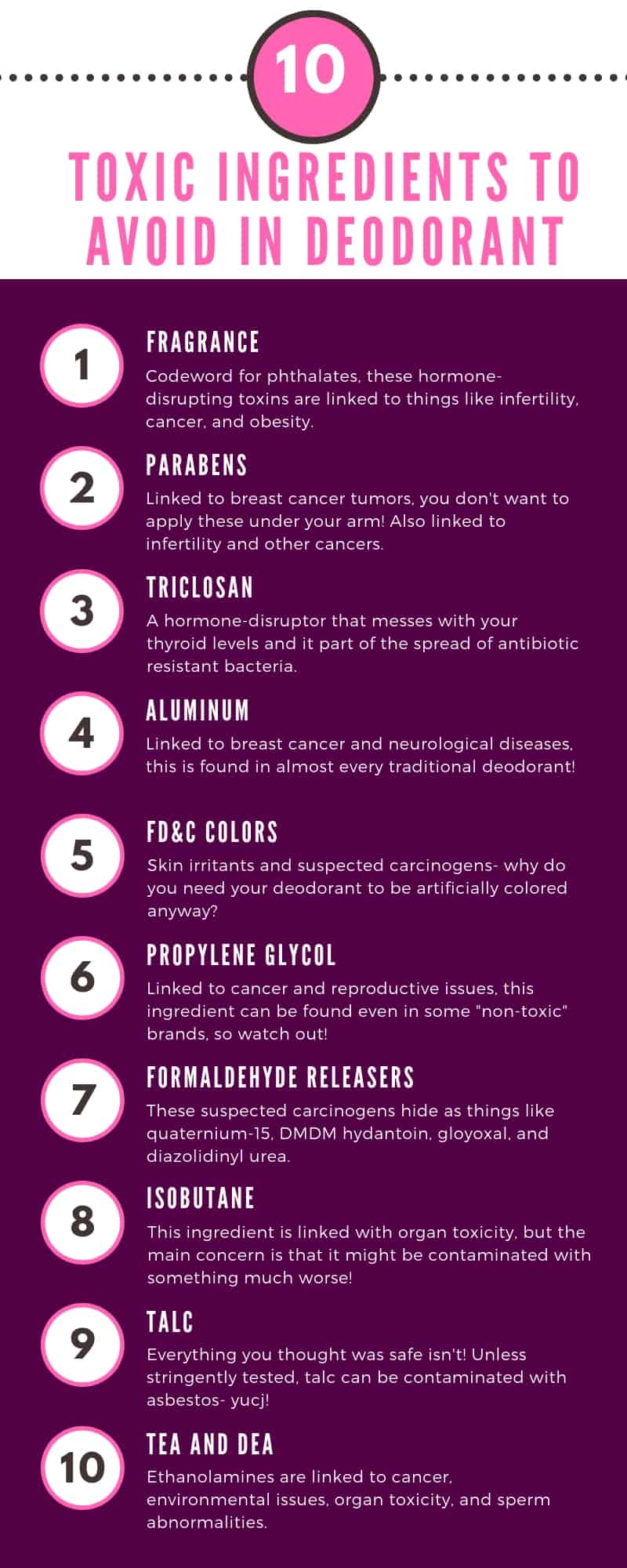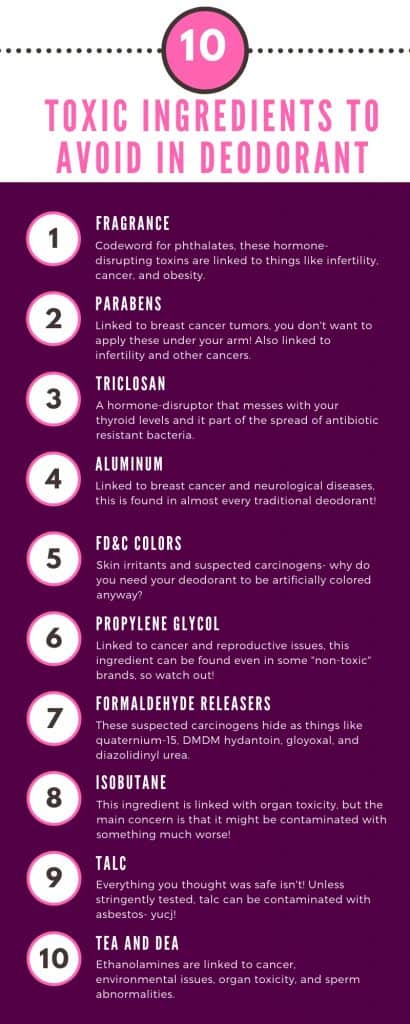 Other Toxic Ingredients to Avoid in Deodorant
This is a list of other ingredients that are possible unsafe for humans and the planet. I've included the first four to make it easy!
Aluminum – linked to breast cancer and neurological diseases, though neither link is confirmed
FD & C colors – skin irritants, and suspected carcinogens
Formaldehyde releasers like quaternium-15, DMDM hydantoin, imidazolidinyl urea, diazolidinyl urea, polyoxymethylene urea, sodium hydroxymethylglycinate, 2-bromo-2-nitropropane-1,3-diol (bromopol) and glyoxal – Carcinogens
Fragrance (can contain any of thousands of chemicals and ingredients are not listed individually)- Phthalates are endocrine disruptors toxic to fertility
Isobutane – contamination concerns, irritation, organ toxicity
Parabens – endocrine disruptors toxic to fertility
Propylene glycol – Linked to cancer and reproductive issues
Talc (can contain asbestos)
Triclosan (or triclocarban)- acts like endocrine disruptor, bad for reproductive system
Triethanolamine and diethanolamine (TEA and DEA) – cancer, bioaccumulation, organ system toxicity, sperm damage
Petroleum- contamination concerns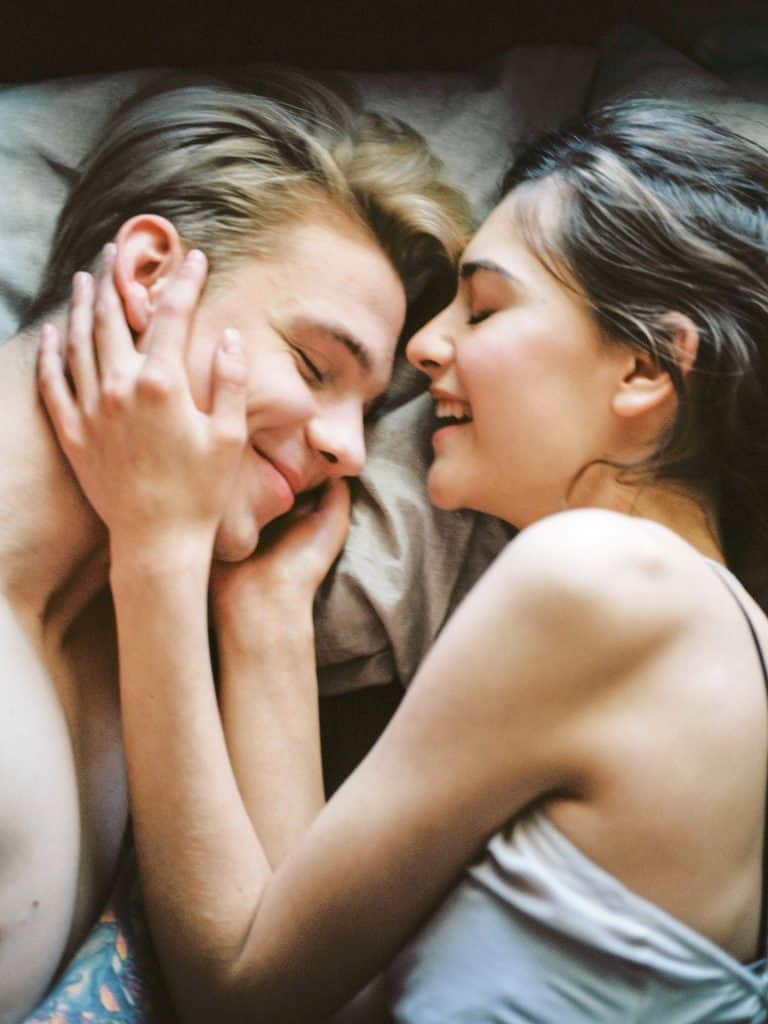 Issues with Natural and Organic Deodorants
I tried to switch and it didn't work! – If you tried to switch to a natural deodorant and it didn't work for you, there might be a couple reasons.
First– it might not have been the right one for you. Just like when you were a teenager and you had to try five of those awful toxic ones before you found your favorite, sometimes you just have to try a bunch of non-toxic ones before you find one that works with your body's chemistry.
Second– You might need an armpit detox! See below!
Be aware that during pregnancy and after pregnancy your body chemistry/PH can change, and a perfect non-toxic deodorant might not work for you anymore. Pregnancy and post-pregnancy have always been when I've had to find a new deodorant.
I'm getting a rash from the baking soda in my natural deodorant! – First, the good news– there are baking soda free deodorants! My favorite is listed below. BUT, if you are getting a rash it might actually be because you need to detox your armpits!! (see below!)
I tried a bunch of natural deodorants and none of them work! – Okay, it might be that your armpits have a bunch of old toxins in them that need to be cleaned out. It's easy to detox your armpits- and it is helpful to suck out any parabens or aluminum that might be hanging out there!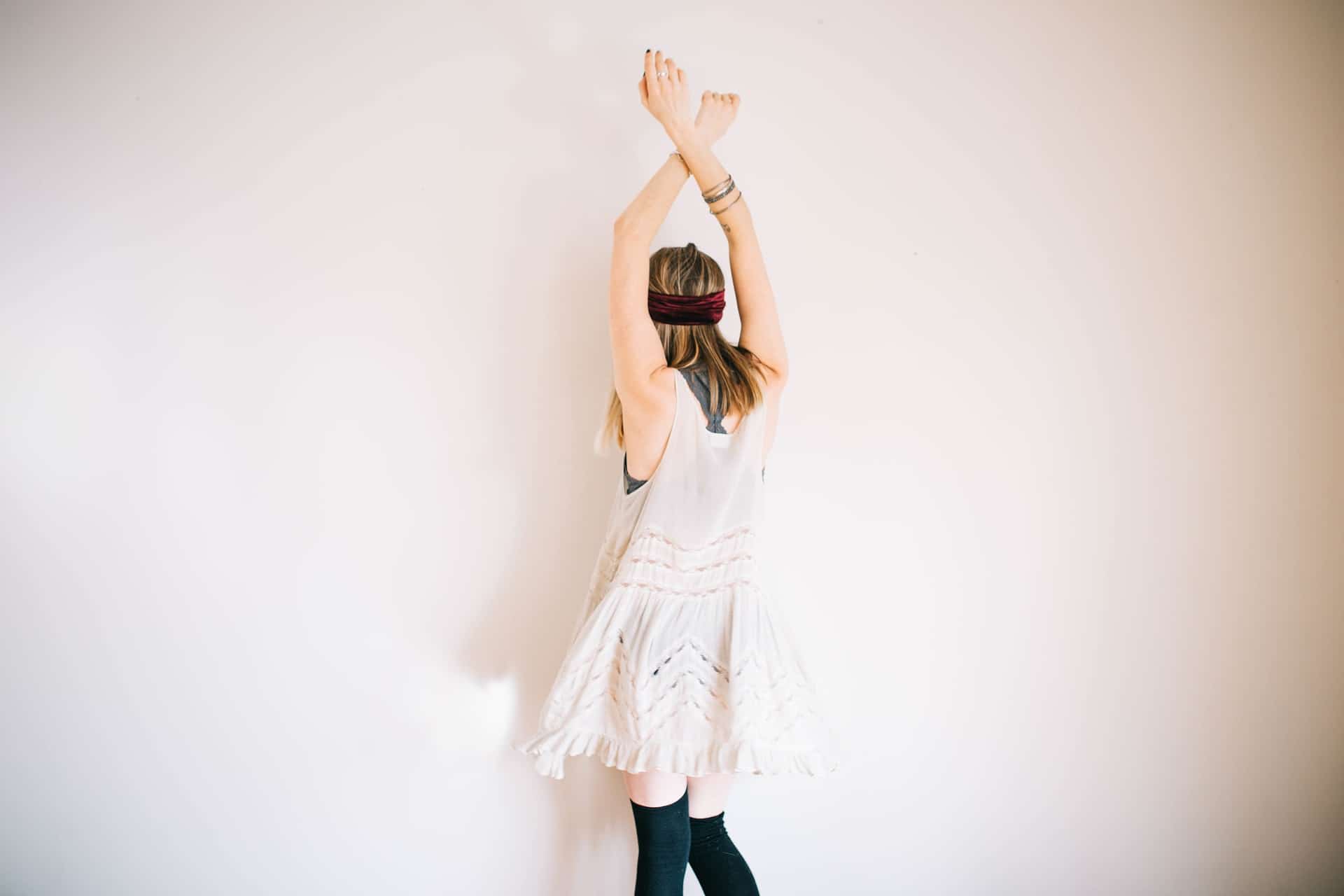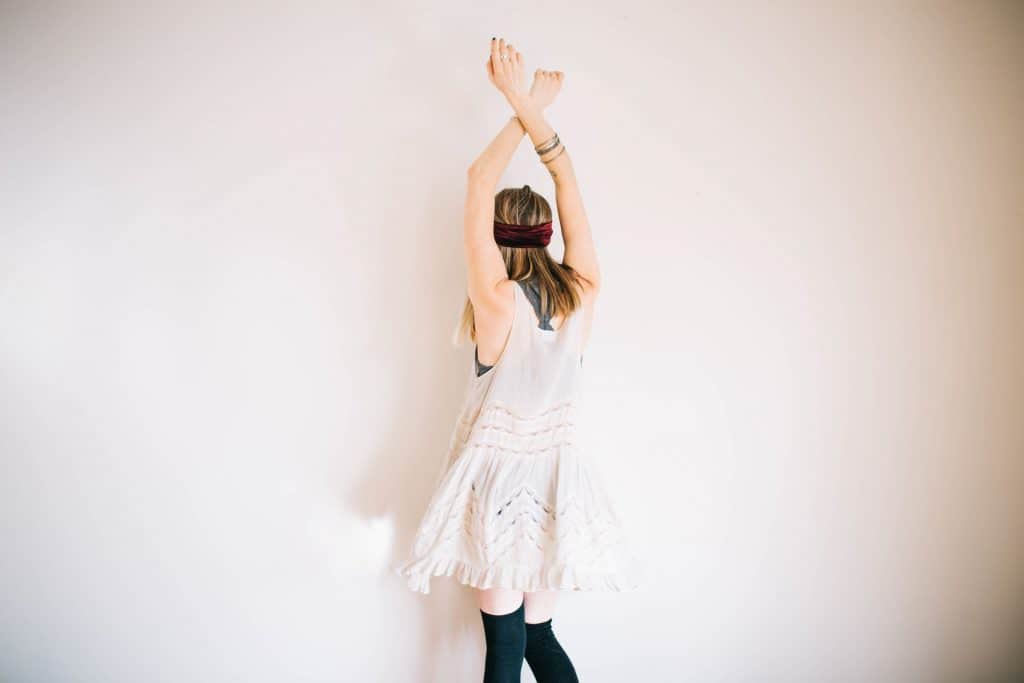 How to Do an Armpit Detox
An armpit detox with bentonite clay or a clay mask can REALLY help you when switching from toxic deodorant to non-toxic or organic deodorant.
Stop using toxic deodorant. Use a loofah or washcloth in the shower to exfoliate dead skin and toxins under your arms.
Mix betonite clay (1 tbsp) with apple cider vinegar (2 tbsp) with a wooden spoon and apply to armpits. It should look like a yogurty/hummus consistency paste. If its too thick add a teeny bit of water. PRO-TIP- THIS IS ALSO MY FAVORITE NON-TOXIC FACIAL MASK!!! ALSO great for spider bites, poison ivy, boils, inflamed cysts, ingrown hairs, etc. etc. I always keep a jar of it in the house!
Leave it on for 5-15 minutes. It should not sting or burn, if it does, wash it off.
Wash it off.
Repeat daily, or at least 2-3 times per week. Stop when your skin stops being irritated by the natural deodorant and it starts working!! You'll know you are good when you aren't stinky anymore :-).
Our Favorite Non-Toxic Deodorants!
So . . . we've tried our fair share of deodorants! And we've fallen for some of the "sneaky" "natural" deodorants that still contain things like potassium alum (a safer type of aluminum, but still not great), unspecified natural fragrances (just tell us what they are!!), excessive preservatives (deodorant goes fast, it doesn't need to last 20 years!), propylene glycol, and others.
But now, we are smarter and wiser.
If you are going to go non-toxic, go non-toxic!! Why play around?
Okay, here are my favorites in order and why I love them. Then I'll list others that get my thumbs-up!
Here are our favorite pregnancy-safe and non-toxic deodorants!
Beautycounter Clean Deo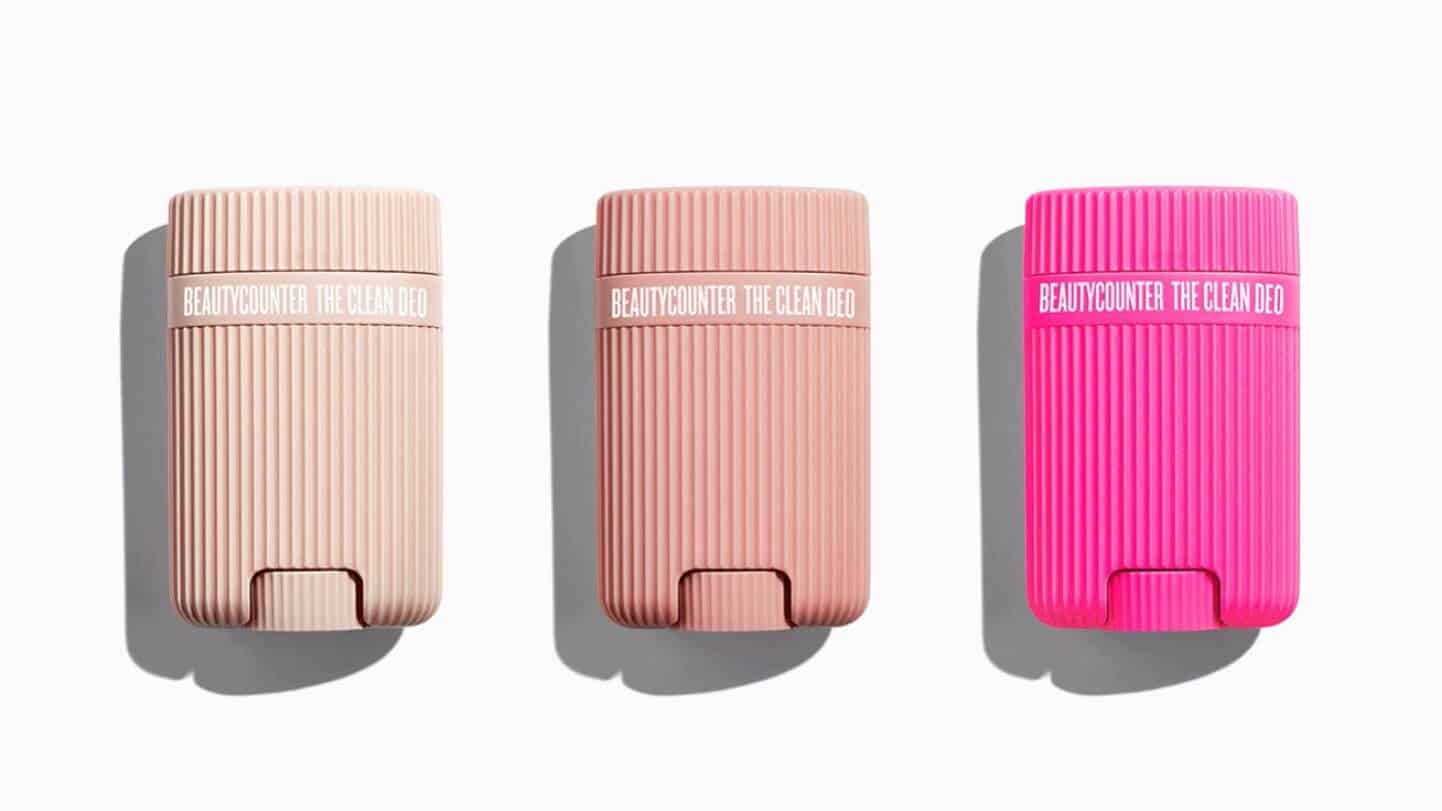 Pure Haven Deodorant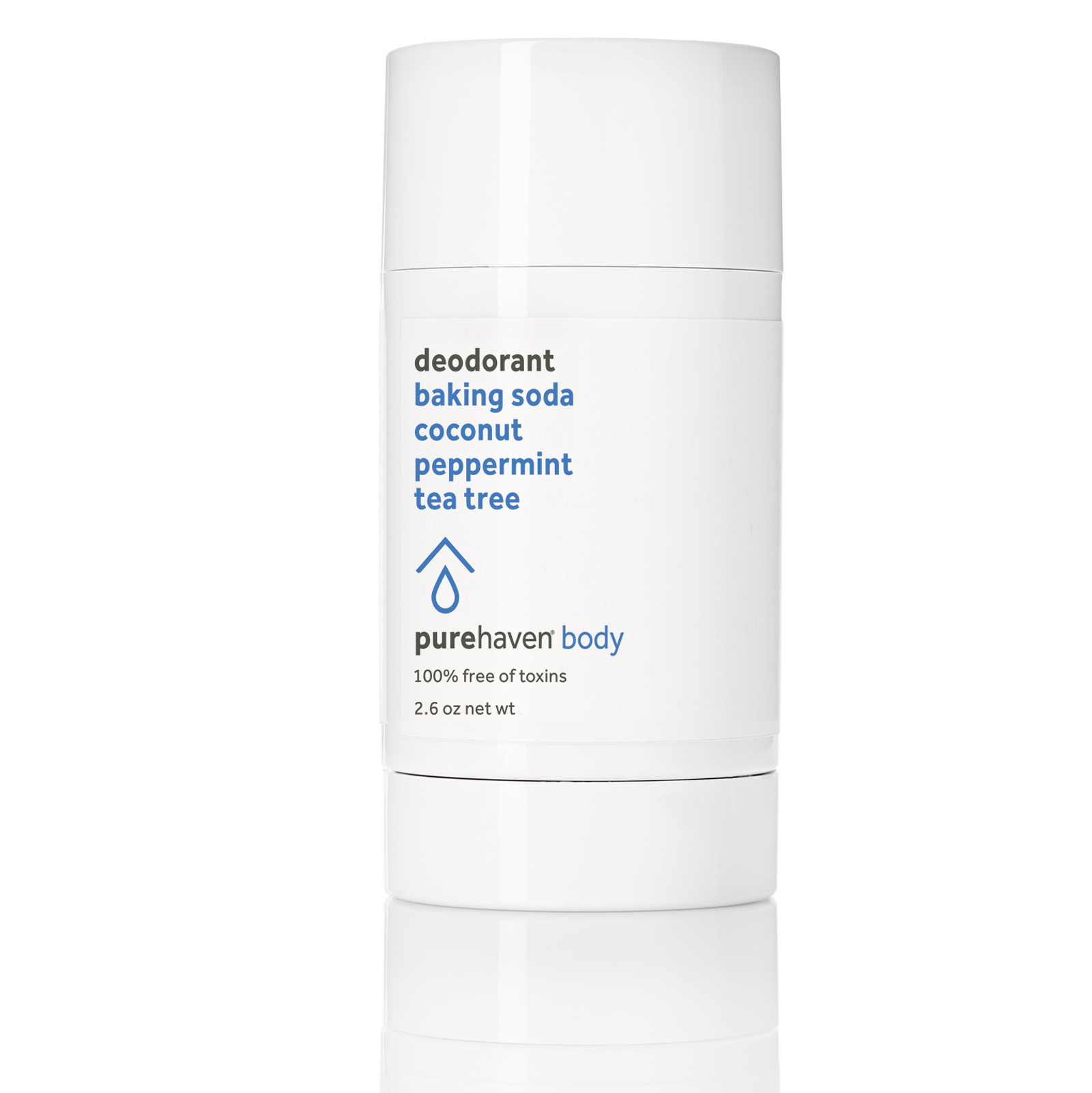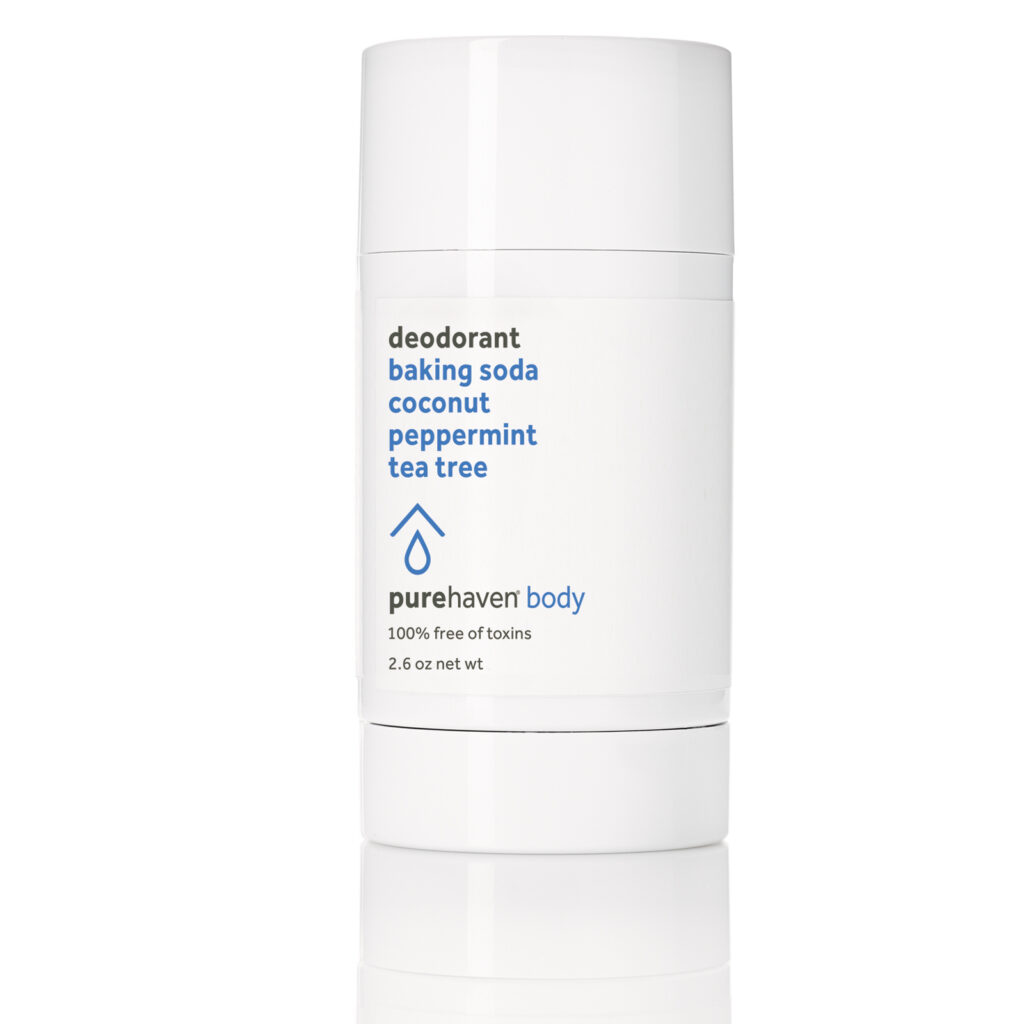 Pure Haven's Deodorant is a great non-toxic option made with coconut, peppermint, and tea tree, to keep your armpits fresh all day and to help with odor prevention. This is a great pregnancy-safe deodorant option. Grab it now!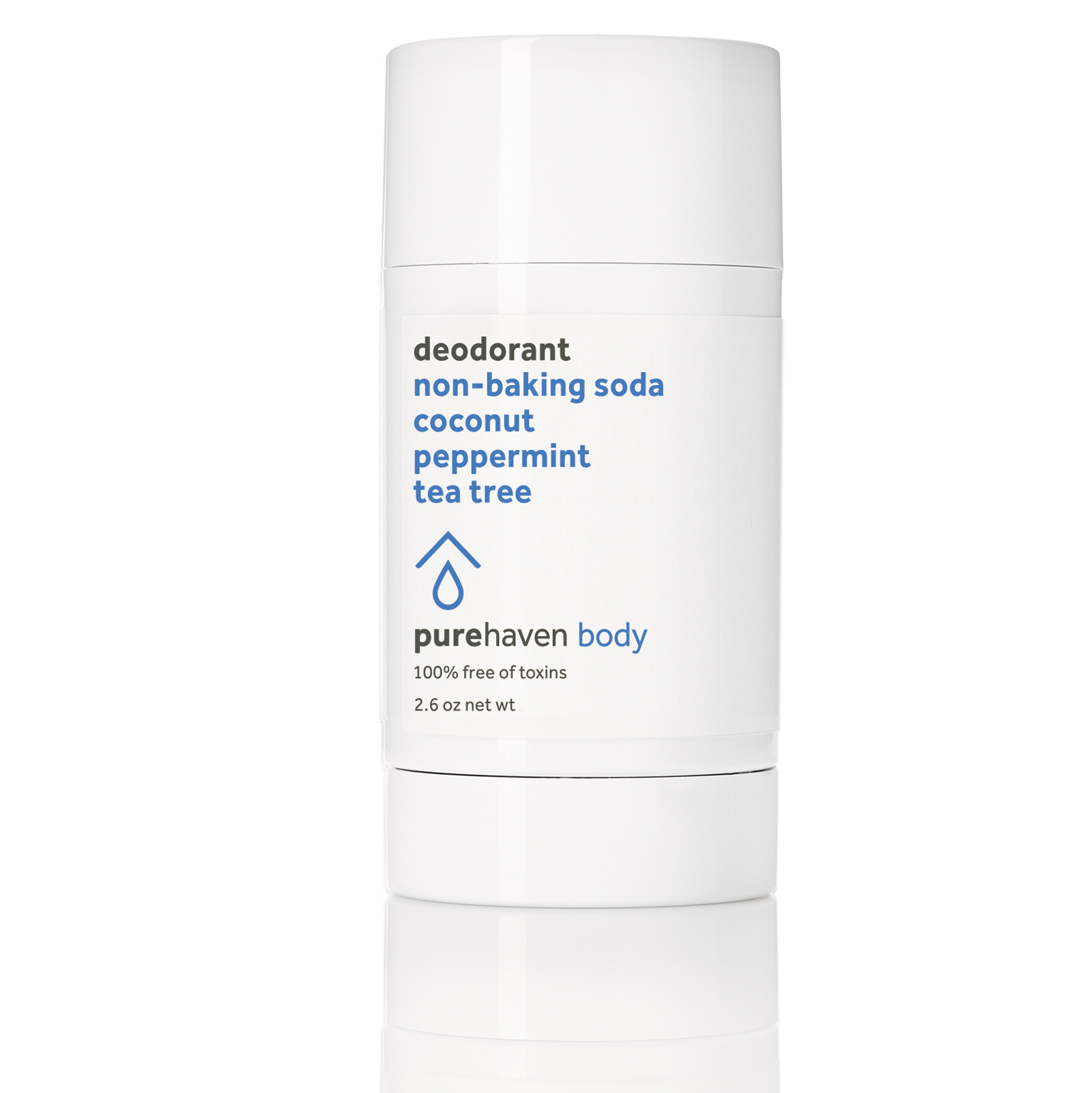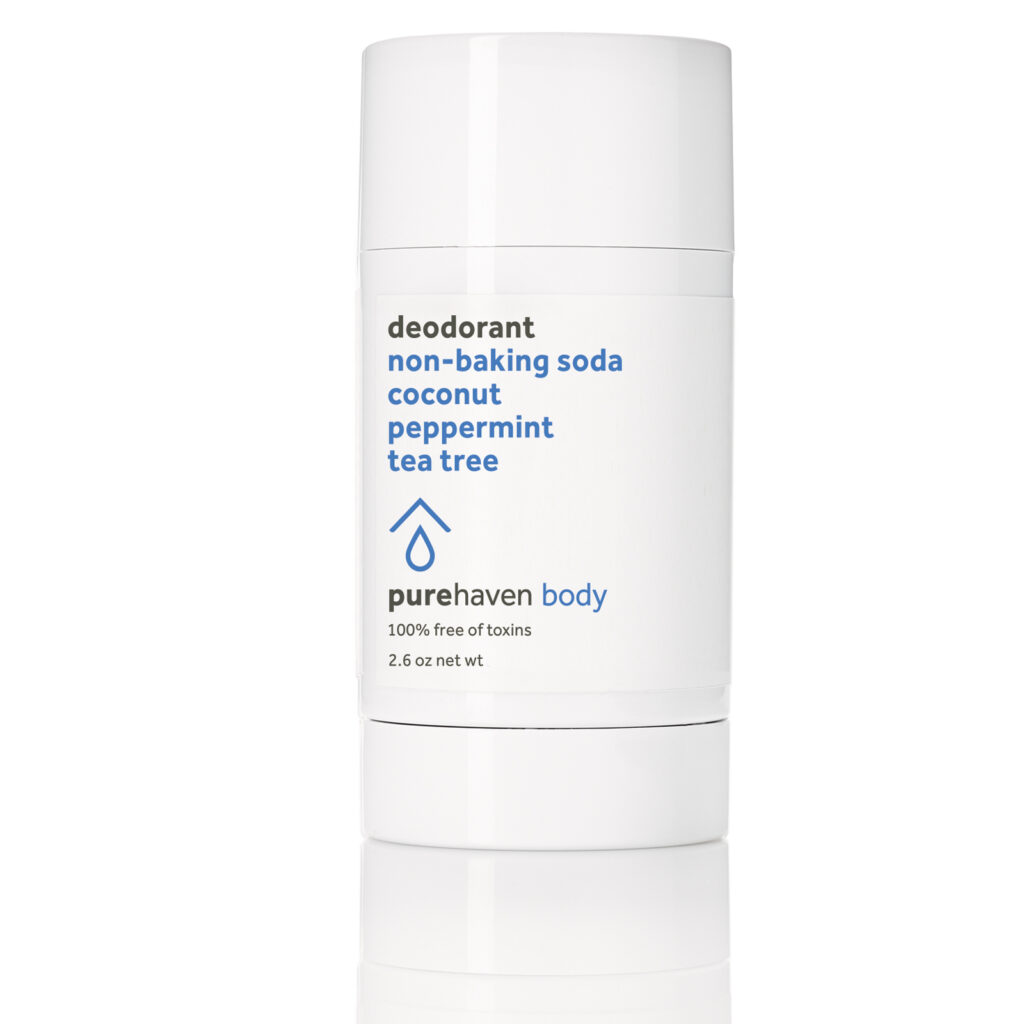 This great pregnancy-safe non-toxic deodorant option from Pure Haven is baking-soda free for those who are irritated by baking soda. Grab it today!
Magnesium Deodorant!

Lavanila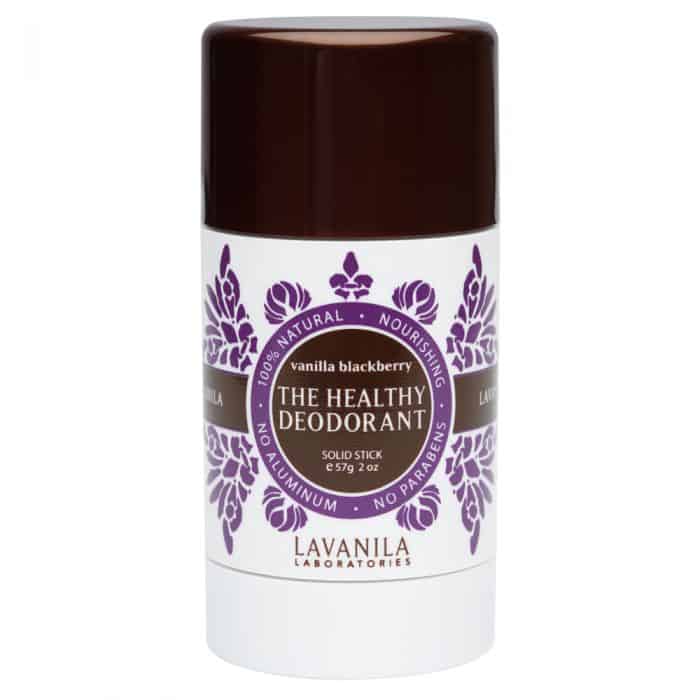 Biossance Deodorant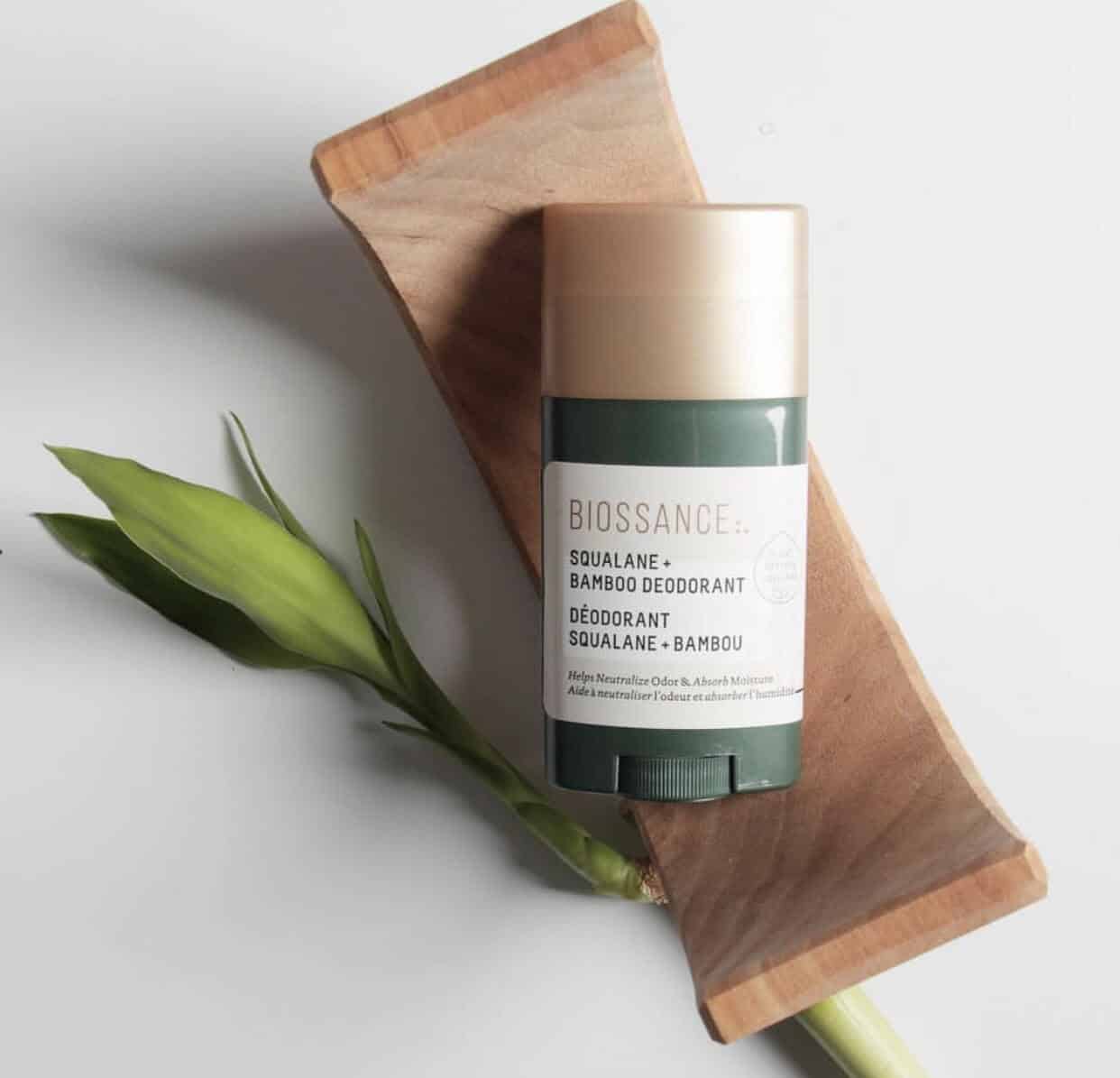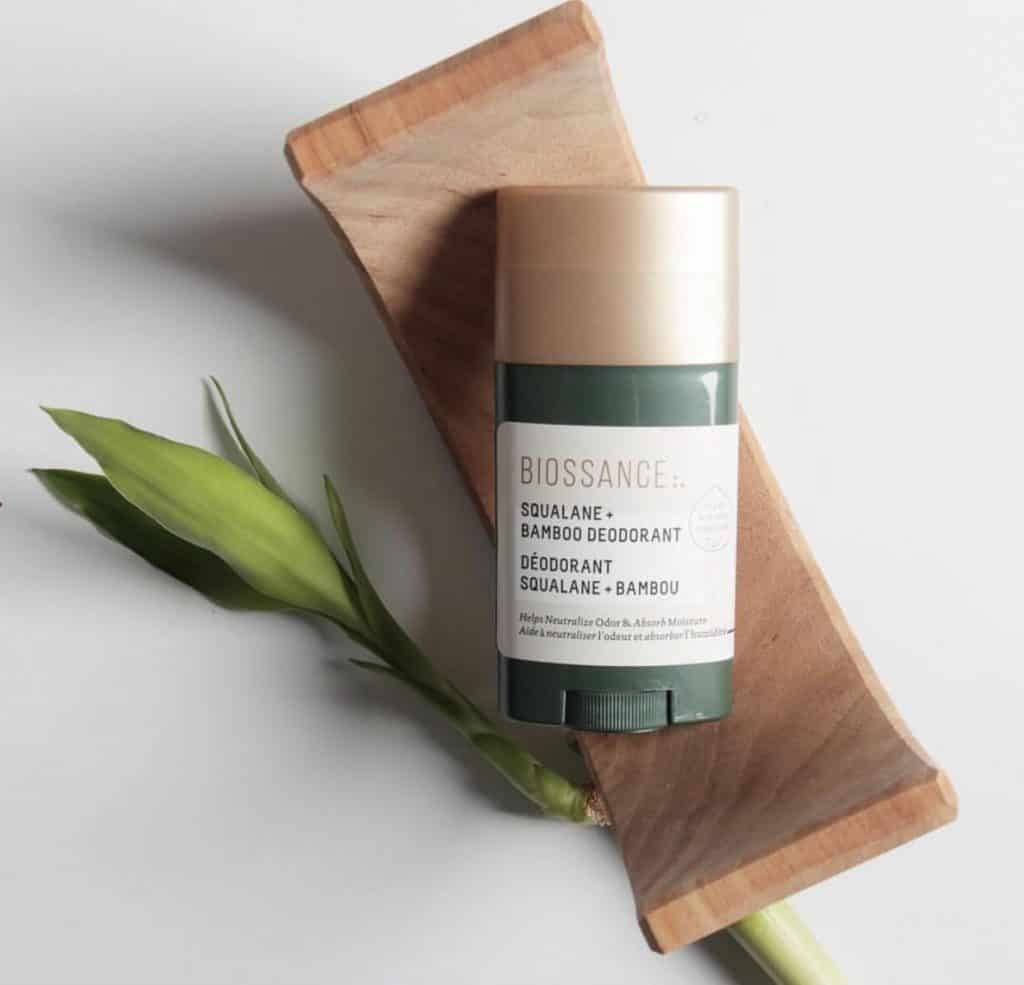 Other Non-Toxic Deodorants
Okay, here's a long list of safe, non-toxic deodorants! (you'll be happy to see I included a number of our MLM friends products that are safe to buy– please note that doesn't mean everything in those lines are safe for fertility!).
Want more nerdy non-toxic advice for fertility? Come join our facebook group Clean Eating & Green Living for Fertility! And, of course, check out all my non-toxic posts!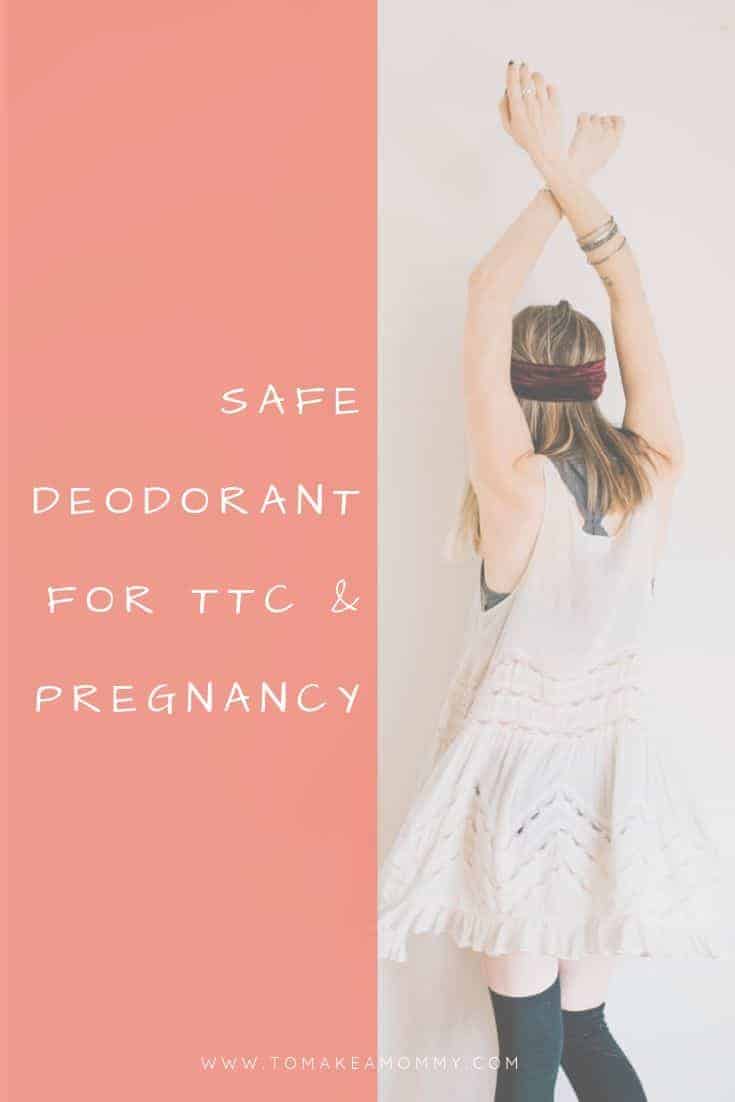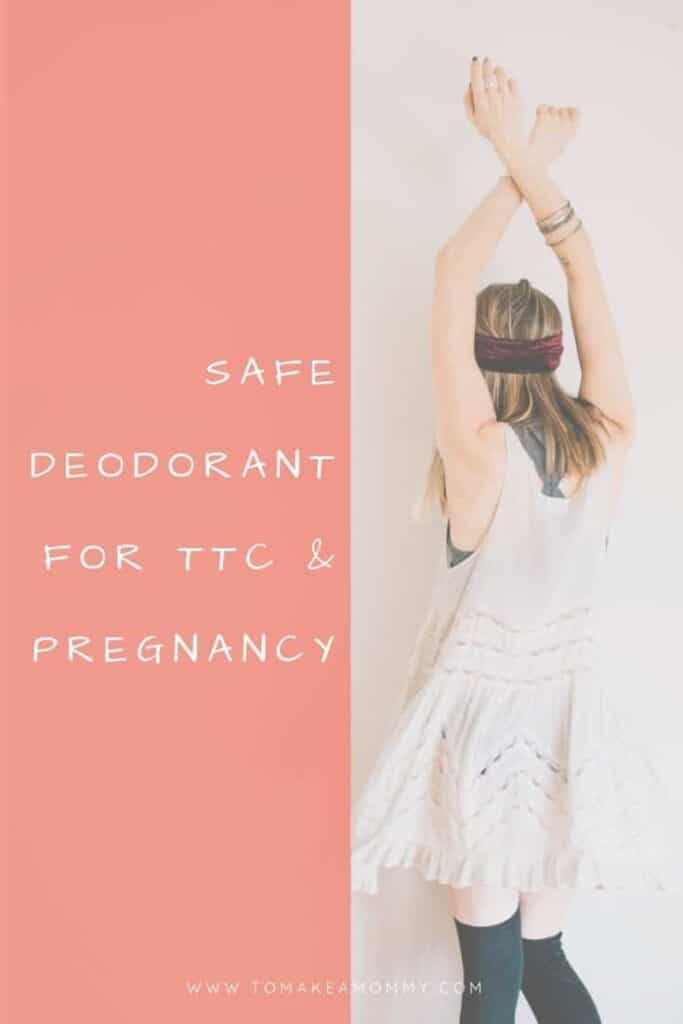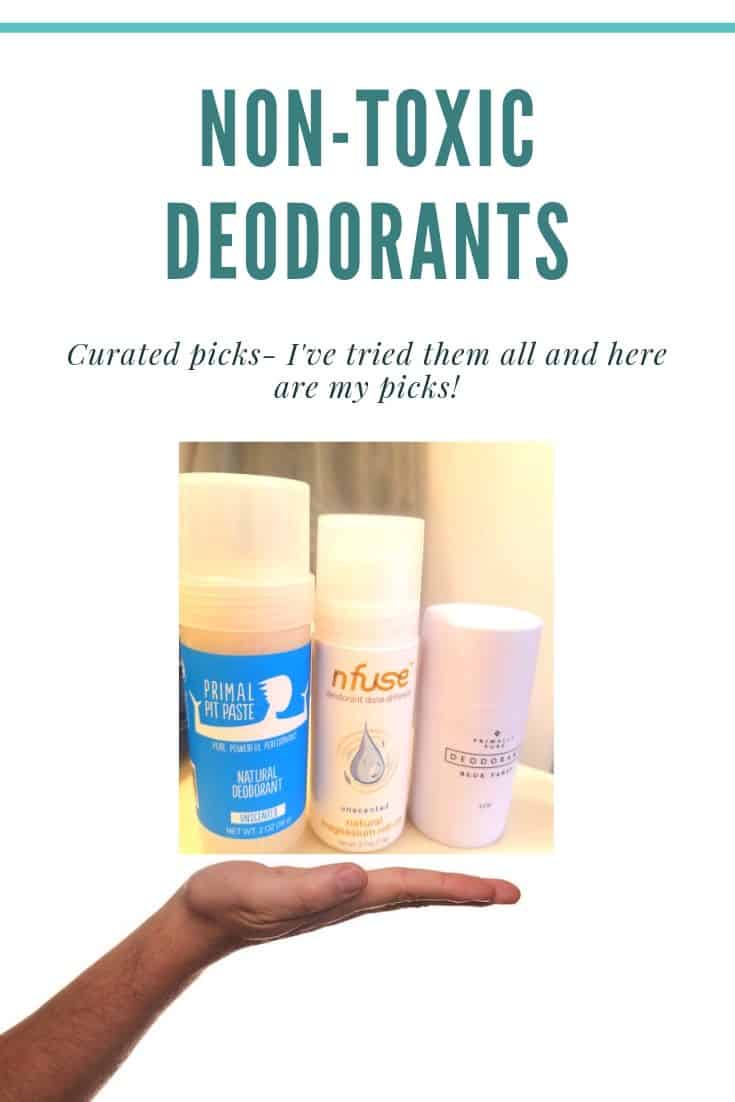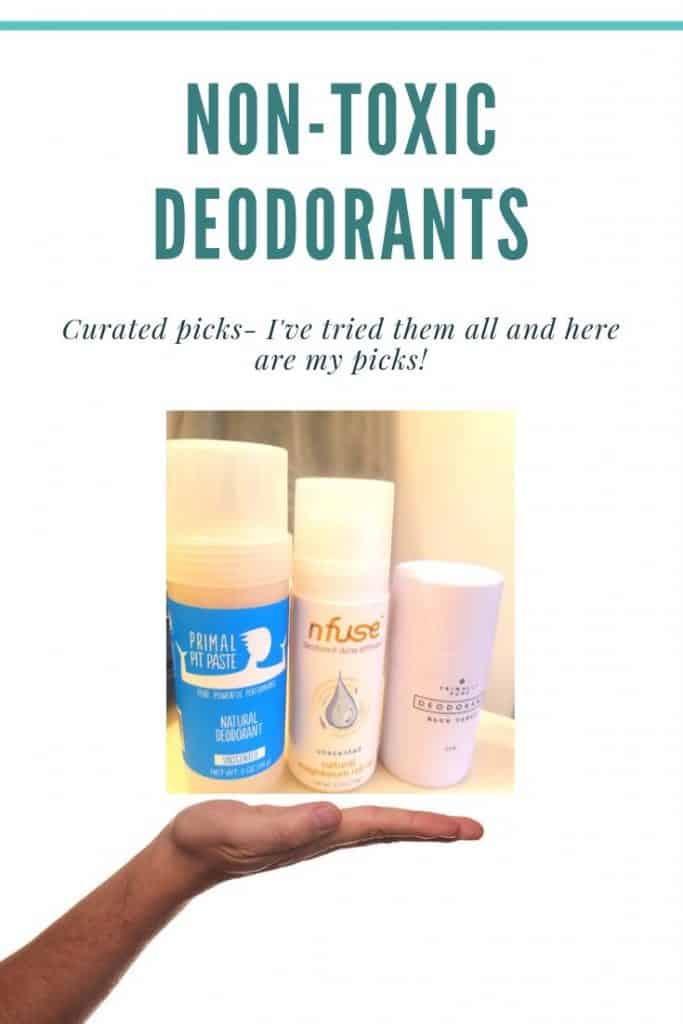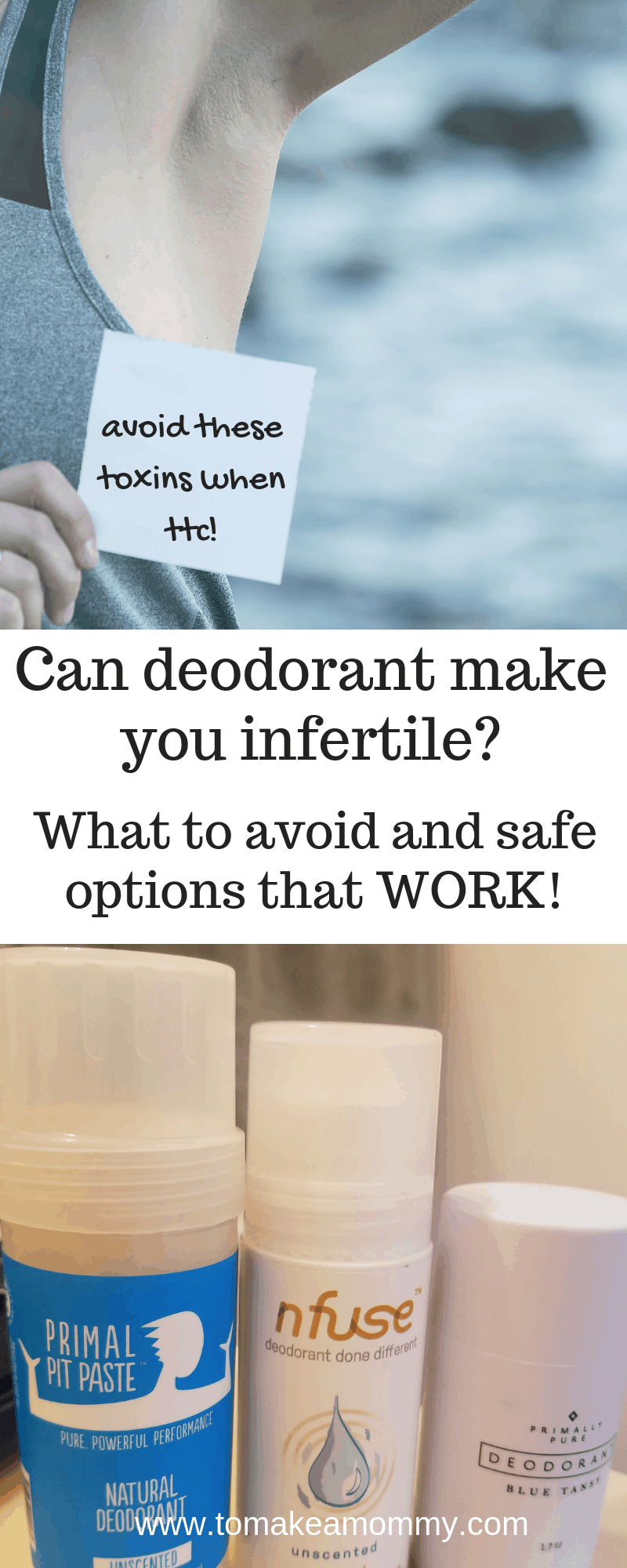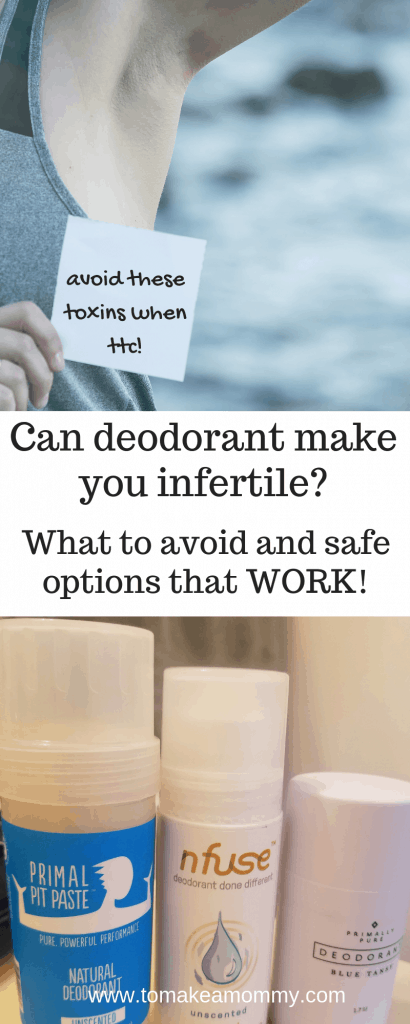 When Anna Rapp was struggling with infertility and recurrent early miscarriage, she was diagnosed with diminished ovarian reserve, High FSH, low AMH, low follicle count, endometriosis, and an MTHFR mutation. Despite being told donor eggs were her only solution, Anna used her graduate training in research methods and analysis to read everything she could find on fertility and egg health. Ultimately, she lowered her FSH and got pregnant naturally (twice). She blogs about how she did it and encourages her readers to take charge of their fertility journey and get happy, healthy, and pregnant!