The To Make a Mommy Fertility Plan: How I Got Happy, Healthy, and Pregnant in 90 days or less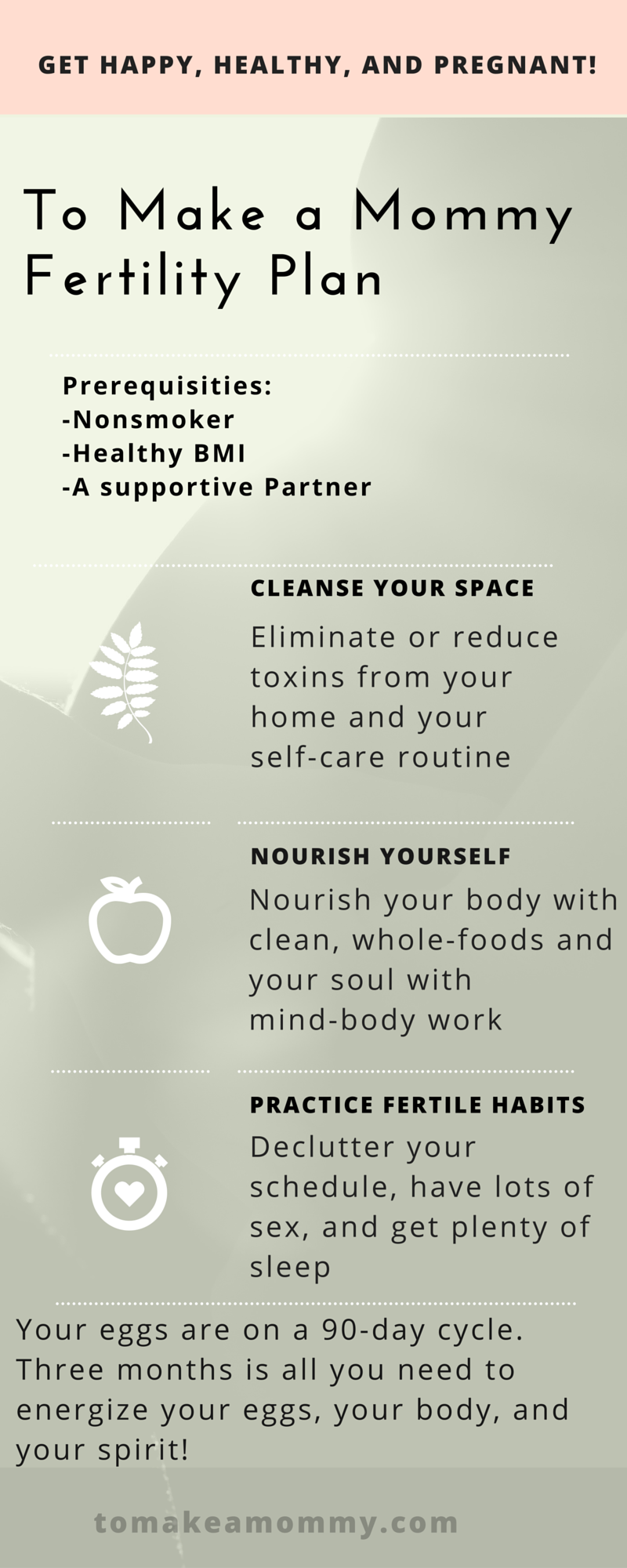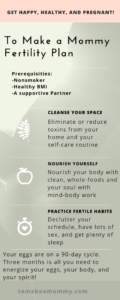 Step 1: I reached the point where I was ready to take charge of my fertility journey and make major life changes to get happy, healthy, and pregnant. Read about how I reached this step in my first blog post!
Step 2: I made sure I wasn't doing something terribly wrong for fertility-for example, I didn't smoke and I had a healthy BMI (i.e., not  underweight or overweight). I also made sure my partner was on board with making a lot of changes!  Note: Don't worry, if you are overweight, if you decide to commit to my To Make a Mommy Fertility Diet you will probably lose weight.
Step 3: Eliminate Toxins – I reduced as much as possible exposure to fertility-killing toxins including: BPA, phthalates, plastics, and other endocrine disruptors. I've written an overview of how to enhance your fertility (and your partner's!) by reducing and eliminating your exposure to these toxins.  You can find all of my blog posts on this topic here.
Step 4: Nourish your body with a clean, whole foods diet with lots of yummy organic food, to get fully healthy! Eliminate caffeine, alcohol, soy, sugar, refined carbohydrates, processed foods, gluten, and dairy. Start with my blog post that details the To Make a Mommy Fertility Diet, and find all my blog posts on the topic here. You can also check out all my recipes for fertility here!
Step 5: Develop a Mind-Body Practice – Develop a robust daily mind-body fertility practice that heals your spirit and helps you get happy! Deal with your emotional and physical issues through hypnotherapy, a gratitude practice, acupuncture, special fertility psychotherapy work, and meditation. Read my overview post on the To Make a Mommy Mind-Body Fertility Plan first, check out my daily Fertility Mind-Body Practice then find all of my blog posts on mind-body work here. Don't forget my posts on prayer and faith during infertility!
Step 6: Do ALL THE THINGS –  Go a little crazy and download my list of 79 Things I did to get Happy, Healthy, and Pregnant. Then you'll get all sorts of fertility tips on things I did such as keeping my feet warm and having lots of sex. Check out all my fertility tips and my personal stories here!
In a hurry?  Are you Type A and don't want to spend time sifting through blog posts?  Start by downloading my 79 Things I did to get Happy, Healthy, and Pregnant! Just fill out the form below! I link to my blog posts in it!
How I got Happy, Healthy & Pregnant!
Want to know how I got happy, healthy, and pregnant in less than 3 months after 2 years of infertility and miscarriages?
You need my list of the 79 diet and lifestyle changes I made that transformed my life and brought my miracle baby to me!