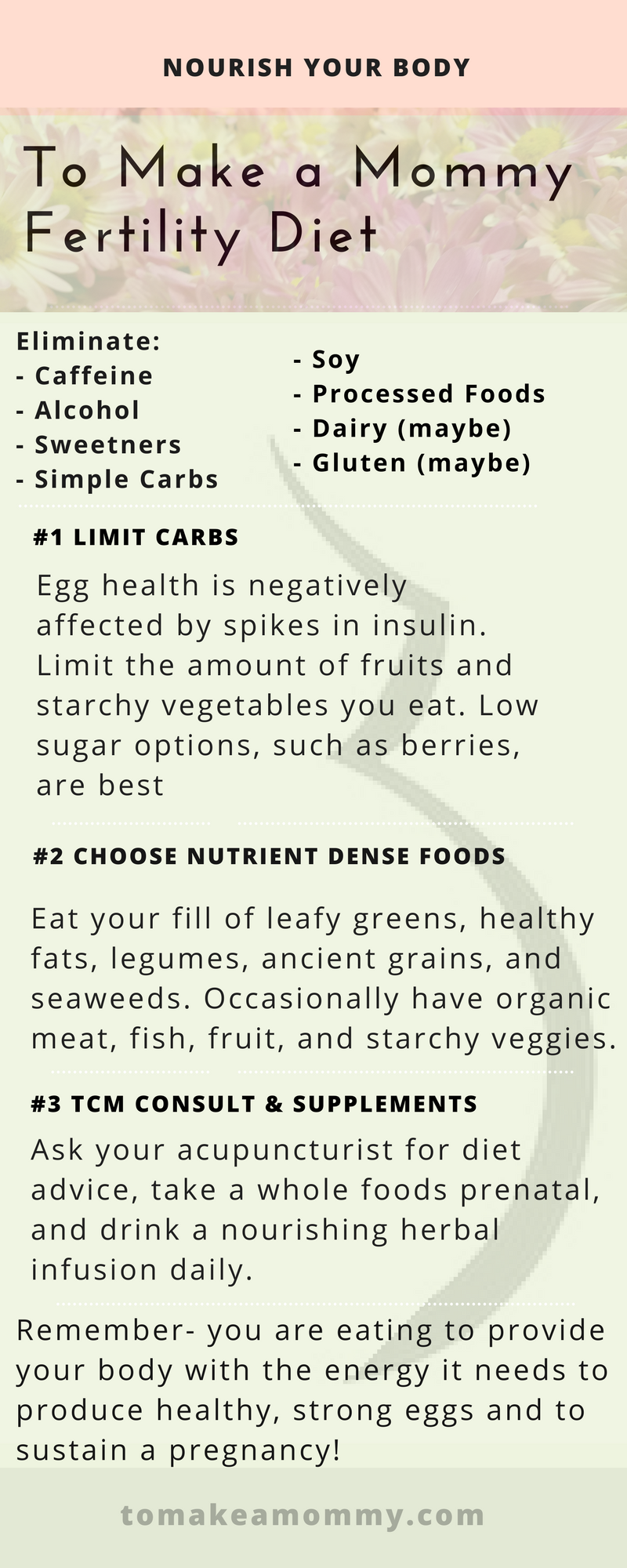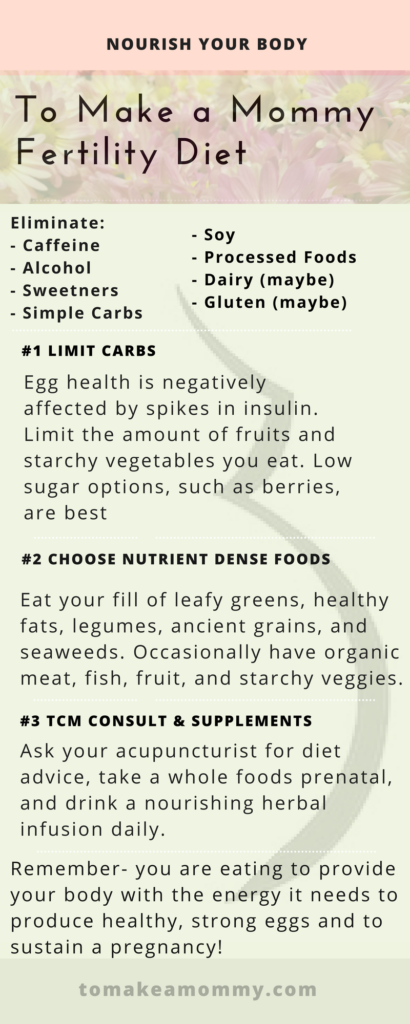 A clean, organic, whole-foods diet is the most important step you can take towards reclaiming your fertility and improving your chances of conceiving. The To Make a Mommy Fertility Diet is based on the diet I followed immediately before getting pregnant. I absolutely believe it was the number one step I took that helped my eggs grow healthy and strong. Additionally, after only one month of following an optimized diet, I felt absolutely amazing. I was energized, excited, and enjoyed eating healthy, nourishing food. After one month I stopped craving sugar and truly enjoyed eating massive amounts of vegetables!
NOTE: This is the diet that worked for ME! You need to figure out the diet that will work for YOU! You are different than me. Check out my free e-book on how to figure out the perfect fertility diet for YOU here!
Here are six reasons why you should commit to a fertility diet today:
1. You will become healthier than you have ever been in your whole life.
2. You will save money from not eating out.
3. You need to learn to make healthy, homemade meals anyway before you have babies.
4. You will have more energy than you've had since high school.
5. You will be super healthy before you get pregnant which will increase your chances of having a healthy pregnancy.
And finally . . .
6. YOU WILL MAXIMIZE YOUR FERTILITY. Seriously. The internet is filled with stories of women who completely changed their diets and got pregnant. Including women in their fifties. I'm not kidding. It's time to do this!
Read all my posts on my successful Fertility Diet here!
If after reading the diet described below you are freaking out and thinking "She's crazy! I can never do this! It's too much for a normal person!" just stop and remember some important things:
Although you should eat like this for your entire life you only HAVE to eat like this for three to four months in order to optimize your eggs. If you want to pound three lattes a day after you've had your babies, do what you must.
This is SCIENCE. ALL of this is evidence based- this is not touchy feely hippy advice.
It could work!!! And if it doesn't, you'll probably be the healthiest you've ever been Maybe your body is just waiting for you to start eating healthy before it feels comfortable growing new life. Or maybe your "baby in waiting" wants you to overhaul your diet before they make their grand entrance. I personally feel part of my miracle was discovering a diet that made me truly healthy BEFORE I had my babies!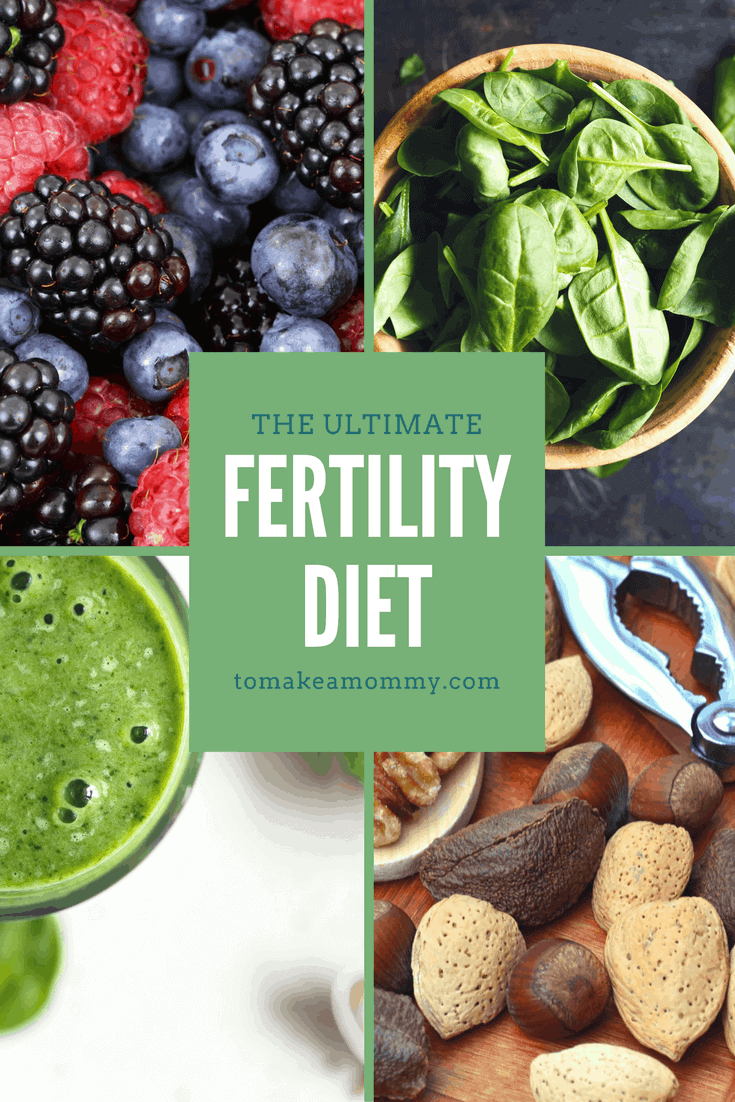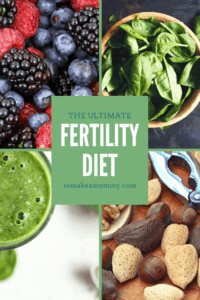 Even though there are many foods you must eliminate, the overarching theory behind the diet is to NOURISH. Thus, there is no limit on quantity- eat as much organic vegetables as you can!
Every time you consider consuming a food or beverage ask yourself, "Will consuming this take energy away from my ovaries, eggs, and womb, or will it help create more energy for my reproductive organs?" Things like caffeine, alcohol, and sugar, deplete our reproductive energy, and worse, poison our reproductive processes. Foods like bone broth, leafy green vegetables and nourishing grains like quinoa PROVIDE energy to our reproductive processes.
Please know that although this diet was perfect for ME, I am not assuming it will be perfect for EVERYONE. Read my post and download my free e-book on Your Perfect Fertility Diet: How to Tailor the Diet to YOUR Needs and YOUR diagnosis!
*This post contains affiliate links which at no cost to you provide me with some small change to help keep this blog running! If you decide to buy something I recommend, please consider clicking through one of my links to help support this blog and my family! Thank you!
The diet overview is below. I will be blogging individual posts about each aspect to give you the full detail behind why it is so important and how to make the change easier.
Eliminate: Sugar, Sweeteners (honey, agave, high-fructose corn syrup, etc.), Soy, Processed Food, Caffeine, Refined/white carbohydrates (pasta, white bread, white rice), Alcohol, anything with Trans Fats
Consider Eliminating: Dairy, Gluten, raw, and cold foods such as uncooked vegetables or icy smoothies.
Consume limited amounts of: organic meat, fish, organic fruit (aim to keep sugar levels low, i.e., berries=good, bananas=bad), organic starchy vegetables (potatoes, sweet potatoes, squashes, carrots)
Consume plenty of: Organic vegetables (especially leafy greens), organic/free range eggs, Legumes, Whole grains (Quinoa, Brown Rice), Seaweeds, healthy fats (avocado, olive oil, nuts, seeds), filtered water
Consult your Traditional Chinese Medicine Acupuncture Practitioner for a tailored Chinese medicine diet to suit your personal needs or use the diets suggested in The Infertility Cure by Randine Lewis.
Supplement with: fertility superfoods tailored for your needs, like wheat grass + spirulina (what I used for my issues) in a Fertility Smoothie
Have a daily herbal infusion of red raspberry leaf, nettles, and oatstraw (or tailor the herbs to your needs)
Vitamins: A whole food prenatal, a probiotic (should buy refrigerated at health food store, I use this one), Omega 3 fatty acids (fermented Cod Liver Oil is good), and Calcium + D + Magnesium. Check out my posts on my thoughts on fertility supplements here!
After careful research consider: CoQ10 or other supplements tailored to your needs!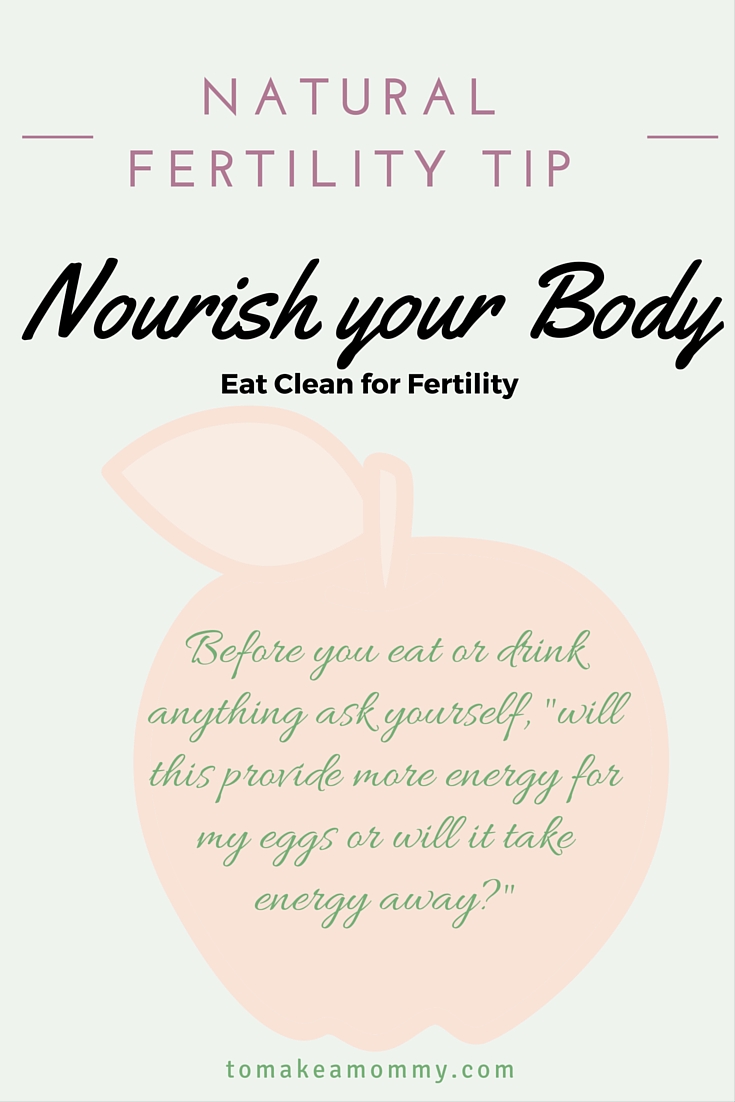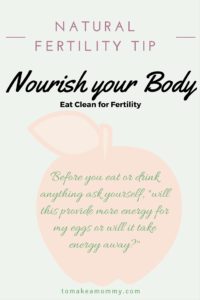 This diet probably doesn't come as a surprise to you. You've probably seen similar diets on other fertility websites or in fertility books. The main differences between my diet and the others are three-fold:
I ask you to completely eliminate alcohol, caffeine, white carbs, and sugars. Many diets simply say "reduce." Well, "reducing" didn't work for me. I had to go all-in. Science backs this up. Even a small amount of sugar (found in sweeteners, carbs, or alcohol) can trigger an insulin response which can hurt egg health for up to 90 days! Additionally, research has shown that even just a half cup of coffee a day can lead to decreased birth rates. I'll be blogging about each of these individually and why it is so important to completely give them up to optimize fertility.
I ask you to consider eliminating dairy and gluten. Research shows that many, many people have food sensitivities and intolerances that they aren't aware of. Long-term exposure to food sensitivities can provoke an immune reaction in the body which can lead to problems with ovulation, egg quality, and early miscarriage. If you have any of the symptoms of a food intolerance or if you have any kind of identified immune issue related to infertility (or multiple unexplained early miscarriages), I would suggest completely eliminating dairy and gluten. I knew I had a sensitivity to dairy, so I completely eliminated that, but not gluten. If you have an diagnosed gluten intolerance, however, it can absolutely make you infertile. The best way to be sure is to just eliminate both dairy and gluten.
I want you to limit your supplements. Don't go crazy. Unfortunately many websites and books are filled with all sorts of wonderful super herbs and pills for fertility. Soon you wind up with sixteen powders and twenty pills a day! For most healthy women, all you need to do is nourish yourself to optimal health. Leafy green vegetables are your friend. For SOME women with SPECIFIC diagnoses, other cures may be helpful. For example, Vitex is often recommend as a miracle herb for fertility. It is- but only for certain types of infertility. I have always had a very regular period, so I would never take Vitex because it might mess that up, even if it might also help with egg health. Do extensive research before committing to a supplement! Check out my posts on my thoughts on fertility supplements here!
One of the reasons I am calling this the "Ultimate Fertility Diet" is because it is inherently an anti-inflammatory diet, which is going to be important for anyone struggling to conceive. When your body is suffering from inflammation, your fertility is reduced. To tame the inflammation we have to avoid the most inflammatory foods- caffeine, alcohol, trans fats, sugars, white carbs, and processed foods. For many people gluten and dairy are also inflammation-causing foods (not not for all), and that is why they often need to be eliminated.
It is also an Ultimate Fertility Diet because it eliminates all the foods that research has shown hurt fertility- trans fats, alcohol, caffeine, sugars, and soy. It also includes foods that have the nutrients needed for optimal fertility- leafy greens, beans, nuts, seeds, organic lean meats and fish, and free range organic eggs.
For many women, this diet will be all they need to get pregnant quickly, whether they are trying naturally or through IUI or IVF.
I think it is important to mention that for some people, especially those who have severe autoimmune disorders, this anti-inflammatory fertility diet will simply not be enough. Many women find success with the Auto-Immune Protocol Diet, which is very similar to Paleo and Whole 30 Diets. It is basically the my diet here, but you also remove all known gut irritants including all grains, beans, nuts, seeds, nightshades, and eggs. Then you do a gradual reintroduction to identify foods that are causing issues for you.
To find out more about how to tailor this Ultimate Fertility Diet to YOUR needs and YOUR diagnosis, go now to my post on Your Perfect Fertility Diet and download my free e-book!
Below in the Amazon block, I've picked for you my favorite prenatal vitamin ( a whole-foods based vitamin that makes it easy for your body to absorb the nutrients), my favorite wheat grass and spirulina powders to add to your fertility smoothie, and the book I referenced, The Infertility Cure by Randine Lewis, that will help you understand your Chinese Medicine diagnosis and look up a diet that is specific for your particular situation.
Are you ready to make a major commitment to your baby journey by starting the To Make a Mommy Fertility Diet? What do you need to do to commit? If you aren't going to commit to it, what is holding you back? Which parts of the diet would you like me to blog about sooner rather than later to help you understand why you need to make that decision and help you figure out how?
Are you ready to discover YOUR perfect fertility diet?
Tired of all the conflicting fertility diet information? It is up to YOU to take control of your fertility journey and do the research to figure out YOUR perfect fertility diet. I've developed this free e-book as a guide to jumpstart the process. It includes tailored diet information for many infertility diagnoses, such as PCOS, Endometriosis, Anovulation, Luteal Phase Defect, Thyroid Problems, Fibroids, Unexplained Infertility, and more! It is completely free to download! Enjoy!
I'm always pinning recipes that are fertility diet friendly to my Pinterest board Clean Eating for Fertility. Check it out and follow me on Pinterest!
https://www.pinterest.com/89d402a117c90a1/clean-eating-for-fertility/
✕
Want to get pregnant fast?
Love lists? Me too. Grab my 79 Things I did to transform my life and get pregnant in less than 3 months after 2 years of infertility and miscarriages! Totally free!

Anna Rapp is a fertility journalist and non-toxic living expert. When Anna Rapp was struggling with infertility and recurrent early miscarriage, she was diagnosed with diminished ovarian reserve, High FSH, low AMH, low follicle count, endometriosis, and an MTHFR mutation. Despite being told donor eggs were her only solution, Anna used her graduate training in research methods and analysis to read everything she could find on fertility and egg health. Ultimately, she lowered her FSH and got pregnant naturally (twice). She blogs about how she did it and encourages her readers to take charge of their fertility journey and get happy, healthy, and pregnant!