This post has been medically reviewed by Dr. Sarah Mathis, D.O.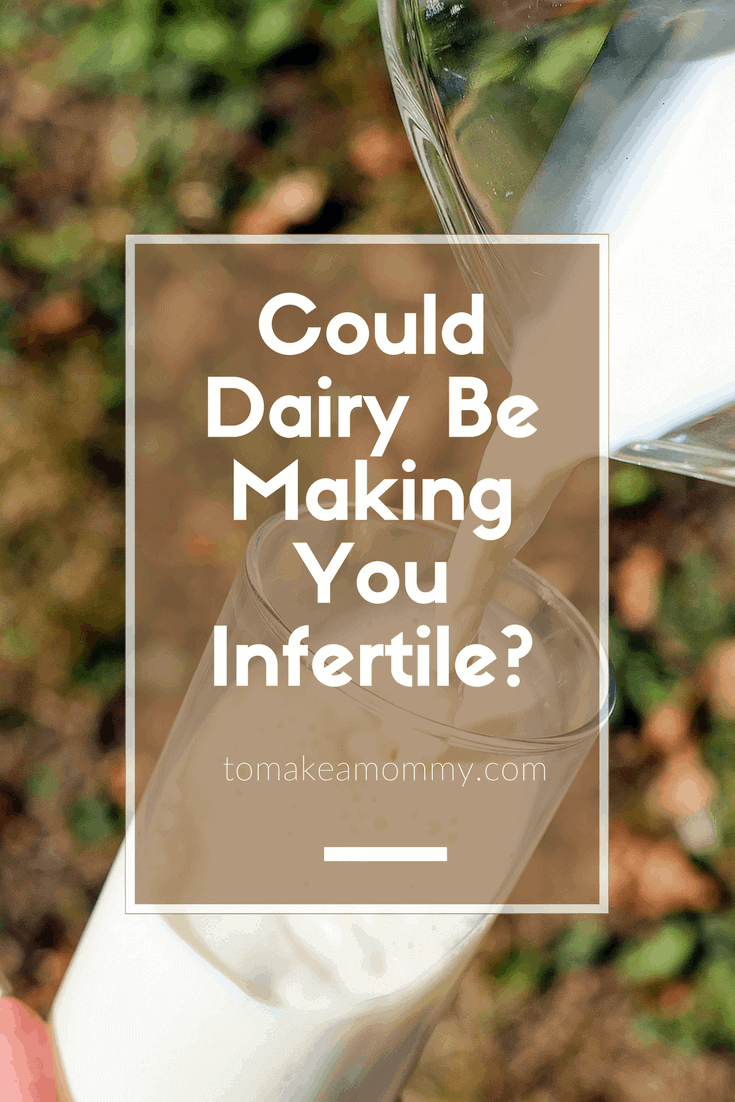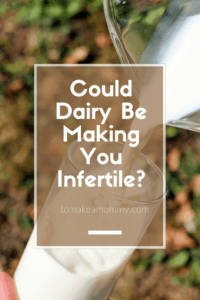 Dairy is one of those highly controversial foods that people feel passionately about.  The passion is on both sides- those for and those against.  I know that I have argued passionately FOR dairy many times in my life when vegans have tried to convince me to give it up.  My argument was that dairy is a nutritious "whole food."  When you buy a nice, whole-fat organic dairy product there is usually only one ingredient in the list (i.e., "milk"), with maybe some added calcium or vitamin D.  Dairy provides many crucial vitamins and minerals, and it provides lots of fats- something that you need to have plenty of in your diet when trying to conceive.  Many websites and "fertility diets" even list it as a "fertility superfood" for this reason.
Unfortunately, for some people, this is an incredibly wrong message.  Dairy can actually hurt everyone's fertility because of the fertility harming toxins it contains, and for people who have lactose intolerance, or a casein (milk) allergy or sensitivity, it can actually cause infertility.  It makes me sad to say so.  Seriously, I love dairy.  I dream about ice cream, pizza, brie cheese, butter, and whipped cream.  Like, I have literally dreamt of being surrounded by delicious dairy treats and having to hold back. But I truly beleive that dairy was one of the causes of my infertility, and when I stopped eating it, I got pregnant.  Yes, I did a lot of other things (Click here to find out all of them!), but I feel strongly that dairy was hurting my attempts to conceive. 
This post contains affiliate links which at no cost to you provide me with some small change to help keep this blog running! If you decide to buy something I recommend, please consider clicking through one of my links to help support this blog and my family!  Thank you!
Let's look at the two ways dairy can hurt your chances of trying to conceive:
Many, many people are either lactose intolerant or have a sensitivity or allergy to casein.  Lactose is a sugar in dairy products, and casein is a protein. For most people, they don't realize they have this sensitivity.  They may suffer from fatigue, an irritable bowel, or other symptoms (see below for more) but may not have made the connection to dairy.  The problem is that repeated exposure to a food allergy can set off a whole-body immune response that shuts down fertility.  It can lead to lack of ovulation, low quality eggs, recurrent early miscarriage, etc. This has been studied and established as a problem for

celiacs

and people with gluten issues. Studies of celiacs have also shown that the harm done to the gut from repeated exposure to a food allergy can limit the body's ability to process nutrients that are critical to create and sustain a pregnancy. Unfortunately, studies on the relationship of other food allergies and fertility haven't been done- what we do know is that the inflammatory immune response triggered by food sensitivities is harmful to fertility. See the book

It All Starts with the Egg

for an easy to read literature review on the effect of celiacs on fertility.

Dairy, all dairy, even the beautiful, organic, local milk that comes in a glass bottle, is loaded with endocrine disrupting phthalates. Multiple studies have shown this (Here is

one

, here is

another

, and here is

one more

. Here is an easy to read

Mother Jones article

if studies aren't your thing). I know, it's awful.  I am so, so, so sorry to be the one to tell you this.  I wish it wasn't true.  Here's the problem: the hot milk that flows from the cow travels through soft, pliable, plastic tubing.  The heat leaches the toxins from the plastic, and they cling to the high fat content of the dairy.  We know that

phthalates are linked to infertility

in men and women.
The facts are clear- for many people trying to get pregnant, ditching dairy may be necessary. It was absolutely necessary for me.  The really, really, really, good news is, that all of this is reversible.  Pthalates clear out in a couple weeks once you reduce your exposure.  The fertility harming immune-response antibodies that are produced when you are repeatedly exposed to a food allergy (like antiphospholipids) and the infertility causing phthalates all GO AWAY when you stop exposing yourself to the substance.  AND your body will start being able to process critical nutrients again as your gut heals. So, if you completely cut out dairy you will heal yourself, reduce your immunological response, reduce the toxins in your system, increase your nutrient intake, and up your chances of a successful pregnancy.
"But," you say, "Then why does every blog, book, and doctor tell me to drink plenty of whole milk, and eat multiple whole-fat milk products every day while trying to conceive?"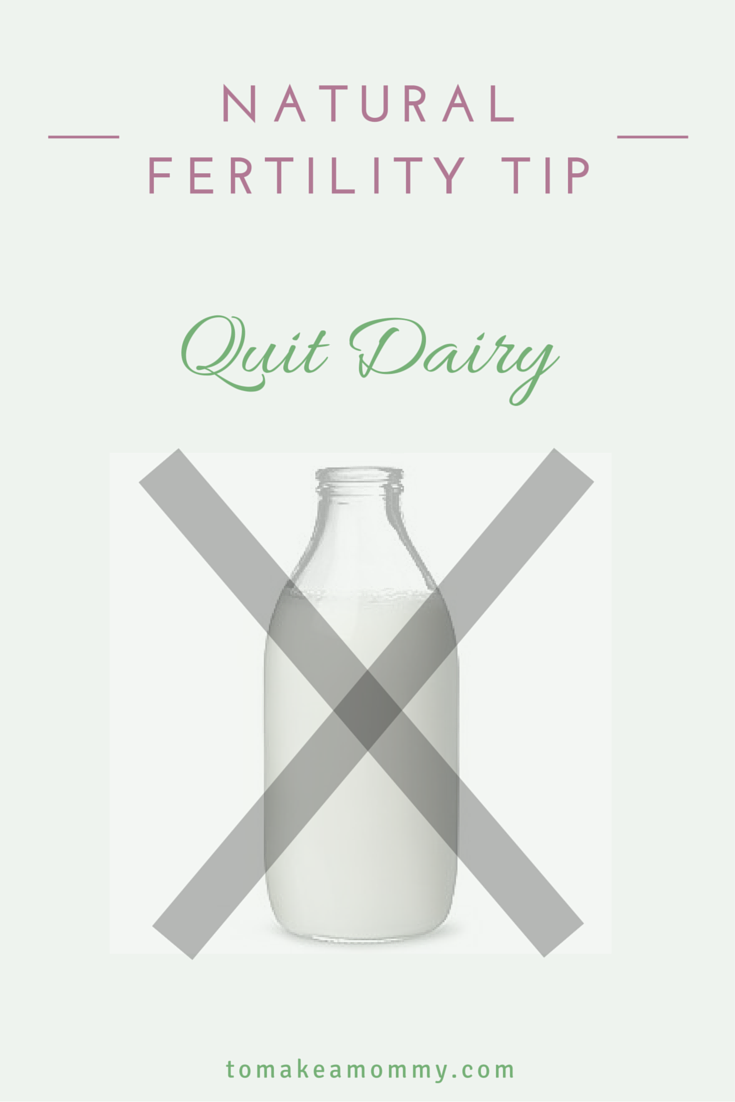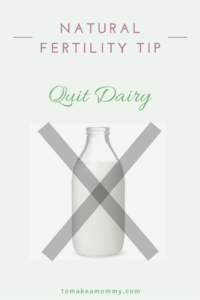 It's true, most of the world thinks that whole fat dairy is crucial to getting pregnant. But that's because they never read the actual study that this claim is based on!  The SINGLE study on this topic was done in the 1990s, following women from 1991 to 1999, and was published in 2007. It's a good read if you have time.  They did this study because previous research showed that women with problems metabolizing galactose (a sugar in dairy products) and animals fed lots of galactose were more likely to have premature ovarian failure (POF).  So, they designed a study that tracked women (via questionnaire) who wanted to get pregnant and who were diagnosed with anovulatory disorder.  Already, we have a problem.  They didn't look at all fertility problems (including POF!), instead they just looked at women who had been diagnosed as not ovulating. This means their conclusions are limited to that group of women.
Their results were that the women with anovulatory disorder who consumed higher amounts of high fat dairy products were more likely to get pregnant than women who consumed high amounts of low fat dairy products. The difference was even more significant for women who consumed high amounts of low-fat sherbert and frozen yogurt.
You see the problem?
They only looked at women with anovulation disorder.  That means that all the women with other problems, including hormonal imbalance, high FSH, PCOS, implantation problems, diminished ovarian reserve, etc., were excluded from the analysis and the conclusions can't be extended.

While they did control for some lifestyle and health factors, they couldn't control for all of them.  They admit in their article that it is possible that the women eating low-fat dairy were those with worse health or infertility diagnoses and as such, their doctors might have told them to start eating a low fat diet (which was totally the health rage in the 1990s).  Thus, it might have been their prognosis, and not their diet which was really linked to the increased infertility.

In the 1990s low-fat foods were spiked with crazy amounts of sugar. They still are today, but at least you can find unsweetened options (sometimes).  Given that the results were even more pronounced for those eating large amounts of low fat sherbert and frozen yogurt, it seems possible that the high sugar content is what was really driving the outcomes. The link between sugar, insulin spikes, and reduced fertility is well established. Again,

It All Starts with the Egg

has a great literature review on all the related scientific studies.

The inflammation that occurs in the body after repeated exposure to a food allergy/intolerance/sensitivity and the harm that insulin spikes and phthalates from processing can cause to your system aren't particularly linked to anovulation.  They are linked to lowered egg and sperm health, implantation problems, early miscarriage, and chemical pregnancies.
I'm not saying the researchers did a bad job- I actually think their study is relatively tight for a non-experimental design.  The problem is that everyone and their mother read some press release when it was published in 2007, and repeated republishing since, and concluded that hands-down whole fat dairy is good for fertility.  There is so little real research on human subjects with regard to fertility diets, that people grabbed this immediately and stuck it in their "fertility superfood" lists. When I read this study I think, "Women who are not ovulating need to increase their nourishment. One way to do this is to eat large quantities of high fat dairy."  I also think, "Huh, those low-fat, high-sugar dairy foods are always a problem!"  I don't think, "We all need to chug 4 glasses of whole milk each day to increase our fertility."
"But," you say, "How do I know if I have a lactose or casein sensitivity or allergy?"
Good question! Approximately 65% of the human population has a lactose intolerance.  I couldn't find a reference for how many people have a casein sensitivity or allergy.
Symptoms of a lactose intolerance include: belching, bloating, diarrhea, frequent stools, frequent loose stools, fat in stool, indigestion, flatulence, nausea, or stomach cramps.
Symptoms of a casein sensitivity/allergy are the same as above PLUS: wheezing, rashes, eczema, psoriasis, fatigue, irritable bowel syndrome, congestion, watery eyes, runny nose, joint pain, and behavioral changes.  In severe cases of a milk allergy, symptoms can include itchy throat, hives, difficulty breathing, and vomiting (see a doctor ASAP and carry an epipen).
Symptoms of long-term exposure to a food sensitivity result in an immunological reaction.  Symptoms may include: migraines, digestive issues (including constipation & diarrhea), weight gain and loss, joint pain, skin outbreaks, fatigue, and other symptoms usually associated with poor gut health.
Ew. I know.  This is totally TMI but the reason I found out I was lactose intolerant was because I was seeing a gastroenterologist for something else and he asked about my stool frequency.  I was like, "oh, about 8 times a day."  He looked at me like I was crazy.  It turns out that ISN'T normal (haha I had no idea :-).  Once a day is normal.  I started eating all lactose-free dairy, and low lactose dairy foods like cheddar cheese and butter. I dropped to 4 times a day.  When I finally cut out all dairy I dropped to once a day- bingo.
When I quit dairy I also lost about five pounds and my blood pressure dropped. I stopped have allergy symptoms in the spring, and my chronic neck tension lessened significantly. Pretty clear signs for ME that I need to avoid dairy.
If you have an intolerance, sensitivity, or allergy to dairy products, you absolutely need to 100% avoid all dairy while trying to conceive.  This means NEVER cheating, and being very careful when you go out to eat- be sure to ask for your eggs to be fried in something other than butter, for example.
"I don't have any of those symptoms," you say, "Do I need to quit dairy?"
Maybe, maybe not.  If you are just starting to try to get pregnant, then don't worry, and just enjoy yourself.  However, if you've been struggling with various "infertility" diagnoses or have repeated early losses or problems with egg health, then you might want to consider ditching dairy and see if it helps.  You'll be able to tell fairly quickly  (in a month or two) if you have a lactose or casein issue because you will feel better. However, you won't feel a difference from lowered phthalate levels.  Since phthalates are linked to egg health and early loss, if you have those problems, consider ditching dairy.
However- if you don't have an intolerance or sensitivity issue, and you are super skinny, need to gain weight, and aren't ovulating, then you should probably keep high-fat, non-added sugar, dairy in your fertility diet, and reduce phthalate exposure everywhere else you can.
My Story: Giving Up Dairy & Getting Pregnant
Unfortunately for me (and probably you), it was all too easy to follow those "fertility diets" that are all over the internet. I hadn't read this study, and no one had suggested otherwise, so for almost all of the two years that I tried to conceive I ate a diet that included lots of whole-fat milk and other dairy.  I thought I was doing the right thing! As you know, I had incredibly high FSH, endometriosis, repeated chemical pregnancies/early miscarriages, and diminished ovarian reserve.
It wasn't until I reached my moment of real commitment to my baby journey AND I had multiple healers (two acupuncturists, two books, and Julia Indichova of Fertile Heart) all suggest I try quitting dairy that I decided to go for it.  It wasn't really for the evidence based reasons I outlined above- I didn't know those yet.  Here is why I quit dairy before I had the evidence above:
I spent time with my  body.  I listened to it.  I had been lactose intolerant for years , but I had never stopped eating dairy- I just took the lactose pills when I ate it, or bought lactose-free dairy. But as I spent time really thinking about how my body reacted to dairy, I knew, deep down, that dairy was hard on my digestion.

I began googling the harmful effect of gluten intolerance on fertility, and then I started to google about milk protein "casein" allergies and sensitivities.  I began to think  that I might have a casein sensitivity in addition to the lactose intolerance I had known about for years.

My traditional chinese medicine (TCM) diagnoses was kidney yang deficiency, blood stasis, and cold uterus.  Dairy products were not advised for my condition.

I began to realize that while some foods nourished my whole body, others took so much energy to digest that they stole energy from my reproductive system. I started to think that maybe dairy took energy away from my body.

Julia Indichova

, and a number of other women who struggled with high FSH and egg quality issues became pregnant after quitting dairy (among other dietary choices).

My acupuncturist was like "You feel gross after eating ice cream but you still do it???" She looked at me like I was crazy.  Point taken, lady.
I'm not going to lie, giving up dairy was difficult.  It was probably the hardest choice I made when I decided to go "All-in" and implement the To Make a Mommy Fertility Diet.  Harder than giving up caffeine, sugar, or anything else!  I love dairy.  I feel like cheese makes life better.
But, you know what is even better than cheese?  That sweet little baby holding your hand as they drift off to sleep.
Long story short (err, long), I eliminated dairy and I felt better than ever.  With that choice, and other dietary and mind-body efforts,  I was pregnant in under three months.  I strongly believe that dropping dairy was crucial to my personal baby journey, and that I am happier and healthier for it.
After you get pregnant you'll have to decide for yourself if you will start dairy again or if you will maintain a dairy-free diet to protect your growing baby.  I have stayed completely dairy free except for the occasional smidge of butter. This is mostly because I worry about the potential inflammation and I don't want my baby to have problems with lactose or casein like I did.  There is some evidence that a mother's immune response to an allergy can be passed to her child during pregnancy or while breastfeeding.
Don't hesitate.  The time is now.  Ditch dairy and let your body begin healing itself and cleansing itself of toxins.  You owe it to yourself and your future baby.  
"But," you say, "What do I use instead?"
The good news is that we live in a time when dairy substitutes are abundant, and are getting healthier and healthier! You have lots of options.  Just be sure to get plenty of saturated fat and Vitamin D which are both crucial to fertility, and plenty of calcium, which is crucial for YOUR health overall.
For Milk Substitutes: Always pick an unsweetened substitute milk that doesn't have "carrageenan" in the ingredient list.  I know, it sounds like it's just a seaweed, but it's actually linked to high cholesterol and other heart and health problems. Also watch out for things like Oat Milk that have a naturally high sugar count. I try to avoid the prepackaged cartons sitting on the shelves because they usually have more preservatives.  I opt for the substitute milks in the refrigerated milk/organic section of my local grocery stores. I love So Delicious Unsweetened Coconut Milk and Silk Unsweetened Original Cashew Milk.  I think the coconut milk is sweeter and yummier, but the cashew milk is naturally creamier.
For Cream Substitutes: The little cartons of So Delicious Culinary Coconut Milk are AMAZING.  Get the full fat versions.  I put them in my coffee substitute (Dandy Blend), in my fertility smoothies, make whipped cream out of them, and use them anytime a recipe calls for creaminess.  They are great in Indian or Thai food as well. Remember to avoid the canned coconut milk, even the ones that say "BPA-free" because of the other phthalates present.
For Butter Substitutes: For topping bread or popcorn, I use a high quality extra virgin olive oil.  For cooking, we don't use olive oil because it loses many of its health benefits under high heat. (Just watch out for all the fake olive oils out there!)  We prefer avacado oil  (we get this kind for cheap at BJs) which has a very high smoke point, or extra virgin coconut oil, because of its many health benefits. Just be sure to buy your oils in glass jars so you don't have them sitting in plastic and leaching phthaltes for months! Also, for very special occasions when you are NOT trying to get pregnant, ghee is clarified butter and all of the casein and most of the lactose is removed. I was about three months pregnant when Thanksgiving came along, and we used ghee as a way to calm my nerves but still make a yummy uncompromised dinner for everyone else.
For Cheese Substitutes:  This one is harder.  You can make your own cheese from cashews but I've never done this (always on my to-do list).  You can buy cheese substitutes at the store and some of them taste okay, but I honestly think they are a little gross and I get weirded out by all the ingredients.  The one thing I LOVE is nutritional yeast, which tastes cheesy, and works great in a fake cheese sauce, or sprinkled over popcorn! This is what I use, but I'm sure any brand would work.
For Ice Cream Substitutes: The good news is there are options for completely unsweetened coconut and almond ice creams out there that you should be able to find at a well stocked grocery store or health food store.  The bad news is that these are still COLD and you should avoid cold foods while trying to get pregnant according to traditional chinese medicine (i.e., acupuncturists).
For Calcium + Vitamin D supplementation: Drink plenty of milk alternatives which are loaded with calcium and vitamin D, and take a chewable calcium supplement.  Watch out!  Most of the supplements are loaded with crap.  Even though the Adora Dark Chocolate calcium chews have a little sugar, they are free from other harmful additives and preservatives. I take one a day and get my chocolate fix from it.
"But," you say, "All of these come in cartons that are lined with wax or plastic, right? Are they still safe?"
Excellent question, reader.  I'm so glad you are thinking about the possible toxins lurking in your food products that might hurt your health.  It's a scary world we live in. We know that straight up plastic containers and any kind of canned good will be laden with phthalates which harm fertility.  That is why it's important to switch over everything in your kitchen to glass or stainless (I'm working on a post for that, don't worry).  
Unfortunately, these tetra paks and cardboard milk cartons are not completely safe.  Basically anything made with paper that holds a liquid will be lined with a plastic. These are unfortunately usually petroleum based.  The good news is that the food-grade polyethylene that is used to coat these cartons has never shown any leaching of phthalates into the liquids UNLIKE the materials used in can goods or straight-up plastic cartons for liquids. Additionally, the food grade low-density polyethlyene (LDPE) used in tetra paks has been tested and shown to not contain BPA, nonylphenol, or phthalates. This is considered a "safe" plastic. Now, I'm not sure I will ever completely trust plastic around my food.  BUT, if you need a milk substitute in your life, these are much, much, much, better alternatives than dairy or canned coconut milk.  If you have the time and are so inspired you can make your own cashew or coconut milks from scratch and store it in glass containers.  Unfortunately, these will not be fortified with calcium or vitamin D, so you will need to figure out another source for those.  Leafy greens will not cover the amount of calcium you need in preparing for pregnancy.
Someday, if I don't have a job and have time to spend turning coconuts into milk every day for my family, I will.  But until then, I'm going to buy a carton each week from BJs for $2.79!
 
Are you ready to quit dairy?  Are you crying already thinking about life without cheese?  Leave us a comment telling us your plans! It's easier to commit when your commitment is public!
Are you ready to discover YOUR perfect fertility diet?
Tired of all the conflicting fertility diet information? It is up to YOU to take control of your fertility journey and do the research to figure out YOUR perfect fertility diet. I've developed this free e-book as a guide to jumpstart the process. It includes tailored diet information for many infertility diagnoses, such as PCOS, Endometriosis, Anovulation, Luteal Phase Defect, Thyroid Problems, Fibroids, Unexplained Infertility, and more! It is completely free to download! Enjoy!
✕
Want to get pregnant fast?
Love lists? Me too. Grab my 79 Things I did to transform my life and get pregnant in less than 3 months after 2 years of infertility and miscarriages! Totally free!

When Anna Rapp was struggling with infertility and recurrent early miscarriage, she was diagnosed with diminished ovarian reserve, High FSH, low AMH, low follicle count, endometriosis, and an MTHFR mutation. Despite being told donor eggs were her only solution, Anna used her graduate training in research methods and analysis to read everything she could find on fertility and egg health. Ultimately, she lowered her FSH and got pregnant naturally (twice). She blogs about how she did it and encourages her readers to take charge of their fertility journey and get happy, healthy, and pregnant!