Ahhh, seed cycling for fertiltiy. One of the many random things I've tried to get pregnant. But, this is one that I actually happened to be doing when I got pregnant with my second miracle. Did it help? Maybe! I consider my story to be a seed cycling success story!
And as someone trying to overcome over a half dozen infertility diagnoses (High FSH, Low AMH, Low Antral Follicle Count, Diminished Ovarian Reserve, Endometriosis, Recurrent Miscarriage, & MTHFR Mutation), I tend to do ALL THE THINGS that might possibly help me get pregnant.
(Seriously, I did 79 things to get pregnant the first time!)
One of the things I love about seed cycling, is that even though it isn't terribly evidence based (although there is some science, which I will share), there's very little (if any) risk. It's just eating fertility-friendly food timed with your menstrual cycle!
I hope that this post and seed-cycling protocol for fertility helps you to have your seed cycling success story!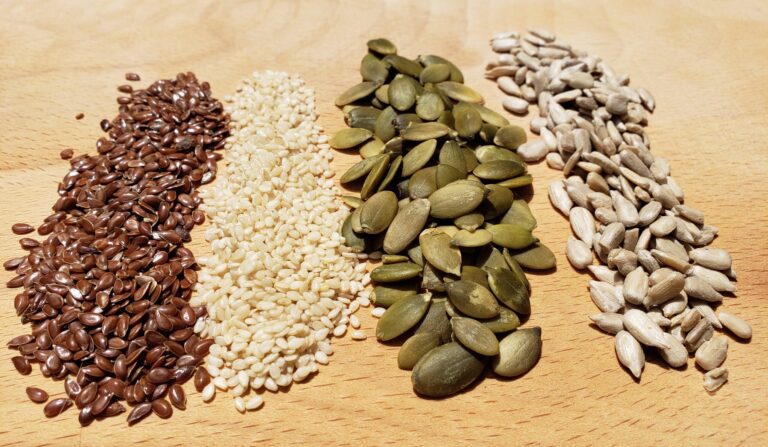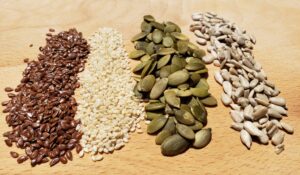 Seed Cycling For Fertility
The basic idea is that during the first half of your cycle (pre-ovulation) you provide estrogen support by eating seeds that boost your body's natural production of estrogen and that assist your body in processing it appropriately (flax and pumpkin).  This means they boost the right kind of estrogen and block excess inappropriate estrogen. You need the right amounts of the right kinds of estrogen to grow beautiful, healthy eggs.
Then, during the second half of your cycle (post-ovulation, or your "luteal phase") you eat seeds that provide progesterone support to help the successful implantation of a healthy embryo (sesame and sunflower). (For more ideas on boosting implantation success read my blog on the two week wait here!)
Seed Cycling For Fertility to Regulate your Cycle
Now, women who aren't trying to conceive, but who are trying to regulate wacky periods might use seed cycling to try and gently get their cycles on track. For them, they take the flax and pumpkin seeds from Cycle Day 1- Cycle Day 14, and the sesame and sunflower seeds from Day 15-Day 28.
Seed Cycling For Fertility if You Aren't Tracking Ovulation
If you are trying to conceive and aren't tracking your ovulation, you might do the same – take the flax and pumpkin seeds from Cycle Day 1- Cycle Day 14, and the sesame and sunflower seeds from Day 15-Day 28-  as you would assume you would ovulate around Day 14. If you want to start tracking ovulation, here is a good guide with the best ovulation monitors.
Seed Cycling For Fertility if you ARE tracking ovulation and are NOT trying to adjust cycle
If you ARE tracking ovulation, then you would want to switch seeds after ovulation, even if that wasn't on Cycle Day 14. This is what I did, because while trying for my second miracle I was using a fertility monitor to track ovulation.
Seed Cycling For Fertility with the Moon to Stabilize your Menstrual Cycle
If your cycle is TOTALLY wild and unpredictable, then you can seed cycle with the moon to try to gently encourage your body to move towards a natural cycle of bleeding with the new moon and ovulating with the full moon (what most women in the world do).
If you're doing this, take pumpkin and flax seeds on the new moon, and then do sesame and sunflower starting on the full moon (most women ovulate with the full moon and its thought to be the most fertility-enhancing moon-cycle) (Really. This is a thing. Check out this article here!).
Clear as mud? I'll clear it up by explaining exactly what I did
*This post contains affiliate links which at no cost to you provide me with some small change to help keep this blog running! If you decide to buy something I recommend, please consider clicking through one of my links to help support this blog and my family!  Thank you!
My Seed Cycling Pregnancy Success Story After Infertility

Seed Cycling was part of my fertility work while trying for my second child after infertiltiy and miscarriage. I'm so blessed that I succeeded against the odds!
Before I started seed cycling I listened to podcasts, read naturopathic websites, and consulted some fertility books. I have to tell you- although there are a ton of websites on this, there isn't super great information on the WHY behind seed cycling out there. And there isn't great information on tailoring this for trying to conceive versus regulating your cycle.
I remember listening to an hour long podcast on seed cycling for fertility and they never explained exactly how to do it. So frustrating!
So, I decided that if I was going to try it with what limited guidance was available, I would do it with a spirit of mindfulness.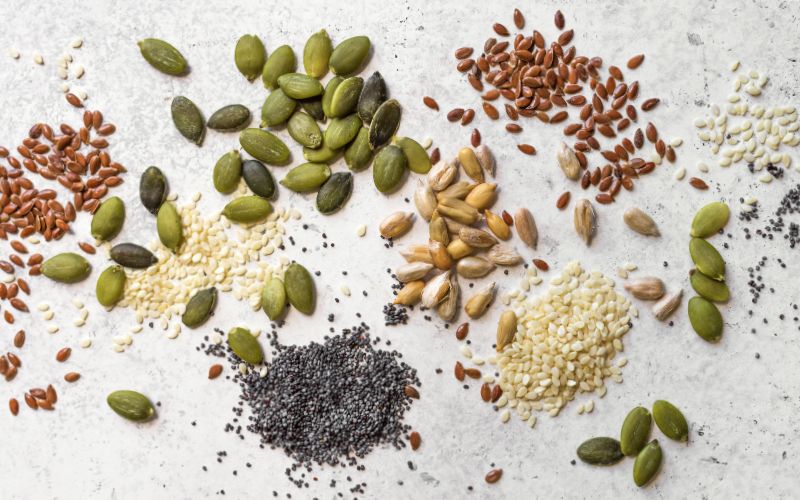 Mindfulness and Seed Cycling
That means that before ovulation as I consumed ground flax and pumpkin seeds, I purposefully imagined the seeds giving the perfect moderated estrogenic boost of perfect energy to my beautifully growing eggs.
After ovulation I would imagine the ground sesame and sunflower seeds perfectly supporting my natural ideal progesterone so that a healthy embryo could snuggle into my lush and receptive uterine lining.
Sound crazy? Well I do a lot of visualization and affirmation work both for fertility and for life!
Okay, let's get down to the nitty gritty of what I did, and then I'll end the post with the few scientific articles we have that make this a semi-evidence based practice.
So, without further adieu, here are the seeds:
Pre-Ovulation Estrogen boosting/moderating Seeds:
Flax Seeds– High in calcium and Omega 3 fatty acid, and has been shown to reduce anovulatory cycles, and help lengthen luteal phases.
Pumpkin Seeds– High in minerals needed for hormone balance, such as manganese, magnesium, and zinc. They are high in isoflavones and have been shown to boost healthy estradiol levels and moderating estrogen receptors to protect the body from bad estrogens.
Post Ovulation Progesterone-Supporting Seeds:
Sesame Seeds– High in fertility-boosting vitamins such as calcium, Omega 6 fatty acid which supports progesterone production, and zinc.
Sunflower Seeds– High in magnesium and B6.
Materials note: You need to make sure you are buying ORGANIC seeds so you don't have any harmful pesticide residue. And you need to make sure you are freshly GRINDING your seeds.
Directions: Ideally you freshly grind your seeds every couple days and then add a tablespoon of each every day to your fertility smoothie.
I was too lazy to do that so I used my NutriBullet!
Basically I loaded up my fertility smoothie with ingredients and at the very top  (where the blades that can grind seeds would hit) layered by 1 tablespoon of each seed for the day. You can use the milling blade that comes with the Nutribullet to grind the seeds first if you prefer.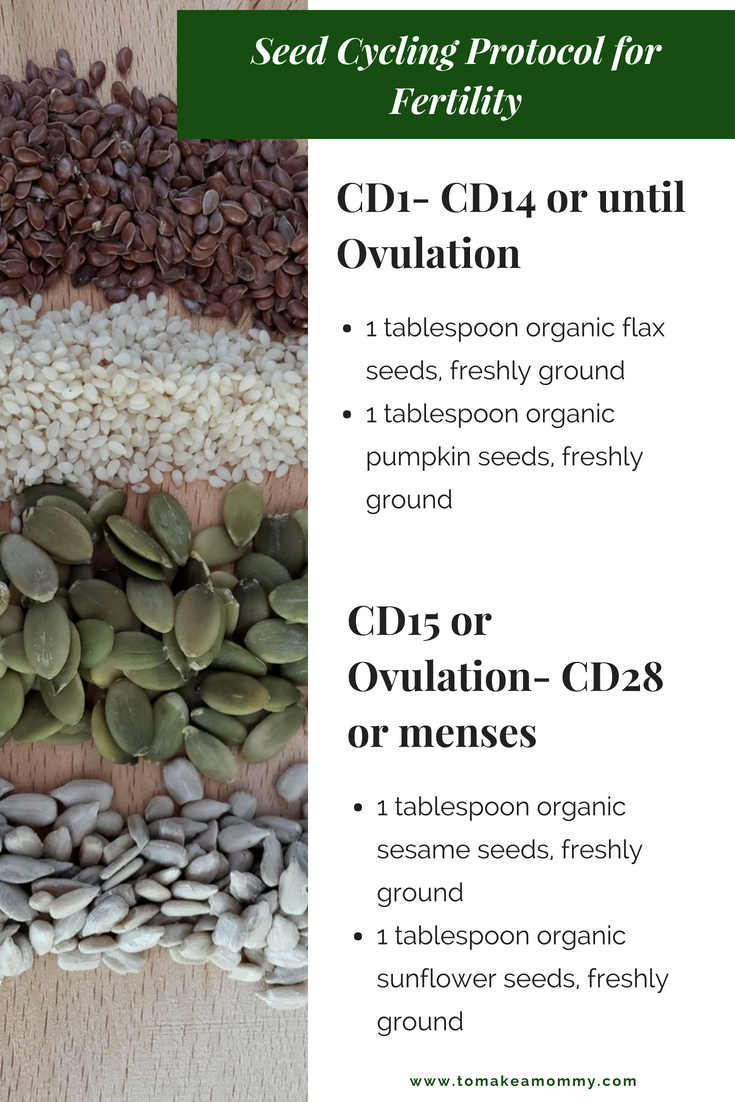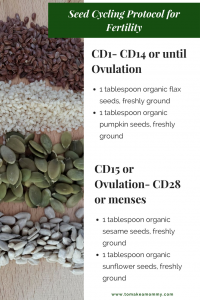 So, without further adieu, here is the seed cycling protocol I used:
CD1- CD14 or Ovulation  (Menstrual & Follicular Phase)
CD15 or Ovulation- end of cycle, i.e., my period came (Luteal Phase)
I did this for about two months before I became pregnant. You can read my whole story of my second miracle pregnancy here!
Of course there are other ways to eat ground seeds- this is just how I did it!  Have you tried seed cycling? Did you like it? Are you going to try? Leave a comment below!!
—>>>IF TRYING TO CONCEIVE CONTINUE WITH LUTEAL SEEDS UNTIL YOU GET A PERIOD OR CONFIRM PREGNANCY.<<—
This is important because you want to keep providing that gentle progesterone support.
Seed Cycling in Pregnancy
I've had many readers get pregnant (YAY!!) and they ask me what seeds to use IN pregnancy. Again, we don't have any great evidence-based suggestions here.
But, seeds a great, nutritious food in and out of pregnancy. So, let's keep eating seeds. Plus, they are in the cabinet anyway, huh? 🙂
In early pregnancy, it is kind of like an extension of the luteal phase. Your natural progesterone is (hopefully) going up smoothly and will continue to be on the rise throughout your whole pregnancy.
What you do with your seeds might be determined by your situation. If you are young and healthy with no infertility issues, you might just do ALL the seeds for nutrition, like this amount per day:
1 tbsp sunflower
1 tbsp sesame
1 tbsp flax
1 tbsp pumpkin
If, however you've struggled with recurrent loss or have a reason to believe you might have lower progesterone, then you might boost up your progesterone supporting seeds like this:
2 tbsp sunflower
2 tbsp sesame
1 tbsp flax
1 tbsp pumpkin seeds
This is what I did with the second pregnancy, the later of the two. I kept doing this until I ran out of seeds, but you could keep doing it the whole pregnancy!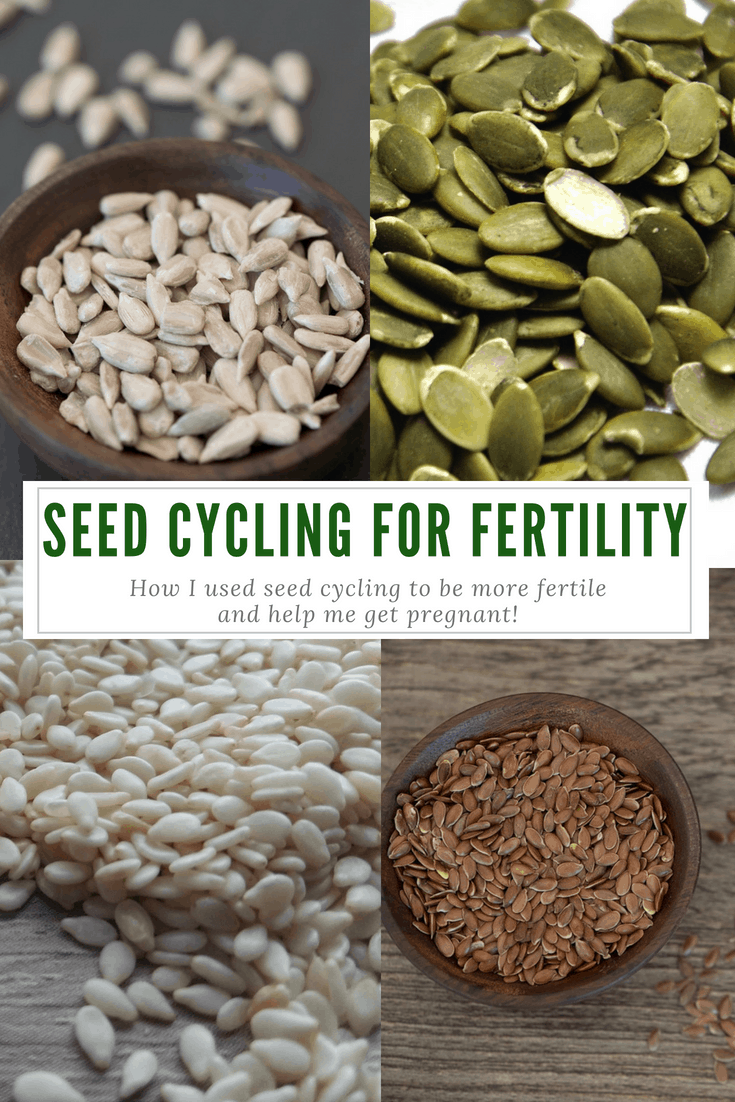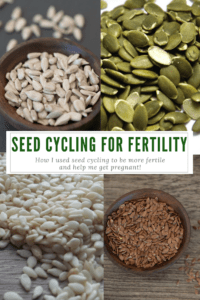 ✕
Want to get pregnant fast?
Love lists? Me too. Grab my 79 Things I did to transform my life and get pregnant in less than 3 months after 2 years of infertility and miscarriages! Totally free!

When Anna Rapp was struggling with infertility and recurrent early miscarriage, she was diagnosed with diminished ovarian reserve, High FSH, low AMH, low follicle count, endometriosis, and an MTHFR mutation. Despite being told donor eggs were her only solution, Anna used her graduate training in research methods and analysis to read everything she could find on fertility and egg health. Ultimately, she lowered her FSH and got pregnant naturally (twice). She blogs about how she did it and encourages her readers to take charge of their fertility journey and get happy, healthy, and pregnant!