Hello! I've been working hard for years collecting discount codes for my favorite fertility-safe supplements, non-toxic products, and clean food items. You'll see even more in my newsletter when you sign-up (there are some discounts I can't share on the web!). Bookmark this page as a quick reference for when you are shopping!
I will try to keep this page updated as discount links change!
Note: I don't earn any commission when you use my discount codes, but I do when you shop through my links. When you're able to do that, I really appreciate it! Affiliate links are the primary source of income for my blog and business, and are what allow me to do this work!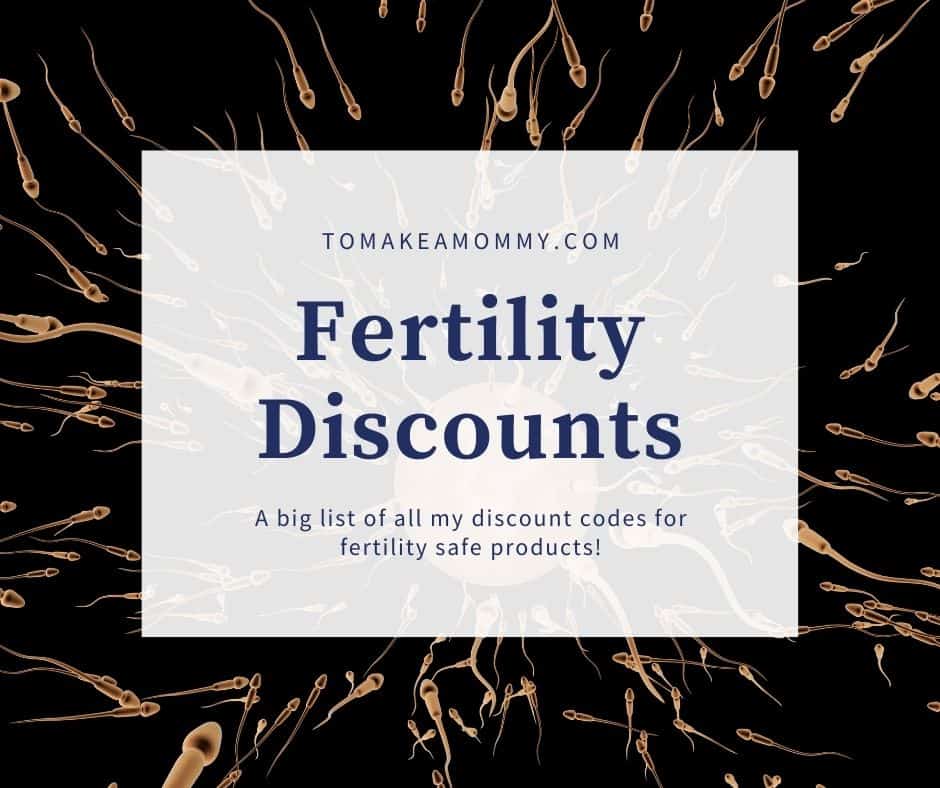 Beautycounter– Clean, heavy metal tested make-up, skincare, haircare, body wash, baby care, and men's grooming items! 10% off your first purchase! As always, Join my Beautycounter newsletter to find out what gifts with purchase I am offering this month, and join my Non-Toxic Beauty Facebook Group to easily check in and see the latest discounts!
Butcher Box– How we get our organic chicken, and 100% grass-fed beef. Also has wild-caught Alaskan Salmon. Get $15 off with the link! (changes monthly)
Branch Basics- We love this concentrate that works for almost all our cleaning needs. Get 10% off  all kits with code tomakeamommy
Circle & Bloom– Best Fertility Meditations out there! (Also, the best healing from cancer meditations in case you know anyone who needs these!) – 20% off with code– tomakeamommy
Fairhaven Health– Great fertility supplements for women and men (they now have the good folate!!!), bulk & cheap pregnancy and ovulation tests, and the best baby-making safe non-toxic lube on the market (Baby Dance). 10% off with code — tomakeamommy.
Force of Nature– Our non-toxic cleaning system/sanitizer. 25% off & free shipping on Starter Kits – SAFER25. $15 off and free shipping on Value Bundles- VALUEBUNDLE15 (codes change every month)
Happsy– The most affordable truly organic mattress on the market. Get 10% off and free shipping with my link or code- ANNA10.
Intellipure– The air purification system we bought and love in our house. Get 10% off with code AnnaR
Natalist– A fertility friendly supplement and TTC product company! They have a water-based non-toxic lube that I love, and evidence-based prenatal for him and her supplements! Get 10% off with code ANNA10.
Naturepedic– The organic mattress company that we use, trust and love. We sleep on their EOS mattress, and our kids sleep on the Verse. Get 10% off and free shipping with my link or code- ANNA10.
Perfect Supplements– My favorite source for Collagen Peptides, Plant Protein, Acai Powder, and Spirulina. They are USDA organic and test each batch for heavy metals, pesticides, and more. You can also get a few clean major supplement brands their with my discount, including MegaFood, Ancient Minerals, and Garden of Life. Get 10% off with code ANNA10
Pharmanord– They make my favorite CoQ10, Bio-Quinone Gold. Research suggests it may be the most bioavailable on the market. It is 100% what I take, hubby takes, and I give to my family. Contains trace amounts of soy; the company says their manufacturing process removes all protein and estrogenic effects, so there should be no concerns. They also make a great selenium that we use.
Primally Pure– Best nontoxic deodorant, chapstick, and body butter (in my opinion!). I also use their rose quartz roller, their gua sha stones, and their skincare is heavenly. Discount Code for 10% off- ANNA (does not work for subscriptions)
Seed– Best Probiotic for fertility (and maybe everything else)- get 15% off with code TOMAKEAMOMMY (will be back in stock soon!)
Thrive Market– Discount natural grocery store online, get free first month membership + a free gift up to $22! (use link for discounts!)
Zego Foods– An organic food company that tests every batch for allergens, pesticides, and heavy metals. They make double protein oatmeal, clean vegan protein powder I know of, and fruit bars, etc. Get 20% off with code mommy20.