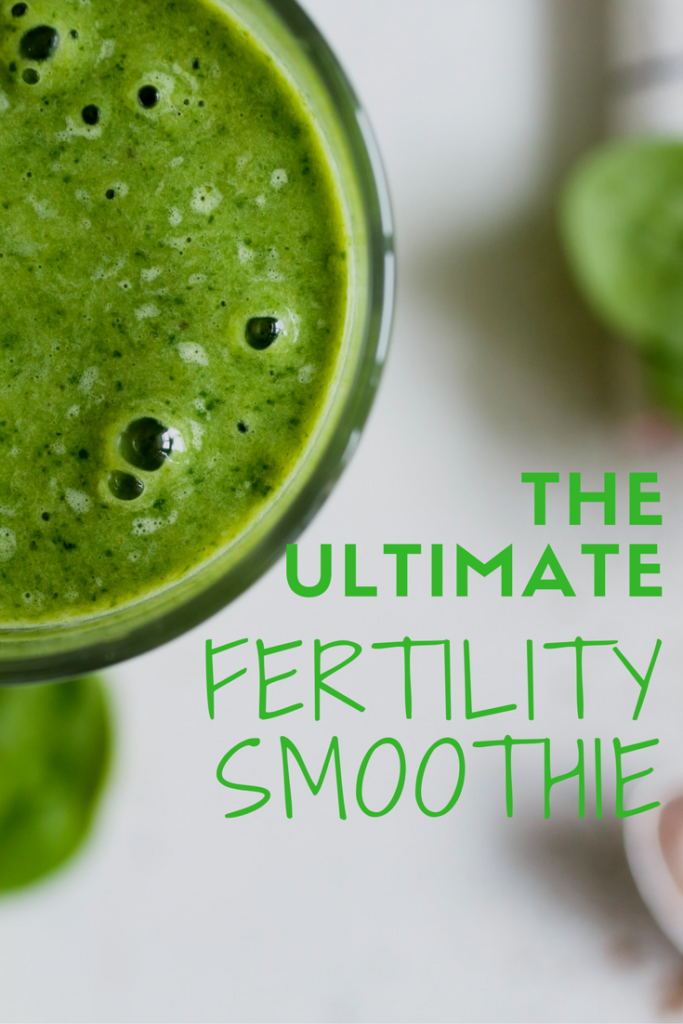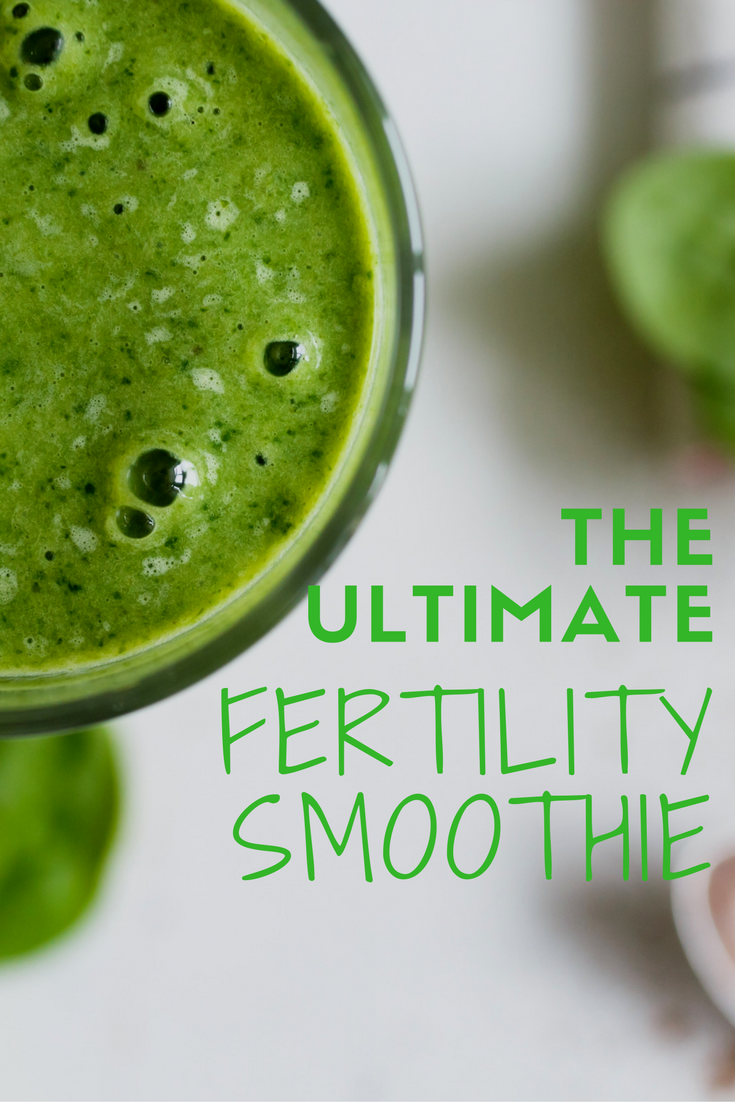 If you are trying to get pregnant and you aren't drinking a fertility smoothie everyday you are missing out! First, smoothies are delicious. Second, it's easy to pack them full of healthy greens, proteins, and fats, which are all very important to a healthy fertility diet. Finally, if you are struggling with specific types of infertility diagnosis, you can incorporate your healing superfood fertility "boosters" in your smoothies!
In this post I discuss what to include- and what not to include – in your daily fertility smoothie. I also address some common concerns that women trying to get pregnant have with the smoothie: Raw veggies or cooked? Dairy or no dairy? Protein powder or not? What kind of protein powder? At the end of the post I've included my recommended ultimate fertility smoothie recipe!
*This post contains affiliate links which at no cost to you provide me with some small change to help keep this blog running. If you decide to buy some fertility smoothie ingredients, a Nutribullet, or anything else I recommend, please consider clicking through one of my links to help support this blog and my family! I have no relationships with any brands or companies mentioned in this blog post, and I have received nothing for free! Thank you!
The Rules of Fertility Smoothies (That Most Bloggers and Coaches Get Wrong!)
The first rule of fertility smoothies: Eat your greens!
Your daily fertility smoothie is the perfect way to make sure you get an extra serving or two of the leafy greens you need to boost your fertility! The beneficial leafy greens include veggies such as romaine, kale, spinach, collards, watercress, arugula, cabbage, beet greens, chards, and dandelion greens. These greens fight infertility by creating a healthy sperm-friendly alkaline environment and by providing crucial minerals, antioxidants and vitamins that are needed to grow healthy eggs and sustain a successful pregnancy. I recommend 2-4 servings of greens a day (although one serving is from the nettles in your daily fertility herbal infusion), and it is much easier to get at least one of these servings in a smoothie.
One serving is equal to 1 cup raw, or ½ cup cooked dark green leafy vegetables.
Can I break this rule? Yes, but make sure you are eating a large green lettuce salad every day and two additional cooked green veggies.
The second rule of fertility smoothies: Steam your greens!
Here's the thing- for most of the healthy leafy greens, you SHOULD NOT EAT THEM RAW. This includes in your smoothie. That's right- no more raw kale or spinach in your smoothies or in your salads. I know, I know, you think I'm crazy. The other fertility websites say its okay. Well, they are wrong. Most of these raw leafy greens are very difficult to digest and you don't want your body to use up its energy on digestion. You need your body to focus on making healthy eggs and circulating blood to the uterus. Additionally, while Chinese Medicine (i.e., your acupuncturist) sometimes approves of a few raw veggies in the summer, for many infertility-related conditions such as Cold Uterus, Kidney Yang Deficiency, or any Damp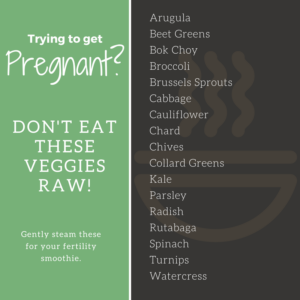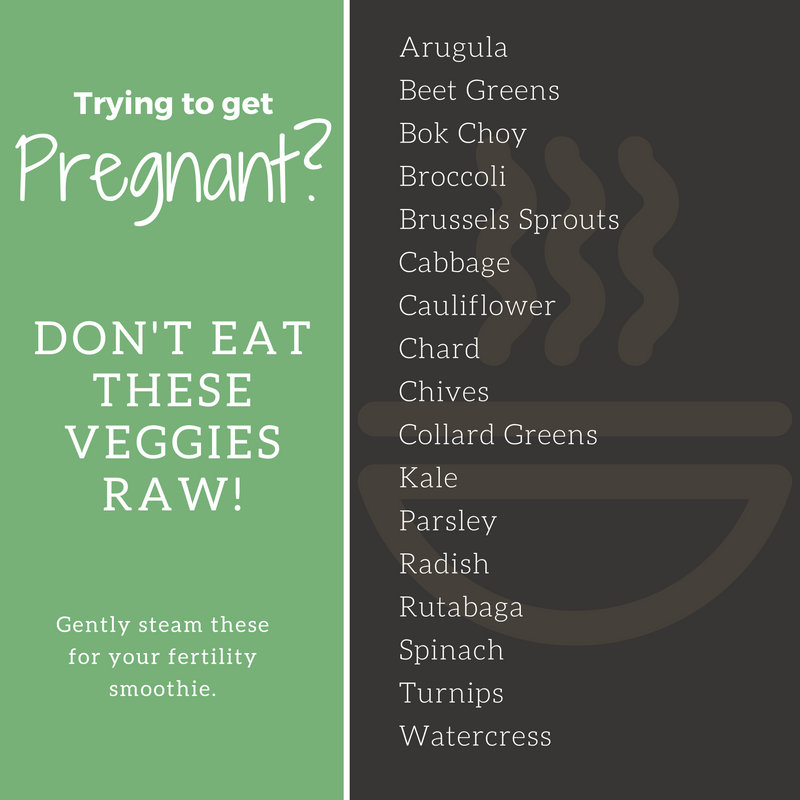 conditions, no raw veggies are recommended.
So what are you to do? You need to lightly steam any cruciferous vegetables which are very difficult on digestion: arugula, cauliflower, cabbage, turnip, collard greens, bok choy, brussels sprouts, radishes, rutabaga, and watercress. You also need to lightly steam any green veggies that are high in gut-irritating oxalic acid. These include: spinach, chard, parsley, chives, purslane, and beet greens. Greens you can put in your smoothie raw include: Romaine, Red or Green leaf lettuce, or butter lettuce.
Can I break this rule? Yes, plenty of people get pregnant while blending raw spinach into their smoothies. It simply isn't optimal. I have 5 different infertility diagnosis that I overcame by doing ALL THE THINGS and always optimizing my choices, so I follow this rule closely. If you are just starting to try to conceive, don't sweat this one. This rule is the most important for women who have digestive issues of any kind, or have been diagnosed by their Traditional Chinese Medicine practitioner (acupuncturist) with Spleen Qi deficiency, Kidney Yang Deficiency, or Cold Uterus.
The third rule of fertility smoothies: Rotate your greens!
Rotate your greens, people! Don't put kale in your smoothie every day for a year. Not only is it not interesting, but you are limiting your nutrients and minerals. It is also possible- although highly unlikely to have "alkaloid buildup" which can harm our thyroid. You can even develop hypothyroidism from binging on cruciferous veggies, like kale. When you lightly steam your veggies, however, the goitens that produce the glucosinolates that affect the thyroid are partially destroyed by heat. So, steam away, and mix it up! Enjoy mixing it up by alternating with raw lettuces, especially in the summer!
Can I break this rule? Yes, but you really shouldn't. It isn't healthy for your body to have the same food over and over every day!
What I do in my smoothies: In the summer I rotate through raw organic romaine, green leaf, or butterhead lettuces. For the other three seasons I buy frozen organic kale or spinach in bulk and lightly steam a bunch for the week then store in a glass pyrex in the fridge to use in my smoothies. We use this high grade stainless steel vegetable steamer inside our non-toxic All-Clad Tri-Ply cookware. Occasionally I rotate these out for raw romaine, or lightly steamed collards, watercress, or chard.
The fourth rule of fertility smoothies: Watch your sugars!
It is all too easy to go crazy with fruit when you make your smoothies, not to mention how many people add additional sweeteners such as honey to their smoothies. To maximize egg health you need to keep your insulin response on an even keel. So if you are putting a banana, mango, and some pineapple in your smoothie, you are putting your body into sugar shock which can affect your egg health.
Sugars are also sneaky and can show up in other ways, like as an ingredient in your protein powder that you didn't even realize was there. Here's the thing- all sugar is problematic for fertility and egg health, even when it comes as natural fructose in fruit. This means that you can't trust ingredients that would normally be okay in a "clean" eating diet such as honey, agave, or maple syrup.
What should you do? Choose fruits with low overall sugar (not just low-glycemic fruit) and a high-antioxidant or fiber content, such as apples, pears, and berries. Limit your total fruit consumption to 2-3 servings a day, or 1-2 if you have PCOS and need to control your blood sugar levels more closely. 1 serving = 1 medium fruit (baseball sized) or ½ cup chopped fruit.
Can I break this rule? If you are under 35, have been trying to conceive for less than a year, have no concerns about egg quality, and do not have Polycystic Ovarian Syndrome (PCOS), then yes, you can break this rule. Heck, if you are 26 and just started trying, feel free to load your smoothie up with bananas, mangoes, and maybe even through in a little organic blackstrap molasses for additional sweetness and vitamins. However, if you have PCOS, high FSH, low AMH, a history of repeated early miscarriage or chemical pregnancies, or any other kind of infertility struggle that might be related to egg quality, don't break this rule.
What I do in my smoothies: I rotate through organic berries: blueberries, raspberries, strawberries, blackberries, and occasionally through in half a small green apple if I am craving a little extra sweetness. To save money I usually buy bulk frozen organic berries- even though fresh would be better it is truly cost prohibitive for a daily smoothie. This is the only frozen item in any of my smoothies. Which leads us to . . . .
The fifth rule of fertility smoothies: Don't go frozen!
In Chinese Medicine, cold foods (including foods that are literally "cold") can chill the uterus and make it an unwelcome place for an embryo to implant. Ladies, we want our uteruses to be warm jungles packed with love and nutrients for our little babies-to-be. This means you need to avoid icy smoothies. Whenever possible, keep ingredients at room temperature (fruit, veggies, etc.), and avoid frozen ingredients.
Can I break this rule? Yes, plenty of women get pregnant while drinking icy beverages daily. It just isn't ideal, and by now you know me- I am always shooting for optimizing all my fertility decisions. This rule is the most important for women with Traditional Chinese Medicine Diagnoses of Kidney Yang Deficiency, Spleen Qi Deficiency, Blood Stasis, or Cold Uterus.
What I do for my smoothies: When I used our Ninja to blend, I would make my smoothies on Sunday, freeze into pint-size mason jars, and then grab one on the way to work in the morning. I would wait until it had defrosted, and then I would WARM EACH MOUTHFUL to body temperature in my mouth before swallowing. I know, it was insane. But, I simply didn't have time to blend and wash the Ninja each day. Now, my husband and I each use our Nutribullet each day, and take our fresh smoothies to work in the same cup we blended in! We can actually prep our dry ingredients the day before and have them ready to add the veggies and fruit to in the morning.
The only downside is that the Nutribullet cups are plastic- yes they are BPA and phthalate free, but I would prefer they had a glass option. I have sent multiple requests to their customer service, and I hope to see a glass option in the future. For now, we wash the cups by hand in luke-warm water to reduce any potential leaching, and replace the cups annually. If you want to optimize this one beyond what we have done you could use a blender with a glass jar, like this affordable Amazon favorite, and then transfer to a glass or mason jar for drinking!
The sixth rule of fertility smoothies: Add some protein!
Babies are made of protein and fat. You need plenty of both to nourish yourself, make healthy eggs, get pregnant, and sustain a healthy pregnancy. New fertility diet research shows that you should have 25-35% of your diet be protein to maximize egg and embryo health. I can't figure out a way to do that without adding protein to my daily smoothie. There are two ways to go: protein powder, and whole foods. Below I have a list of whole foods that are great to add to your smoothie for an extra protein punch.
If you go with a protein powder, be careful to avoid soy or pea protein, both of which can be detrimental to fertility.Soy can be estrogenic which can be harmful for many of us (but not all- do your own research!), and concentrated pea protein was shown in some old studies to be an effective contraceptive. (Read my full article here on the research behind pea protein and fertility). Do plenty of women get pregnant while using soy or pea protein? Sure, but I'm not willing to risk it with my many fertility issues.
Most women struggling with infertility should avoid whey protein also, as dairy is an inflammatory food for many women and can lower your chance of a successful pregnancy. However, if you are just starting to try to conceive, and you are underweight and not ovulating, then you might consider using a raw organic whey protein. If you aren't sure whether dairy is for you or not, read my blog post on how dairy can sometimes cause infertility.
For most women, here are the kinds of protein powders I like:
Collagen Peptides– This is what I use now and love. I conceived my second miracle while using it, and used it throughout my second pregnancy. I use Vital Proteins Collagen Peptides but anything that is from free-range cows is great. I can't wait for the day we have an organic-free range option! It is thought that the collagen peptides can provide the same kind of nutritional boost and gut-healing that you get from bone broth. While I doubt that a factory-processed powder can harness the goodness of 24-48 hours of simmering broth, I still use this kind of protein powder. I actually do my own daily bone broth ALSO. If you are following a paleo diet, collagen will be a better option than the plant-based protein powder. Be alert- Dr. Axe has made a really cool bone broth based chicken protein that I will try as soon as it is organic. They do have an organic version, but it has Ashwagandha Extract in it which is not good for many women trying to conceive (although it can be beneficial for some). I've emailed the company and asked for an organic version with no Ashwagandha, and they said they would think about it. You should email them too!!
A non-soy, non-pea veg protein: Once you start going down the vegetarian path you run into all sorts of issues. The primary issue is that most proteins are mixed with 100 different things, so you have to read the ingredients carefully and make sure nothing sneaky like sugar is in them. I loved the Amazing Grass Original which met these guidelines but is no longer made. Another good option would be a completely plain no-sugar organic brown rice protein like this one. Just be aware that some veg protein powders have been found to have heavy metal contamination from processing, so keep your eye on the news!
Organic, free-range egg protein: Theoretically these would be great for fertility. The organic options are relatively new to the market and I haven't had any chance to review them, but if it fit your diet, I would be interested in your experience of them! Eggs are one of the most powerful fertility superfoods on the planet. I generally make sure I get my eggs in the morning- scrambled in coconut oil for breakfast!
Should I avoid protein powder? Some people who do fertility-friendly paleo or Whole 30, etc., diets, don't use protein powder because they are a processed substitute for "real food." I get that, and some weeks I get all anti-protein powder. Then, the next week, I'm like, man I really want that protein powder! You do what works for you- in the end plenty of people have gotten pregnant doing both. It comes down to what works for your relationship with food and nutrition. If you decide to skip the protein powder, here are some options for real food protein alternatives for your smoothie:
Nut Butters (peanut, almond, cashew, other) (ex. Peanut butter is 7g protein in 2Tbsp)
Nuts -e.g., 4.5 g protein in ¼ cup walnuts
Sunflower Seeds – 5g in 1oz (see my post on seed-cycling to know which seeds to use when!)
Oats – 5g protein in ½ cup dry (make sure gluten-free if you need it)
Chia Seeds – 4g protein in 1 Tbsp
Pumpkin Seeds – 7g protein in 1oz/142 seeds
Flax Seeds – 4g protein in 2 Tbsp (use in first half of cycle only)
Quinoa- 8g protein in 1 cup cooked
Raw organic, free-range, egg – 6g protein from one (just don't do this one when you are pregnant!)
Hemp hearts – 10g protein in 3 tbsp
Hemp seeds – 5g protein in 1 tbsp
Cocao nibs– 4g protein in 1 oz
Can I break this rule? Sure, as long as you are getting plenty of protein in the meals you eat. Note, it is hard to get 35% of your daily intake from protein if you don't add protein to your smoothies.
What I do for my smoothies: I tend to alternate between a protein powder and real food protein. I used to use veggie proteins but they are no longer available on the market. For a year or so, I've been using Collagen Peptides by Vital Proteins and I love it! As I mentioned above, some days I get all anti-powder. On those days I load my smoothie up with nuts, seeds, nut butters, my favorite hemp hearts, or oats.
The seventh rule of fertility smoothies: Add some fat!
Like I said earlier, babies are made from protein and fat. You need plenty of healthy fat in your diet, especially since you have cut out all unhealthy fat if you are following a strict fertility diet. While you should be using healthy fats like extra virgin olive oil on your salads, your fertility smoothie is a great way to make sure you are getting enough fat in your diet.
Additionally, healthy Omega-3 fats help lower inflammation in the body (very important for endometriosis and repeated miscarriages), increase blood flow to the reproductive organs, and improve cervical mucus. They are also crucial to the healthy development of any little embryos that take root during the two week wait. Don't skimp on your Omega-3s!
The fats you want and where to get them:
Omega-3 essential fatty acid boosters for your smoothies: Walnuts, Walnut Oil, Flaxseeds, Chia Seeds, fish oils (yes, some people add fish oil to their smoothies. Too far for me.)
Omega-6 essential fatty acid boosters for your smoothies: flaxseeds, hempseeds, pumpkin seeds, pine nuts, sunflower seeds
Omega-9 essential fatty acid boosters for your smoothie: avacados, almonds, peanuts, pecans, cashews, hazelnuts, and macadamia nuts (in general it is cheapest to buy organic nuts in bulk from your local grocery or health food store if you can find them)
Healthy saturated fat in the form of Medium Chain Triglycerides (helps the body assimilate the Omega 3s)- Coconut Oil, Coconut Manna (Butter), Coconut Milk (make sure it is unsweetened), or Coconut Cream.
Note: Never buy coconut products (or other products) in plastic or in cans- these contain fertility-harming toxins. The little cardboard boxes called Tetra Pak containers are not ideal, but they are the best you can do until they come out with glass options (or ideally you make the products yourself from fresh coconut).
Can I break this rule? Yes, as long as you are getting plenty of healthy fats elsewhere. But, you probably don't want to, because they help make the smoothie yummy!
What I do for my smoothies: I rotate through walnuts, walnut oil, coconut oil, coconut cream (yum!), various nuts and seeds, and avocados.
The eighth rule of fertility smoothies: Add some liquid!
You won't be able to blend your smoothie without some liquid! Whatever liquid you choose, watch out for sugar. Avoid juices or coconut water which is high in sugar. I recommend that most women struggling with infertility avoid dairy, so using a milk alternative is a good way to get some extra calcium in and make your smoothies yummy. My first choice is unsweetened coconut milk, which I think makes the yummiest smoothies. You could also use an unsweetened almond or cashew milk- just make sure it doesn't have the icky additive carrageenan in it!
The ninth rule of fertility smoothies: Add fertility super boosters for YOUR needs!
The most important part of your daily fertility booster is that it is a yummy way for you to get in your fertility superfood boosters! Now, many fertility superfoods such as nuts, seeds, avacados, coconut oil, leafy green vegetables, etc., have already been covered in the sections above. I am going to focus here on the additional superfoods that don't fit into the other categories! Many of these are perfect for certain conditions. If you have an infertility diagnosis, or a Chinese Medicine Diagnosis, be sure to do plenty of research to tailor your smoothie! And, while you are at it, check out my blog post and free e-book on how to make Your Perfect Fertility Diet: Tailoring The Diet to Your Diagnosis!
ALWAYS LISTEN TO YOUR BODY. If your body doesn't like a superfood, stop using it! These are powerful, and not for everyone! My body couldn't tolerate Maca or Royal Jelly, for instance (I got stomachaches).
And- don't go crazy with your super boosters! I only do spirulina, wheatgrass, and protein in my smoothie. Choose 2-3 that are the best for you and your needs.
Here are my favorite fertility superfood boosters with what infertility conditions they are extra helpful for:
Spirulina– Spirulina is one of my favorite fertility superfoods. In general, seaweeds and blue-green algae are incredibly nutrient dense foods for fertility. Spirulina is a special green algae and can be grown in the ocean or in fresh water. The Aztecs used to eat it for strength and endurance. It is packed with vitamins, minerals, antioxidants, and other benefits that help support overall alkalinity in the body and egg healthy. Some also claim it is a great source of protein, but I've never seen this backed up with actual numbers. It is especially helpful for those who have been diagnosed by their acupuncturist with Kidney Essence Deficiency, Kidney Yin Deficiency, Blood Deficiency, Blood Stasis, and Cold Uterus.
Researching which kind of Spirulina to put in my smoothie made me crazy. Spirulina easily absorbs any toxins from its environment, so it is very important to buy it from a reputable source. Apparently most of the "organic" spirulinas come from China and India where they are using "organic" plant or animal waste as a fertilizer. The US-produced spirulinas are not officially certified "organic" because they are "Aquaculture" not "Agriculture" and use natural inorganic fertilizers. If you start googling this you will make yourself crazy. In the end, I was so worried about non-US producers and Fukushima that I only found one brand I was comfortable with – EarthRise. Their spirulina is made in the US, and not in the Pacific Ocean. Pro-Tip: It's cheaper on Amazon. Stop using spirulina when you have a positive pregnancy test- most people say it is safe, but out of an overabundance of caution, I can't recommend it during the first two trimesters of pregnancy. (I received nothing for free and have no relationship with EarthRise).
(When traveling I take these Spirulina pills– you can also take them if you just can't stand how the spirulina makes your smoothie look so muddy!)
Wheatgrass– Wheatgrass is a magical fertility superfood. It is another super healthy "green" that is beneficial to overall health and fertility. It also lowers levels of follicle stimulating hormone (lowers FSH), balances hormones, encourages alkalinity in the body, and enhances cell health. It is especially helpful for those who have been diagnosed by their acupuncturist with Kidney Essence Deficiency. The best way to add wheatgrass to your diet is to juice the raw plant. This can be very expensive. The second best way is to buy frozen wheatgrass shots. This is also expensive. The less expensive way is to buy high-quality organic powdered wheatgrass from a really cool company like Amazing Grass (again, cheaper to do Amazon and Subscribe & Save). They promise theirs is gluten free. I add one scoop to every smoothie. Stop using wheatgrass when you have a positive pregnancy test- most people say it is safe, but out of an overabundance of caution, I can't recommend it during pregnancy. (I received nothing for free and have no relationship with Amazing Grass). Be aware– Wheatgrass is not part of the Autoimmune Protocol Diet, and can increase allergy issues in some people. Listen to your body and make good decisions.
(Here's wheatgrass tablets for traveling or when you can't make a smoothie!)
Maca– This energizing plant supports your endocrine system while enhancing fertility at large. It is said to bring the hormones into balance, increase egg and sperm health, and increase libido. Make sure to only use the gelatinized version of the root, as the raw powder can be very difficult to digest and can be toxic in large amounts. Always consume maca before 5 in the evening, as it can keep you up if you have it too late! Stop using Maca when you have a positive pregnancy test- most people say it is safe, but out of an overabundance of caution, I can't recommend it during pregnancy. I was unable to use maca- even the gelatinized version hurt my stomach.
Acai & Goji berries– Acai & Goji berries are both antioxidents and as such help ensure the cells of your eggs are healthy. This is especially for anyone with egg health issues, so those over 35, those with high FSH or low AMH, or those who have had multiple early losses. If you are using actual goji berries don't put too many in- they can be quite high in sugar! You can use the actual berries or find powders (here's one for acai and here's one for goji)
Mixed powdered greens– These are an easy way to get a bunch of vitamins and antioxidents to promote healthy cell (egg or sperm growth). This is the one my husband and I both add to our smoothies.
Royal Jelly– Royal Jelly is supposed to raise estrogen levels, balance hormones, and increase egg quality. Royal Jelly is the food that the queen bee is fed so that she can produce up to 2000 eggs per day! It is a superfood that provides many vitamins and minerals. The problem is that royal jelly often comes in a honey that is packed with sugar. Don't add a sugar bomb to your smoothie! I took royal jelly for a while before I knew about the effects of sugar on egg health, but it made my stomach hurt. Always listen to your body! If you feel good with a superfood, it probably means it is helping- if you don't feel good, then stop! Never use Royal Jelly if you are allergic to bees or bee products.
Bee pollen– Bee pollen has many vitamins and is thought to increase ovarian function, egg health, and overall fertility. Be sure to find bee pollen that doesn't include massive amounts of sugar. Never take bee pollen if you are allergic to bees or bee products.
Now that you've made it through my exhaustive post on fertility smoothies, I hope YOU aren't exhausted! My recipe is below, please enjoy, and make it YOURS. Just like the Fertility Diet, the Fertility Smoothie should be tailored to your particular situation (and tastes!).
A quick note on taste— ladies, this smoothie is not going to taste like the ones you've made with two bananas, mangoes, honey, and whole fat dairy. It just isn't. But over time you get used to it, and now I find them delicious! I crave their green goodness daily. While not trying to conceive, however, you can believe I put those bananas in there!
Note- I change up my smoothie a little bit each day. Sometimes I'll do a raw ginger/blueberries/lime juice combo. Sometimes I'll do raspberries, a little bit of gojis, and add some cocoa powder. It all depends on the day and what I'm feeling. Some day I'll write a book on it! This is my basic smoothie that I do for my High FSH, endometriosis, Low AMH, diminished ovarian reserve, and MTHFR mutation. It was one of the 79 things I did to get pregnant!
My Fertility Smoothie Recipe for High FSH, Endometriosis, Egg Quality (Low AMH, Low Antral Follicle Count & Repeated Early Loss)
1 cup organic romaine or butter lettuce, or 1/2 cup lightly steamed spinach or kale (collards or chard if you're brave)
1/2 cup- 1 cup organic berries (fresh preferable, frozen if you can't afford fresh or they are out of season)
2 scoops Vital Proteins Collagen Peptides
1/2 Tbsp organic walnut oil (more if you are going Keto) (for my endometriosis- use another fat suited to YOUR needs)
1 scoop wheatgrass powder (for my High FSH and acupuncture diagnoses- use a superfood suited to YOUR needs)
1 tsp spirulina (for my poor egg quality and acupuncture diagnoses- use asuperfood suited to YOUR needs)
1.5 cup unsweetened SO Coconut Milk (or, enough to fill to the "Fill" line on your Nutribullet) OR filtered water OR even better- your own homemade coconut or nut milk
Instructions:
Add all the ingredients to your NutriBullet, or other blender, and blend for 30 seconds or so. Enjoy!
Print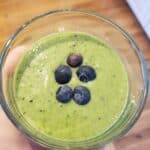 Fertility Smoothie for Egg Health!
---
Author:

Prep Time:

5 mins

Cook Time:

1 min

Total Time:

6 mins

Yield:

1

1

x
Description
This is the fertility smoothie I drank every day to get pregnant despite endometriosis, High FSH, low AMH, diminished ovarian reserve, MTHFR single mutation, and repeated miscarriages. My focus was on improving egg health overall, and overcoming my individual issues. Be sure to swap out MY superfoods (e.g., walnut oil for endometriosis, wheatgrass for High FSH, etc.,) for YOUR particular situation!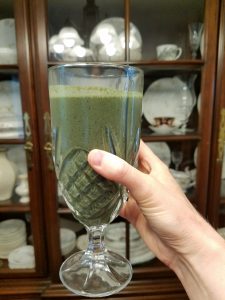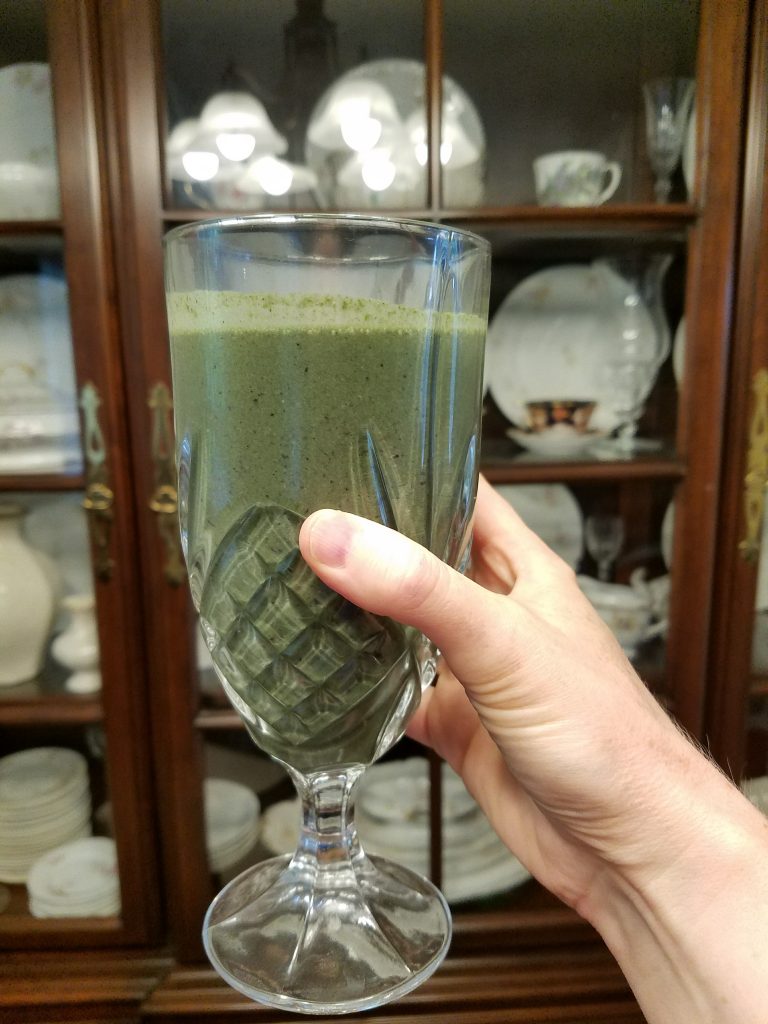 ---
Scale
Ingredients
1 cup

organic romaine or butter lettuce, or 1/2 cup lightly steamed spinach or kale (collards or chard if you're brave)

1/2 cup

– 1 cup organic berries (fresh preferable, frozen if you can't afford fresh or they are out of season)

2

scoops Vital Proteins Collagen Peptides

1/2 Tbsp

 organic walnut oil (for my endometriosis, can substitute other fat or more if you are going Keto)

1

scoop wheatgrass powder (for my High FSH and acupuncture diagnoses- use a superfood suited to YOUR needs)

1 tsp

 spirulina (for my poor egg quality and acupuncture diagnoses- use a superfood suited to YOUR needs)

1.5 cup

 filtered water (or whatever you need to reach the fill line on your Nutribullet)

2 tbsp

coconut manna
---
Instructions
Add all ingredients to your NutriBullet, or other blender, and blend for 30 seconds or so.
Enjoy!
---
Notes
You can sub whatever kind of unsweetened coconut/almond milk, etc., for the water+ coconut manna combo. I'm just trying to avoid using canned or tetra pak milks with gums in them, so I'm making my own coconut milk with the manna in a glass jar plus water.
Sometimes I add half an apple.
If this is too not-yummy for you, first try removing the wheatgrass and spirulina. Is it good then? If it still isn't yummy, switch to romaine instead of lightly steamed spinach or kale. Is it good then? Reintroduce other items until its yummy enough!
Have fun! Play around with different combinations. Through some seeds or nuts in if you want. Just watch your sugars, i.e., don't throw in a banana!
Category:

Smoothies

Method:

Blender

Cuisine:

Fertility, Healthy Living
Nutrition
Serving Size:

1

Calories:

342

Sugar:

6g

Sodium:

119mg

Fat:

26g

Saturated Fat:

17g

Unsaturated Fat:

0

Trans Fat:

0

Carbohydrates:

21g

Fiber:

12g

Protein:

14g

Cholesterol:

0
Keywords: The Ultimate Female Fertility Smoothie for Egg Health, High FSH, and Endometriosis