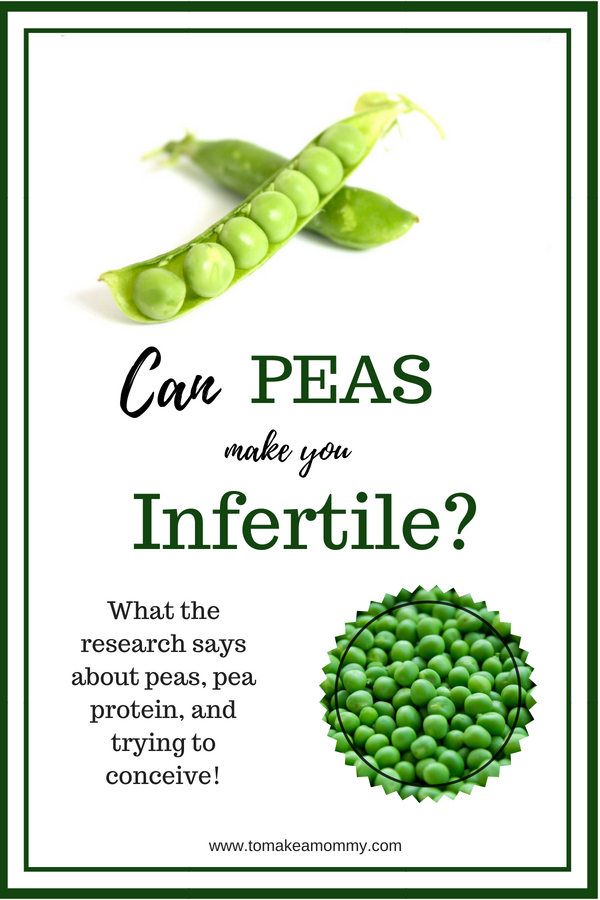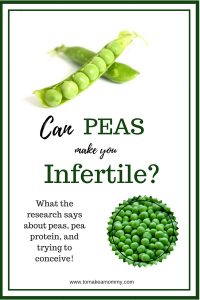 When I was trying to conceive, I came across an article saying that peas were bad for fertility. I found another saying that peas caused infertility! I googled a little more and found that m-xylohydroquinone, which is a natural chemical found in peas used to be used as a contraceptive.
I'm not a huge fan of peas, and they aren't terribly nutrient dense, so without further research I decided that was one easy thing to eliminate from my diet.
Fast forward to today and we've got a big problem for health-conscious ladies trying to get pregnant- there is frigging pea protein everywhere!  It seems like all the health food companies caught on that people didn't want soy protein or proteins that come with lots of sugar, and so they are packing everything with pea protein! Many of my readers who are already trying to avoid dairy, gluten, soy, and more (read about the fertility diet that helped me get pregnant after infertility here), are coming across products with pea protein and are wondering if its safe!
Also, many of my readers are avoiding meat and eggs for personal reasons, and it can be very hard to find a good, complete protein without meat and eggs. Pea protein is pretty complete protein. So it isn't as easy for them to write off peas from their diet. But do you want to be eating food packed with a contraceptive when you are trying to get pregnant?
And protein is VERY important for fertility- you can read my post on optimal protein/fat/carb macro balance for the fertility diet according to recent research.  You need your protein.
So, as the ladies in my Facebook group often debate, are peas REALLY that bad?
Okay, I finally did it. I bit the bullet, and I dug knee-deep into the research. And contrary to what some might say, there are a heck of a lot of studies on peas and fertility.
All the research happened because for a short while mid-20th century scientists thought that peas were going to be the cheap contraceptive that would make birth control easily accessible across the world.  Now, the studies stop in the 1960s. This is because at this point they realized that peas were only about 60% effective as a contraceptive– and that just isn't good enough for people trying to avoid getting pregnant.
BUT– what about us? Those of us TRYING to conceive? Well, things are a bit unclear. BUT, this is real science- it is just old. But it's real.
I'm going to go through all the research and then at the bottom of this post I'm going to give you my bottom line conclusions.
The Research on Peas as Contraceptive and their effects on Fertility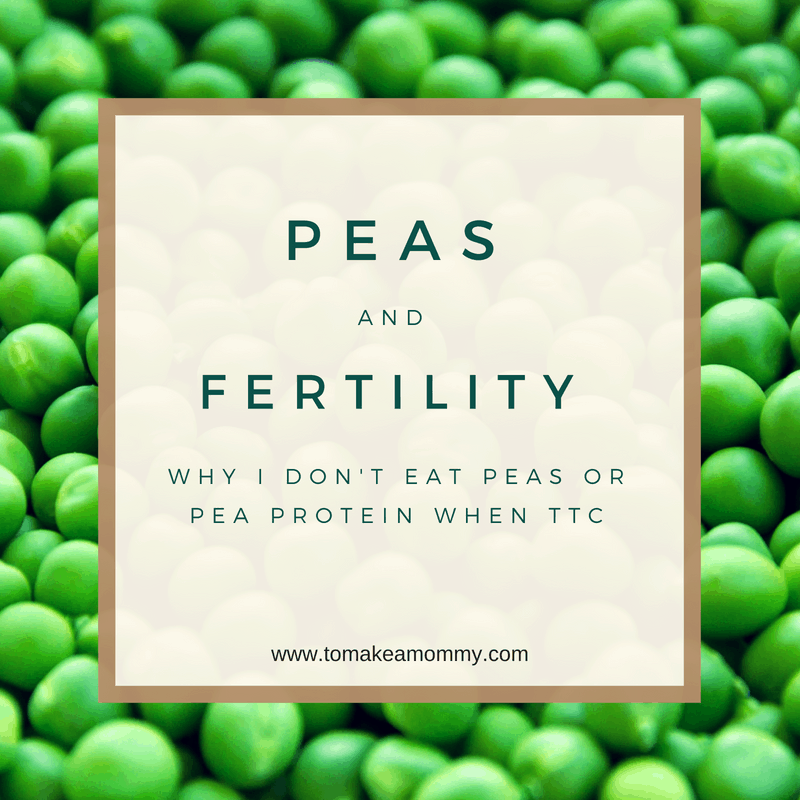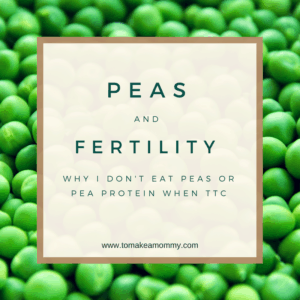 My Thoughts on Peas & Infertility
1- Yes, this research is old. That isn't a reason to ignore it. The reason there isn't any new research on it is because all the scientists cared about was m-xylohydroquinone as a contraceptive. It was only shown to be about 60% effective, so they stopped researching it and started researching more effective things. For people trying to not get pregnant, no one wants to take a pill that is only 60% effective.
2- What kinds of peas are we talking about? It turns out that when people say "peas" they mean wildly different things. You and I probably think of the little green peas that you can buy organic and frozen in a bag. Our parents think of gross mushy green peas from a can. But "peas" can also mean- snow peas, "field" peas, yellow split-peas, or black-eyed peas. Here's the deal: the studies were done on m-xylohydroquinone which came from Pisum Sativum (the common field pea). Unfortunately, all types of peas, including sweet green peas and yellow split pea are cultivars of Pisum Sativum. Even more unfortunate is that the pea protein being used today is generally made from "field peas" because they are higher in protein than sweet green peas. So basically, pea protein is being made with the same cultivar as they used in the research. Because its cheap and protein dense.
3- The contraceptive effect of m-xylohydroquinone was shown in WOMEN AND MEN.
4- So what's a couple to do when trying to get pregnant?  In my opinion, if you want to occasionally have some sweet green peas in a salad, or a bowl of yellow split peas, it is probably fine. And, if you are super young and fertile, its probably okay. BUT, for women (or men) like me who have multiple infertility diagnoses and really have the odds stacked against us- why would we risk it? When we try to conceive again, I will avoid all peas and pea proteins. I will ask my husband to do the same. Of course, we both eat meat and eggs and as such have ample complete protein sources.
5-  If you are a vegan and are having a hard time finding alternative sources of protein after having eliminated soy, meat and eggs, try beans and lentils. If your gut can't handle beans and lentils, then you are quickly running out of protein options, especially if you want to keep your protein macro high (check out my post on why that is so important for fertility). So, do what you must. In the end, you need to decide for yourself what is going to help you be your healthiest and most fertile self!
6- We need more research. And we need someone to find out for us if m-xylohydroquinone is in the pea protein that companies are packing into everything from pasta to protein bars. Because we have no idea if that natural chemical that they isolated from peas for the research is actually still in the pea protein after whatever modern processing they do. Can some scientist with a lab figure this out for us? 
My Bottom Line on Peas when Trying to Conceive 
When I try to conceive again I will avoid all peas and pea proteins and I will ask hubby to do the same. Do what YOU think is right after reviewing this research!
Remember, there is plenty of protein in the world without eating peas and pea protein.  And you can eat them again after you get pregnant!
Alternatives to Pea Protein
If you are trying to bulk up your fertility smoothie (or his fertility smoothie) for your macros, here are some alternatives to pea protein powder:
Collagen Peptides– This is what I use and love. It is thought that the collagen peptides can provide the same kind of nutritional boost and gut-healing that you get from bone broth.  While I doubt that a factory-processed powder can harness the goodness of 24-48 hours of simmering broth, this is still my preferred protein powder. I actually ALSO do my own daily bone broth.
If you are following a paleo diet, collagen will be a better option than the plant-based protein powder. We love Vital Proteins, but anything that is from free-range cows is great.  I can't wait for the day we have an organic-free range option! Be alert- Dr. Axe has made a really cool bone broth based chicken protein that I will try as soon as it is organic. They do have an organic version, but it has Ashwagandha Extract in it which is not good for many women trying to conceive. I've emailed the company and asked for an organic version with no Ashwagandha, and they said they would think about it. You should email them too!!
Egg White Protein– As long as you don't have a sensitivity, eggs are great for fertility, and there are finally organic options on the market. See below for the top picks on Amazon. 


Plant Based Protein Powders– With no pea or soy, you get a little limited.  I loved the Amazing Grass Original but it is no longer made. Another good option would be a completely plain no-sugar organic brown rice protein like this one. Hemp and pumpkin seed protein are also good options for mixing with the brown rice to try to get a more complete protein. 
Whenever you are looking at plant proteins, be sure to read the ingredients carefully and make sure nothing sneaky in them. Things to look out for include: sugar, other sweeteners, soy, pea protein, artificial colors or flavors, anything non-organic that might have been sprayed with pesticides, gluten, and milk ingredients. It's also better to avoid any vegetable oils that might give you too much Omega 6, and watch your intake of thickeners like xanthan gum or guar gum.
Just be aware that some veg protein powders have been found to have heavy metal contamination from processing, so keep your eye on the news!
Below are some organic, no sugar, no soy, no pea protein veg protein options!