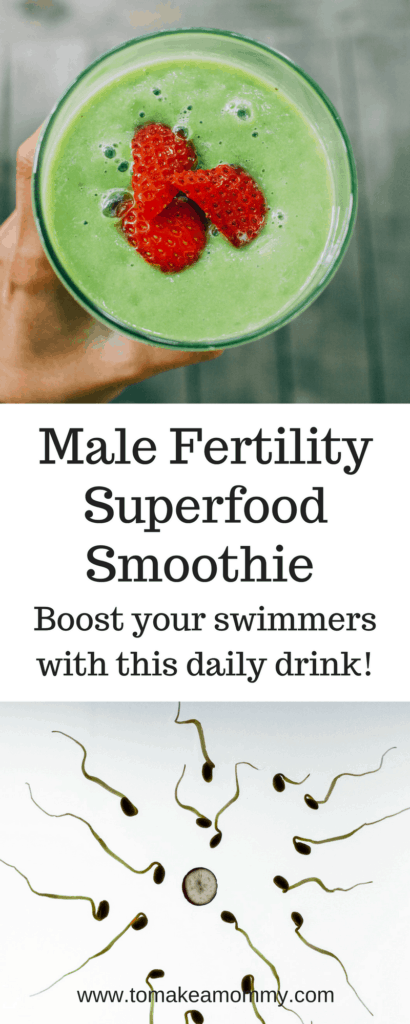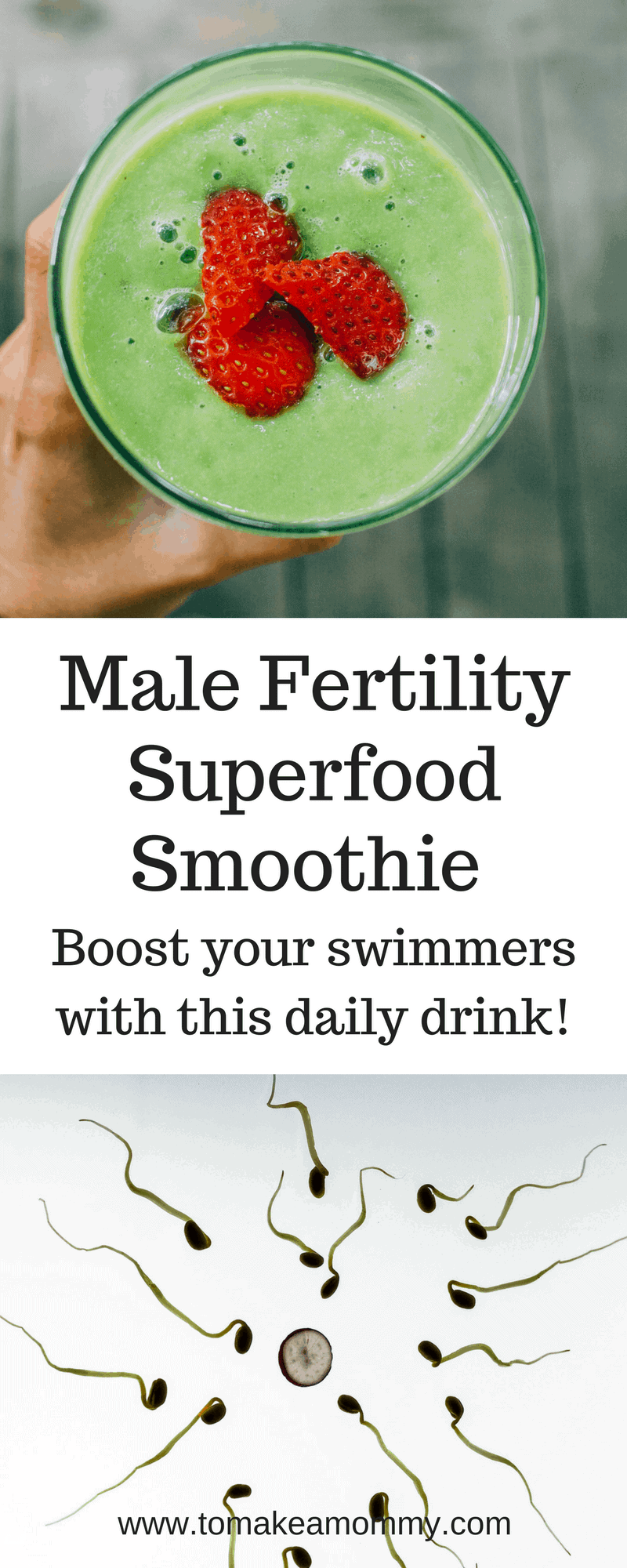 Many of my readers have really supportive partners who are joining them in eliminating toxins, eating a clean-whole foods diet, and implementing self-care through a mind-body fertility practice.
This is great! Some of my readers have said- hey, but what should my man put in his smoothie? I want his sperm count, morphology, vitality, motility, etc., to be as good as it can be!
Well, I'm glad you asked.
Because, not only have I concocted a perfect fertility smoothie for my poor darling husband, we even saw his sperm count and quality jump in the month he started drinking it!
AND, I've had multiple women in my facebook groups report their partner's sperm counts have jumped after starting this smoothie!
Now, for the record, he has always had excellent numbers, and the doctors have always been excessively clear that our fertility difficulties come from me, and me alone (yeah, thanks doc, I got it).
At the same time there's no reason not to maximize the quantity and quality of his little swimmers, so when we are trying to conceive, he gives up alcohol, caffeine, and eats a clean, whole-foods, diet, just like me. AND, he drinks his daily green smoothie, which brings me too . .
The Male Fertility Smoothie- Ingredient overview
Fruit– Gentlemen, I have good news. Very good news. And that is, while in the female fertility smoothie it is very important to keep your sugars low and therefore bananas are strictly forbidden, YOU are encouraged to put bananas in! Bananas are filled with bromelain and Vitamin B which can increase sperm counts. Blueberries are another fantastic option, as they are packed with antioxidants which prevent oxidative damage to the sperm.
Now, you can even put in other sweet, high-sugar fruits, if desired, in your smoothie. Lucky you!!! Now, don't go crazy and start adding in honey or anything, you don't want to overwhelm yourself with sugar.
A healthy male fertility diet still includes avoiding sweets, sugar, white bread, white rice, and starchy veggies. BUT, I've never seen any research suggesting that sperm quality can be affected by small insulin surges, as egg quality can.
So don't be afraid of fruits, gentlemen. Now, if you are overweight or struggling with an auto-immune disorder, or other chronic health condition, you may want to watch your overall sugars, even from fruit.
Greens– Add some greens to your smoothies, gentlemen! You'll do better throwing in some lettuce, or lightly blanched spinach or kale. But, honestly, my husband has never developed the palate to be able to do this. If you are able- do it! It is good to get the extra greens.
If you aren't able- don't worry about it. My hubby substitutes in a green superfood powder to make sure he's getting his extra greens and antioxidants. We do Amazon Subscribe and Save and it arrives every month!
If you do decide you can handle some actual veggies in your smoothie, don't put raw kale or spinach in your smoothie every day. These greens, and other raw veggies are difficult to digest and are high in gut-irritating oxalic acid. Also, be sure to rotate your greens to avoid "alkaloid buildup" which can harm your thyroid.
Protein– My husband uses his smoothie as a meal replacement since it is so high in calories. He makes sure to always add protein. The type of protein you use is very dependent on your personal health and desires. My husband is (sometimes irritatingly) ridiculously healthy, in shape, and has a great sperm count. He has no recurring issues that would suggest a food intolerance. For that reason he uses the best protein powder available for those who can tolerate dairy- an unflavored, unsweetened organic whey protein. (2019 Update: He uses the Collagen Peptides now so that we can just have 1 cannister of protein in the house! We use Amazon Subscribe & Save to get it!
For those of you struggling with lower sperm counts or health issues, I suggest doing a Whole30/Paleo diet that restricts foods such as dairy and gluten to see if you improve. The best options include Collagen Peptides protein from grass fed/pasture raised cows (what I use), or the Chicken Bone Broth Protein.
If you are vegetarian or vegan, look for a quality veg-based protein, and try to stay away from soy. Hemp is fine, as is brown rice. Try to get unsweetened and organic. I love Amazing Meal by Amazing Grass (used to be my protein powder) and (bonus!) it comes with your greens already in it so you don't need a separate greens powder supplement.
Liquid– Generally, the smoothie will be the yummiest with your choice of milk. My husband used to use skim milk (gross, in my opinion), but now uses unsweetened cashew milk. You could also use a milk alternative like almond milk, coconut milk, or other if you are avoiding dairy. If you are super hardcore you could use water or something cool like chaga mushroom tea (you hipster, you). (2019 Update- I'm literally steeping Chaga tea right now as I update this post).
Male Fertility Superfoods
Here's the good stuff! This is the real reason to do a male fertility smoothie, to make sure you are packing in the superfoods! Please know that nuts and seeds can carry a great amount of pesticide residue which is very bad for fertility. Be sure to BUY ORGANIC! We buy in bulk from our local organic shop. I've found organic options for you on Amazon, if you don't have a local option!
Walnuts– Walnuts are a fertility superfood for men and women alike! They are chock-full of Omega-3 fatty acids which are important for overall health and sperm well-being. If that wasn't enough, there is actual research that shows that 75 g a day (about 2 handfuls) for 12 weeks reduces chromosomal abnormalities, and improves sperm quality, motility, vitality and morphology.
Pumpkin Seeds– Pumpkin seeds are also loaded with Omega-3 fatty acids, and have a large dose of zinc which increases sperm count and testosterone. There are known as a great libido booster as well!
Brazil nuts– Brazil nuts are packed with selenium and have L-Arginine in them- they basically boost testosterone and increase blood flow to the, ahem, testes. They are also reported to increase sperm count and quality. Have at least 2 a day in your smoothie or just eat them- but don't have more than 4-6 a day, you CAN actually overdose on selenium!
Cocoa powder– Raw cocoa has plenty of the amino acid L-Arginine which increases sperm production and quality. Also, it makes your smoothies into chocolate yumminess.
Goji berries– Goji berries are rich in antioxidants that prevent oxidative cellular damage to sperm (and eggs). Don't overdo them- they are sugar and calorie intensive! But, if you aren't doing an antioxident green powder, be sure to add in some gojis!
Maca – Maca has been something of a sensation in the fertility world since it became available in health food stores! It is a powerful hormone balancer and some research shows it increases sperm count, volume, and motility. It is also thought to give you an added energy boost and up your libido. Be sure to buy the gelatinized version which is much easier on the gut.
A note on taste–
Be warned, when I told my husband I was going to post this, he said, "What if everyone thinks its gross?" I reminded him, I shared my Ultimate Fertility Smoothie (for females) and I didn't care that most people would think it was gross.
I didn't make it to taste good- I made it to work! And work it did!
The same with his smoothie. If you don't like the taste however, try cutting out veggies and adding a little more fruit. My husband is one tough cookie only adding a banana. Add some mango, yummy blueberries, strawberries, or your favorite fruit. You can also play with removing seeds or nuts and eating those instead as a snack. If you are totally desperate, you can add a little honey, agave, or stevia, but please don't go crazy with them! You already have a banana for goodness sakes!
Male Fertility Smoothie Recipe
1/3 cup Walnuts
1 Tbsp Pumpkin Seeds
1 Tbsp Cocoa
1 scoop protein powder of your choice (see above for recommendations)
1 scoop Green Superfood Antioxidant Powder
1 Tbsp Goji berries
1 Tsp Maca
1 Banana
2 Cups Milk of your choosing (see above for discussion on milk) or as much liquid as needed to reach the "fill" line on your Nutribullet!
Print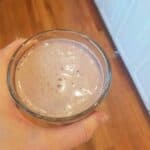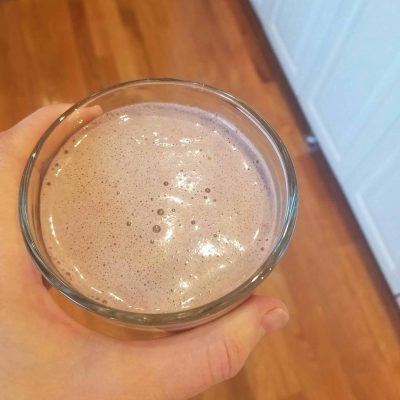 Ultimate Male Fertility Smoothie
---
Author:

Prep Time:

5 mins

Cook Time:

1 min

Total Time:

6 mins

Yield:

1

1

x
Description
A superfood-packed male fertility smoothie to boost sperm quantity and quality!
---
---
Instructions
Put it all in your blender or Nutribullet, and mix it up!
---
Category:

Smoothie

Method:

Blender

Cuisine:

Healthy
Nutrition
Serving Size:

1

Calories:

682

Sugar:

21 g

Sodium:

467 mg

Fat:

42g

Saturated Fat:

6g

Unsaturated Fat:

26g

Trans Fat:

0g

Carbohydrates:

54g

Fiber:

13g

Protein:

42g

Cholesterol:

0mg
Keywords: Male Fertility Smoothie