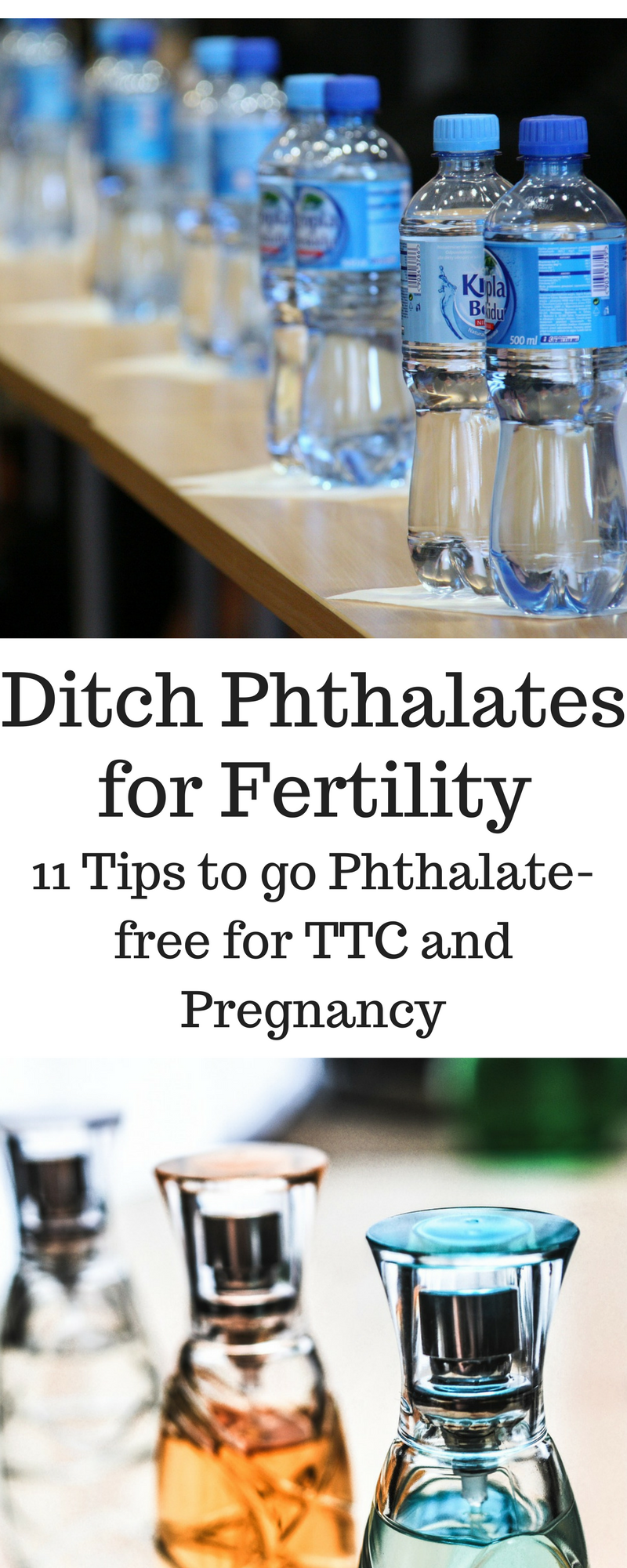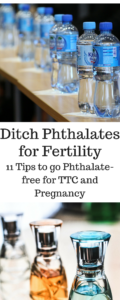 By now you've probably heard that BPA and phthalates are some of the most dangerous chemicals out there when it comes to male and female fertility. BPA & Phthalates are endocrine disruptors that are linked to decreased fertility in men and women, miscarriage, and pregnancy complications. They are also linked to cancer and to intellectual and emotional developmental complications in children. In other words this is stuff you DO NOT WANT in your house. While you can mostly avoid BPA through lifestyle choices, unfortunately you cannot completely avoid phthalates- they are in plastics, fragrances, personal cosmetics, car upholstery, vinyl, and all sorts of other kinds of materials you simply can't completely avoid.
In this article I'm going to talk about BPA and phthalates interchangeably- this is because the research shows the same results for phthalates as for BPA, just not as dramatically (yet). This is why the FDA is actually paying attention to BPA but not yet to phthalates. Don't buy BPA-free plastics or products- the BPA has been replaced with other phthalates which are just as disturbing.
Here's the good news- by drastically reducing your exposure to BPA & phthalates, you can drastically improve your fertility and changes of a healthy pregnancy. You can also safeguard your fetus, infant, and small children.
Let's take a quick look at the research to understand why making lifestyle changes can make such a difference.
For fertility (time to conceive), IVF success (implantation), and live births (i.e., no miscarriage) all the research says the same thing– the women and men with higher amounts of BPA and phthalates in their system had worse outcomes; the women and men with lower amounts of BPA and phthalates had better outcomes. The research also shows that no one has zero phthalates in their system- in today's day and age, it doesn't exist. You can't live in a bubble.
So think about it as a continuum from zero to 100 . . . where zero would be in some imaginary chemical free world where there are no phthalates found in your urine or blood, and 100 is you are totally overloaded with phthalates (you're, like, eating plastic and spraying perfume in your mouth). Without any intervention, imagine yourself around an 80- one of the people with higher concentrations, who would have a harder time keeping a healthy pregnancy.
The REALLY REALLY good news is that multiple studies show that interventions, such as avoiding plastic packaging in food and eating fresh food instead, or swapping out your personal care products for phthalate-free, quickly and drastically reduce the phthalate (and BPA) level in your bloodstream.
The study on avoiding plastic packaging and eating fresh food instead dropped phthalate levels in 8 days between 25 and 75% (depending on the type of phthalate). The study on personal care products showed drops between 27% and 45% in THREE days.This is huge. This means you don't have to wait 90 days to see a difference in egg or sperm quality- you are going to make a difference within a couple weeks of changing your lifestyle.
So– if you implement both of these PLUS all my suggestions below- you are going from that 80 on the phthalate continuum and dropping down to like a 20 or a 30. If you live a perfect phthalate-free as you can be life, you will have the least phthalates in your system as anyone. You have moved yourself into the more successful groups for conception, implantation, and pregnancy success.
Why do I bother with all this detail? Because when you start to go BPA & phthalate (and toxin) free you can get a little obsessed. Like, totally crazy (I'm speaking from experience). You start freaking out if you have to buy anything in plastic ever, or if you can smell your colleague's cologne. So I am here to reassure you- adjust your life, do the best you can, and you have SIGNIFICANTLY dropped your phthalate load. Don't worry about the little bits here and there. As my mother would say, "Give it up to God."
*This post contains affiliate links which at no cost to you provide me with some small change to help keep this blog running! If you decide to buy something I recommend, please consider clicking through one of my links to help support this blog and my family! Thank you!
Okay- how do I reduce my phthalate levels??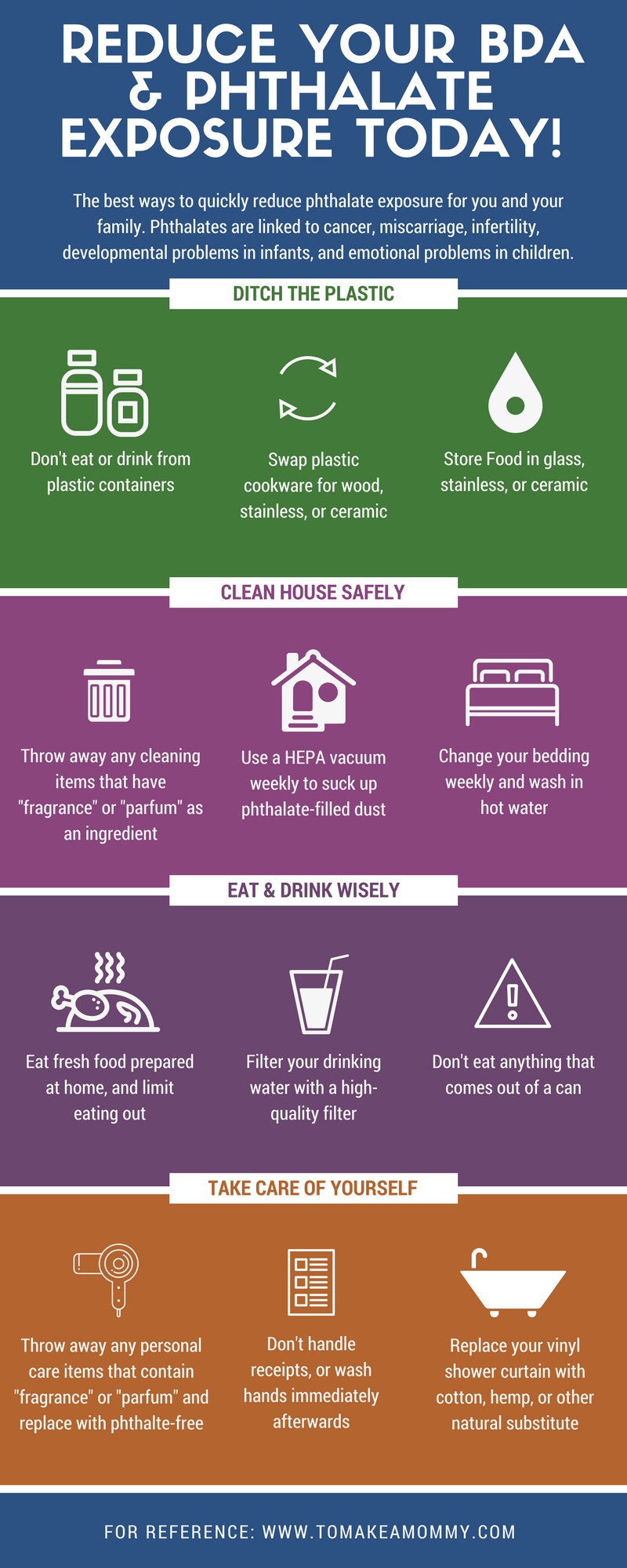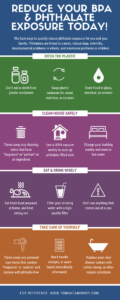 Now that you're convinced, let's talk about the quickest ways to change your life, limit your BPA & phthalate exposure and lower the levels in your blood (and in your hubby's blood)!
Stop eating and drinking from plastic containers. This includes "BPA-free plastics" –

they are just as bad

. Avoid buying things in plastic whenever you can, avoid soft plastic water bottles like the plague, and never ever microwave plastic or put it in the dishwasher. Throw away your old tupperware and use glass, stainless or ceramic containers. For home storage we use

glass pyrex

,

mason jars

, and

stainless canisters

with cute labels. For water bottles use glass or high quality stainless- our favorites are Lifefactory glass bottles and Klean Kanteen with a stainless top.
Throw away any personal care items or cleaning items that contain "fragrance" or "parfum." Only buy items that are specifically "phthalate free." Don't forget to check your deodorant, shampoo, conditioner, soap, moisturizer, laundry detergent, etc.!

See all my favorite non-toxic items here!
Ditch your vinyl shower curtain. All vinyl products have phthalates. Replace your shower curtain with a

high end one like organic hemp

or a

cheap cloth one like this

.
Avoid dairy and limit your high fat meats. All dairy and meat (

even the local, organic kind

) is processed through plastic and is tainted with phthalates. Dairy is the worst because of all the plastic tubing and storage containers. The warm, high-fat liquid is the most sensitive to phthalate accumulation.
Limit eating out. Unfortunately,

most food at restaurants and especially fast food

, is going to be laden with BPA & phthalates. This comes from the way to food is handled and stored. Even at my favorite hippy, locally sourced cafes I've watched the barista/sandwich maker stick a plastic wrapped food item in the microwave. Eat freshly prepared food at home whenever possible.
Don't handle receipts. Most

receipts

(except maybe those at your fancy organic health food store)

are covered in phthalates or BPA

. GROSS! Decline the receipt if possible. When you have to handle receipts, don't eat anything or touch your mouth until you wash your hands. Never let small children handle receipts. And- throw receipts in the trash NOT the recycling bin- we don't need those chemicals getting recycled.
Stop eating anything that comes in a can, and limit the amount of food you eat that is packaged in tetra-paks (the little cardboard containers). Most

cans are lined in BPA

, but even those that are "BPA-free" are still lined with phthalates. Buy fresh, eat fresh.
Stop using plastic cookware and ditch your plastic coffee maker (that means you, Keurig!). Hot food, oil, and boiling water touching plastic are recipes for phthalates in your food and beverages. We use a glass drip system for coffee, wood or stainless utensils, glass and cast iron bakeware, stainless accessories and glass mixing and measuring bowls.

See all my favorite non-toxic kitchen products here!
Filter your drinking water. Unfortunately, phthalates can be found in our drinking water. It is very hard to filter out phthalates and other endocrine disruptors from drinking water. The best filter I could find in the $400 price range (and not $1000+) that reduced phthalates is the

one we use by Pure Effects

.

Read my full post on filtering water for fertility here.
Every week damp-dust and vacuum with a HEPA-filter vacuum.

Phthalates live in the dust in our homes

. When eliminating dust, you need to make sure you aren't just pushing it around, or breathing it in. That's why a HEPA filter vacuum is so important. When buying a HEPA filter vacuum, make sure the details specify that filtration efficiency is at least 99.97% and that particles retained are as small as 0.3 micrometers (formerly microns). Vacuums with HEPA filters do the best job of removing dust particles from your house. We splurged on a Dyson a number of years ago and we still love it. I can't find the same model on Amazon now, but here is

a gorgeous one much like what we bough

t. Here is Dyson's

statement about dust-removal.

For removing dust from wooden furniture, damp dust with old rags or with reuseable cloths, like

microfiber dust cloths.
Wash your bedding weekly. Phthalate-filled dust can accumulate in your bedding where you spend (hopefully) 7-8 hours of every day. Wash your sheets in hot water and a

safe non-toxic detergen

t like this one.