You've read all about fertility diets, and you know you are supposed to do acupuncture to beat infertility. But, are you making sure that you are keeping your home safe from fertility harming toxins?
Read all my non-toxic posts here!
There are many common household items that could be making you or your partner infertile. Here are three simple ways to make sure you are cleaning up the toxins and making your home fertility-friendly!
Click here to see all the non-toxic products we use in our house!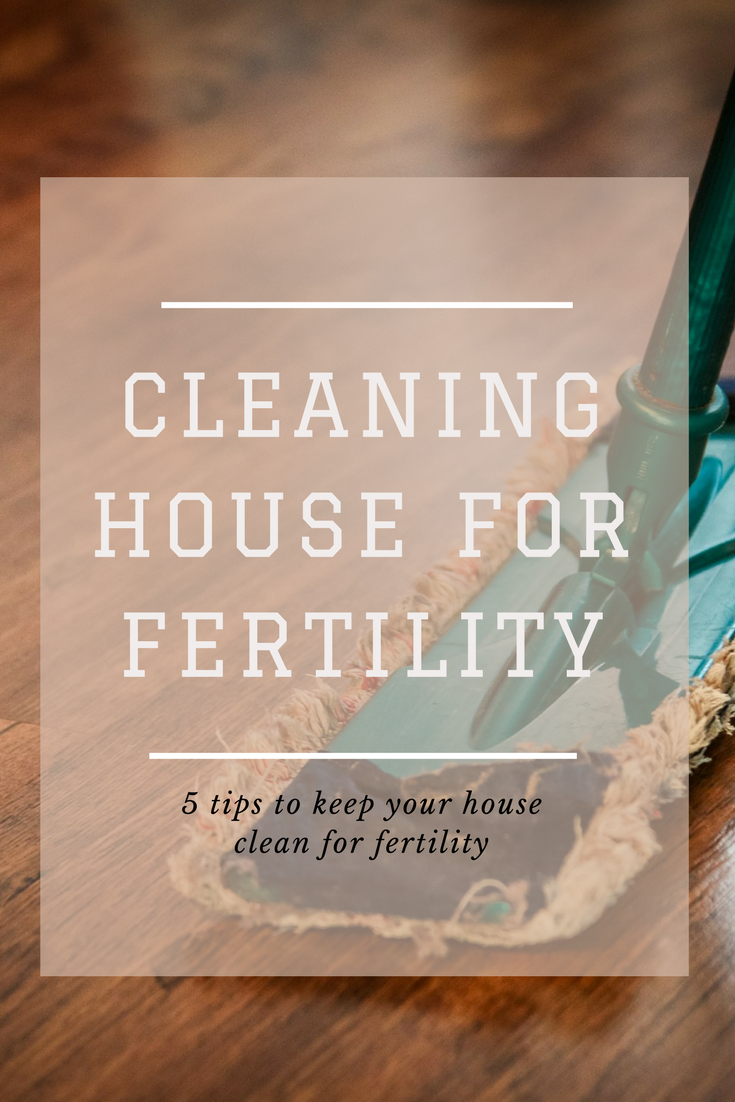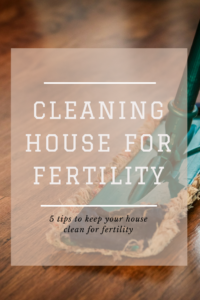 *This post contains affiliate links which at no cost to you provide me with some small change to help keep this blog running! -If you decide to buy something I recommend, please consider clicking through one of my links to help support this blog and my family! Thank you!
Five Tips for Non-Toxic House Cleaning for Fertility
Frequently eliminate dust by damp dusting and using a HEPA vacuum weekly.

Here's the deal: it turns out that fertility-harming toxins like phthalates live in the

dust in our homes

. Phthaltes are endocrine disruptors that are used in all sorts of household items, from plastics, to vinyl, to household cleaners that use "fragrance" or "parfum" in the ingredients. Phthalates are linked to decreased fertility in

men

and

women

,

miscarriage

, and

pregnancy complications

. When eliminating dust, you need to make sure you aren't just pushing it around, or breathing it in. That's why a HEPA filter vacuum is so important. When buying a HEPA filter vacuum, make sure the details specify that filtration efficiency is at least 99.97% and that particles retained are as small as 0.3 micrometers (formerly microns). Vacuums with HEPA filters do the best job of removing dust particles from your house. We splurged on a Dyson a number of years ago and we still love it. I can't find the same model on Amazon now, but here is their

Dyson HEPA filter bestseller.

Here is Dyson's statement about dust-removal. For removing dust from wooden furniture, damp dust with old rags or with reuseable cloths, like microfiber dust cloths.
Use household cleaners that are free of fertility harming toxins.

Regular household cleaners have many fertility harming toxins- bleaches, ammonia, phthalates (found in "fragrance" or "parfum"), parabens (anything ending in "-paraben"), glycol ethers, and triclosan (in anything "antibacterial"). Stop using them and replace them now with fertility-safe cleaning products. Luckily the Environmental Working Group (EWG) has a fantastic

Guide to Healthy Cleaning

that provides safety ratings for most major products. Be sure to check your products there! We love Branch Basics for All-Purpose, Bathroom, Glass, and Laundry. Our Force of Nature is perfect for disinfecting. Scroll to the bottom of the post to see the non-toxic cleaning supplies we love, and check out this link with all of my non-toxic favorites!
Change your air filters regularly. Follow the manufacturer's instructions on timing and frequency for changing the air filters in your heating and cooling system. Don't forget to clean your vents also- but clean them yourselves, and don't hire anyone who will use toxic chemicals when cleaning your vents!
Washing your bedding weekly. Dust and other tracked in fertility-harming toxins can build up in your bed- where you spend at least (I hope) 7-8 hours of every day. Make sure your wash your sheets in hot water and a safe non-toxic detergent, like this one or this one, every week. Do NOT use phthalate-laden dryer sheets, consider wool balls instead to reduce static and increase fluff!
And of course, the best thing you can do is set your house up to eliminate places that collect fertility harming toxins!

Choose hardwood floors over carpet to reduce dust collection.

Choose blinds over cloth drapes/window dressings to minimize dust collection.

Take your shoes off when you come into the house to minimize tracking in fertility-harming pesticides.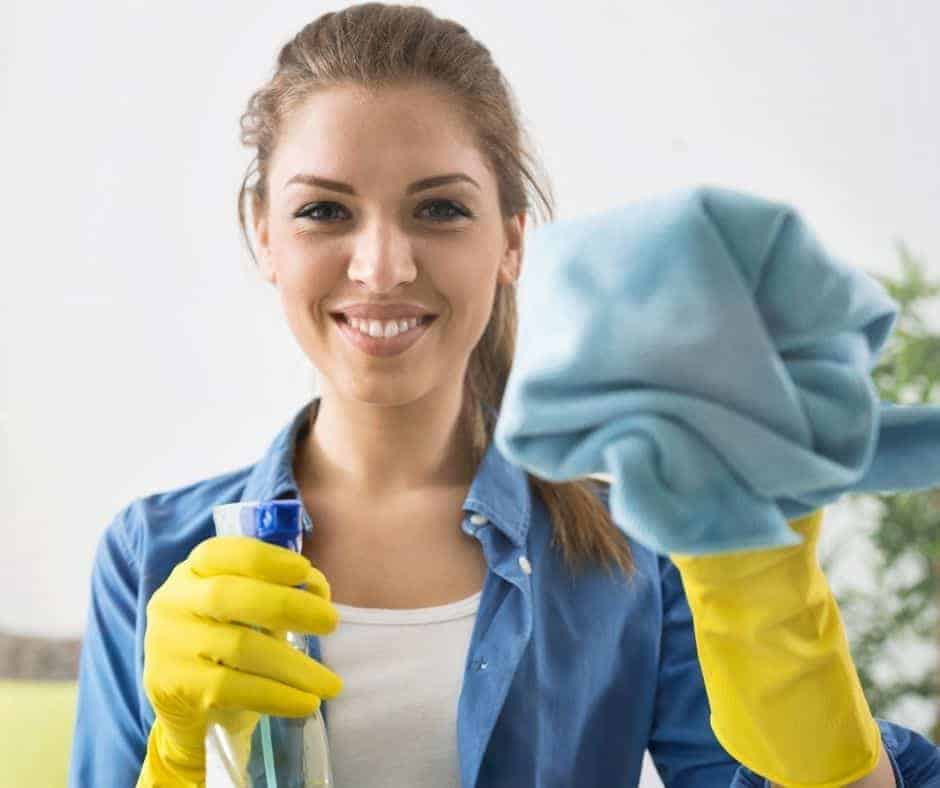 Non-Toxic Cleaning Products Safe for Fertility & Pregnancy
Force of Nature Disinfectant System
In case you missed my enthusiasm before, the Force of Nature Disinfectant System is hands down this is the coolest non-toxic cleaning solution we have found!
This is an EPA approved sanitizer, and it is even on the EPA list for disinfectants approved to clean surfaces for the novel coronavirus! It is a small home appliance that makes hospital-grade sanitizing and disinfecting spray that kills SARS-CoV-2, the cause of COVID-19, and also Staph, MRSA, Norovirus, Influenza A, Salmonella, and Listeria.
It is JUST AS EFFECTIVE AS BLEACH, but non-toxic and safe. Safe for fertility, in pregnancy, for kids, pets, for everything. Literally the only one on the EPA list that I would use. Remember to spray and let it sit for 10 minutes to get things disinfected!
Also, a friend of mine realized that it is an amazing stain remover from white cotton fabrics! If you've found other uses for it, email me and let me know!
Also- you'll never buy another plastic spray bottle again!
Buy now–>> Force of Nature Disinfectant System and use the coupon code SAFESUMMER for free shipping + $15 off Starter Kits and Value Bundles!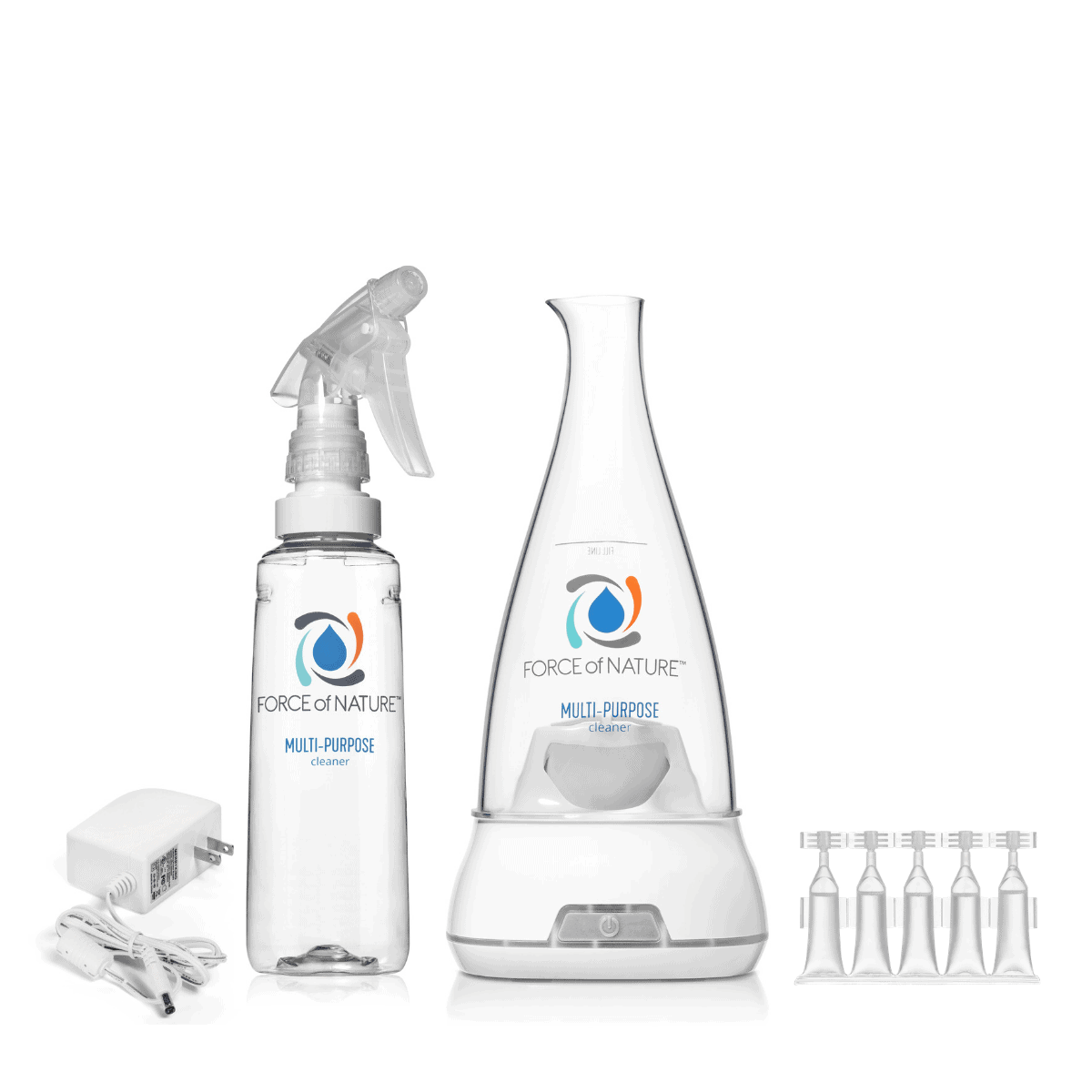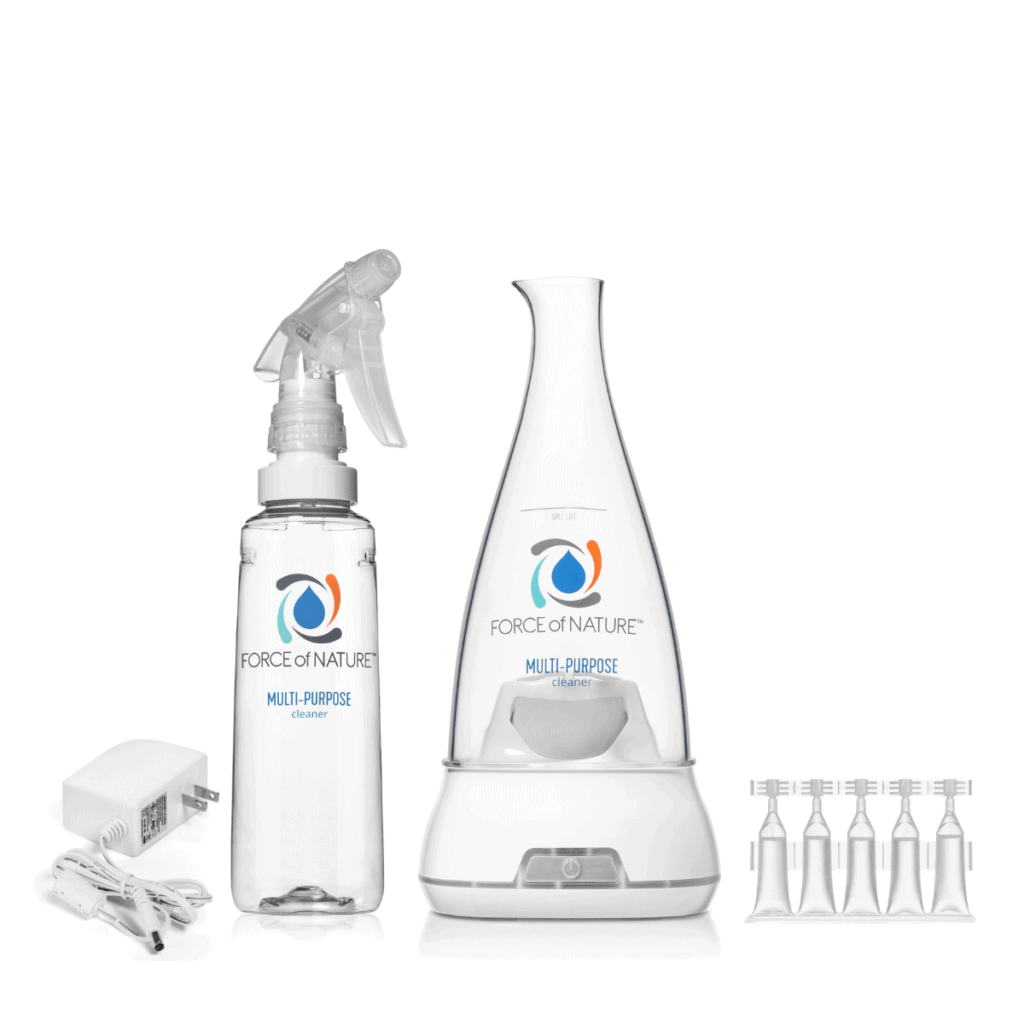 Branch Basics– Non-Toxic Multipurpose Cleaning Concentrate and System
This is the newest in our non-toxic cleaning arsenal and we are LOVING the way you use a single concentrate to make almost everything- surface cleaner, laundry detergent, glass cleaner, foaming hand soap, and more.
You can also use it for dishwashing soap AND dishwasher soaps, but we haven't tried that yet. Branch Basics is one of the most non-toxic options out there and it is NOT castille soap based- so for those of you who can't handle Dr. Bronner's, this is a great option.
You can order a Starter Kit with an Oxygen Boost that helps with heavy stains or scrubbing. You only re-order the concentrate, so you never have to replace the various jugs and bottles again- great for the planet!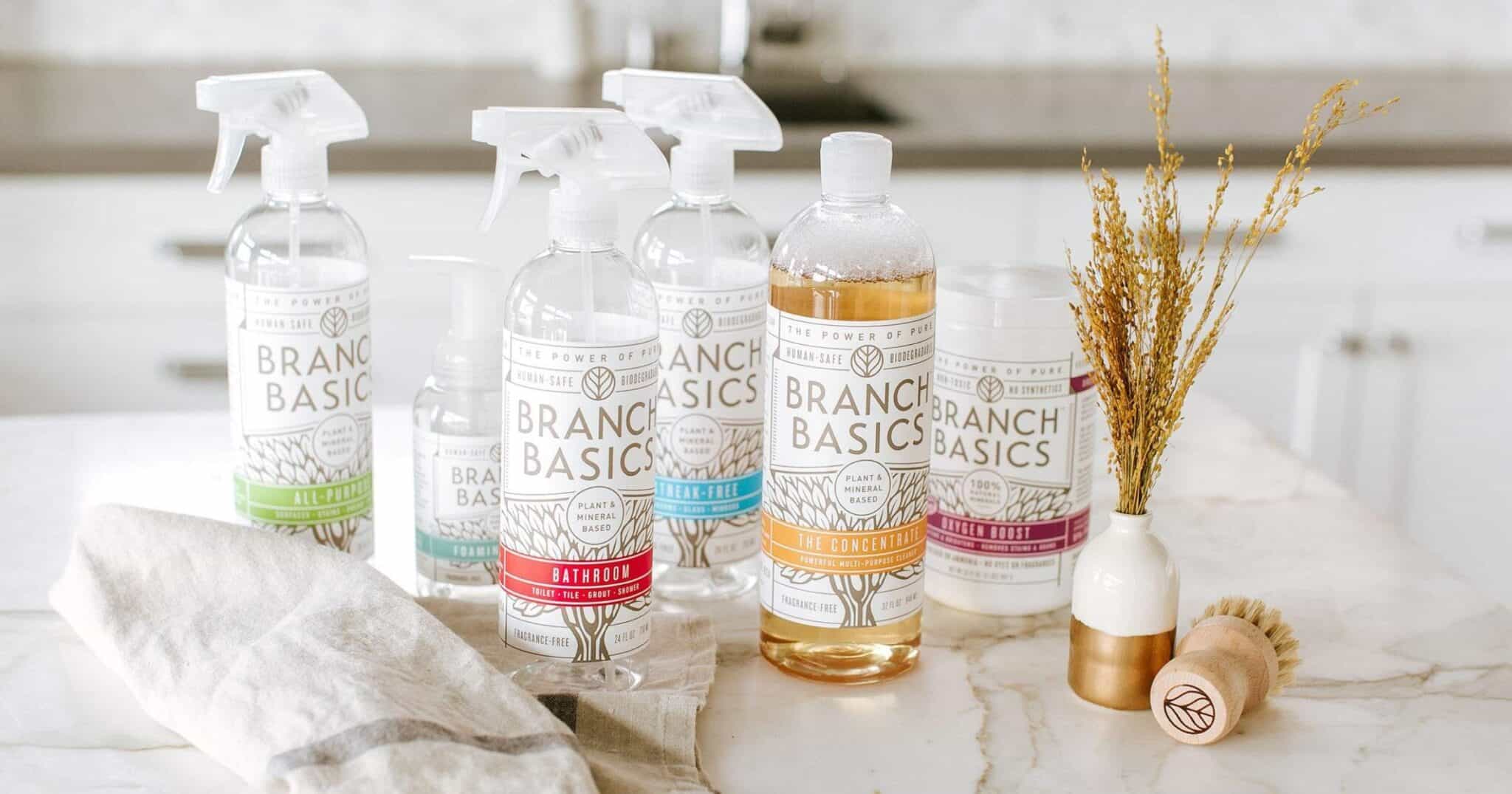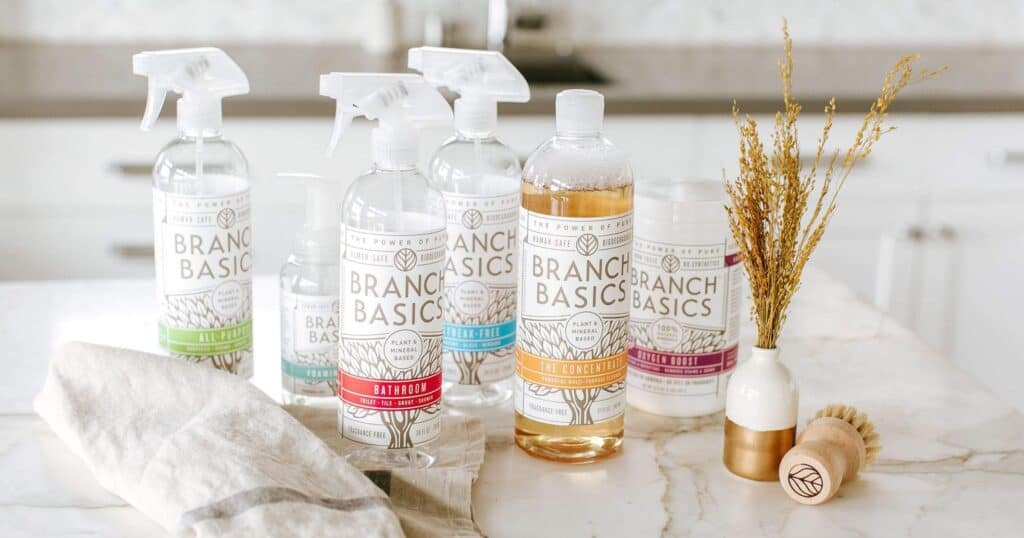 MyGreenFills– Non-Toxic Laundry & Home Cleaning Refill Products
This unique company is constantly coming out with new non-toxic cleaning solutions. We've used their laundry wash and rinse for over a year and love it. This is another great company where you only order little refills, and you mix them up at home. This way you aren't buying new plastic jugs! The best part is that their plastic jugs come with little motivating affirmations hidden on them :-). If you don't like scents, be sure to get the unscented laundry wash- the essential oils in their scented version are quite strong! This company also does extensive work supporting women across the world and lifting them out of poverty through sustainable businesses.
Get 50 free laundry loads with this link!
I've pulled together a list of all our favorite non-toxic products that we use after years of research. Check out the products here!
Are you making a switch to safe cleaning products to protect your fertility? Are you already cleaning with vinegar and baking soda? Leave a comment telling us how!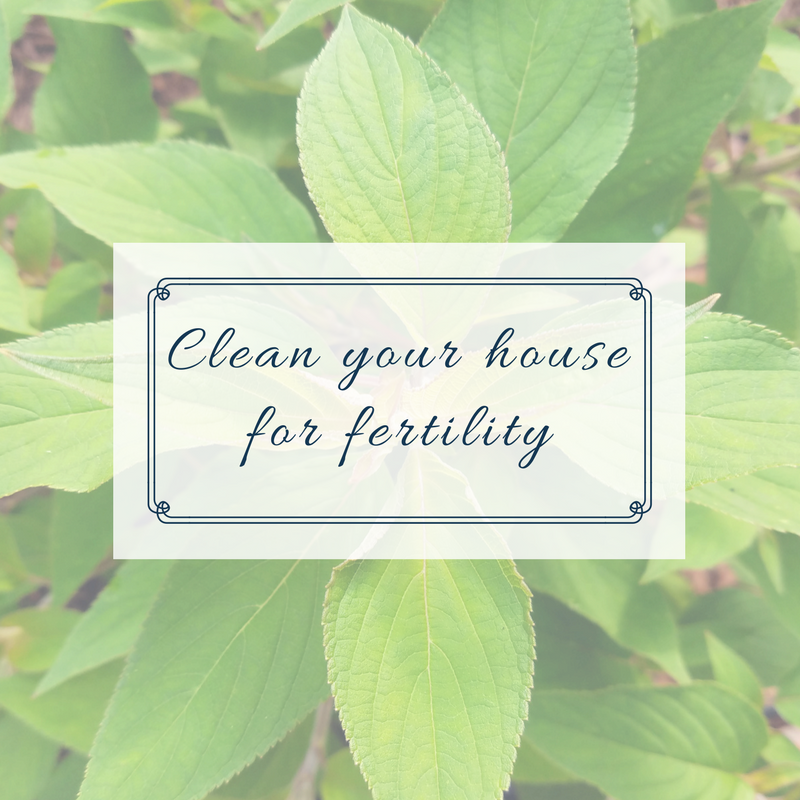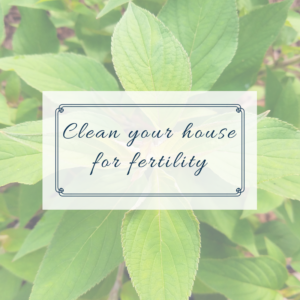 ✕
Want to get pregnant fast?
Love lists? Me too. Grab my 79 Things I did to transform my life and get pregnant in less than 3 months after 2 years of infertility and miscarriages! Totally free!

When Anna Rapp was struggling with infertility and recurrent early miscarriage, she was diagnosed with diminished ovarian reserve, High FSH, low AMH, low follicle count, endometriosis, and an MTHFR mutation. Despite being told donor eggs were her only solution, Anna used her graduate training in research methods and analysis to read everything she could find on fertility and egg health. Ultimately, she lowered her FSH and got pregnant naturally (twice). She blogs about how she did it and encourages her readers to take charge of their fertility journey and get happy, healthy, and pregnant!