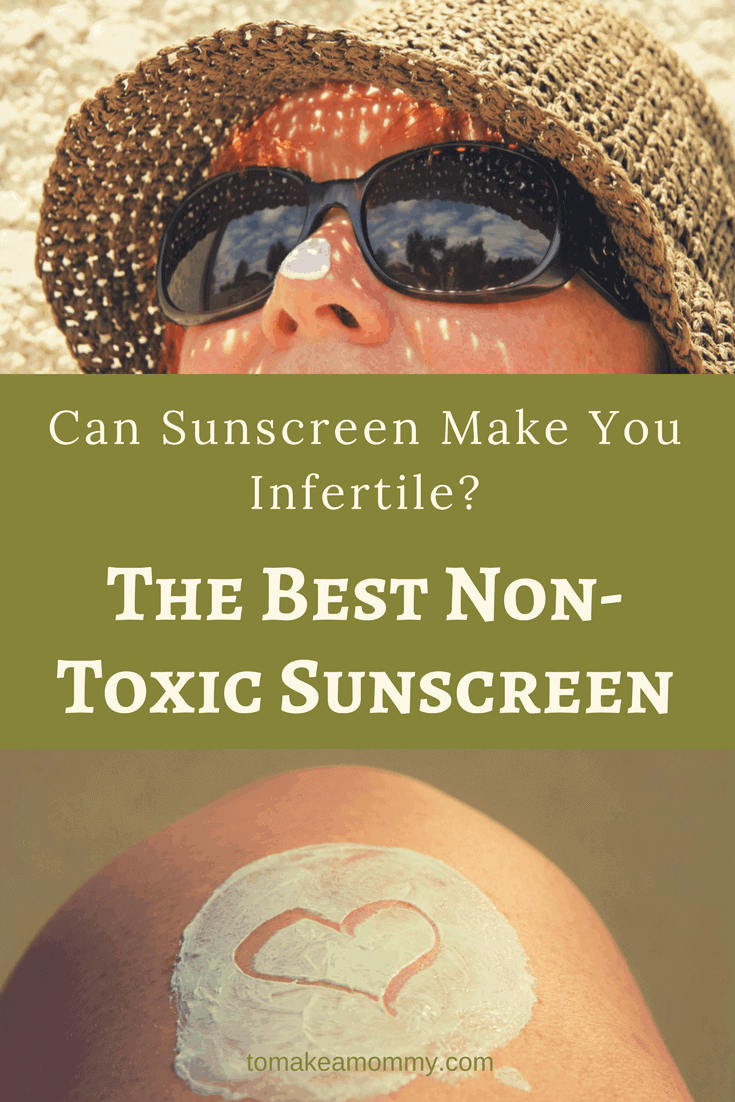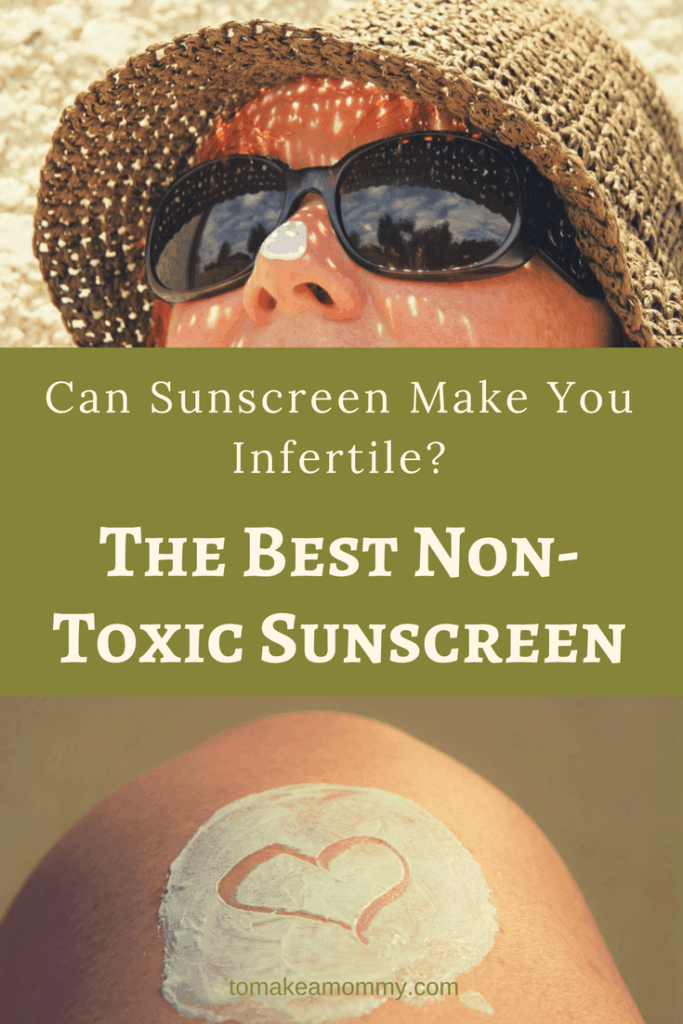 Can the chemicals in sunscreen cause infertility? Unfortunately, yes, and you should stop using most mainstream sunscreens immediately if you are trying to conceive. I'll tell you why in this post!
Are there non-toxic sunscreens that are safe for fertility? You betcha!  There are plenty of safe, non-toxic sunscreen options that won't harm your fertility.  I'll provide you with a list of my favorite, safe brands for fertility.  
Also– getting sunshine is VERY important for your immune system and for fertility– do make sure you do get outside!
Can the chemicals in sunscreen cause infertility?
Unfortunately, many mainstream sunscreens have toxic chemicals that can harm overall health and reduce fertility. The worst ingredient for fertility is the synthetic chemical oxybenzone. Oxybenzone is one of those dangerous endocrine disruptors that has been proven to reduce male fertility, and may also decrease female fertility, cause irregular cycles, and worsen endometriosis.  
Other ingredients that might be present in mainstream sunscreens that are harmful to fertility include Parabens and Phthalates, both of which are endocrine disruptors and are linked to decreased fertility, miscarriage, pregnancy complications, and diminished ovarian reserve.
Be aware that there are other toxic chemicals in mainstream sunscreens that are also bad for overall health. There are also healthy ingredients- like Vitamin A- that are linked to skin cancer. So-no mainstream sunscreens for you or your husband, ladies!
Check out all my posts on how to go more non-toxic for fertility!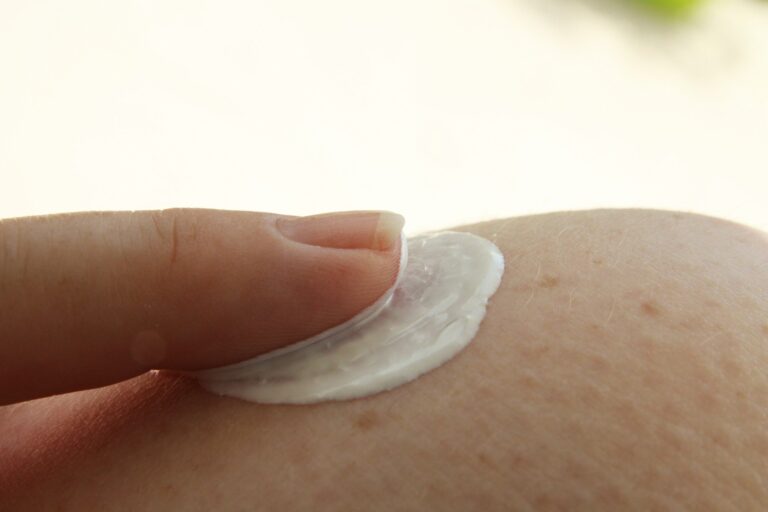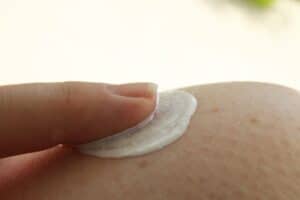 Are there non-toxic sunscreens that are safe for fertility?
Absolutely!  Luckily there are plenty of options!  In terms of active ingredients you need to choose a sunblock that uses a mineral barrier of either Zinc Oxide or Titanium Dioxide. These provide the best protection from UVA AND UVB ultraviolet radiation making them "broad-spectrum" and they don't aren't super toxic like other kinds of active sunscreen ingredients.  
Zinc Oxide is best, as some studies have show some linkage between Titanium Dioxide and cancer. Further, there is some concern that the tiny nano titanium dioxide or zinc oxide particles may penetrate the skin and generate free radicals, that could, conceivably cause cell damage (thus, eventually leading to cancer).  
It's a bit of a stretch, but still, I will only recommend sunscreens that have micronized zinc oxide or that have non-nano, and non-micronized zinc oxide (which means the particles are even BIGGER) as their active ingredient.  As always I recommend products that have excellent ratings with the Environmental Working Group.  Here is their handy Guide to Sunscreens!
Should I wear sunscreen at all?
Now, when you visit the EWG you'll learn a dangerous truth- there is no perfect sunscreen.  Additionally, there is no sunscreen that can protect you from all types of sun damage.  Further, for health and fertility you need a daily dose of Vitamin D which you can get from about 10-20 minutes of unprotected sun exposure.  So, here's what it all boils down to:
Spend 10-20 minutes a day in the sun, without sunscreen, to get your Vitamin D. After that:

Wear clothes, hats, and sunglasses to protect your skin and eyes.

Find shade to sit under or go out early or late when the sun isn't as strong.

When you find you need to be in direct sunlight for longer than 20 minutes without full clothes covering in the middle of the day- Use a safe, non-toxic sunscreen like those I recommend below.  
We generally only use sunscreen when we are at the pool, beach, hiking, or on a boat, or somewhere else where there is no escape from the sun.  Even then, we always set up an umbrella at the beach!  Otherwise, we only expose ourselves to indirect sunlight.
*This post contains affiliate links which at no cost to you provide me with some small change to help keep this blog running! If you decide to buy something I recommend, please consider clicking through one of my links to help support this blog and my family!  Thank you!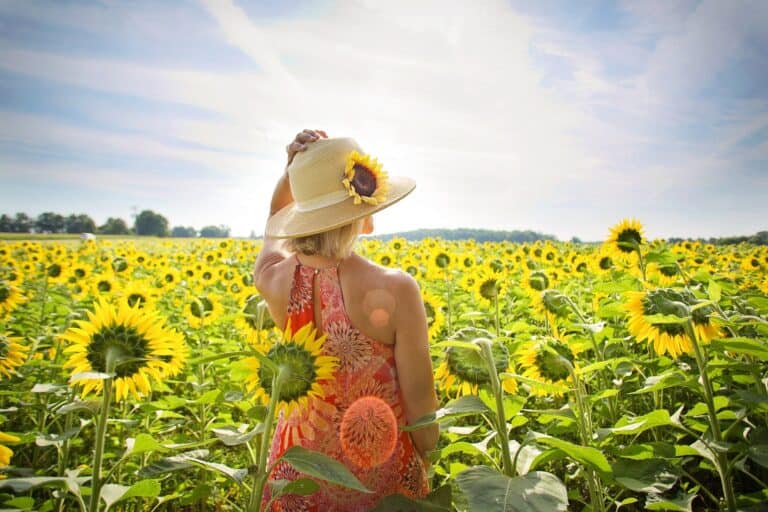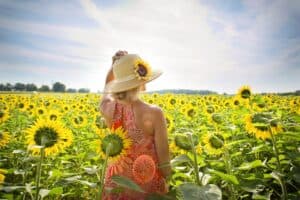 Non-toxic, Non-Nano Mineral Sunscreens that are Safe for Fertility
To be on my list the sunscreens must: have non-nano zinc oxide as the active ingredient; receive a 1 (the best score) on the EWG Sunscreen Guide; and be available to purchase on Amazon.com! Pictures are of my picks for grown-up use!  Now, some of these brands have sprays, but I don't recommend them.  They almost always are rated poorly on the EWG as it is very hard to make a spray that doesn't have toxic chemicals of some sort in it. So, rub it in, rub it in!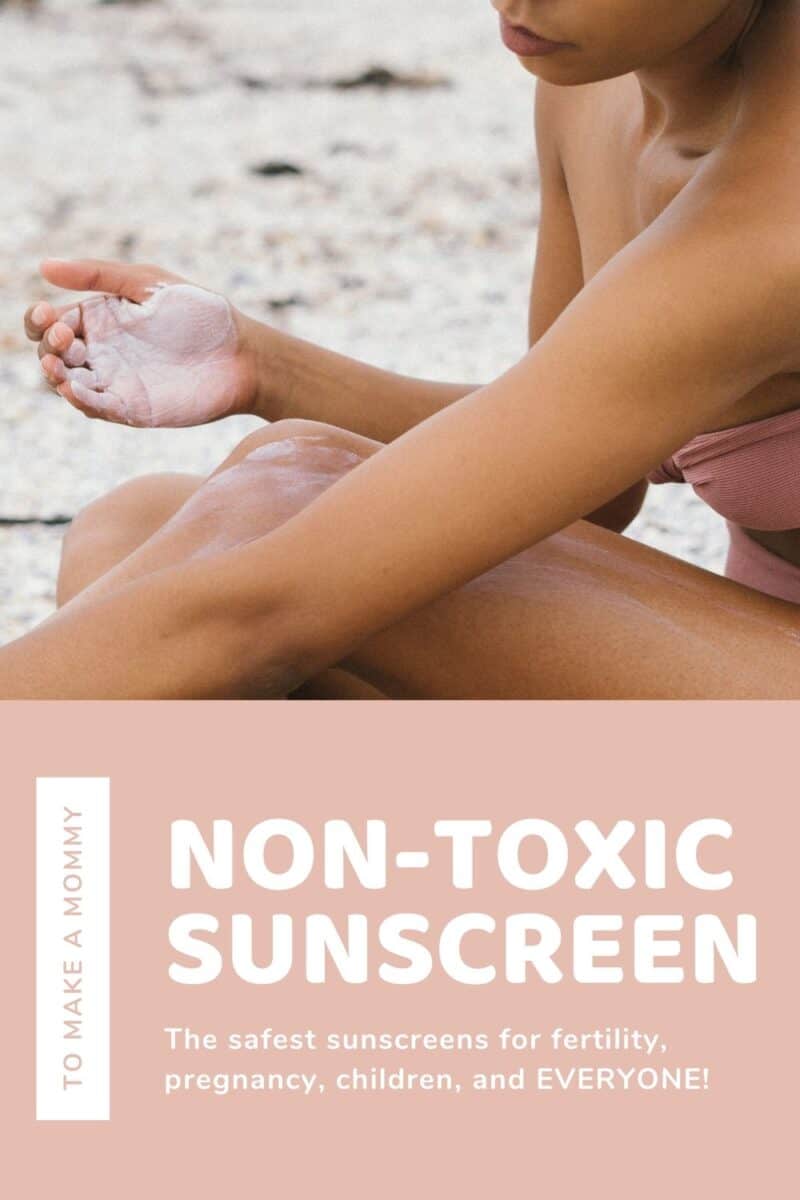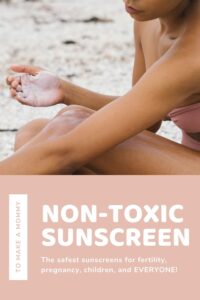 I love Beautycounter! These is a lux, safe, non-nano zinc oxide sunscreen, and a tinted moisturizer with non-nano zinc oxide. for those of you who want the prettiest tube of sunscreen at the beach. I know who you are! Join my Safer Skincare Newsletter to find out how to save money and find deals when shopping Beautycounter!
I love these!  They use non-nano micronized zinc oxide, score the best rating on the EWG, and, best of all-  it rubs in very easily!  No thick white mess left behind.  We used this last summer and loved it.
I love this brand.  Badger brand items consistently score great scores on the EWG for everything- sunscreen, lotions, chapsticks.  For sunscreens, all their formulations use micronized zinc-oxide, and they get the best rating on the EWG's Sunscreen Guides- a 1. The only trick is that they apply pretty white and thick, so it is probably not going to rub in completely.  This is good if you like that white sheen that lets you know you are covered, but no good if it makes you crazy.
Babo uses non-nano, non-micronized, clear zinc oxide with no preservatives! I've never used them before, but they are top-notch in offerings. If I'm ever shopping for a new sunscreen, I'll try these!

Kabana Organic Green Screen Sunscreens
Although these are slightly more pricey, they are an incredibly safe brand.  They even add in Vitamin D to some of their sunscreens to make up what you'll lose from sunscreen protection. With non-nano zinc oxide, and no toxins, you can feel safe with this brand! Although I love Green Goddess, I'm ordering some of this for this summer. People do say it is very tough to rub in, however!
ThinkBaby and ThinkSport Sunscreens
A good, clean brand that you can find in stores and on Amazon!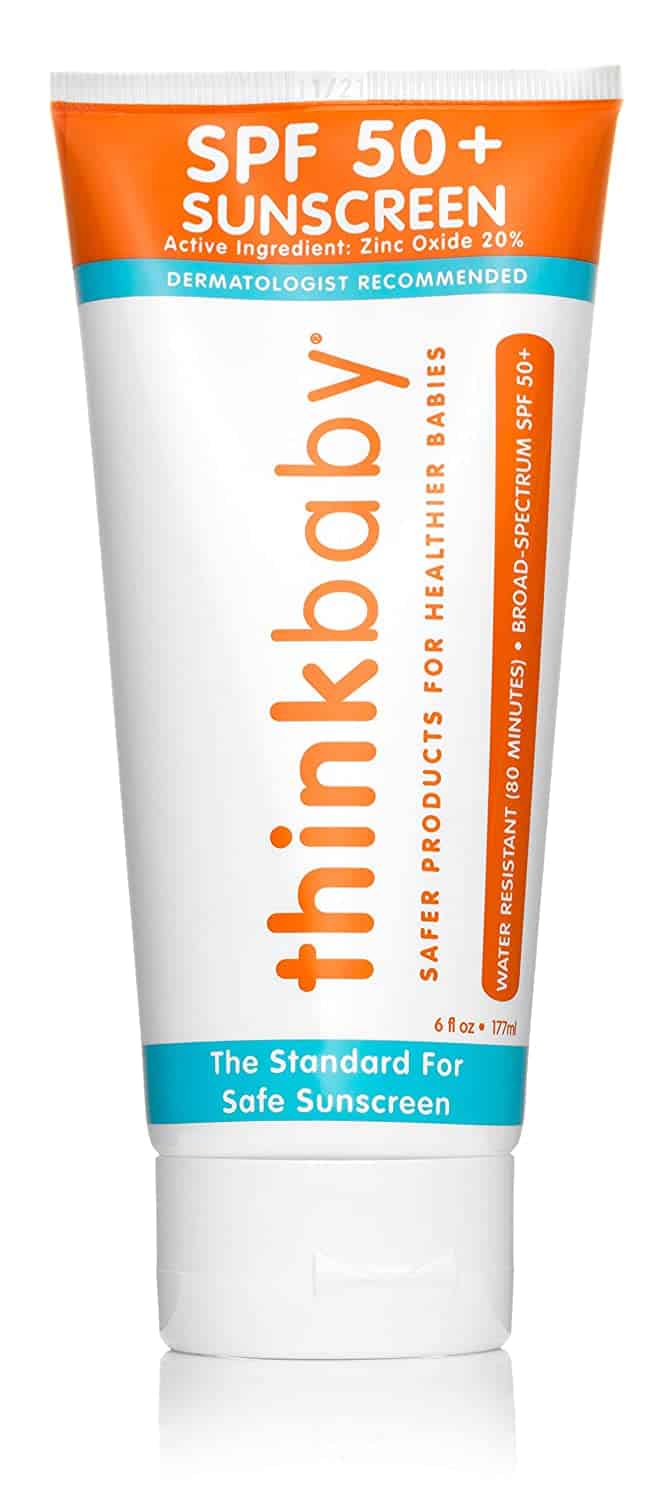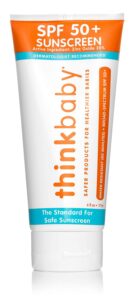 How to Check if Your Sunscreen is Safe
There are plenty of other options if you don't like any of these.  Here's how to find a safe one:
Go the the

EWG list of safe sunscreens
Open up

Amazon.com
Click through the EWG list looking for sunscreens that catch your fancy and have a "1" rating.
Search on Amazon for the price and read reviews!
Here are some of the safe brands, but always double check the individual product on the EWG website: All Good, All Terrain, Burn Out, CoTZ, Raw Elements, Sunology.
Check out my daily non-toxic beauty routine here!
DIY Homemade Non-Toxic Sunscreen
Now, you can always buy some straight up non-nano zinc oxide and make your own sunscreen at home!  Maybe I'll do that someday and blog about it, but for now it is just one more DIY item for my to pin on Pinterest!  Honestly, when I started reading the instructions and there was math and a face mask, I thought, I'll stick with my premade sunscreen, thank you very much!  All the same, here's a link to a brave blogger who does it: How to Make Non-Toxic Homemade Sunscreen.  
Follow my Toxin Free for Fertility Pinterest board to see all the things I hope to make in the future!
https://www.pinterest.com/89d402a117c90a1/toxin-free-for-fertility/
When Anna Rapp was struggling with infertility and recurrent early miscarriage, she was diagnosed with diminished ovarian reserve, High FSH, low AMH, low follicle count, endometriosis, and an MTHFR mutation. Despite being told donor eggs were her only solution, Anna used her graduate training in research methods and analysis to read everything she could find on fertility and egg health. Ultimately, she lowered her FSH and got pregnant naturally (twice). She blogs about how she did it and encourages her readers to take charge of their fertility journey and get happy, healthy, and pregnant!