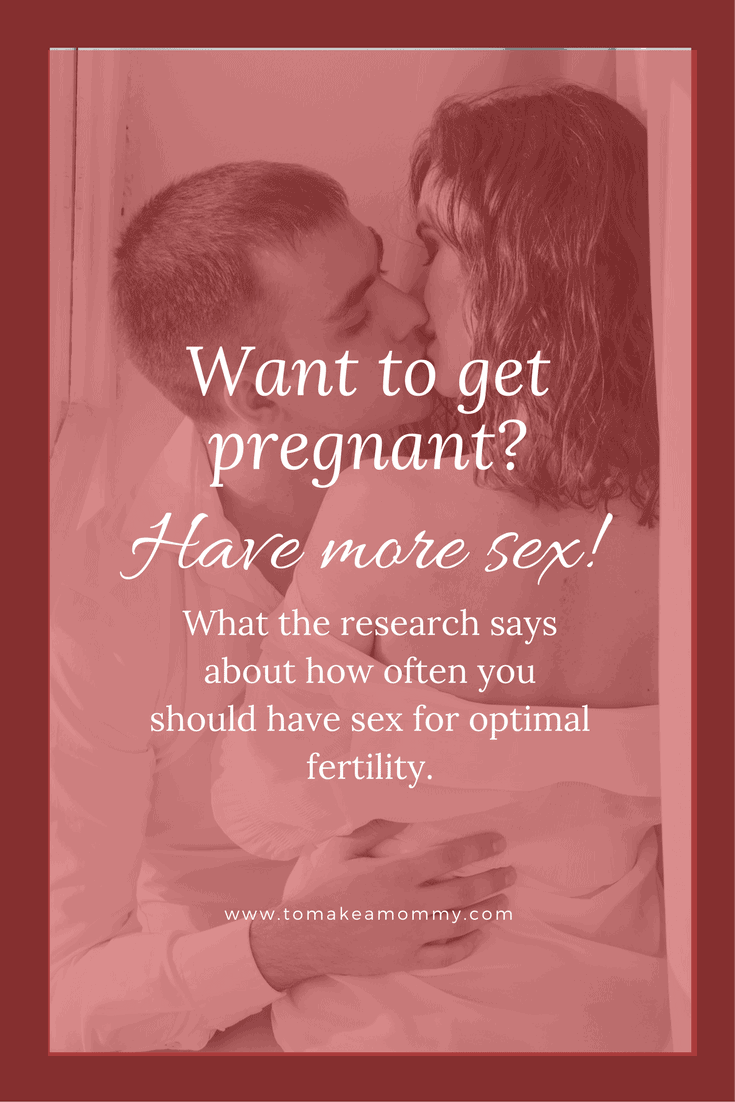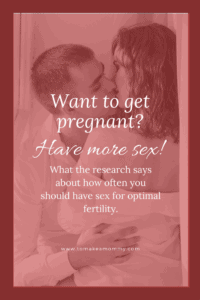 *This post contains affiliate links which at no cost to you provide me with some small change to help keep this blog running! If you decide to buy something I recommend, please consider clicking through one of my links to help support this blog and my family!  Thank you!
Most fertility blogs, books, and coaches, will tell you all about basal body temperature tracking (BBT), egg-white cervical mucus (EWCM), natural fertility cycles, and little ovulation predictor kits.
Let me say this: THERE IS A BETTER WAY.
Seriously, trying to get pregnant is stressful enough without trying to wake up at the exact same time every day and somehow take your temperature without moving, only to find after three months of doing so that there is NO PATTERN because of some kind of elusive measurement error.  There is also nothing worse than peeing on expensive sticks everyday only to NEVER see ovulation predicted because you drink so much water your pee is always diluted! (Seriously, girl, good job hydrating though).   And nothing is sexier than saying, "Hey honey, my cervical mucous seems to be the right egg-white viscosity, let's hop into bed!"
To be fair, I am completely supportive of women taking back control of their fertility, and you should definitely download some kind of cycle tracking app to keep track of when your fertile days are. Further, if you are unsure if or when you ovulate, and you have the emotional constitution for it, you might want to track your BBT so you can see your ovulation and luteal phase patterns. However, if you ovulate every month, and are simply trying to make sure you have sex when you ovulate, you can follow my REVOLUTIONARY advice, and you will never have to pee on another stick, take your temperature, or check your mucous again!
"WAIT!" you say.  "HOW will I know when to do the special baby-making love making with my husband if I don't know when I'm ovulating?"
You are right, it is ABSOLUTELY CRUCIAL that you have sex before or during ovulation.  Wait 12-24 hours after ovulation and you are OUT OF LUCK. There is only one FOOLPROOF way to ensure you have sex on the right day of the month, and I will tell you for free, right now, in this very blog.
Are you ready for the answer?
HAVE SEX EVERY DAY.
Yes, you heard that right.
Or, if you are lazy or your husband has sperm count issues, every other day.  NO LESS!
I'm serious. This is SCIENCE folks.  We know to get pregnant you have to have sex during your fertile time, which includes the six days up to and including ovulation (for young, healthy, fertile women . . . the window is shorter for the rest of us). The problem is, you never know when you might ovulate, and all of the tools you can use to predict ovulating are riddled with potential user error.  Additionally, there is a special magic to ovulation that sometimes defies tracking.  Someone who usually ovulates on Day 14 of her cycle, might suddenly ovulate on Day 7, or Day 23, and without peeing on a stick on the right day (and not being overhydrated), you JUST DON'T KNOW. In fact, one study showed that only 30% of women actually had their six-day fertile period during the clinically suggested guidelines (between days 10 and 17 of their cycle).  That means that if they limited having sex to those days, then 70% of women would be missing out on fertile days for baby-making.  In other words MOST women don't ovulate at the "normal" time.
Now, while your doctor who hasn't read the latest research may say that 2 or 3 times a week is fine, IT ISN'T.  You need to have sex EVERY DAY during your fertile time to maximize your chances of little sperm meeting little egg and making a baby.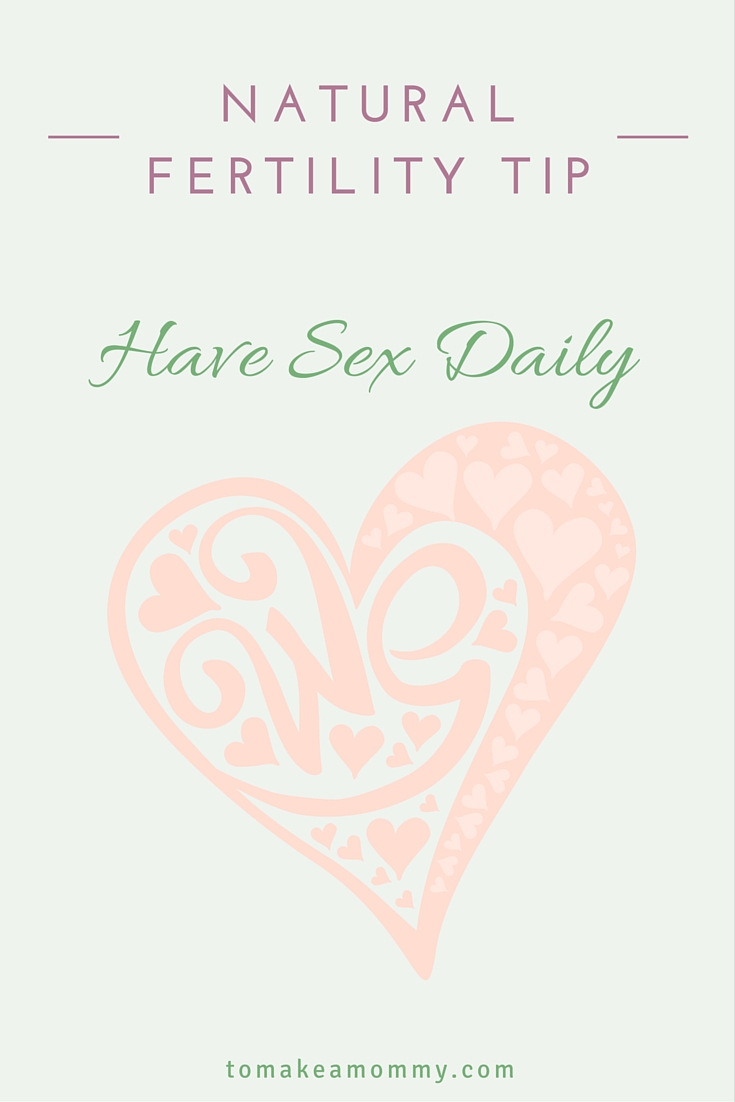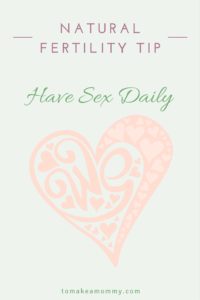 "WHAT?" you say.  "Most websites say every other day is fine!"
Well, every other day is fine.  It's just not optimal. Most websites and doctors suggest every other day because they think that suggesting people have sex every day is too much to ask. That's why when they look at the results from the one study done on this subject- a 1995 study cited at the bottom of this article- they figure once every other day is okay.
Here were the results:
For couples having sex every day of their fertile period there was a 37% chance of conceiving
For couples having sex every other day of their fertile period there was a 32% chance of conceiving
For couples who had sex only once during their fertile period there was a 15% chance of conceiving
These results were for healthy couples without a history of infertility.  If you are struggling with fertility issues, your chances go down per cycle AND your number of fertile days might be shorter (especially if there is a male fertility factor at play, as the little swimmers might not last as long inside you).    Most people argue the difference between 32% and 37% isn't great enough to ask couples to have sex every day.  For my husband and I, once we reached a turning point where we only had a few months to try to get pregnant naturally, that 5% seemed huge.  For us, we wanted to optimize our chances of getting pregnant in any way possible.  Not just because I'm kind of a hippy and wanted to get pregnant naturally, but because we were going to have to pay for all IVF and donor egg cycles out of pocket.  Having sex every day for a few months was DEFINITELY worth it since we wound up pregnant and didn't have to spend tens of thousands of dollars.  Plus, as you'll read below, daily sex turned out to have quite a few added benefits!
"WAIT!" you say. "Won't my husband's sperm concentration decrease with that much sex?"
Answer: No. In normal, healthy men, sperm quality is maximized by regular, daily ejaculation.  Don't go too crazy though;  having sex more than once a day will decrease the sperm concentration because it won't have time to build back up.  But unless your husband has sperm issues, every single blessed day is best.  Now, if your husband has sperm issues (especially sperm count issues), you are going to want to back off to every other day.  
Also, sperm quality DECREASES with time in between ejaculations.  In other word, the older the sperm sitting there in his testicles, the harder time it is going to have swimming up towards that egg.  It's hard to get pregnant with sperm that have been sitting and cooking in his testicles for a week and a half.  Fresh sperm is best. So, if there is ever a time when you don't have sex, make sure your husband still ejaculates at least every other day.  How that is accomplished is your business.
"Okay," you say.  "But there is no way I have time to have that much sex."
Oh honey.  If you don't have time for sex every day, you definitely don't have time for a baby.  My husband and I usually took between five minutes and an hour to have sex, depending on our mood and schedules.  Now that we have a baby, we're lucky if we get to pee much less have sex.  If you legitimately are going so strong that you do not have time to have daily sex then you need to declutter your schedule ASAP.  I will blog more on the importance of clearing your schedule later.
"But how can we keep sex interesting if we have it every day?"
The best part about having sex every day and not knowing for sure when you are ovulating is that there is no difference between special baby-making sex and other kinds of sex.  You can do whatever kind of sex you want (err, as long as sperm is ejaculated into the vagina)! Now is the time to really get to know each other.  Talk about your desires and your secret fantasies. This is a gift of your baby journey!  Instead of constantly stressing about basal temperatures and pee-sticks, you get to enjoy your marriage and spend time getting to know your partner – and yourself! Some days you might feel like sweet romantic love-making, while other days you might want to mix it up a bit.  Sometimes you should act on your partner's fantasies, and sometimes on your own!  Sex should be enjoyable, and couples that learn how to enjoy sex and have it regularly are happier in the long run.
Now, this doesn't mean that you will be "in the mood" every day.  You probably won't be.  There will be days when you have a headache, when you are exhausted, when you are sick, or when you just don't feel like it.  HAVE SEX ANYWAY.  Even if you start off not that interested, probably by the time things are really underway you'll be enjoying yourself.  Make it pleasurable.  Use a vibrator (nothing detrimental to conception from it, I googled this like crazy) if you have a hard time having an orgasm without one.  Use different positions. Get creative.  Have sex in every room of your house or apartment. Read romance novels.  Watch sexy movies together.  Most of all- just ENJOY each other.  After you have a baby it will be hard to find the time to have sex!
Yes! Baby-making sex can be HOT!
Ready for better baby-making sex? Find out the simple way we made our sex lives absolutely amazing after years of infertility.
"You want me to have sex during my period?"
Um, no. You can take a breather during Auntie Flo.  If you want to start on the last day you can, or you can wait until the day after. When I say "every day" I mean "every day you aren't bleeding." Note: if you have endometriosis you SHOULD take a breather during your period.
"I'm doing IVF, so this doesn't help me."
Wrong!  It turns out that more sex increases the likelihood of IVF success! Skip the days when the doctor says it is a no-no, but go for it every chance you have!  Plus, seminal fluid helps implantation!
My story: I started out like anyone else.  I had an app on my phone to track my cycle.  When that didn't work, I tried the pee sticks.  I never got a positive result, even though I could usually feel what felt like ovulation (it's called "middleschmertz" pain). I tried the basal thermometer for three months, and although I could sort of see a pattern, taking my temperature every morning and trying to not move before hand and do it at the same time every day made me crazy. I would take my temperature at 5 in the morning, but many days I would wake up at 3 or 4 desperate to pee, and would lie there freaking out about how it would mess up my temperature reading! It just wasn't for me.  Not to be graphic, but I get egg-white cervical mucous twice during my cycle- at ovulation, and just before I get my period.  So, it was kind of confusing.
In terms of timing we had doctors, midwives, and family friends all giving us different, conflicting advice about timing sex.  My grandmother had the best advice, "just make sure you have lots and lots of sex!"  She should know, she had seven children!  Finally I found a study that confirmed grandma's advice.  We decided to commit ourselves to having sex every day to maximize our chances of getting pregnant, and I threw the basal thermometer out.  Not only did it work but we realized the more we had sex, the happier we were, and the deeper our affection for each other grew.  It makes sense!  Sex releases oxytocin which encourages feelings of love, affection, and happiness.  Also, it can often be exercise.
So- what have you got to lose?  Give it a try!  Make it part of your daily routine, and not only will you be maximizing your chances of getting pregnant naturally, you'll be getting happier and bonding with your spouse. Commit to having sex every day for at least three months.  You can do it!  You have nothing to lose and everything to gain!
Caveat: My mom warned me that people would think I was crazy for posting this advice.  I know that I would have thought this was crazy advice a few years ago.  I just really believe that if you can have sex every day, then why not optimize your fertility by doing so? Or at least every other day?  Of course, it is in no way necessary to have sex this often to get pregnant.  We've all heard the story of the young woman who had sex for the first time and got pregnant. I also know of people who only had sex once during their cycle at a crazy time- like two days before their period was due- and they got pregnant.  And, of course, plenty of people get pregnant with IVF without having sex.  Still, if you and your husband are up for it, this is the kind of commitment to your baby journey that can have lasting positive impacts on your happiness and your relationship.
Benefits of Having Lots of Sex:
1-Maximize your chances of getting pregnant naturally. Not only do you never miss ovulation and improve your husband's sperm quality, but studies show you also signal your body that you are in reproductive mode and your uterus is less likely to reject the sperm or embryo.

2-It will make you and your spouse happy. Sex gives you endorphins. Endorphins make you happy. Don't you want to be happy?

3- It will make you love each other more. Sex releases oxytocin which is the "love" hormone.  It relaxes you and makes you feel lovely, cuddly feelings towards your spouse.  In other words, this is basically a daily chemical boost for your relationship. You get oxytocin even if you don't orgasm!
4- It takes the pressure off. If you only have sex three times a month that puts a lot of pressure on both of you for performance, engagement, energy, motivation, and orgasm.  If you have sex every day, it takes the pressure off.  You can just have sex and enjoy it and not worry about it being perfect!
5- You will really get to know your partner.  You can't have sex every day without getting a little creative.  This is a great way to not focus on special perfect "baby-making sex" and just have fun.  What do you each really like and really want?  Do it different, try out different methods, and don't be afraid to experiment.  What a gift you have- a reason to take love-making with your spouse seriously!
6- Finally, you might like sex more.  People warn you that trying to conceive takes the fun out of sex.  I found that to be the case UNTIL we started having sex every day.  Then, something changed.  All of a sudden it was fun again.  Okay, maybe not every day, but most days.  Also, sorry to be graphic again, but it started to FEEL better and having an orgasm became easier.  It was like my body said, "oh, cool, I like this," instead of "this again?"
Make sure you check out my post with 10 sex tips for getting pregnant!
Are you ready to commit to regular sex with your spouse to increase your chances of conceiving?  If so, leave a comment and tell us your plan! Does this sound too challenging?   What is holding you back?
Yes! Baby-making sex can be HOT!
Ready for better baby-making sex? Find out the simple way we made our sex lives absolutely amazing after years of infertility.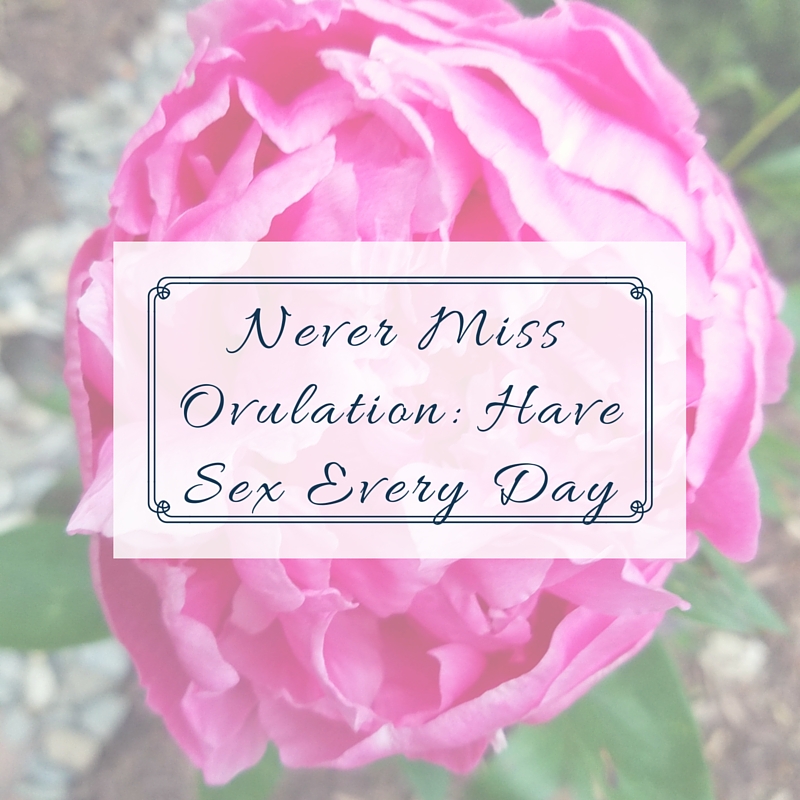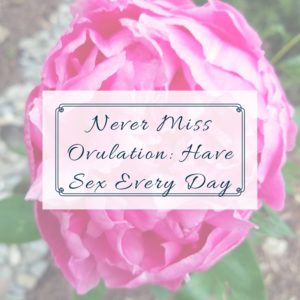 Check out the article I reference, it happens to be available on PDF and it is very interesting: The New England Journal of Medicine (December 7, 1995 — Vol. 333, No. 23). Allen J. Wilcox, Clarice R. Weinberg, Donna D. Baird