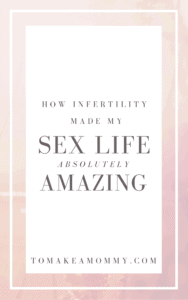 Some people say that nothing is less sexy than trying to make a baby.
When we hear this my husband always leans over and whispers in my ear, "I think they are doing it wrong."
Then we share a smile.
Because we know the truth- sex can be amazing anytime, even when trying to make a baby!
AND, making a baby was not easy for us. We struggled with infertility, miscarriages, and harsh diagnoses from fertility specialists. As month after month of trying to get pregnant turned into years it would have been easy for us to become miserable.
But we didn't. We actually, wound up having hotter sex than ever. AND we wound up getting pregnant! Naturally! Against all odds, when the doctors told us we would have to do IVF with donor eggs because of my infertility issues, we managed the impossible.
Want to find out how? Fill out the form below and download my free e-book on How Infertility Made My Sex Life Amazing!

Yes! Baby-making sex can be HOT!
Ready for better baby-making sex? Find out the simple way we made our sex lives absolutely amazing after years of infertility.