Are you interested in becoming a Beautycounter Consultant aka Brand Advocate? I have two advanced degrees, including an MBA, and I love working with Beautycounter. At first, I just loved the high-quality clean beauty products, but now it has become a regular source of income for me as well. I love it, and if you're interested in running a business, I think you will too! If you decide to join Beautycounter, I'd be delighted to have you on my team!
Why I Became a Beautycounter Consultant
I first stumbled across Beautycounter during my fertility journey. I was OBSESSED with eliminating any and all toxins from my life. When you learn more about the toxicity of most personal care products, it begs the question- why are they allowed to be on the shelves, anyway? After cleaning up the toxins from my life, I was blessed with not only one but two miracle babies. Over the years, I've done the leg work and research on clean products so that you don't have to. You can see my full list of favorite non toxic and low-tox products here.
During my nontoxic mission, I was on the hunt for a clean makeup brand that skipped the nonsense and delivered high-quality results without the toxins. I felt like it was SO hard to find clean makeup that actually worked. I would try brand after brand from Whole Foods, only to be terribly dissapointed with their performance.
Enter, Beautycounter. I was so pleased to find a nontoxic makeup brand in the beauty industry that reflected my personal ethics- I was hooked. And then I tried their skincare, which is seriously next-level. My hormonal acne and dry skin in the winter disappeared, and I wound up with glowing skin! See my daily skin care routine here.
Through trying it and loving it, I knew I wanted to become a Beautycounter Consultant (Brand Advocate) to help other women find clean, high-performing products. I joined in December 2019, and have been working hard sharing the Beautycounter mission since then. Today, I'm sharing everything you need to know before becoming a Beautycounter Brand Advocate!
I currently am an affiliate with many clean skincare and makeup brands. But one of the reasons I appreciate Beautycounter is because they pay at a much higher rate than other brands. I love making 25%-35% on every sale.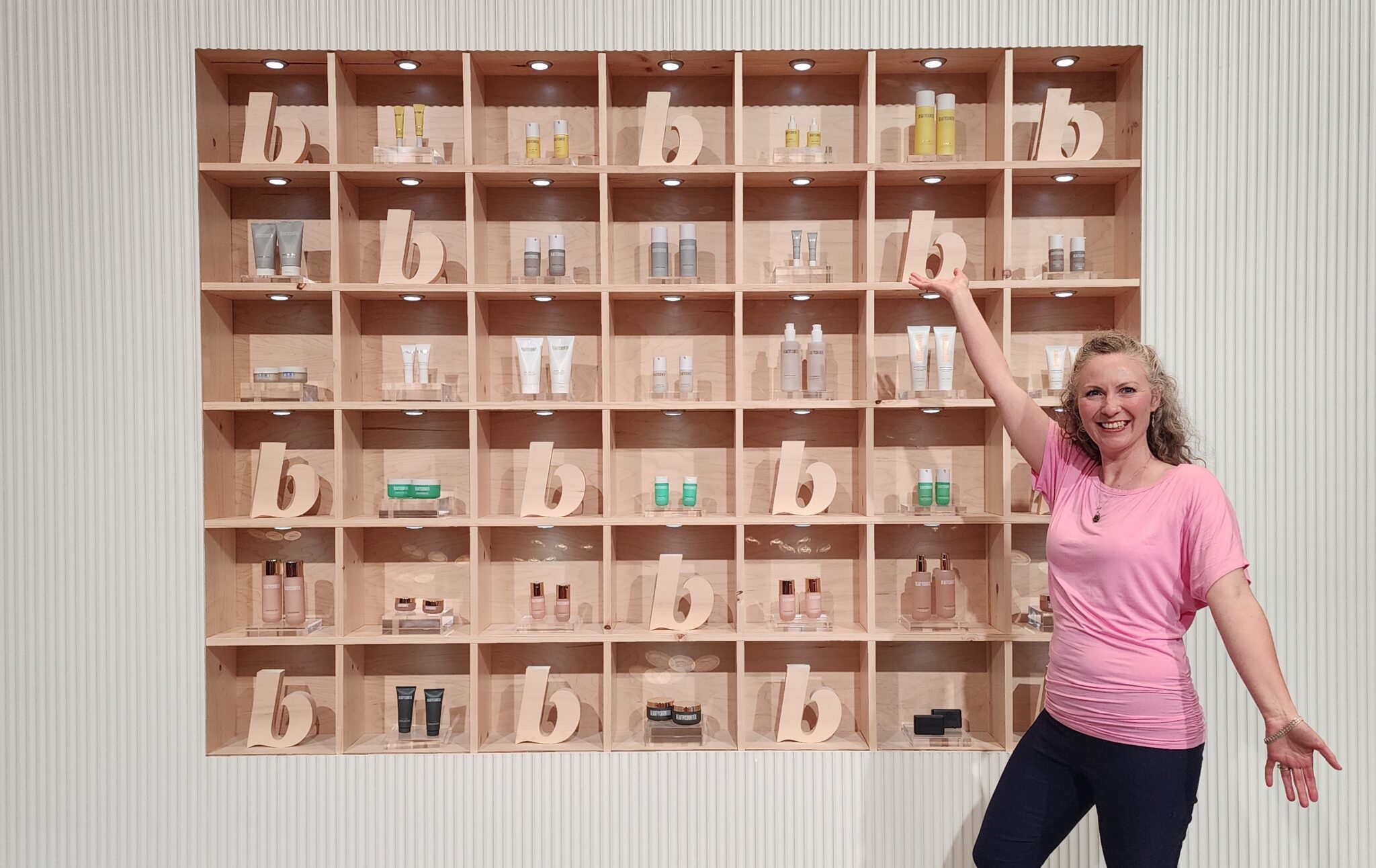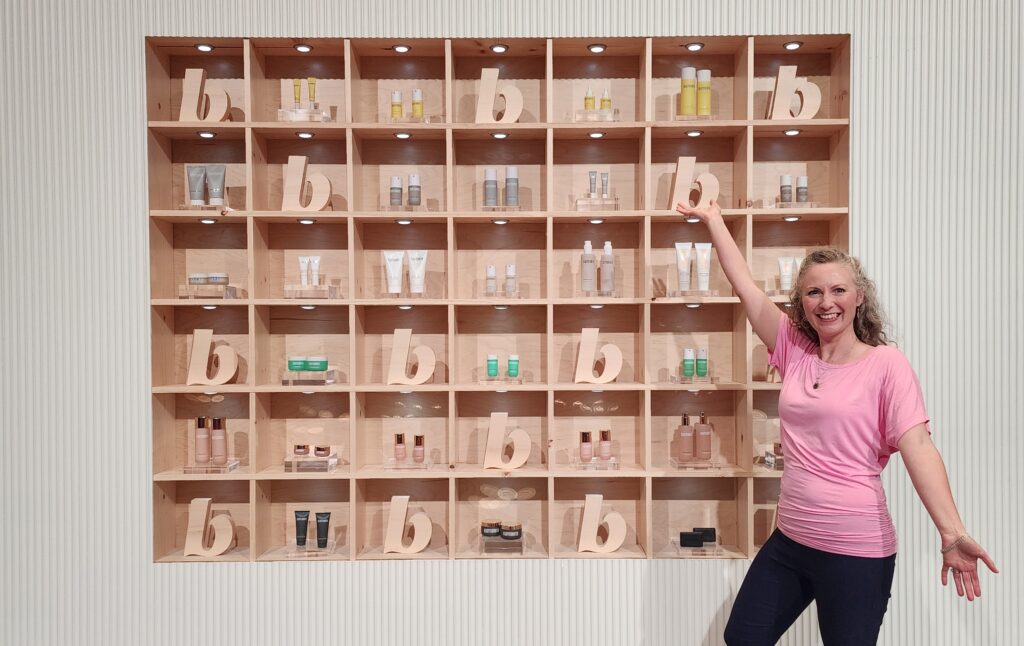 15 Things You Need to Know Before Becoming a Beautycounter Consultant
Becoming a Beautycounter Brand Advocate is exciting stuff! It's an opportunity to share your love for clean, effective beauty with others and can be a great way to make an income from the comfort of your home. (If you're interested in learning more about Beautycounter products, check out my in-depth Beautycounter review!)
Is Beautycounter Actually Legit?
YES. Their makeup and skincare products are so effective, and their values are AMAZING. The Blueprint for Clean says it all. Beautycounter triple checks each BATCH of product and tests it against 23 different factors to make sure that it is absolutely safe. Palm, mica, and vanilla are all ethically sourced, and by 2025, all packaging will be recycled, recyclable, refillable, reused, or compostable. Not only does Beautycounter hold itself to high standards, but consistently lobbies for better beauty laws to Raise Up Beauty for everyone. Check out the annual Social Mission Report to see the accountability in action.
It's so refreshing to see a beauty company that doesn't compromise on ethics from any angle. Part of why I became a Beautycounter Brand Advocate was because I truly believe in their products and overall values as a company. I'm a straight shooter- I don't feel comfortable backing any company that isn't science-driven, nontoxic, and ethically solid.
Beautycounter Makeup: How I Discovered The Best Clean Beauty
Beautycounter's makeup was the real reason I joined. I couldn't find clean cosmetics anywhere that worked until I tried Beautycounter, and voila. I was BLOWN AWAY by the quality of their products. My personal results were the reason I joined, and the reason I have stayed is because of their unbeatable standards. They ethically source their vanilla and mica, they triple-test for heavy metals (a big win), they're higher performing than other clean brands, and they make an ongoing commitment to excluding questionable ingredients from their products. Becoming a Beautycounter consultant was a no-brainer for me since I get to share products that are truly my favorite!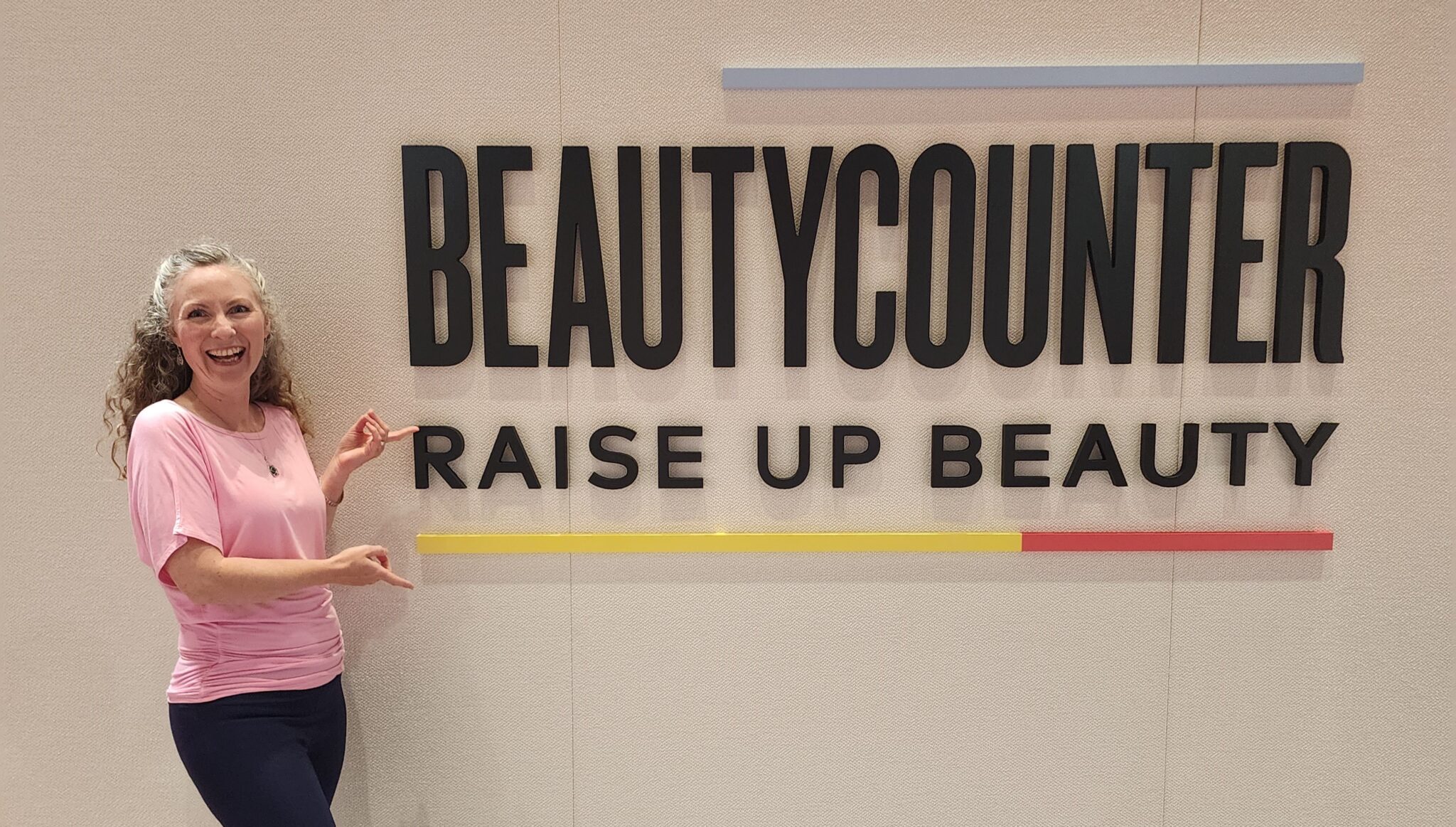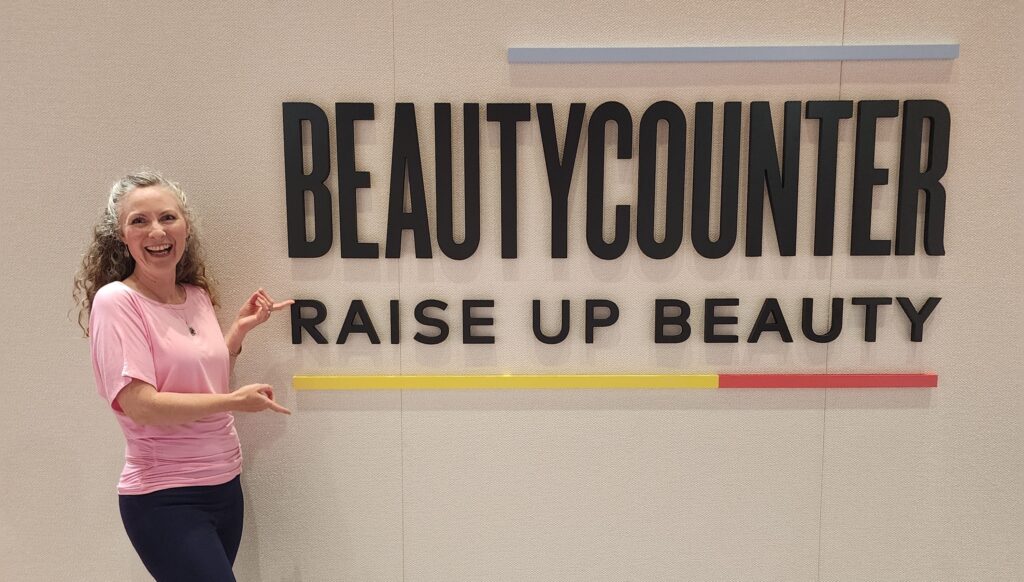 Beautycounter Skincare: The Best Nontoxic Skincare That Makes A Difference
After discovering their makeup, I tried out Beautycounter's skincare and was REALLY impressed. Nontoxic skincare can be tricky when it comes to seeing real changes in your skin. Beautycounter has so many amazing products that use safe, effective ingredients for visible results (even for sensitive skin). I appreciate the variety of skin concerns that they address- from acne-attacking to anti-aging products, they have a product for everyone. As I explored more and more products from the brand, all of a sudden I realized that my makeup and skincare routine had both become completely overtaken by Beautycounter!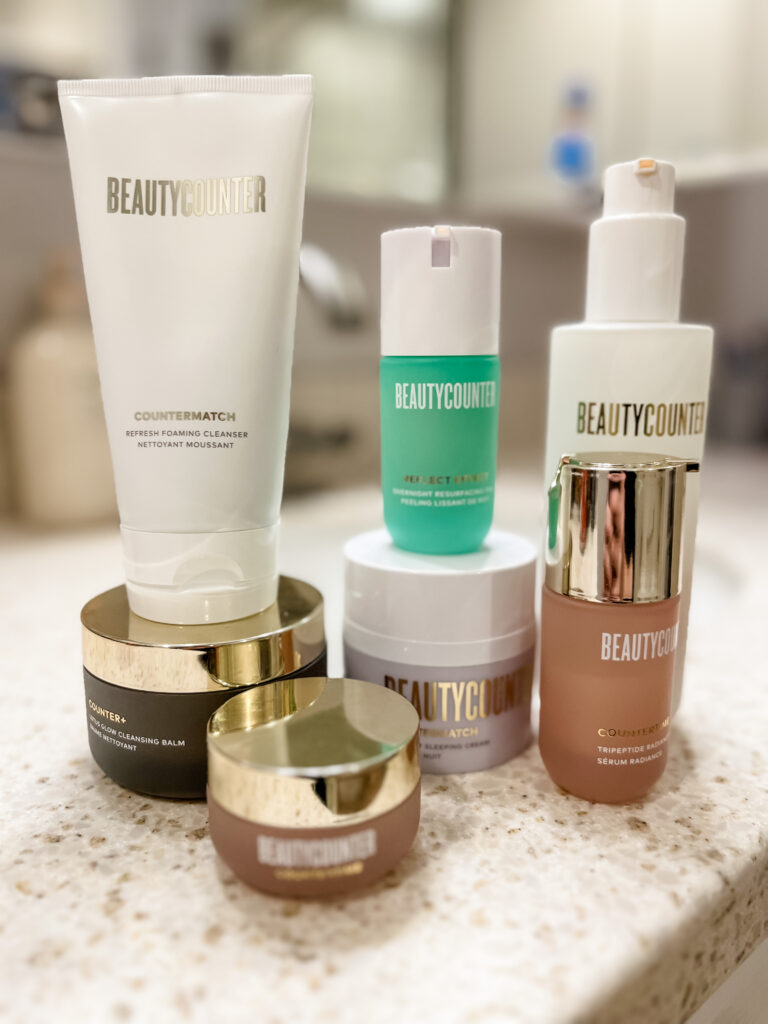 How Do I Know Beautycounter Isn't Toxic?
The best part of shopping at Beautycounter is that you can have full confidence that ALL of it is safe. My online nontoxic detective (aka research-obsessed) readers- I'm looking at you. As someone who's spent hours of my own time doling on ingredient lists and company backgrounds, I totally get the frustration about having to carefully sift through labels before making a purchase. Beautycounter's Never List details over 2,800 ingredients that they vow to NEVER include in their products. This includes well-known toxins like BPA, phthalates, parabens, etc., but also extends to lesser-known chemicals that are banned or restricted by the European Union. I go through the nitty-gritty details on ingredients you might have questions about, like salicylic acid and phenoxyethanol, in this post on Is Beautycounter Really Pregnancy Safe?
Is Beautycounter Safe for Pregnancy?
Yes! Beautycounter is completely safe for pregnancy. None of their products contain harmful ingredients for expecting women, so you can shop confidently. They even have amazing retinol alternatives, made with Bakuchiol and Swiss Alpine Rose. I know you have questions, so check out my super detailed research into Beautycounter ingredients and whether they are safe for pregnancy.
Is Beautycounter Safe for Trying to Conceive?
Beautycounter is completely TTC-safe. None of their products include any ingredients that potentially threaten fertility, making it a great option for clean makeup and skincare. Many major brands nowadays try to sell us endocrine blockers and products full of parabens and phthalates that have the power to completely alter our hormones. Luckily with Beautycounter, you don't have to worry about any of their products interfering with your fertility.
Is Beautycounter Safe for Breastfeeding?
Yes! Beautycounter is 100% safe for breastfeeding. All of their products are made with clean ingredients that you can feel good about to avoid exposing yourself or your baby to toxic chemicals. Read more about the safety of Beautycounter ingredients and breastfeeding here.
What are the Best Beautycounter Products?
This is such a loaded question since everyone has different preferences! My current FAVORITE skincare product is my daily moisturizer- their Mighty Plump Ceramide Water Cream! This face cream is hydrating, brightening, and has a flash filler with plumping effects to minimize signs of aging skin. I have a whole post with my full review here. There are so many other great products too, though. For sunscreens, I love the Countersun Mineral Sunscreen Mist SPF 30 for added sun protection. The Reflect Effect Overnight Resurfacing Peel is also amazing to use at nighttime for radiance, minimizing pores, revealing youthful skin, and combat dark spots to give you glowing skin.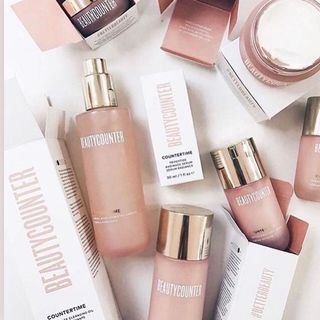 What is a Beautycounter Consultant?
Beautycounter calls consultants Brand Advocates because we get the opportunity to advocate for cleaner, safer beauty for everyone! A Brand Advocate is someone who LOVES Beautycounter products, is intentional about using nontoxic, safer makeup and skincare products, and wants to build a business by sharing their favorite products with others.
You can decide if you want to either sell through your own business and if you want to build out a team of Beautycounter consultants to work with and share the products with others. You NEVER have to build a team, and your own personal volume of sales (PV), is the best way to earn income.
Becoming a Beautycounter Brand Advocate means that you get to make money by sharing your favorite clean products (sort of like an affiliate link)! Education is at the heart of what we do, and it always feels good to help people find a non toxic solution for their skin insecurities!
Of course, most Beautycounter consultants join for the discount, which is 25%.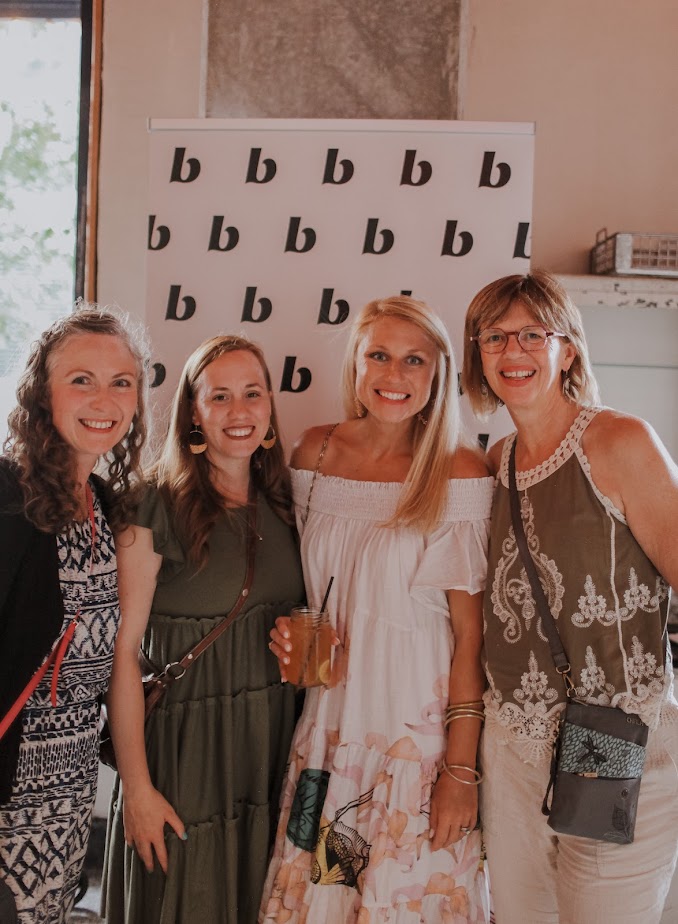 What Does a Beautycounter Consultant Do?
This looks so different day to day! The focus is educating others about the importance of switching to clean beauty which manifests itself in lots of ways. It could mean hosting an in person pop up for people to try products, dropping samples in the mail, researching products and ingredients, coaching team members, writing emails, sending texts about new products, or product reviews on social media. The job of a Brand Advocate is to help people find high quality and safe personal care products that work for their skin. If you like helping other people, educating others about clean beauty, or advocating for better beauty laws, you should become a Brand Advocate.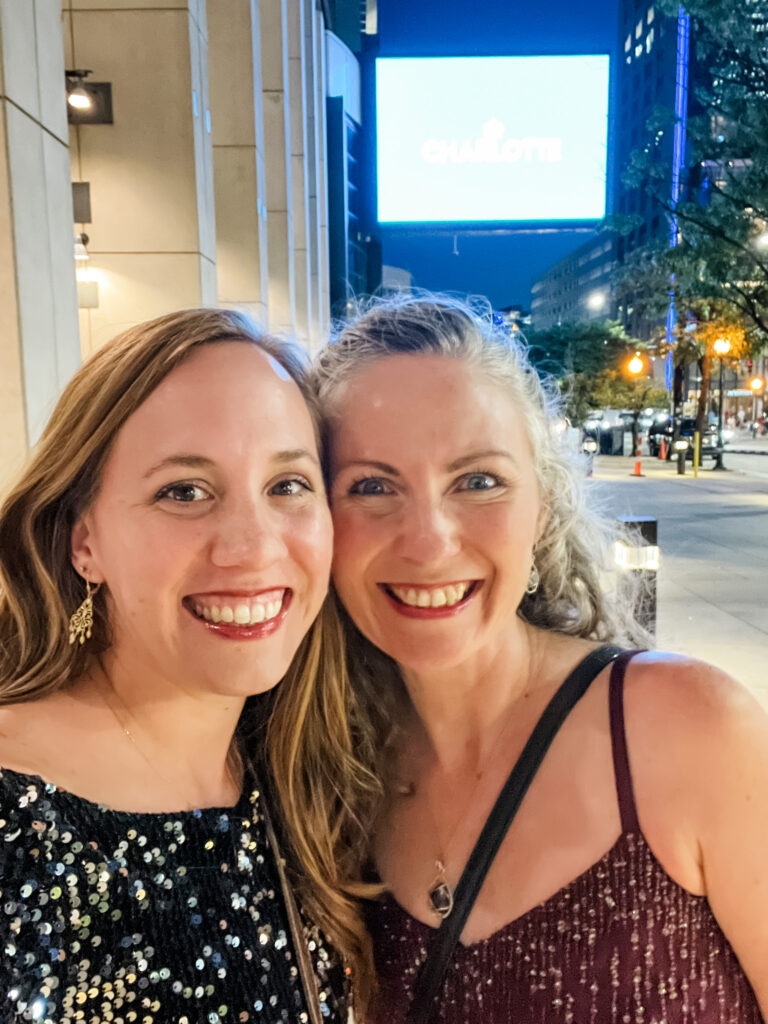 How Much Does Becoming a Beautycounter Consultant Cost?
Great question! I LOVE that Beautycounter is such a transparent company and that is super helpful when we start talking about becoming a Brand Advocate. There are no hidden fees or expectations! Before becoming a Beautycounter Brand Advocate, you have to purchase a digital enrollment kit for $50.
This comes with your own website, training materials from Behind the Counter to stay up to date on all of their clean beauty, and a 25% discount on ALL products. When becoming a Beautycounter Brand Advocate, you also get exclusive access to a special starter set with major discounts. This is a GREAT time to stock up on all of the essentials because you won't have access to so many products at such a major discount again. However, you are not required to buy anything except for the enrollment kit ($50). You can start by sharing the products that you already use and love.
If you continue to love your work as a Brand Advocate, you will need to pay a $50 renewal fee each year. This is because most Brand Advocates only sign up for the 25% product discount.
Is There a Monthly Quota I'll Need to Hit?
No, there's no monthly quota, so you don't have to worry about selling or buying a specific amount month-to-month. BUT, you do need to make $750 in personal volume (PV) over a 6-month period between your own purchases and sales in order to remain an active consultant. Some months may be higher, and some lower, but as long as you're hitting the 6-month mark you'll be all set! To put that into perspective, an average order is about $150 so you would need to sell about 5 orders over 6 months. 1-2 sales per month is totally doable!
If for some reason you don't hit your goal, it's not a big deal. You'll receive one year of complimentary access to the Band of Beauty program so you can still enjoy product perks. You don't have to send anything back to Beautycounter. If you want to, you can even sign right back up the next day to become a Brand Advocate again!
How Much Money Do Beautycounter Consultants Make?
Consultants earn 25-35% commission on their direct sales, plus commissions from their team members (starting at 5% and growing up to 12%). So if you're putting a ton of time and effort into it, you have a good chance of bringing in some solid cash flow! If you treat becoming a Beautycounter Brand Advocate as a hobby or side gig, your sales will reflect that. It's all about what you put into it!
Keep in mind that earnings with Beautycounter may vary significantly, and earnings are not guaranteed. Earnings depend on many factors and not all Brand Advocates will earn money. Many Brand Advocates sign up solely for the discount, or decide not to promote the products after joining.
Relevant factors include each Brand Advocate's time dedicated to selling/mentoring and their unique circumstances. To see more about the earnings and costs of Beautycounter Brand Advocates, see the 2022 U.S. Commissions Overview.
In 2022, the average total annual income for all Brand Advocates was $1,878. This includes all Brand Advocates affiliated with Beautycounter at any point during the year including those who only joined for the discount, or became Band of Beauty Members as a result of not hitting sales minimums.
I am lucky to be in the top 1% of Beautycounter earners, and my team has systems in place to support you as you grow your business. But no one can do the work, but YOU.
The great thing is that you are in charge of your earning potential. You get to decide how much time and effort you want to put into your business and your income will reflect that! Whether you're looking for a side gig or a main gig, the role of a Beautycounter Brand Advocate is super flexible to fit YOUR schedule and needs.
Is Beautycounter an MLM?
Technically, Beautycounter is a direct sales company, because consultants primarily generate revenue by selling products. In a multi-level marketing (MLM) company, representatives primarily generate revenue by getting other people to sign up for the business.
With Beautycounter you make the most revenue from your own sales, and if you sign up your friend as a consultant, you will go from earning 25%-35% on her purchases, to ZERO percent of her purchases. However you will make a small percentages on the sales she makes. So . . . it's complicated.
I actually avoided signing up with Beautycounter for a couple of years because I was fears about MLMs, pyramid schemes, and the ethics of these companies. I wound up reading the Federal Trade Commission's advice on Multi-Level Marketing Businesses and Pyramid Schemes.
When deciding whether or not to join an MLM, I suggest following the FTC's advice to make sure you aren't walking into a pyramid scheme, and that the company is ethical.
Here are tips from the FTC that helped me evaluate Beautycounter:
If the MLM is not a pyramid scheme, it will pay you based on your sales to retail customers, without having to recruit new distributors. This is true of Beautycounter, you NEVER have to recruit anyone, and our top-selling brand advocate in 2023 has ZERO people on her team.
Avoid companies that make extravagant promises about earning potential. So true of Beautycounter, that they are constantly scanning social media and websites to make sure no advocates violate this. For example, if I put in a statement about how much money I make and how its changed my life, then, EVEN IF ITS TRUE, Beautycounter would require that I take it out of my blog post or be kicked out.
Only join direct sales companies where you are encouraged to sell ACTUAL PRODUCTS. I avoid programs that emphasize recruiting as the way to make real money. Beautycounter is hoping you will SELL their product. Pyramid schemes sometimes don't even have products!
No one should pressure you to join. Since becoming a blogger, I've experienced several high pressure recruitment attempts that leave a bad taste in my mouth. With Beautycounter it's always about the opportunity. I was not recruited, I decided to join, and then found an advocate who I could tell was crushing her sales, and joined on her team so I could have a top-notch mentor. *I* reached out to her!
Avoid companies that require a large investment, or auto-ship products to you. You never have to have ANY inventory with Beautycounter, and you can run a business completely with ZERO products if you like (although it will be hard, lol). You don't have to make ANY investment ever, other than the $50 joining fee (which is only there because most advocates join just for the discount).
Another factor that sets Beautycounter apart from other MLMs is that you don't have to buy the products through a consultant. You can purchase Beautycounter products directly from their website, or their brick and mortar retail stores, or you can even find them at Ulta!
Is There a Beautycounter Controversy?
There is one part of Beautycounter history that could be considered a controversy. Prior to 2019, Beautycounter was not careful to ensure that they and their consultants, avoided making any claims about income potential. This means that in 2019 or earlier you might have seen a consultant talking on social media or on their blog about how much money they made, or how it enabled them to quit their job, etc.. Although those claims may have been true, they violated guidance from the FTC.
Since then, Beautycounter has removed all claims, insisted that consultants remove all claims, and actively scans websites and social media for income claims. If they are found, they ask the consultants to remove them (I know people who have been asked by Beautycounter to remove such claims, and I have been warned by my upline to not talk about how much I make).
If you visit the Beautycounter Income Disclosure Statement (which is updated each year), you'll see the breakdown of what percentage of Beautycounter consultants earn what amounts.
Although 24% of Beautycounter consultants have zero earnings, this is hardly a controversy. Consultants are not required to make ANY investment when they join, and most consultants sign-up just for the 25% discount on personal purchases. I've had several people "join my team," just for the 25% discount on a huge purchase, and then they don't sell and drop off after six months. Do I encourage this? Not particularly, because I make ZERO percent on their purchases, so I've just lost a purchasing client. But I certainly don't blame them for saving money!
I am in the top 1% of Brand Advocates in terms of earnings, because I have been working my butt off since I joined in December 2019.
How to Know if Becoming a Beautycounter Consultant Is a Good Fit for You
If you're passionate about clean beauty, looking for a source of income, and absolutely LOVE Beautycounter products, this is likely a perfect fit for you!
The great part about becoming a Beautycounter Brand Advocate is that it's a small investment with no risk involved. Many MLM companies require a hefty investment before becoming a consultant, but Beautycounter only charges a $50 fee. The worst that could happen is you decide it's not right for you, and end up with a Band of Beauty membership without owing any money to Beautycounter. In fact, the 60 day money back guarantee applies to sets if you choose to buy one. there is even a One Year Business Supplies Refund Policy if you decide it isn't a good fit for you. I love that this company is so transparent!
Another plus is that Beautycounter consultants don't need to become door-to-door salespeople to make a profit. With social media, it's easier than ever to spread the word. You're simply sharing your favorite luxury skincare and beauty products with your friends and family! Whenever you add a new cleanser, eye cream, or face serum to your regimen, you get to spread the word about natural beauty products that you genuinely love. Think of it like finding a new favorite restaurant and telling everyone you know to eat there. You just make a commission off of purchases where as you wouldn't from the restaurant.
Eight Signs You'd Make a Good Beautycounter Brand Advocate
You love sharing your latest obsession in person or on social media, whether it's Beautycounter, food, shoes, your latest workout, anything.
Using safe low-tox products is very important to you.
You love helping people find safer alternatives to conventional products.
You really love beauty products.
You want to change the world by encouraging people to vote with their dollars for clean companies that put people and the planet over profits.
You want or need additional income that you can earn from anywhere.
You find yourself wanting to talk about your latest Beautycounter purchase and how awesome it is.
You get compliments on your skin since switching to Beautycounter and your friends have started asking what you're using.
You DON'T need a large following, but obviously it's easier if you do. You don't need to take great photos (lol, obviously, because I don't, haha). You don't need to be an expert in the products or in non-toxic living. You DO need passion!
Three Things to Do BEFORE Becoming A Brand Advocate
Think about your WHY– How will you explain to people WHY you signed up and WHY you love Beautycounter. You probably will want to try the products first, so you can talk more about what you love. I like to mention two things about a product, one about performance, and one about safety, sustainability, or ethical sourcing, for example, "I love the lip gloss because its NEVER sticky, looks fabulous, and uses responsibly-sourced vanilla!"
Tell someone- talk to your mom, your grandma, your cousin, your neighbor. Tell them you are passionate and tell them you are thinking about signing up. Let your enthusiasm shine- sometimes it is easier to have the first conversation BEFORE you sign up. I talked to my mom before hand and it totally helped. She is also a very educated liberal, who is not a fan of most MLMs, so I had to explain my FTC research.
Start thinking about all the products you need for yourself, or that you'd like to gift for any upcoming birthdays or holidays. You get a chance to save up to 55% off certain bundled products at sign-up and you should think about if you want to make any purchases. You NEVER have to make a purchase, but it doesn't hurt to get a deal. Spend some time on this page to see what options you have!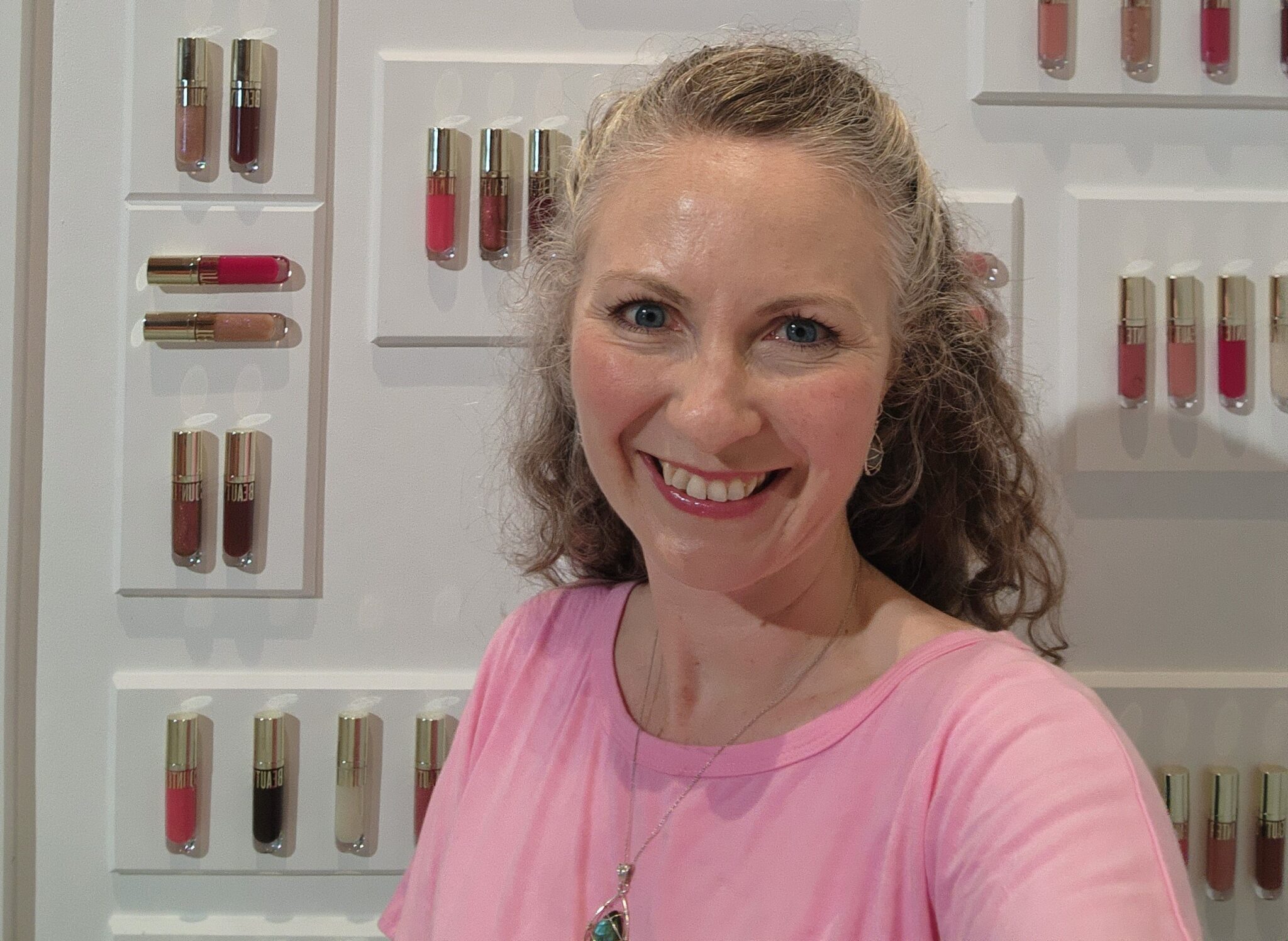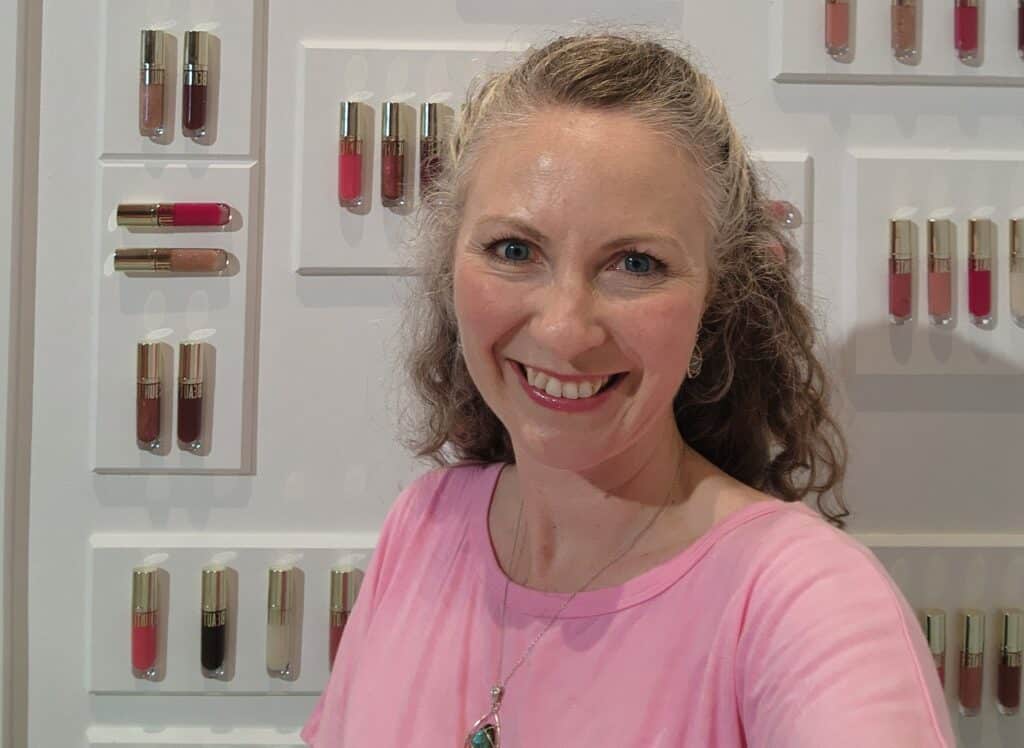 Next Steps
I'm always an advocate for thoroughly researching ANY decision before making it- so feel free to reach out if you have questions! You can contact me or DM me on Instagram, and I will get back to you! You can also join my Beautycounter newsletter to get a feel for how I run my business. If you're ready to sign up, click here and be sure to select Anna Rapp as your mentor!
Personally, I have absolutely loved the extra source of income that becoming a Beautycounter Brand Advocate has provided me with. I get to share products that I'm truly passionate about and get to help people find their confidence through the best clean beauty brand that I know. I've also made some wonderful friends through Beautycounter! Cheers to nontoxic beauty!
Anna Rapp is a fertility journalist and non-toxic living expert. When Anna Rapp was struggling with infertility and recurrent early miscarriage, she was diagnosed with diminished ovarian reserve, High FSH, low AMH, low follicle count, endometriosis, and an MTHFR mutation. Despite being told donor eggs were her only solution, Anna used her graduate training in research methods and analysis to read everything she could find on fertility and egg health. Ultimately, she lowered her FSH and got pregnant naturally (twice). She blogs about how she did it and encourages her readers to take charge of their fertility journey and get happy, healthy, and pregnant!