Interested in the Beautycounter Mighty Plump Ceramide Water Cream? You SHOULD be, because it is AMAZING.
I noticed instant plumping after the first application, and after just two weeks I noticed my skin was looking noticeably younger and firmer.
I also had a hilarious conversation with my not-very-observant husband who one evening commented, "Have you done something different with your skincare routine? Your skin looks . . . . smoother." Lol, I just about fell off the couch!
Thank you, Mighty Plump. It's also clinically proven to reduce the appearance of fine lines and wrinkles.
Sold? Grab the Mighty Plump Ceramide Water Cream now and use the code CLEANFORALL20 to get 20% if you're new to Beautycounter.
If you're not familiar with Beautycounter, read my post on how Beautycounter is truly safe and pregnancy-safe here.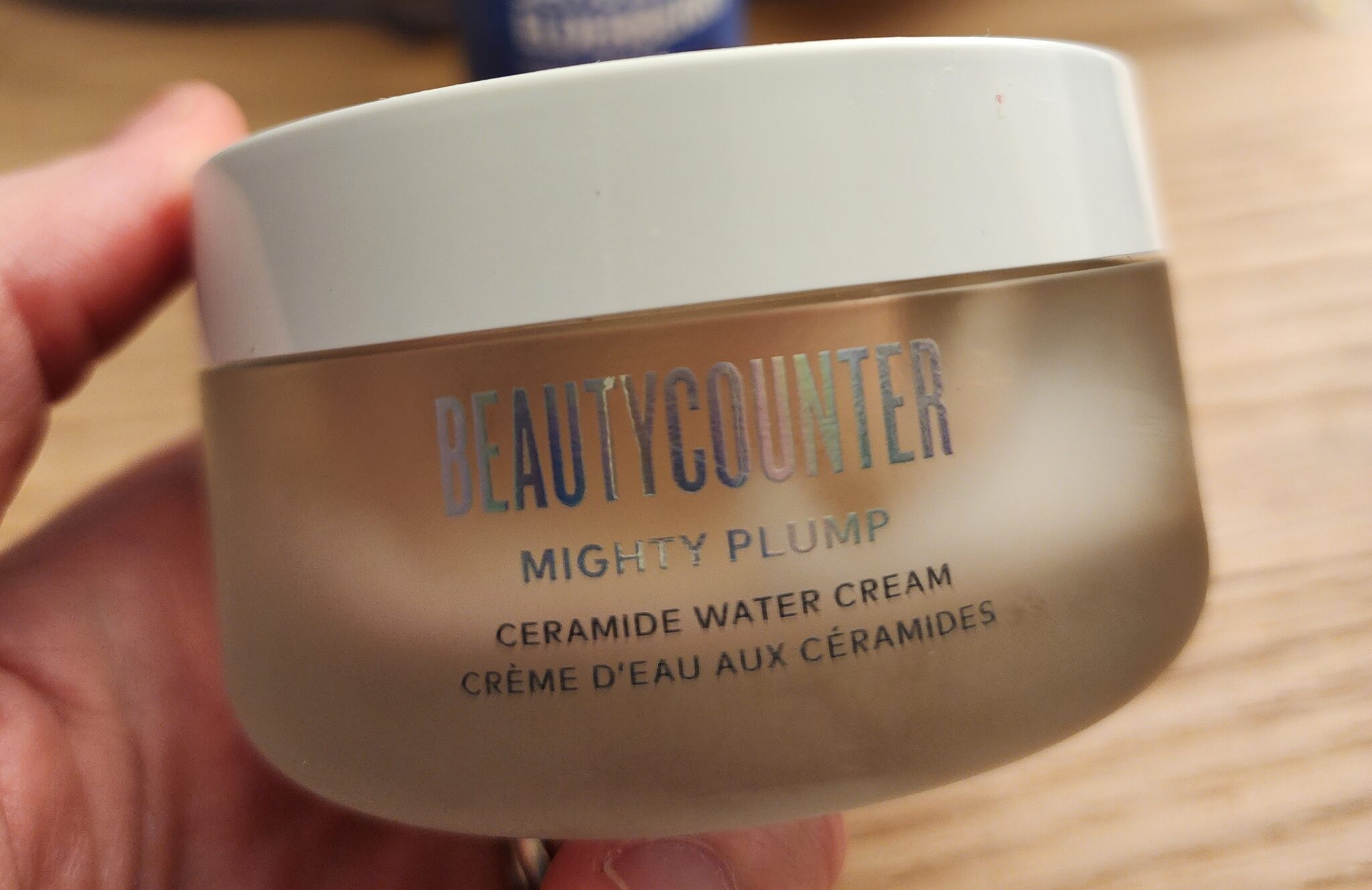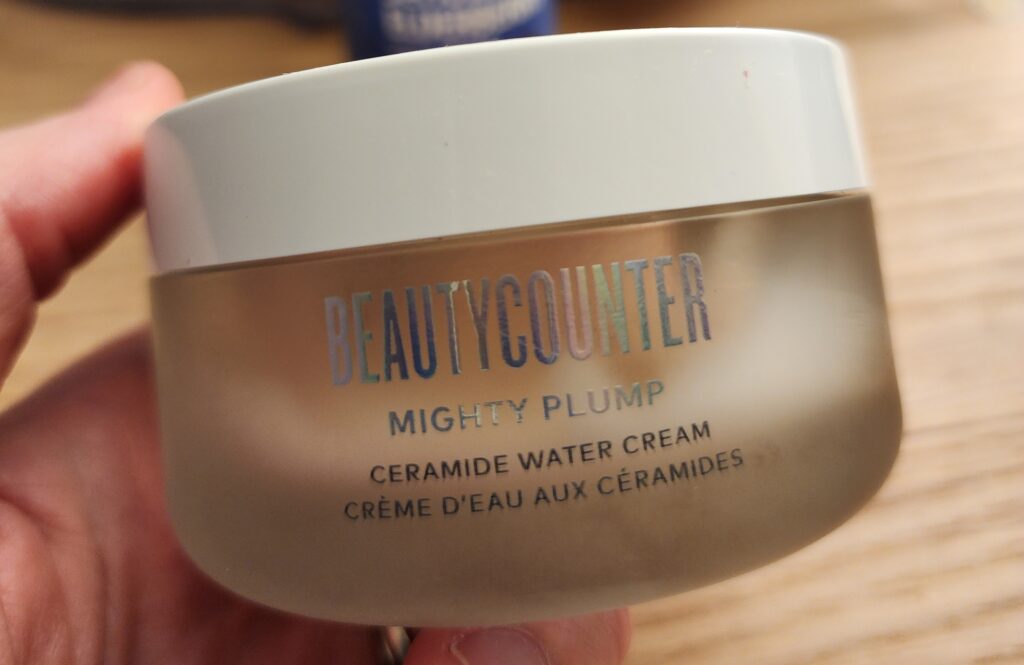 My Experience Trying Non-Toxic Skincare
Trying to find nontoxic skincare that ACTUALLY works can be a challenge. I know this firsthand through my own journey with fertility. I knew that it was super important to me to ditch toxic products to get pregnant (and I'm so happy to say I successfully did! Read about my journey to becoming a mother of 2).
When I first dove into the world of non-toxic and pregnancy-safe products, I was let down time and time again by skincare products that were just kind of… meh. Oftentimes, you can get performance OR safety- usually not both. So when I find a product that blends those two attributes, it's always an exciting day! Enter, Beautycounter Mighty Plump Ceramide Water Cream. It's my new FAVORITE product from Beautycounter.
This moisturizer is seriously next-level- and not just for clean beauty. I would say that this stuff takes the cake, beating everyone in the nontoxic and toxic skincare categories. (At least it does for me!) It is legitimately my favorite Beautycounter product- it has replaced my morning moisturizer and become an everyday staple in my skincare routine. So today, I'm sharing everything you need to know about the Beautycounter Mighty Plump Ceramide Water Cream. Let's dive in, shall we?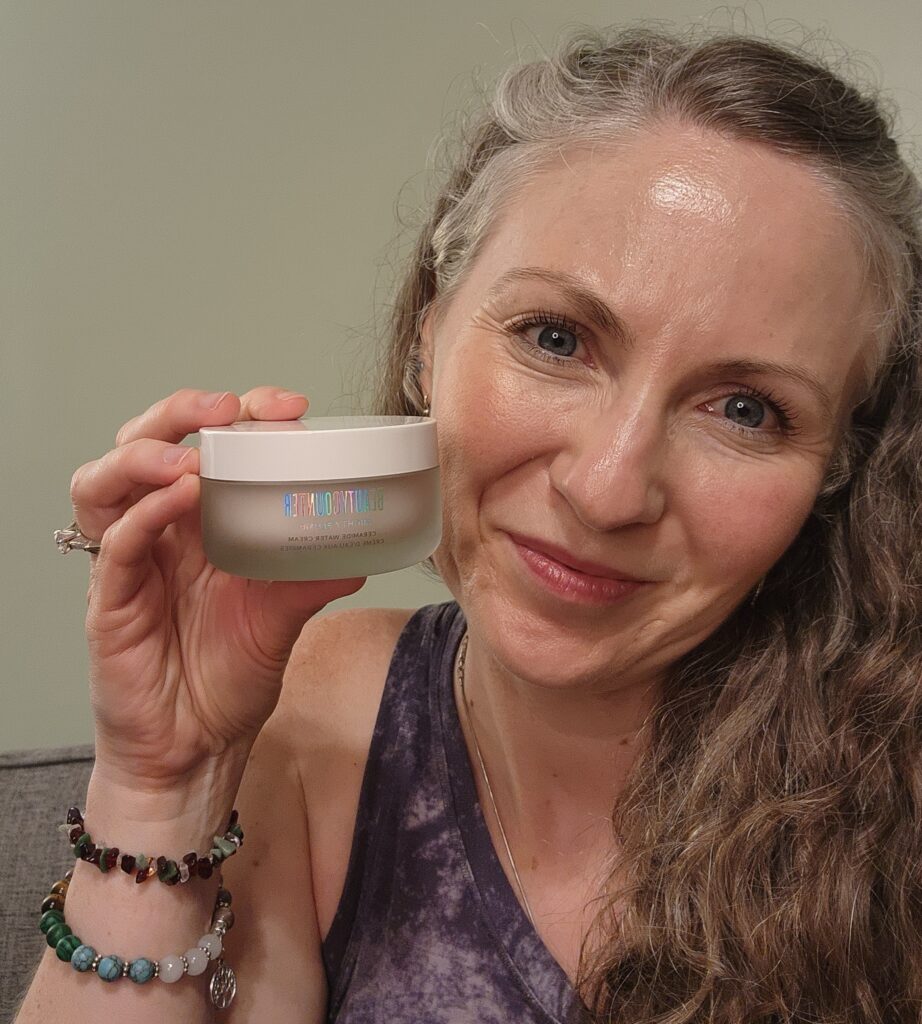 Beautycounter Mighty Plump Ceramide Water Cream Review
The Beautycounter Mighty Plump Ceramide Water Cream is a weightless, water-based moisturizing cream packed with skincare benefits. It's made with two forms of hyaluronic acid along with ceramide which protects your barrier to deliver intense hydration. It also provides a plumping effect- aka, it acts like an instant filler.
(Lately, I've been becoming much more comfortable in my skin- but I won't complain about a little anti-aging magic!)
It's $78, but in my humble opinion, this stuff is worth Every. Single. Penny.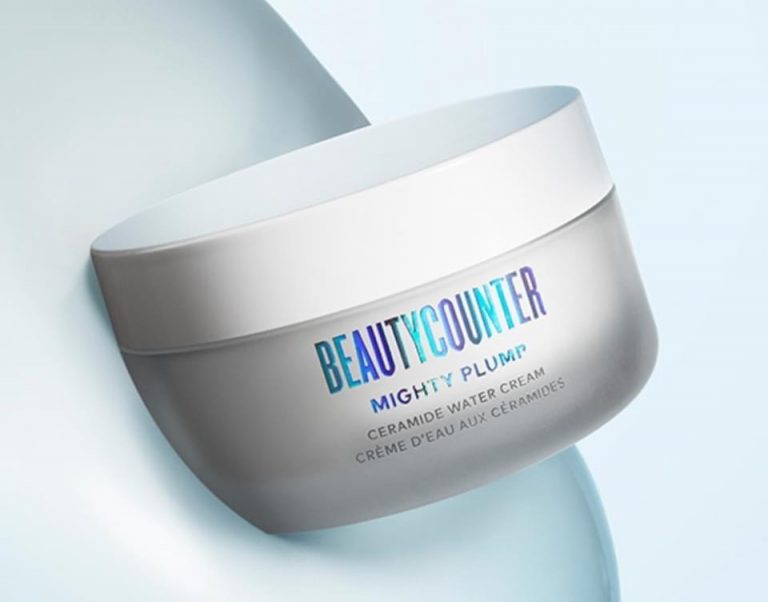 My Experience with Mighty Plump Ceramide Water Cream
I had been using the same anti-aging morning moisturizer in my daily skin care routine for years (the Beautycounter Countertime Soft Cream), so when I needed to review the new Mighty Plump Ceramide Water Cream, I was a little hesitant.
But BOY was my mind changed. The Mighty Plump is now my daily morning moisturizer and its effects have been transformative.
.A little backstory on this product- I needed to review and try the Ceramide Water Cream before it was released to decide if I would promote it or not. For two weeks, I was using it every morning to test it out for myself, but I hadn't done the training on the product yet to know what it was specifically created for (embarrassing, but true!).
After about two weeks of using it, I started looking in the mirror every day and thinking, "I look so young!" I looked like I was aging in reverse. I was like, "Why do I look so good? What's going on?" A week later, I did the training on the Mighty Plump Ceramide Water Cream and it turns out it was literally made to make you look younger with its "flash filler" effects. Ha! Safe to say, it works. 😉
Also, the Mighty Plump has just the lightest cucumber scent, and goes on feeling bouncy and weightless. Honestly, it is a joy to apply, lol.
Mighty Plump Ceramide Water Cream: Key Ingredients
Whenever I apply the water cream, I always notice right away that my fine lines are less (they are literally instantly filled), and my skin is firmer and more glowy. It's made with powerful skincare ingredients for ultimate hydration and anti-aging effects:
Sodium Hyaluronate– Helps improve skin elasticity
Sodium Acetylated Hyaluronate– Acts as an "instant filler", reducing the appearance of fine lines and wrinkles
Ceramide– Lifts and plumps skin and minimizes the look of wrinkles while protecting the moisture barrier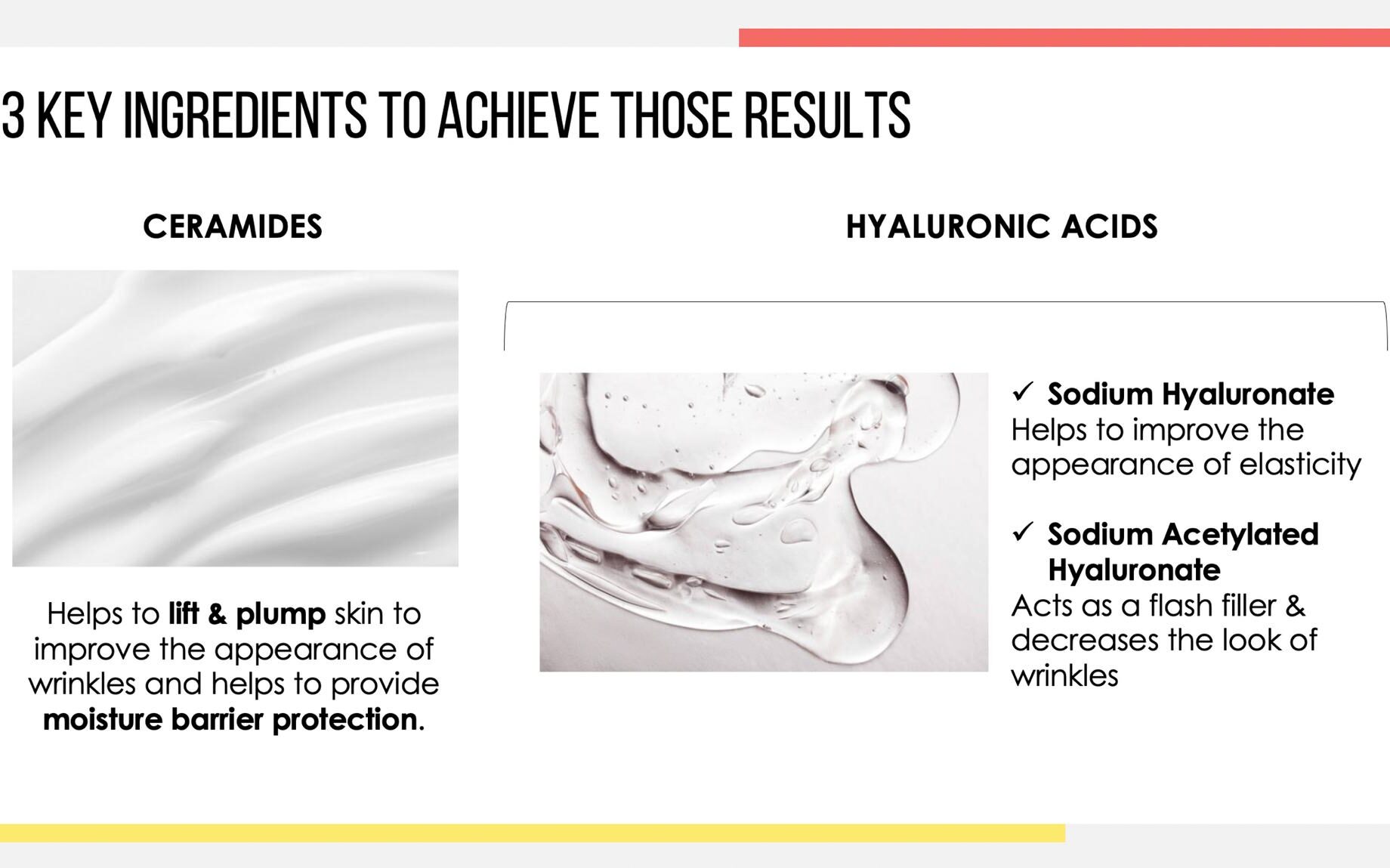 Ceramides: My New Favorite Skincare Ingredient
So, what are ceramides anyway? I'm here to tell you that ceramides are your new best friend. They're epidermal lipids that are essential to our skin barrier function. They keep our skin barrier intact and in good condition and deliver powerful hydration to target our moisture barrier. Basically, ceramides are the glue that holds our skin barrier together.
And here's the thing- as we grow older, our skin makes LESS ceramides. Thus, our skin shows signs of aging. So, this product is literally providing extra ceramides to your skin!
Additionally, if you don't have aging skin, but your skin feels dry, cracked, itchy, or all-around lackluster, there's a good chance your skin barrier isn't in the best shape. This is where ceramides come in. These extra lipids in your skincare routine will help to reinforce your skin barrier, optimizing its ability to keep the bad stuff out and keep your skin feeling strong, soft, and hydrated.
A strong skin barrier means supple, glowy skin that never feels thirsty or dry- and ceramides help your skin achieve that. The nourishing properties of ceramides help to improve skin moisture and reduce the look of fine lines and wrinkles. And, of COURSE, they're nontoxic and safe for everyday use!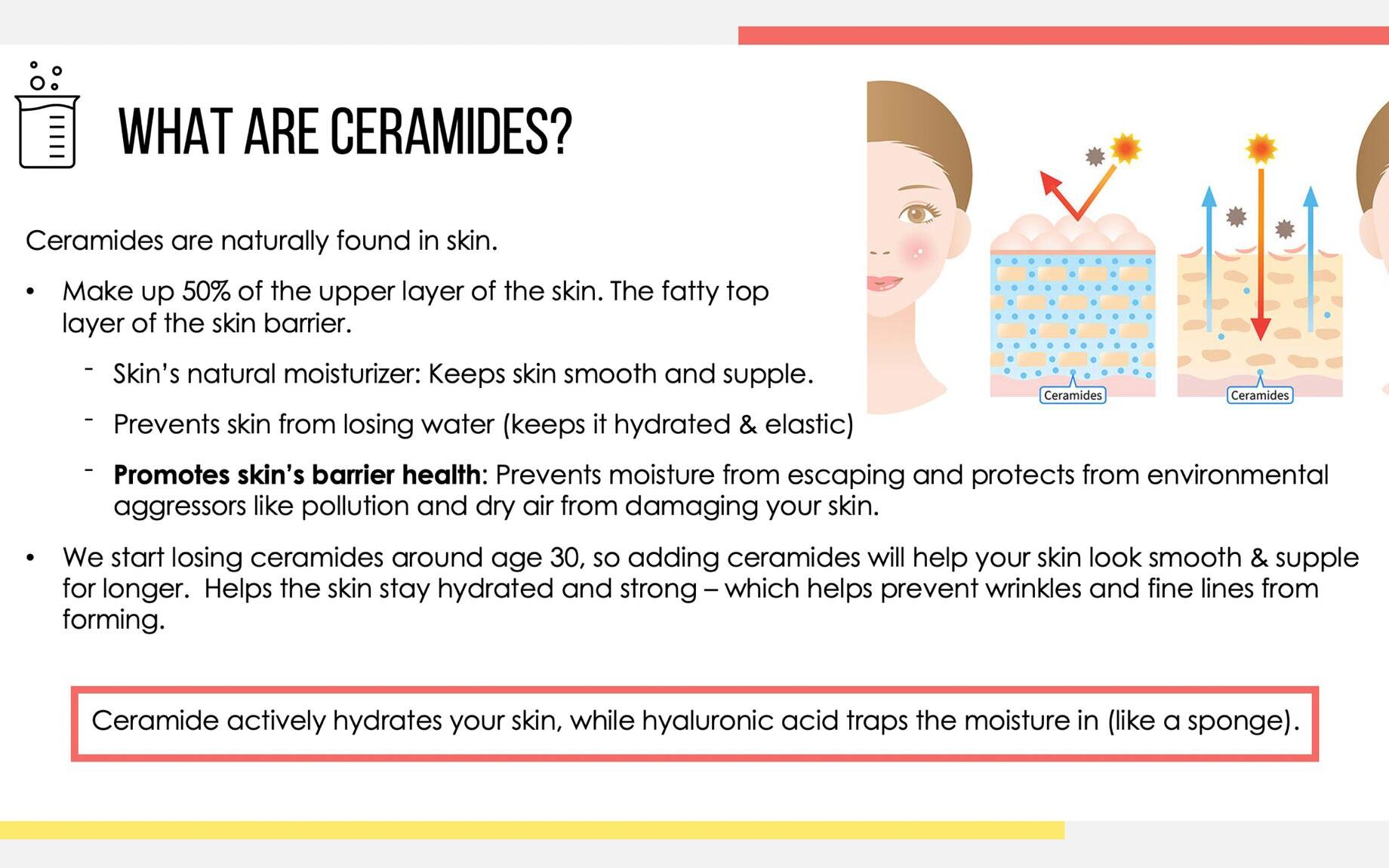 How to Use the Mighty Plump Ceramide Water Cream
This has quickly become my go-to moisturizer. Here's how you can incorporate it into your routine:
Wash your face
Prep your skin with toner
Use your regular serums
Finish with the Mighty Plump Ceramide Water Cream
Let it absorb into your skin (admire how glowy and youthful you look), and then follow with sunscreen, makeup, etc (I love the Countersun Daily Sheer Defense for Face SPF 25).
This cream can be used every day, in the morning or at night. I'd recommend the morning so you can reap the benefits of the instant plumping effects all day long. Check out my non-toxic daily skincare routine here.
Who is the Mighty Plump Ceramide Water Cream Right For?
The Mighty Plump Ceramide Water Cream was formulated for ALL skin types, so everyone can use it, including those with sensitive skin. It's perfect for aging skin because of the way that it combats fine lines and wrinkles. If you have super dry skin (like, really dry), you may need to layer it with a facial oil because of how lightweight this cream is. I have not needed an additional facial oil, but so far I have only used it in the summer and early fall.
I will say one thing- this moisturizer is a bit on the pricey side. I still vouch for it 100%, BUT I have to make that disclaimer because if you have younger skin without barrier issues, you can save some money and invest in something more appropriate like the Countermatch Adaptive Lotion. Or, for oily/acne-prone skin types, the Countercontrol Matte Effect Gel Cream. For everyone else, I stand by my recommendation of the Mighty Plump Ceramide Water Cream– thank me later. 😉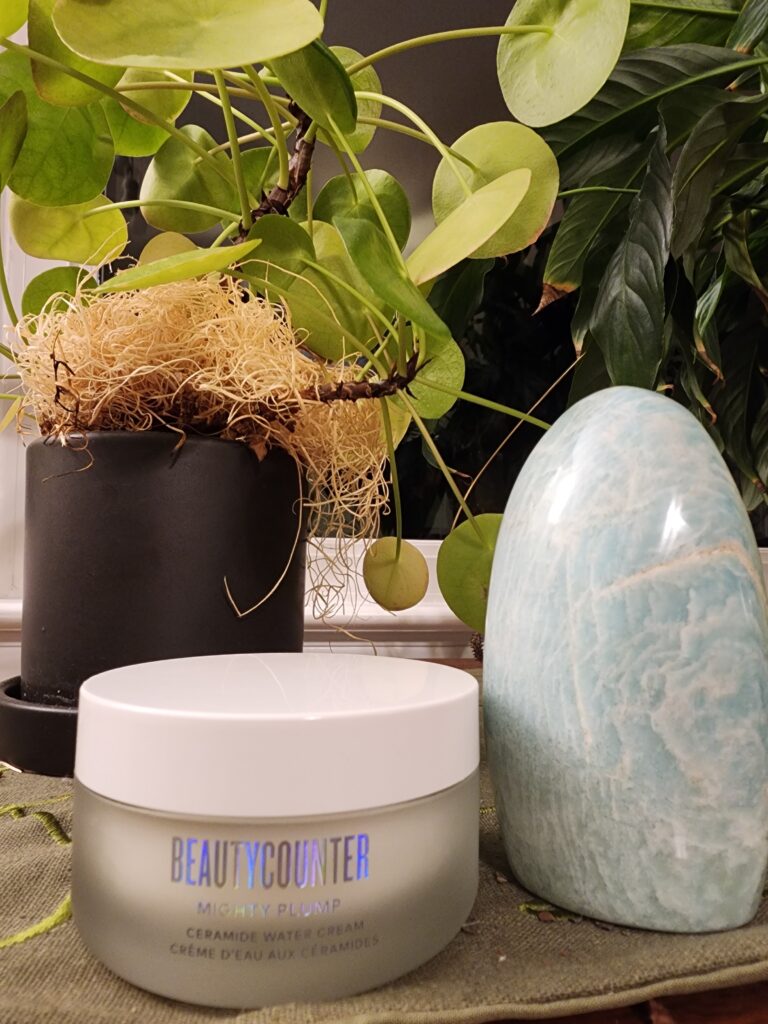 Mighty Plump Ceramide Water Cream Benefits
If you've been craving a refresh on your skin and you don't know where to start, this cream is for you. When I first tried it, I was shocked by how weightless it felt- and then even more shocked by the intense hydration despite how lightweight it was. Its powerful skincare ingredients improve your skin barrier, delivering so many amazing benefits:
Bouncy, weightless texture that provides intense hydration- I was so shocked at first by how lightweight and hydrating it felt!
Its powerful skincare ingredients improve your skin barrier delivering plumper, younger-looking skin
Reduces fine lines and wrinkles
Improves elasticity for firmer, more lifted skin
Scented with a subtle, refreshing blend of crisp water fruits, sea salt, and violet leaf- I really appreciate that it's not too overpowering!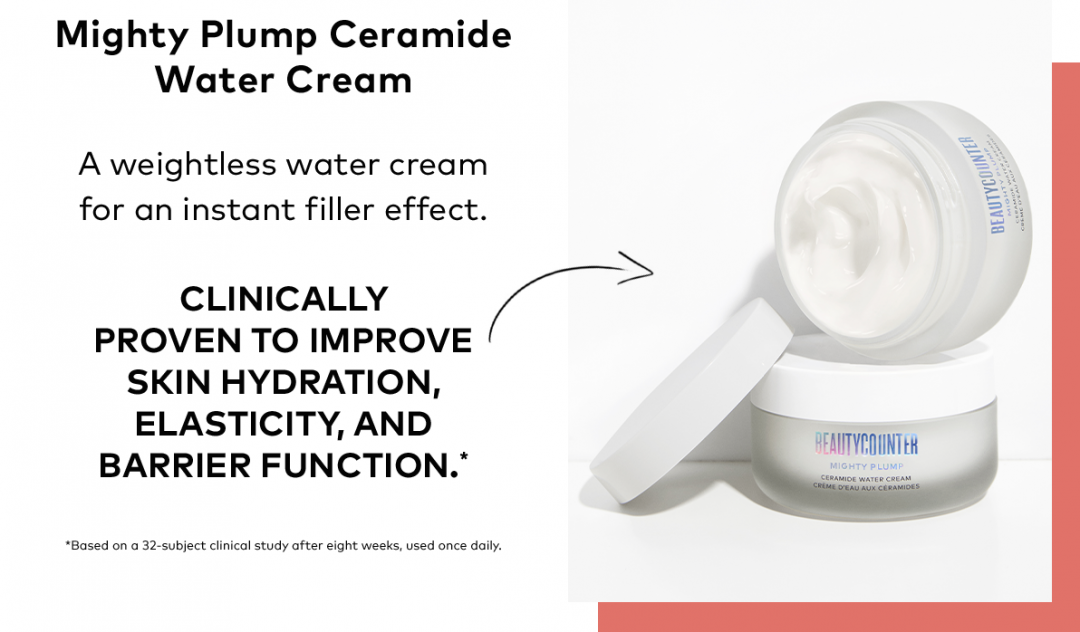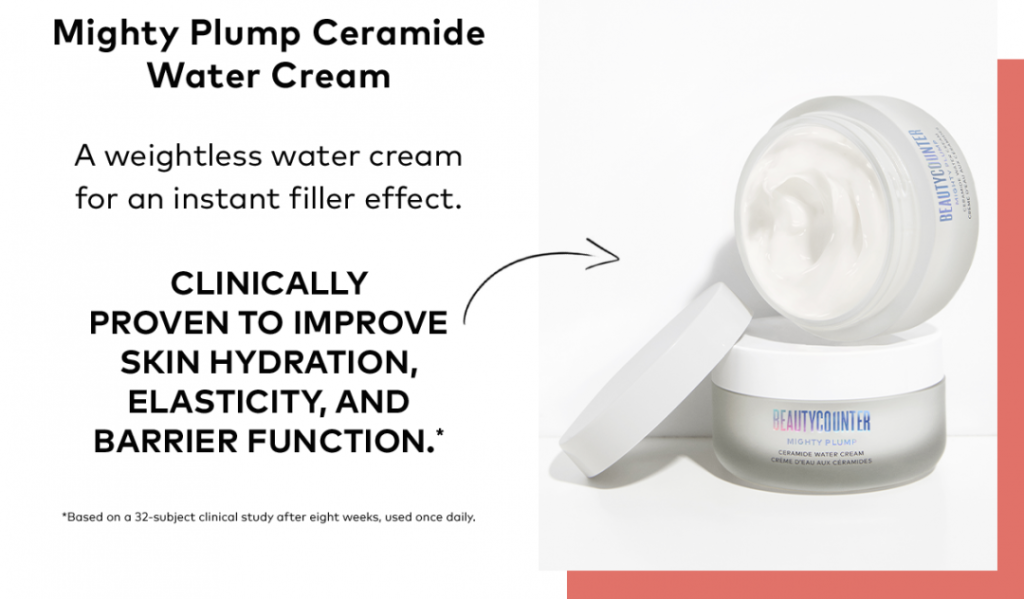 Mighty Plump Ceramide Water Cream Results
If you've followed my blog for a while, you know that when I'm making ANY kind of decision, I like to do research (lots and lots of it). So don't just take my word for it- here's the science. Beautycounter conducted an 8-week study with 32 participants using it once a day, and the results speak for themselves.
After four weeks of use:
97% said appearance of fine lines and wrinkles was reduced
100% said overall complexion looked improved
After eight weeks of use:
91% said their face appeared more lifted
94% said they saw more youthful-looking skin
97% said skin looked renewed
97% said skin felt firmer
100% said skin looked less dull and tired.
All that to say- it works, y'all.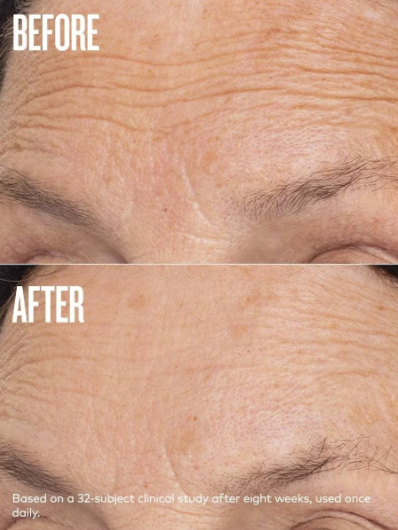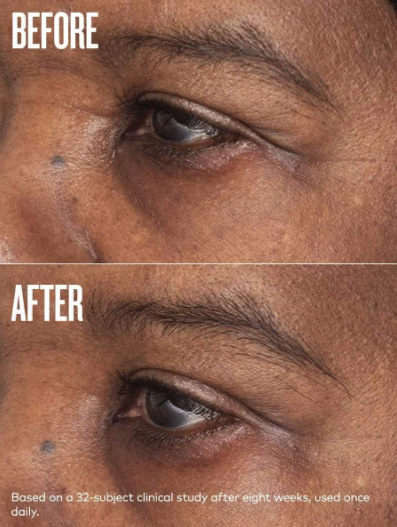 Is the Beautycounter Mighty Plump Ceramide Water Cream Really Clean?
YES! This moisturizer is completely nontoxic and safe. In addition, ALL Beautycounter products are pregnancy-safe, safe for TTC, and safe for breastfeeding. The Mighty Plump, unlike other fillers, is made WITHOUT cyclic silicone which is an endocrine disruptor, accumulates in the environment, and is not biodegradable. The Mighty Plump is safer for humans and the environment.
The Mighty Plump, like all Beautycounter products, is made with safer ingredients and tested 8 times against 23 human health endpoints for safety, including hormone disruption (i.e. endocrine disruptors), heavy metals (like lead), and carcinogens, to ensure that it (and all Beautycounter products) are safe for human health.
Beautycounter has a Never List full of over 2,800 toxic chemicals that are either proven to harm human healthy or even questionable for human health, that they vow to never use. (Parabens, phthalates, PEGs, BHT, formaldehyde… the list goes on.)
This is one of the reasons why I love Beautycounter so much- they take the guessing games out of shopping when you can confidently browse an entire website knowing it's all safe.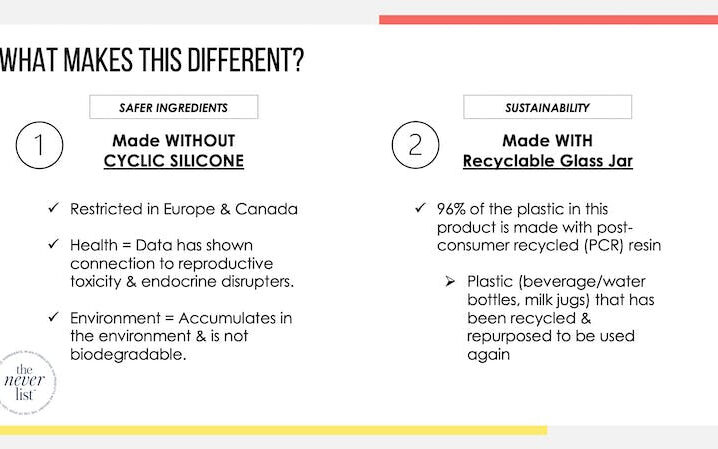 The Bottom Line- I love this stuff!
If you can't tell by how much I rave about this product, the Mighty Plump Ceramide Water Cream is an all-around winner in my book. I truly LOVE it- it's a must-have for me. If you're on the hunt for an anti-aging moisturizer that delivers intense hydration and immediate effects, give this product a try.
If you're looking for more clean skincare and beauty products to add to your arsenal, I have an entire post dedicated to Beautycounter products and my personal recommendations. This company has truly changed the game when it comes to nontoxic products. If you want to know more about why I joined Beautycounter, read my post where I tell my story about becoming a Beautycounter consultant!
Want More Safer Beauty with Me?
Sign up for my Non-Toxic Beauty Newsletter and join my Facebook group Non-Toxic Beauty with Anna Rapp to learn more about my favorite clean beauty products!
Want to read another blog post on products that are safe for TTC & Pregnancy?
Anna Rapp is a fertility journalist and non-toxic living expert. When Anna Rapp was struggling with infertility and recurrent early miscarriage, she was diagnosed with diminished ovarian reserve, High FSH, low AMH, low follicle count, endometriosis, and an MTHFR mutation. Despite being told donor eggs were her only solution, Anna used her graduate training in research methods and analysis to read everything she could find on fertility and egg health. Ultimately, she lowered her FSH and got pregnant naturally (twice). She blogs about how she did it and encourages her readers to take charge of their fertility journey and get happy, healthy, and pregnant!