Looking for pregnancy safe makeup brands, or organic makeup brands? Here is my deep research dive into which clean beauty brands are really non-toxic, and what ingredients to avoid when trying to conceive, pregnant, or just a human being!
Non-Toxic Makeup Brands & Pregnancy-Safe Makeup
When I was trying to get pregnant, I was so shocked to learn about all of the dangerous toxins and chemicals in makeup (and skincare products). I was even more shocked to learn about the ways that these products potentially impact fertility and women's health. It Starts with the Egg is a great resource that explains the science of toxins like BPA and phthalates having such a profound impact on our fertility, egg health, and ability to sustain a healthy pregnancy. Finding fertility-safe, non toxic, natural makeup was going to take a lot of work!
Following the disturbing truths I had discovered, I decided to make a ton of lifestyle changes to flush these toxins out of my life. Despite the cost, I decided to throw away all of the makeup I owned and replace it with the most affordable "natural" makeup products collection I could find. Through trial and error (and hours of scouring the internet and different stores) I was finally able to find some non-toxic natural solutions. Along with getting rid of the BPA and phthalates from my routine, I would also recommend staying away from other toxins like parabens, triclosans, and fragrance. For a big list of what to avoid go here.
Trying to figure out what products to toss and what to pick up is majorly overwhelming (and takes forever). My hope is that I can help save YOU the time (and cash) it took me to solve this problem. Today, I'm sharing a list of trustworthy non-toxic, natural makeup brands that score low on the EWG scale and are safe for you and your hormone health, while trying to conceive, while pregnant, and for the rest of your life!
Check out all my non-toxic beauty posts->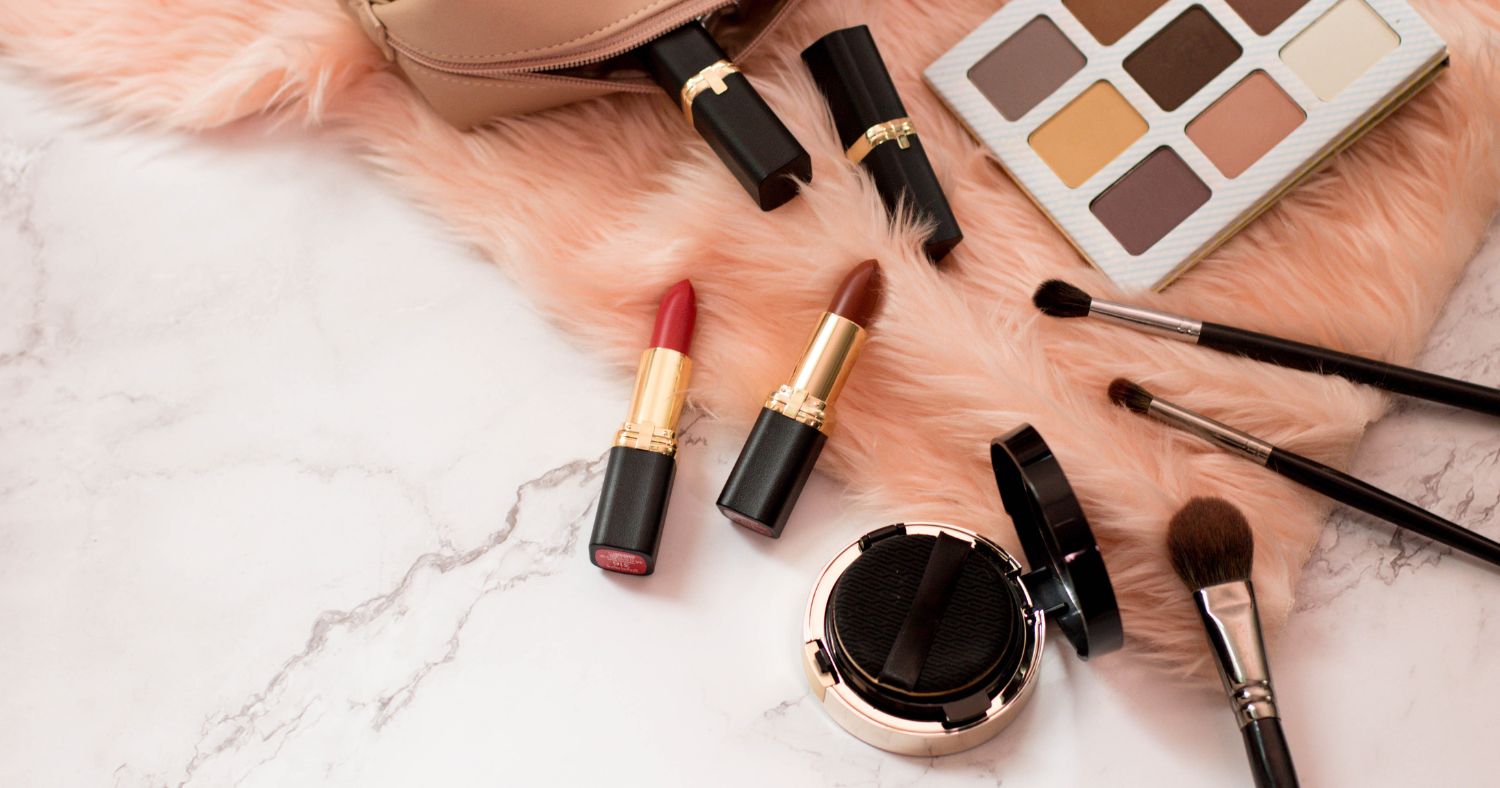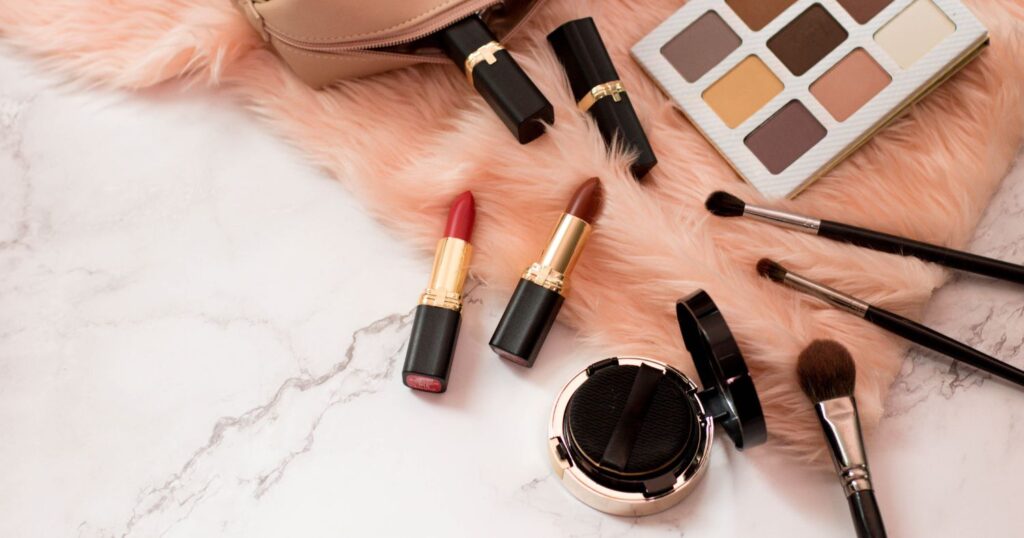 Non-Toxic and Organic Makeup that is Pregnancy-Safe and Safe for Fertility
Whether you are trying to conceive naturally, doing IVF, or already pregnant, (or heck! just a human!), the good news is there are SO MANY non-toxic, fertility-safe and pregnancy safe makeup brands for you to choose from. (I recently rounded up some non-toxic skincare options as well!)
How do you know which natural brands to pick? Which ingredients are safe and which ones should be avoided at all costs? Continue reading and I'm going to walk you through the basics so you know what to keep an eye out for and what guides to look for!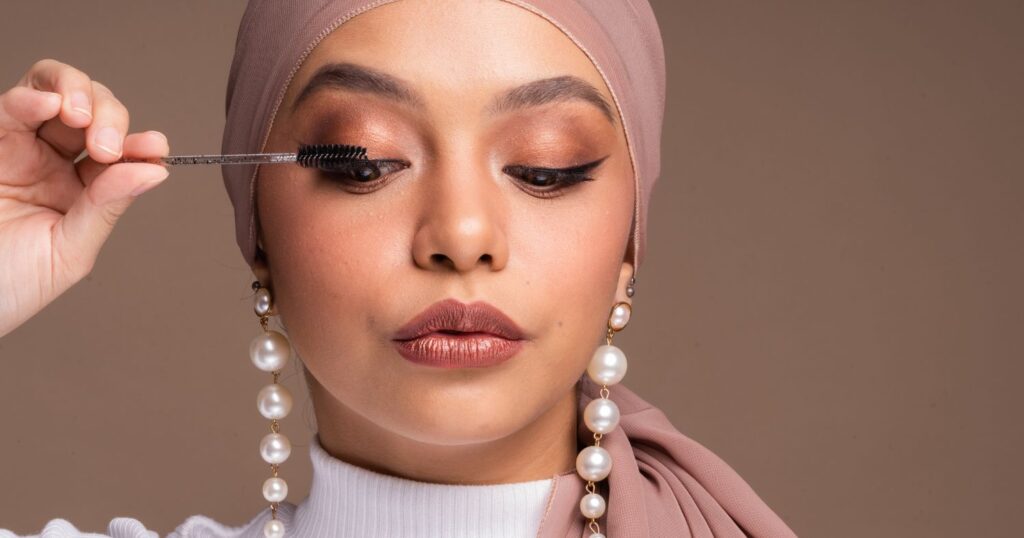 Avoid These Toxic Makeup Beauty Ingredients
These make-up ingredients are dangerous for fertility and pregnancy, and need to be avoided. Here is what you need to eliminate from your routine if you are trying to conceive, or if you're pregnant, when shopping for makeup:
Retinoids
Retinoids are a type of vitamin A derivative that can sometimes be found in multitasking makeup formulas to treat acne and wrinkles. However, high doses of retinoids can be toxic to developing fetuses and have been linked to birth defects, miscarriages, and developmental disabilities. If you're trying to conceive, I would recommend avoiding retinoids just to be safe.
Parabens
Parabens are a class of preservatives commonly used in makeup products to prevent microbial growth. They act as endocrine disruptors and have been linked to diminished ovarian reserve. (In other words… they age your eggs.) They include ingredients like methylparaben, ethylparaben, propylparaben, or butylparaben (anything ending in -paraben). Parabens imitate your estrogen, disrupting your hormone function and potentially affecting your fertility. There are also links to breast cancer and tumors, weight gain, abnormal fetal development, and depression. (There are alternative preservatives to parabens- I will touch on those later! For water-based products, preservatives are an important protection against harmful bacteria growth.)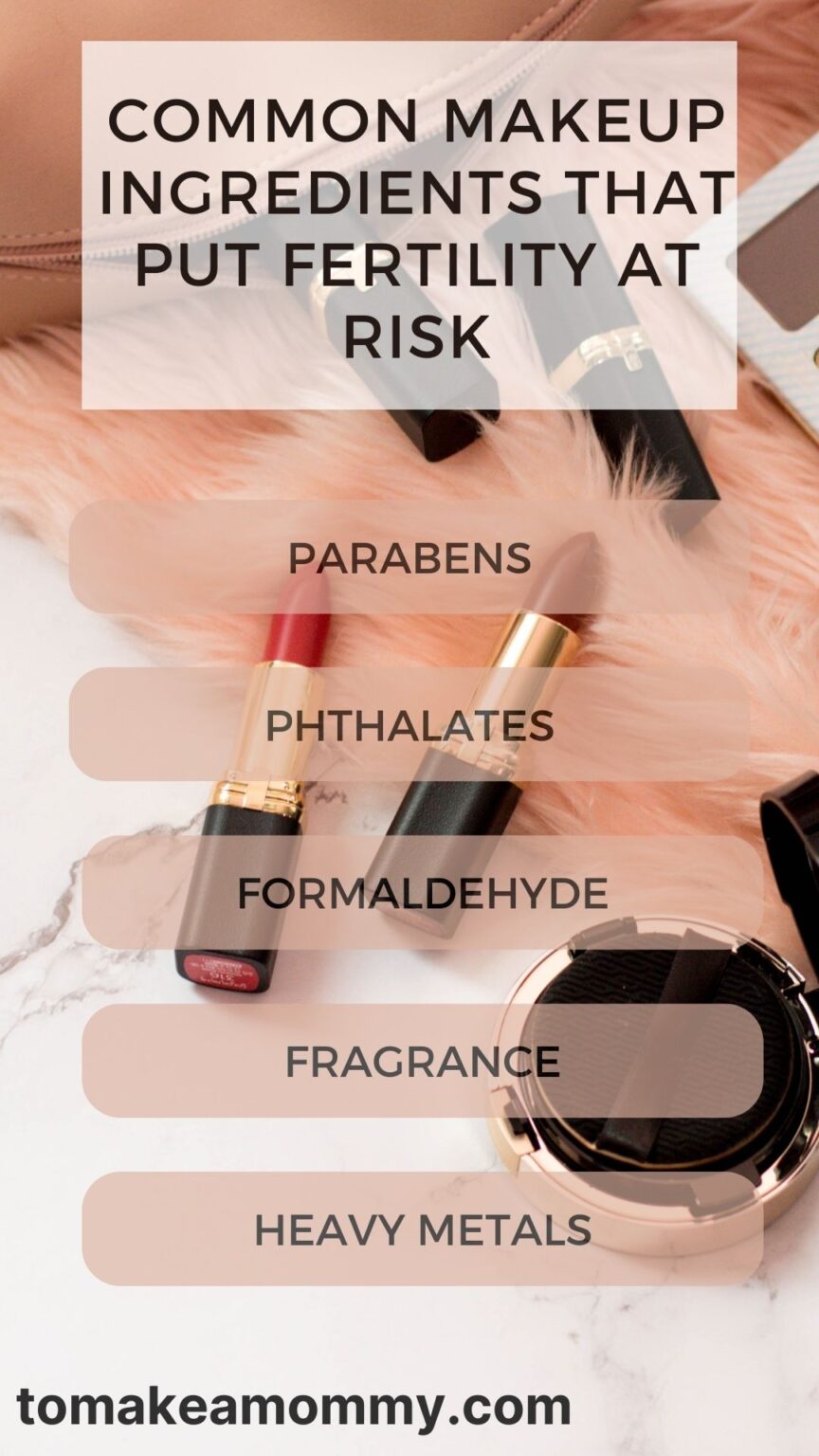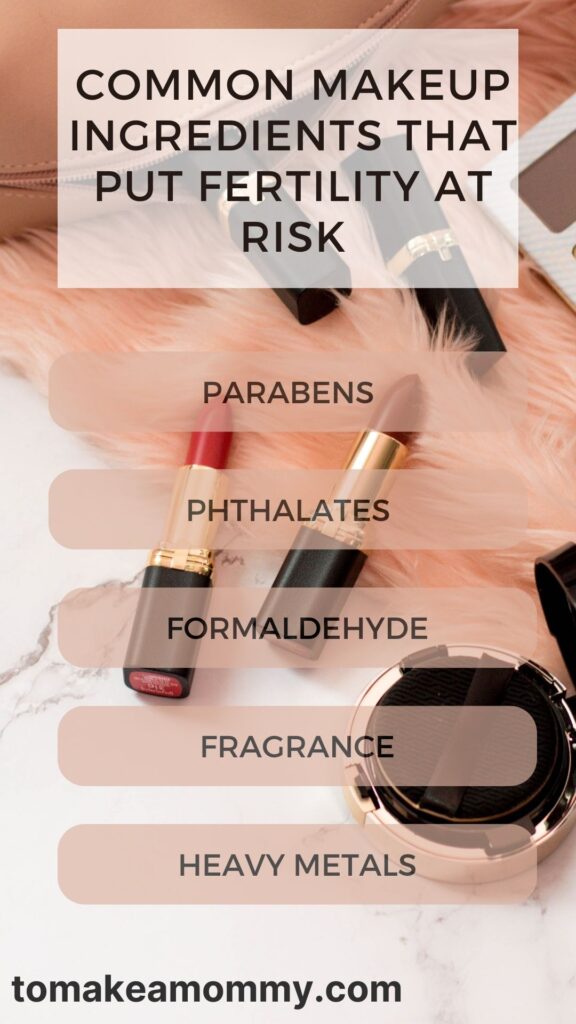 Phthalates
Phthalates are endocrine disruptors with links to decreased fertility in men, lower fertility in women and miscarriages, breast cancer, and childhood developmental issues. They're found in products labeled "fragrance" or "parfum" that don't disclose exactly what's in the fragrance. They can also be found in color cosmetics. (More on phthalates and why you should avoid them here.) Due to endocrine disruptors like phthalates, researchers like Dr. Shanna Swan suggest that within this century, everyone will be affected by infertility and require reproductive technology to successfully conceive. Swan's book, Count Down, offers some more information that might change your mind if I haven't been able to persuade you yet.
Formaldehyde
Formaldehyde is a carcinogen that is sometimes used as a preservative in makeup products. Exposure to formaldehyde may harm fertility and increase the risk of miscarriage. You should also stay away from formaldehyde-releasers (i.e. quaternium-15, DMDM hydantoin, imidazolidinyl urea, diazolidinyl urea, polyoxymethylene urea, sodium hydroxymethyl glycinate, or bromopol).
Fragrance
Fragrance is a common ingredient in makeup products, but it can contain a mixture of toxic and harmful chemicals. Some fragrance ingredients have been linked to fertility problems, birth defects, and other health issues. The problem is that fragrance companies aren't required to disclose what their fragrance is… so we have no idea what we're putting on our bodies. I pick brands that choose to disclose what their fragrance is made of so there's no mystery. Click here to read more about how perfume can affect fertility.
Heavy Metals (Lead)
The Campaign for Safe Cosmetics conducted a study and found that over 60% of lipsticks contained lead. Along with lead, other concerning heavy metals like cadmium and chromium were found in lipsticks as well.
Even though heavy metals are natural, they're bioaccumulative, which means they build up in your body over time. Heavy metals are usually present in color cosmetics due to unintentional contamination- the metals stick to the ingredients that are naturally sourced and end up in your makeup. Lead exposure can happen from makeup, food, supplements, and water (read more about how to filter your water for fertility). There's no safe level of lead in the body, and lead exposure is connected with impaired menstrual cycles, delayed conception, hormonal changes, and impacted pregnancies. Since there is so much unknown surrounding lead and heavy metals, I opt for colored makeup and lipstick that has undergone additional heavy metal testing. The only two brands that I am aware of that do additional testing, are Beautycounter and Crunchi.
Ethanolamines (MEA, TEA, DEA)
These are found in makeup like mascara and foundations. They're linked to cancer, impacted fertility, and organ toxicity. They can bioaccumulate, meaning they build up in your body, with repeated exposure.
Conventional Beauty & Makeup Ingredients that are Toxic
Beyond just fertility and pregnancy, there are so many common ingredients in makeup that we, as humans, should not be exposed to on such a regular basis:
Carbon Black
Carbon black is commonly found in mascara, eyeliner, nail polish, and other makeup products. It's linked to cancer with an increased risk of lung disease.
Talc
Talc is often found in powdered cosmetics (blush, eyeshadow, bronzer, etc.) and is used to prevent caking. It may theoretically be harmless on its own, but small amounts of the very dangerous carcinogen asbestos often contaminate talc. Asbestos is the primary cause of mesothelioma, a very dangerous kind of cancer. If a product with talc is labeled "asbestos-free" that means it has been tested as free of asbestos, but some studies have still found traces in such products. In 2019 the U.S. Food and Drug Administration found asbestos in 20% off all the cosmetic products it tested.
It is very common in cheap children's make-up. This is one reason I am so strict on which makeup I allow on my daughter for ballet recitals! I only allow her to use Beautycounter, which has gone talc-free and has strict screening for contaminants and heavy metals. Even pure talc without asbestos may be linked to ovarian cancer in women and possibly lung cancer in talc miners.
Triclosan
Triclosan is an antibacterial agent that is commonly found in makeup and personal care products. It can cause hormone disruption, antibiotic resistance, and other health issues.
Polyethylene Glycol (PEG compounds)
These are found in many cosmetics made with cream formulas. It uses ethylene oxide in production and can be contaminated with 1,4-dioxane, which is carcinogenic.
Butylated Hydroxytoluene (BHT)
This endocrine disruptor is often used as a preservative in makeup and personal care products (Side note… it's also often found in our FOOD. Yikes.). It can negatively impact testosterone levels and sperm quality. BHT is also linked to enlargements in the liver, renal dysfunction, and inflammatory effects in the lungs.
Methylisothiazolinone and Methylcholoroisothiazolinone
These are commonly used preservatives known to be irritants and cause skin allergies. They're also potentially carcinogenic and linked to neurotoxicity.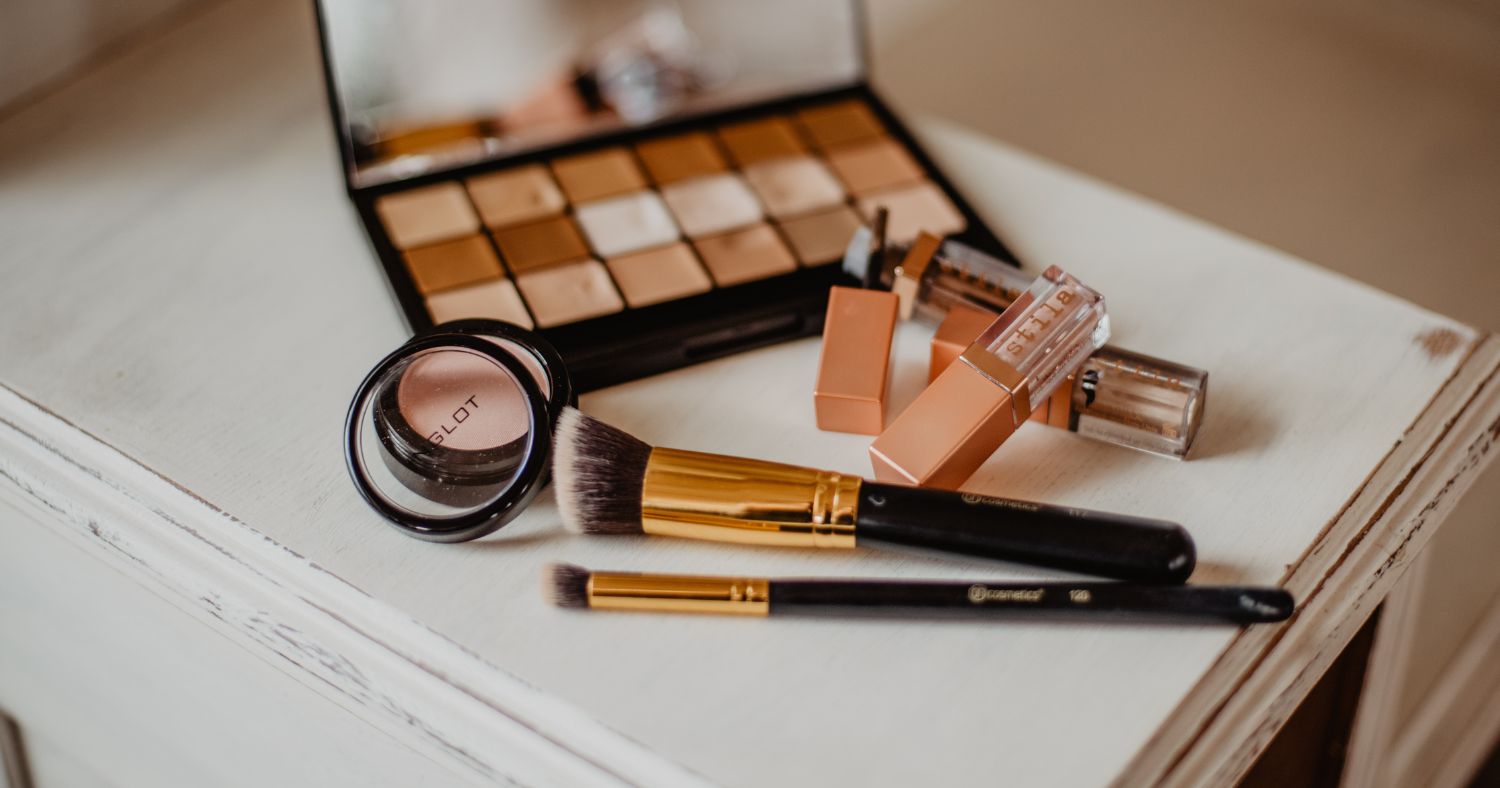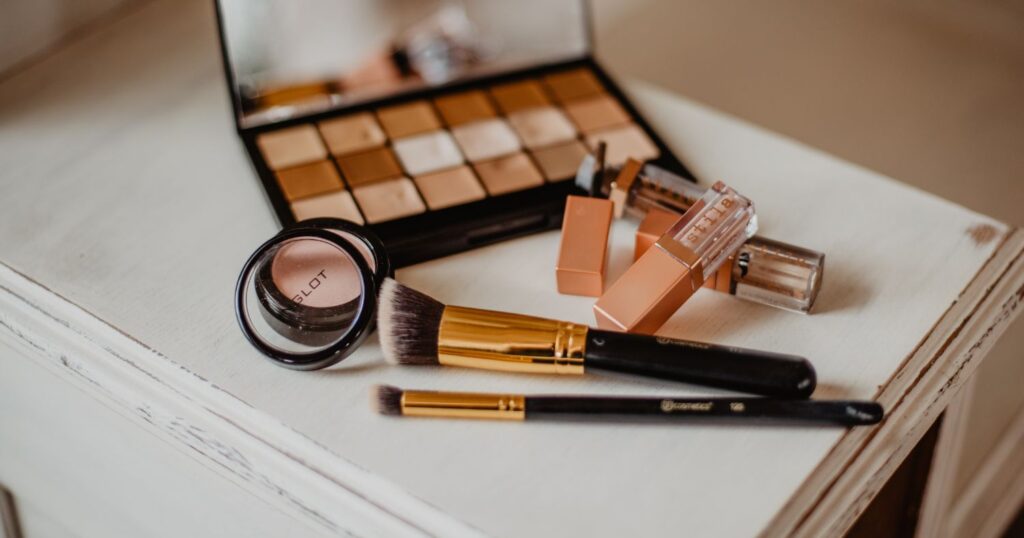 Preservatives- What Should I Keep an Eye Out For?
There are a lot of preservatives on the no-no list, but the reality is that water-based products NEED preservatives. Without them, there can be harmful microbial growth. (Whether it's toxic or non-toxic makeup, if it's water-based and there are no preservatives… run!) Omitting preservatives in oil-based products is fine, but keep a close eye out for rancidity and know when to throw it away.
Even EWG-verified products typically have preservatives like sodium benzoate or potassium sorbate. I'm okay with this as long as the preservative levels are controlled, and I aim to use products with levels that are as low as possible.
Here's a list of preservatives I avoid completely: anything ending in -paraben, methylisothiazolinone, methylchloroisothiazolinone, and any formaldehyde-releasers (i.e. quaternium-15, DMDM hydantoin, imidazolidinyl urea, diazolidinyl urea, polyoxymethylene urea, sodium hydroxymethyl glycinate, or bromopol).
Phenoxyethanol is a safe broad-spectrum preservative that is used in place of more dangerous alternatives. It's used in places like Europe that are much more strict about what ingredients they allow, and doesn't have any known hormonal effects. Even though it's clean enough for my standards, there are a few concerns that are causing some non-toxic companies (like Beautycounter) to replace it with other preservatives like sodium benzoate.
Phenoxyethanol is not safe in nipple cream for a breastfeeding baby or for people who are allergic to the ingredient. There are also some concerns that the production process could release a carcinogen, potentially putting factory workers at risk. Never use a product with Phenoxyethanol in it if you have a known allergy to it. I personally have no issue using phenoxyethanol- I appreciate the preservation and have several products that include it.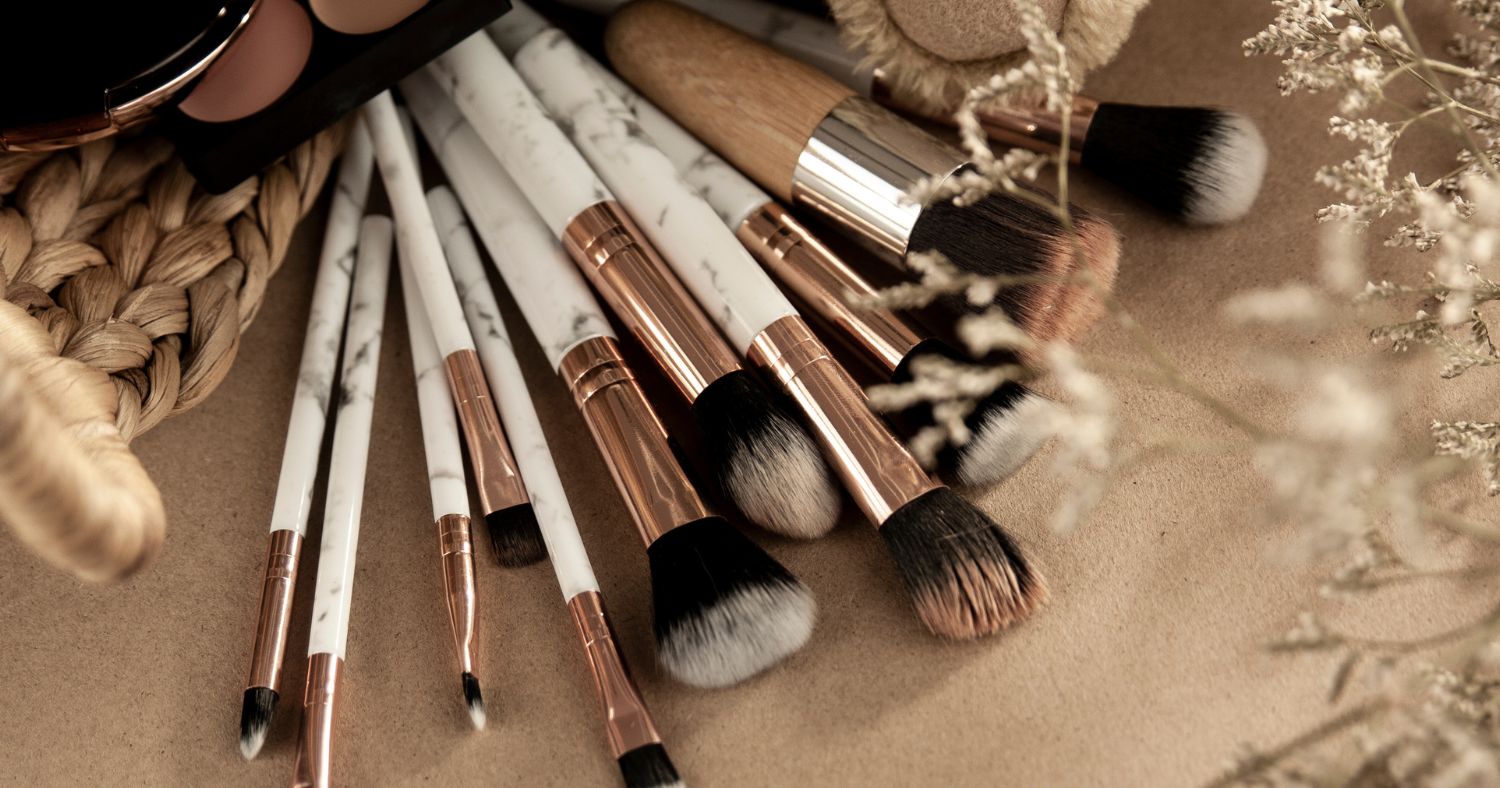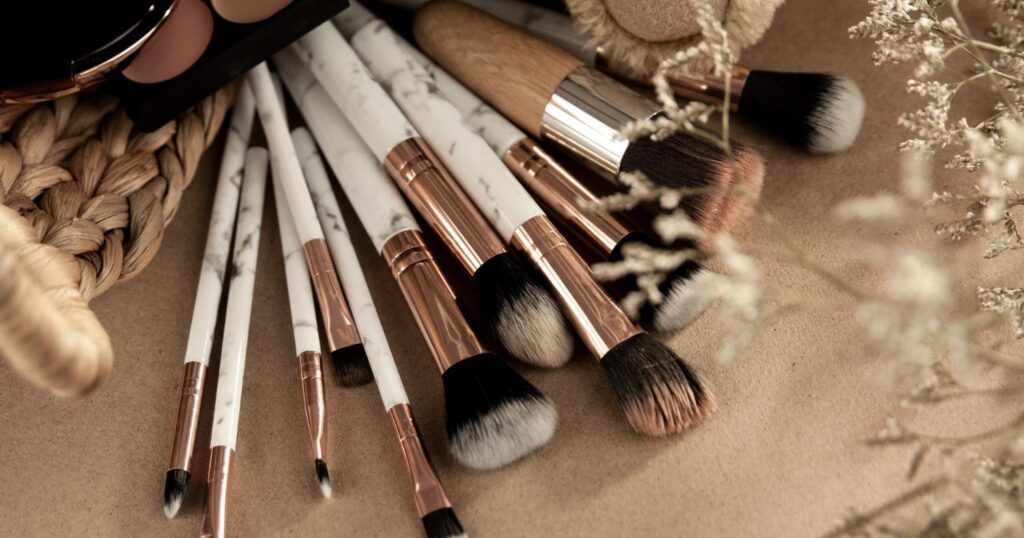 Artificial Color in Cosmetics and Beauty Products
Artificial color is inevitable to achieve a high-performing color payoff in makeup. The big risk when it comes to artificial coloring is heavy metals- so if you want makeup that works and is hormone-safe, you need a brand that tests for heavy metals (which is why I love the brand, Beautycounter!).
If you prefer to go for a beauty company that doesn't use artificial colors, I would recommend the line Crunchi. They're super strict about the ingredients that they use, and they always perform heavy metal testing. The color payoff is not quite as high-performing as Beautycounter (especially their lip products), but they are the safest, natural option for those who don't want artificial colors in their make-up. Their bronzer is fabulous.
Artificial Color is considered safe in Pregnancy, and when trying to conceive.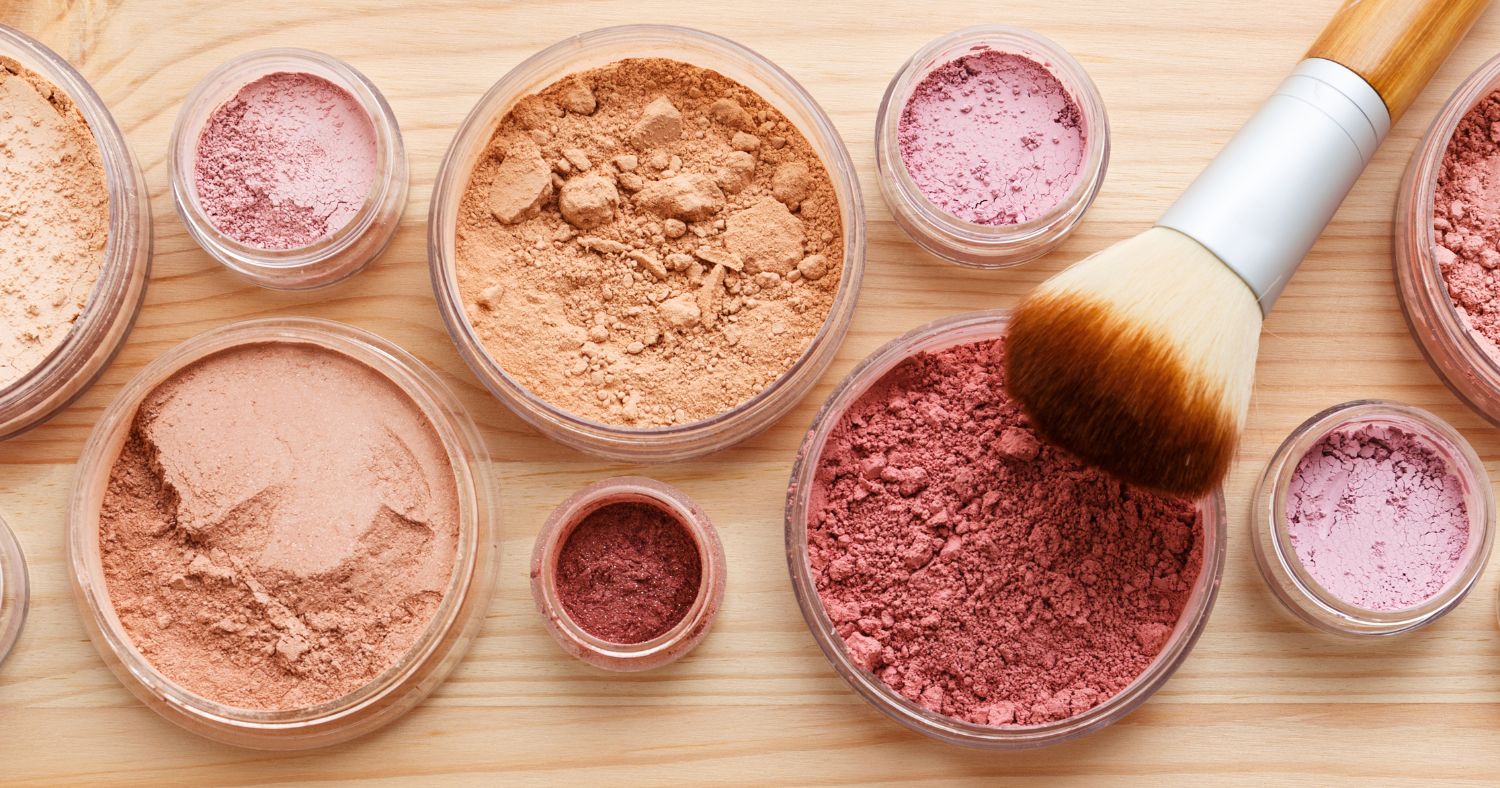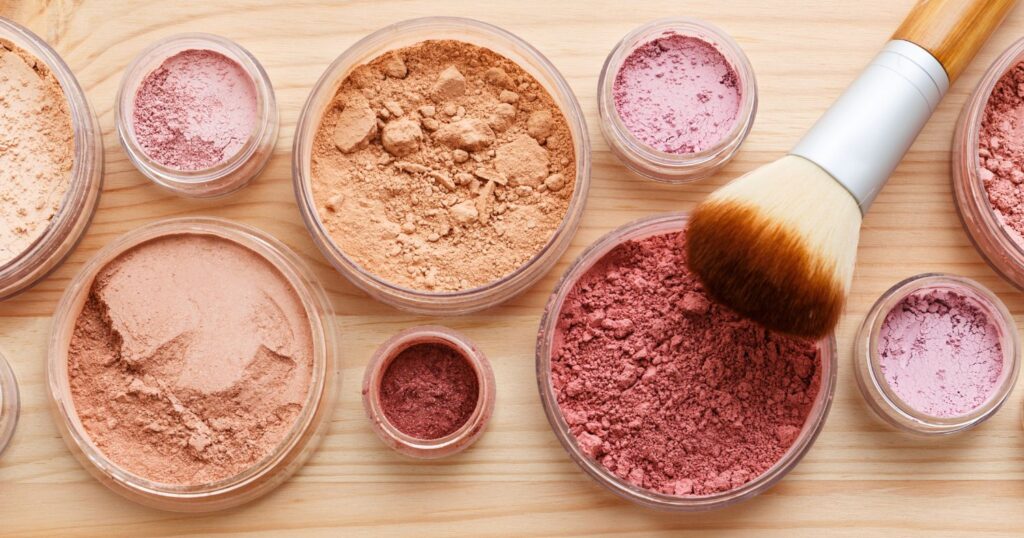 How To Find Pregnancy Safe Makeup Products
With growing awareness about how dangerous some of our everyday products are, more and more brands are coming out with natural, fertility-safe makeup to support healthy hormones. The giant list of dangerous toxins that are still allowed into our products can be difficult to keep track of. EWG's Skin Deep database keeps it simple, listing out every questionable ingredient so that you can determine which products are right for you. I try to keep my routine to products that are EWG verified or low-scoring (a 1 or 2) on the Skin Deep scale.
Limitations with the EWG Skin Deep Database
Please note that the EWG Skin Deep Database is not perfect. At times an ingredient may be classified incorrectly, or scored differently with different brands. Some ingredients are safe at low levels, but nonetheless receive a higher score. Oftentimes, a very clean, non-toxic skincare product can receive a bad score on the EWG because of something like a citrus essential oil. Grapefruit Extract used to receive a score of 6, but now, I believe its a 3 or 4. I would not hesitate to use a product with Grapefruit Extract. Please use your own common sense, and go beyond the initial ratings. If you are avoiding all the ingredients I warn about in this post, then you are doing very well indeed.
This post most definitely has affiliate links in it. If you decide to buy something I recommend, please consider clicking through one of my links to help support this blog and my family! This is how I am able to stay home with my miracle children and blog freely without charging for courses, coaching, or membership, etc.. Thank you!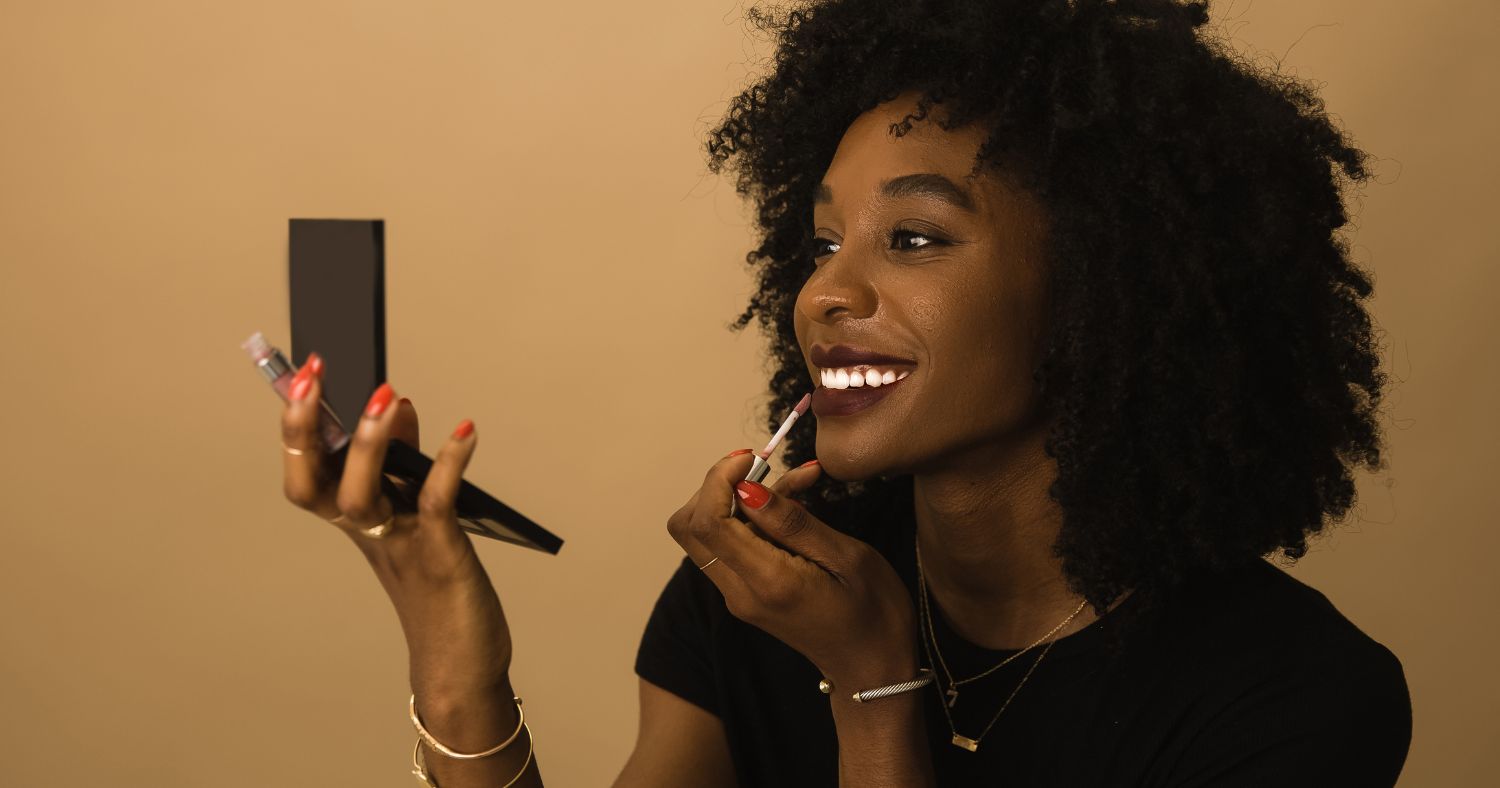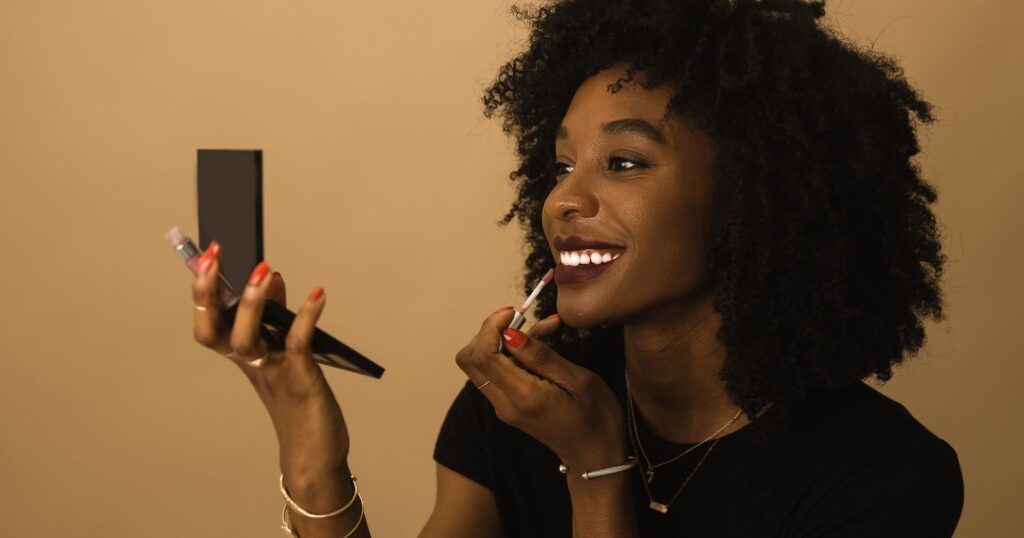 My Favorite Non-Toxic & Pregnancy Safe Makeup Brand- Beautycounter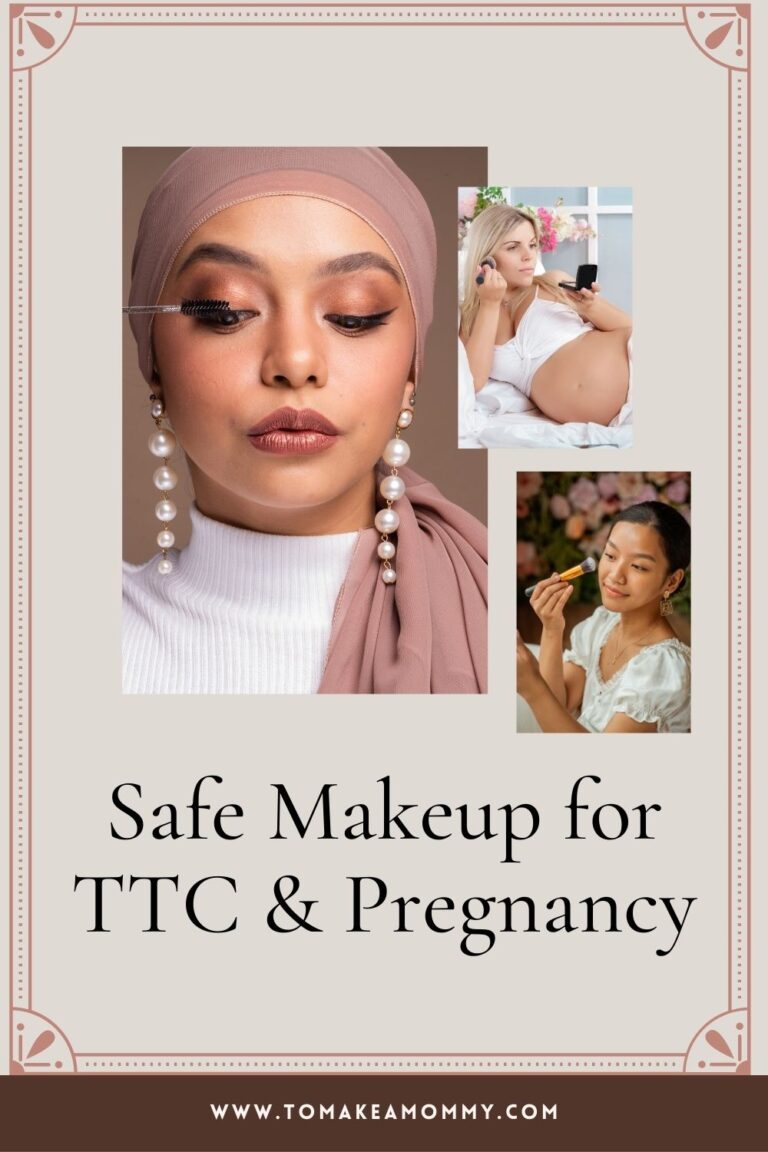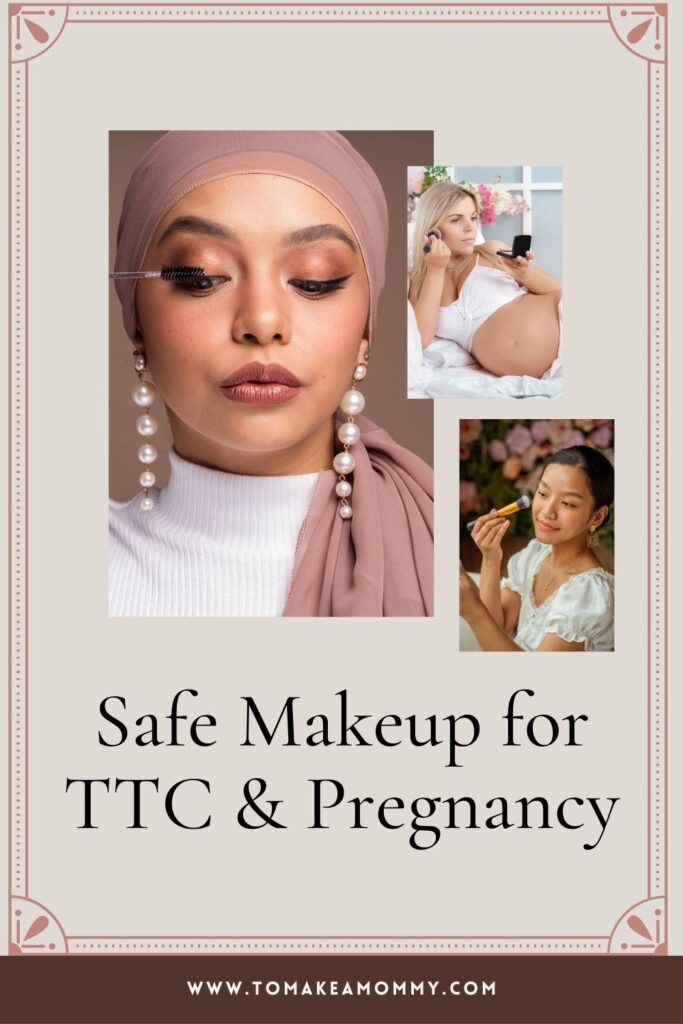 It can feel super overwhelming to navigate the giant list of ingredients to avoid. That's why Beautycounter is my top line for non-toxic makeup (and skincare!) because it takes the guessing game out of picking up new products, by delivering performance + safety. During product formulation, Beautycounter identifies the highest-performing product on the market and then asks, "How can we make something similar that is safe for people and sustainable for the planet?" This means their products are much higher performing than other natural, non-toxic lines, because they start with performance, versus, for example, essential oils, or organic ingredients.
Additionally, Beautycounter brand is a B-Corporation that prioritizes the planet, ethics, and people. They're even fighting back against the industry by paying staff to lobby in Washington D.C. for stricter code regulations!
I love that they ban over 2,800 toxic ingredients (check out their Beautycounter Never List) and test for heavy metals. They are an industry leader in responsibly sourcing raw material, and they're dedicated to helping the environment through lower-waste packaging, refills, and recycling practices.
When I first started trying non-toxic make-up, I just kept buying natural, random products from Whole Foods and getting lackluster results. Then I'd throw them in a drawer and buy some other random non-toxic product, and it wouldn't work well at all. Finally, I started switching out my products for Beautycounter line. Knowing that none of their formulas include toxic or questionable ingredients gives me such peace of mind when trying out new makeup. I LOVE their makeup and am so happy that I don't have to compromise quality for clean ingredients. I also started saving money, because I only bought products from the Beautycounter brand and stopped (mostly) fooling around with other brands. I finally joined as a consultant, and it's been so much fun adding this business to my blog!
Is Beautycounter Fertility and Pregnancy Safe?
YES! Every single ingredient and product is safe for pregnancy and breastfeeding. Beautycounter's line is specifically made to be natural and safe for fertility, pregnancy, and breastfeeding. Their products all pass the test as clean, non-toxic, and safe for regular use. Beautycounter quickly became a vital part of my pregnancy-safe makeup routine. It took so much of the work out of switching over to non-toxic beauty products. It makes me happy that I can share such an amazing company and makeup brand to help you transition over to natural, non-toxic living too! (Check out all of my non-toxic favorites here.)
Beautycounter line is my go-to for quality, non-toxic makeup and skincare that doesn't put me or my hormones at risk. Join my Non-Toxic Beauty Newsletter and Facebook group to stay in the know about all the sales, deals, and ways to save money with Beautycounter! Below I've listed a few more non-toxic makeup brands that I would recommend.
P.S. If you're new to Beautycounter, you can easily test out a full face of makeup with Flawless in Five and save 20% off buying everything individually.
My Favorite Beautycounter Make-Up Products
Beautycounter discontinued all their colored powdered cosmetics to avoid using problematic talc, so all blushes and eye shadows are currently creams. I love them and find them easier to travel with and apply! They are actively developing palettes and trying to source safer ingredients. If you prefer powders, scroll down to Crunchi.
My Second Favorite Non-Toxic Makeup Beauty Brand- Crunchi
Crunchi is another fabulous choice for non-toxic Makeup. I love their Shattered Mascara especially, as it delivers really thick and full lashes. Crunchi not only uses safe ingredients and cruelty-free, but they are a company that tests all their products for common contaminants such as heavy metals and PFAS. Crunchi is also dedicated to recycled, low/zero waste packaging which I really appreciate! Crunchi has no phenoxyethanol which makes it a great choice for those who have allergies or concerns.
Crunchi also does not use synthetic colors in their beauty cosmetics, making it a great choice for those who prefer to avoid those. Crunchi only uses natural pigments, is ethical and does not source from China, and colored cosmetic ingredients are ECOCERT verified. They also test for heavy metals, like Beautycounter!
Crunchi's price range is also a bit below Beautycounter's, which is fabulous.
All of Crunchi's products are safe for trying to conceive, pregnancy, and breastfeeding.
My Favorite Crunchi Make-up Products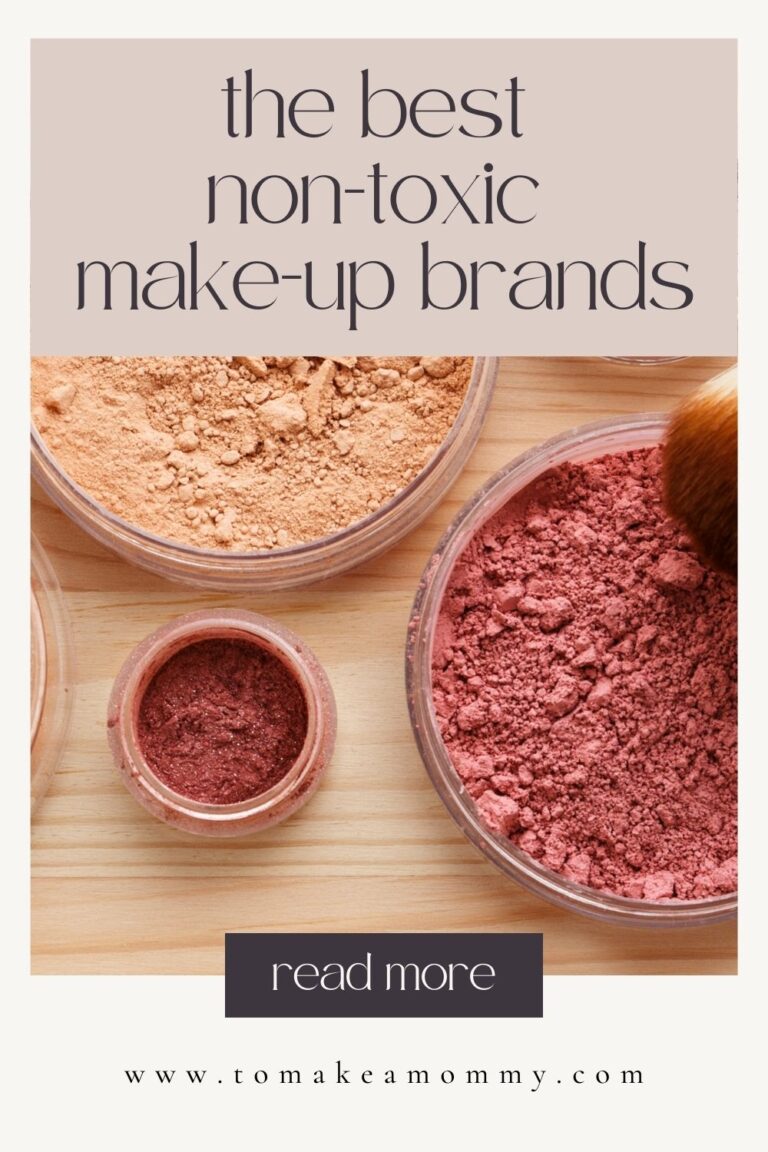 The Best Non-Toxic & Pregnancy Safe Makeup Brands
All of these makeup brands avoid parabens, phthalates, and the other big offenders listed above.
Best Pregnancy Safe Beauty Makeup Brands
Only two brands avoid talc and all the above mentioned problematic ingredients, AND test their colored beauty cosmetics for heavy metals, AND are willing to disclose information/answer questions about testing and ingredients.
Better Pregnancy Safe Beauty Makeup Brands
Better Pregnancy Safe Beauty Makeup On a Budget
Best Clean Drugstore/Retail Options for Beauty Products
Popular Makeup Beauty Brands That Earned an Iffy Review
Most of these beauty brands are okay, as long as you avoid the specific questionable ingredients below. So, for example, a blush might be okay, but the mascara might not be. You just have to work harder with these brands to make sure the individual product is safe!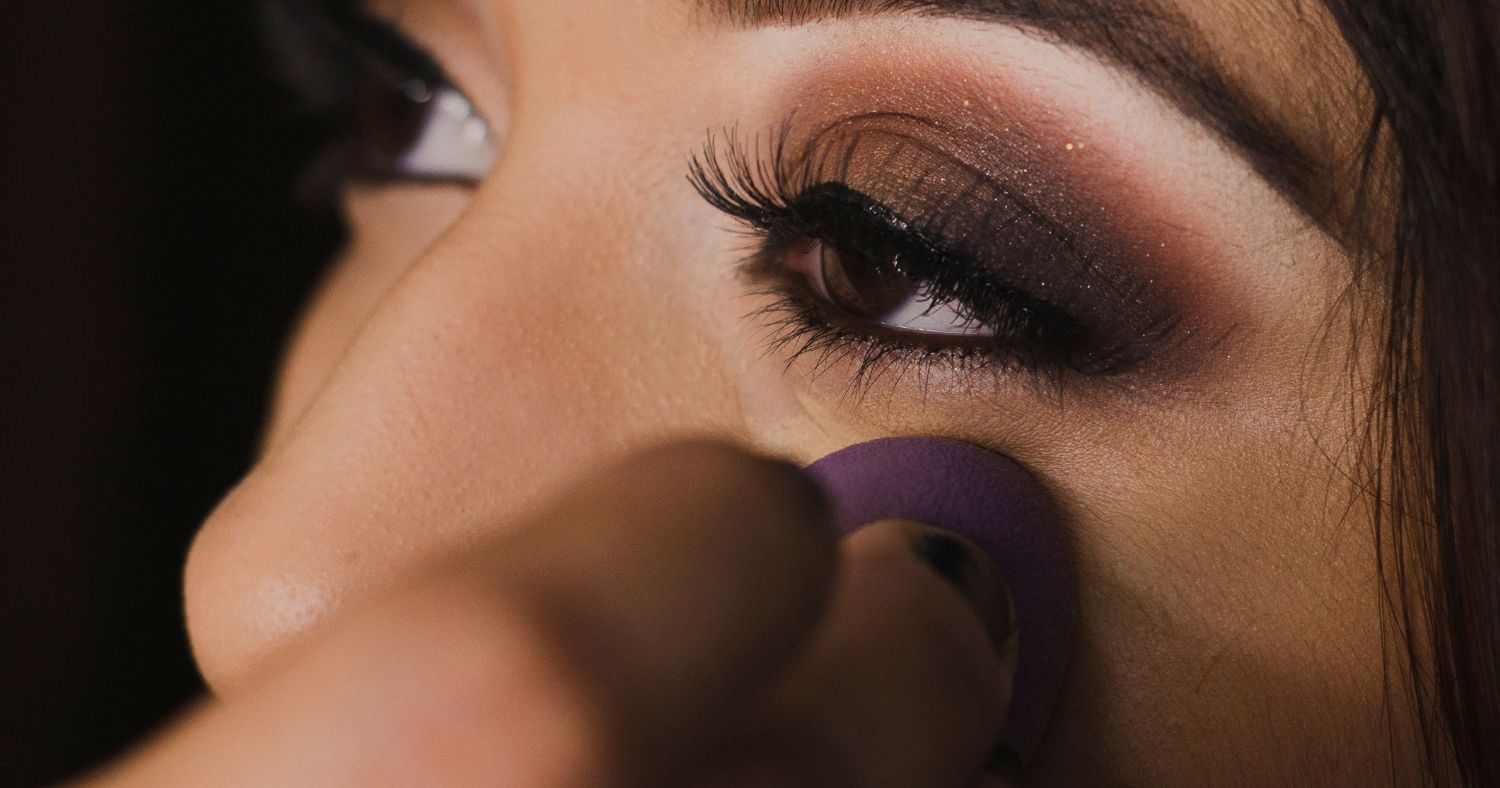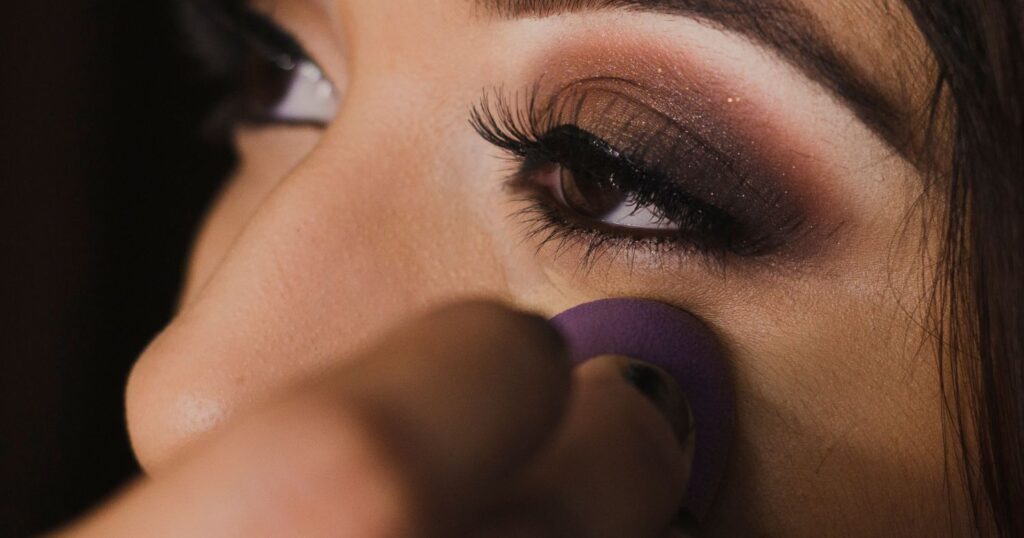 Ditch these Toxic Makeup Brands
These are unsafe for everyone, including pregnant women and those trying to conceive.
What's your favorite fashion makeup brand? Have you tried any of these options?
Join my Facebook group Non-Toxic Beauty with Anna Rapp to learn more about my favorite clean beauty products!
Want more products beyond non-toxic makeup that are safe for TTC & Pregnancy?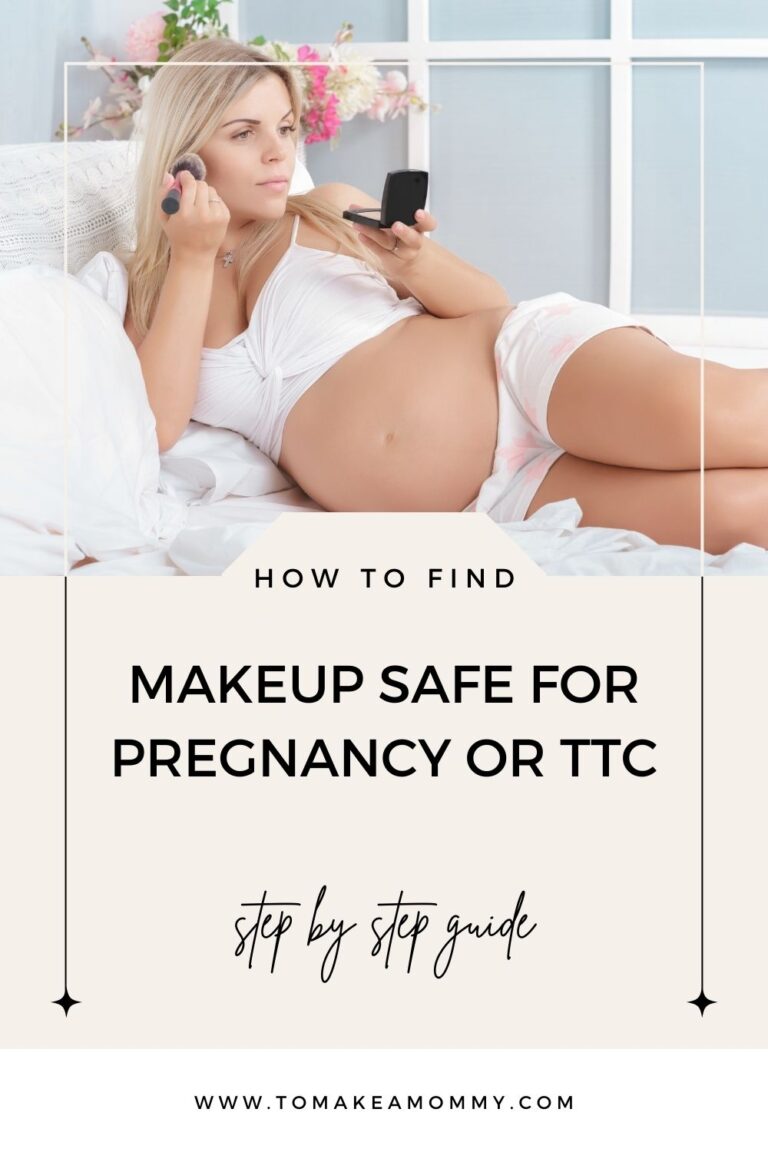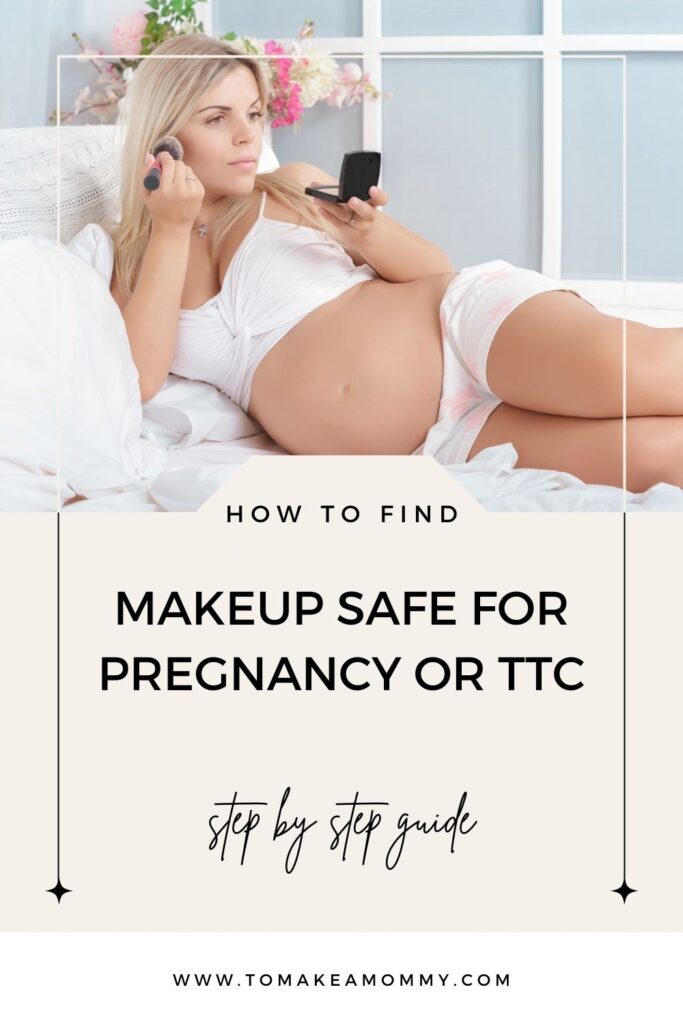 Anna Rapp is a fertility journalist and non-toxic living expert. When Anna Rapp was struggling with infertility and recurrent early miscarriage, she was diagnosed with diminished ovarian reserve, High FSH, low AMH, low follicle count, endometriosis, and an MTHFR mutation. Despite being told donor eggs were her only solution, Anna used her graduate training in research methods and analysis to read everything she could find on fertility and egg health. Ultimately, she lowered her FSH and got pregnant naturally (twice). She blogs about how she did it and encourages her readers to take charge of their fertility journey and get happy, healthy, and pregnant!