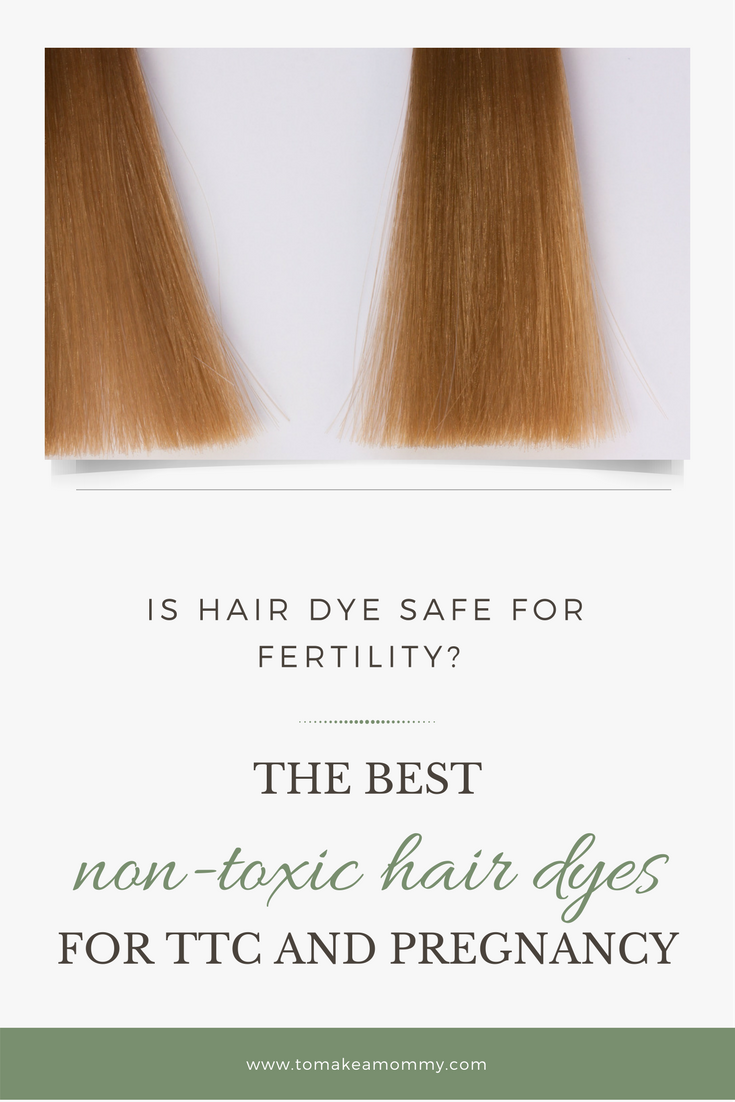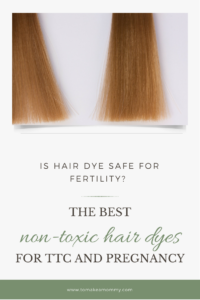 Is it safe to dye your hair while trying to conceive? Not really.  BUT there are safe, non-toxic, non-permanent hair dyes that are SAFE for fertility and pregnancy.  
Read all my non-toxic for fertility posts here!
And, don't think it only matters if you are ovulating or in the two week wait; the harmful chemicals in mainstream hair dyes can stay in your system for weeks.  
AND, here's the kicker- many of these chemicals are linked to cancer and other poor health outcomes, so you may want to make the switch for life.
In this blog post I'm going to share the dangerous ingredients in hair dye, and provide you with some hair dye options that are safer while trying to conceive, during fertility treatments, or while pregnant.
See my daily non-toxic beauty routine here!
And check out my blog post on shampoo & fertility here!
Why I avoided conventional hair dye while trying to conceive and pregnant
The problem for fertility or for pregnancy with mainstream hair dyes,  is two-fold. One is the ingredients that are actually linked to reproductive or thyroid function, and Two are the ingredients linked to cancer and other poor health outcomes. 
If you're trying to conceive but somehow not worried about cancer, you might be able to use some harsh hair dyes that aren't linked to the reproductive system.  But you know what? You really shouldn't! 
 Click here to read my overview of what the research says about these toxins and fertility.
So, what are you to do?  With 75% of women in the US admitting to dying their hair, there is a good chance that you are looking for some kind of a way to dye your hair while trying to conceive. Many women will chose to use regular hair dyes despite the toxic ingredients. However, if you are struggling with infertility, or going through infertility treatments, you will probably want another option.
This isn't just crunchy blogger Anna telling you to avoid toxins- even mainstream fertility recommend waiting until the baby is "in your arms" if at all possible.
Toxins to avoid in Hair Dye
Toxins in Hair Dye Linked to Infertility
1-Naphthol
A potential endocrine disruptor, and is linked to sperm damage.
Aminophenol
An endocrine disruptor that may be linked to thyroid tumors.
Resorcinol
Resorcinol is an endocrine disruptor that can impact thyroid function in animal tests, as well as irritate the skin and eyes.
Ammonium Quaternary Sanitizers
Also used as a disinfectant, these are BAD, and are linked to serious infertility issues like miscarriages and birth defects (in animal studies). Some may be endocrine disruptors.
Toluene, Toluene-2, 5-Diamine, and 4-Amino-2 Hydroxytoluene
Toulene can affect your nervous system and repeated exposure may lead to birth defects and reproductive effects such as miscarriages.
Ethanolamines (MEA, TEA, DEA)
These are linked to cancer, and can bioaccumulate, which means build up in your body, with repeated exposure. They may affect male and female reproductive health. 
Fragrance with Phthalates
Sometimes fragrance is disclosed in hair dye, and sometimes it is not. Phthalates are endocrine disruptors linked to infertility, miscarriage, as well as cancer and weight gain. Read all about phthalates and fertility here!
Propylene Glycol
Often contaminated with carcinogenic compounds that are also linked to issues with the reproductive system.
Toxins in Hair Dye Linked to Cancer or other poor health outcomes
P-Phenylenediamine (PPD)
A skin allergen and irritant, that may also be contaminated with 4-ABP, a known carcinogen. It is suspected of being carcinogenic when mixed with hydrogen peroxide.
Ammonia
Harmful to eyes, lungs, and respiratory tract, and a big problem for people with asthma.
Methylchloroisothiazalinone and Methylisothiazolinone
Skin irritants listed as high irritants. May be neurotoxic. Allergic response may increase after repeated exposure.
The Safest Hair Dyes for Fertility and IVF
Your best option – Don't dye your hair
Your absolute best option is to forgo your vanity and not dye your hair at all, or only use super gentle non toxic hair treatments at home- like lemon juice and chamomile for blondes, calendula and hibiscus flowers for red hair, nettle, rosemary, and sage for brown hair, and black walnut powder for black hair.  You can easily google instructions on how to do these. However, these really only work well for strengthening your existing color, and they don't work so well for hiding your grays.
Think about it. Gray is beautiful too. Natural is beautiful. After my mother was diagnosed with breast cancer last summer, I decided to stop even going to the "organic" salon. I am currently on a journey to grow out my grays (I am 3 years in!). It is hard, but worth it.
Regular hair dye use is linked to breast cancer, bladder cancer, leukemia, and non-Hodgkin's lymphoma.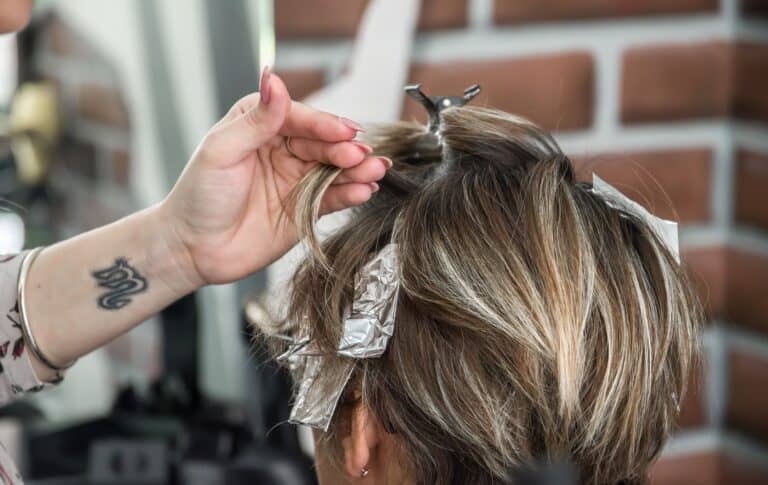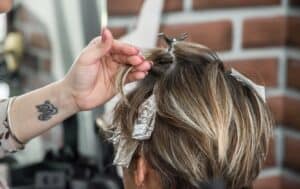 The Next Best Option- Non-Toxic Hair Dyes
These are are at-home hair dyes that do not have any of the above mentioned ingredients. They are very limited and may not have the performance you are looking for.
Dark & Lovely

Hairprint * The only hair dye with Made-Safe Certification!
Henna Color Lab
Morocco Method Simply Pure Henna
Saach Organics
But, I want to go to a salon! Or, I want the "REAL STUFF."
I get it, ladies, I do. For years I refused to stop going to the salon. I went to an "organic" salon that used Oway products. While these are better in many ways, the fact remains that ANY permanent hair dye is going to have some of those toxic ingredients in it. If you've reduced your exposure to toxins in a number of other ways, you may be willing to risk these for vanity sake. I certainly did for years.
One way to reduce your risk further in the salon, is to only get highlights. This way the color doesn't sit on your scalp. 
Non-Toxic researcher and blogger, Irina Webb of the website I Read Labels for You, has done extensive research into the safer higher performing permanent hair dyes and ranked them based on problematic ingredients. She also shares WHICH ingredients are problematic, to help you make informed decisions. Check out her Permanent Hair Color List e-book (I bought it myself!).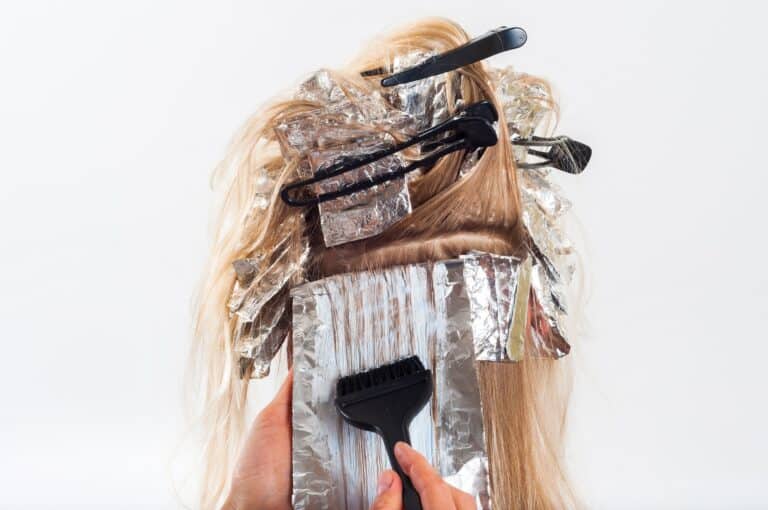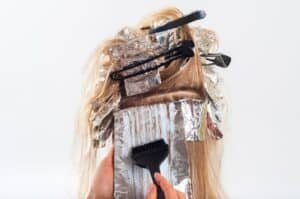 Do you dye your hair?  Are you willing to stop or look into non-toxic options to help you conceive and have a healthy pregnancy? Have you tried any of the non-toxic varities? What do you think?
Anna Rapp is a fertility journalist and non-toxic living expert. When Anna Rapp was struggling with infertility and recurrent early miscarriage, she was diagnosed with diminished ovarian reserve, High FSH, low AMH, low follicle count, endometriosis, and an MTHFR mutation. Despite being told donor eggs were her only solution, Anna used her graduate training in research methods and analysis to read everything she could find on fertility and egg health. Ultimately, she lowered her FSH and got pregnant naturally (twice). She blogs about how she did it and encourages her readers to take charge of their fertility journey and get happy, healthy, and pregnant!