Looking for an organic baby shampoo or wash for your little one? I know I only wanted the best for my little ones, and that included the best baby shampoo! There are some organic baby shampoo options, and then several clean baby shampoo options that are very clean, I'm going to talk about each in this post!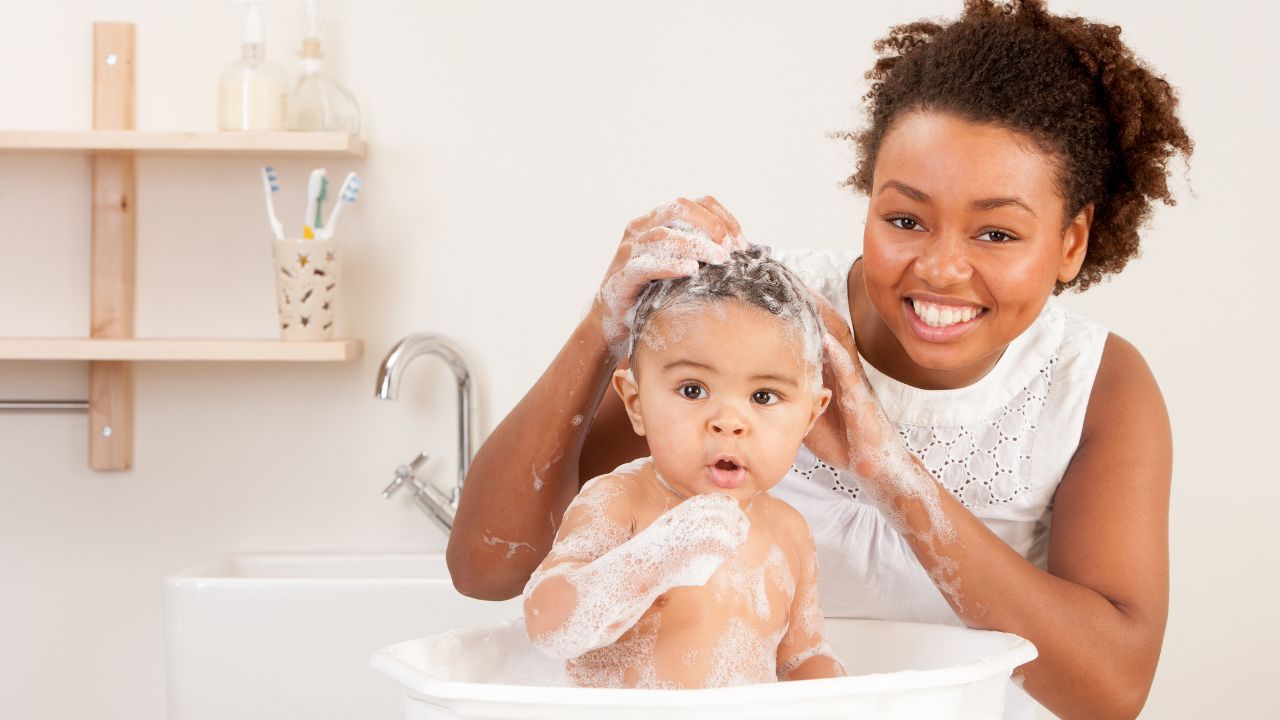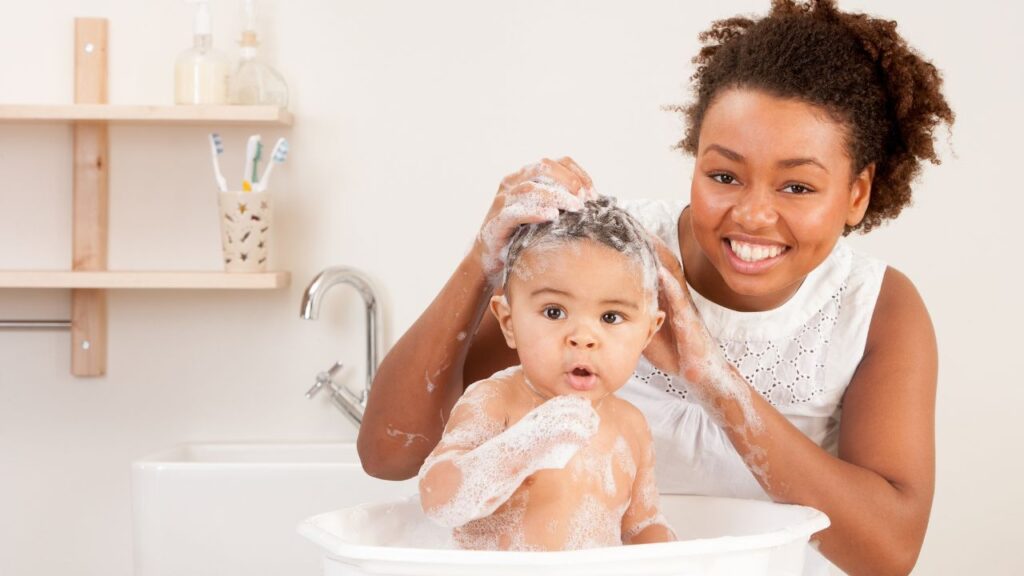 Why I Choose Clean & Organic Baby Shampoo
When I was struggling with infertility and miscarriage, I was shocked when I realized how many dangerous toxins I was using in my everyday life. Cleaning products, makeup, cookware, laundry detergent- even my everyday skincare! There were so many products in my day-to-day life that were secretly sabotaging my health. Not just my health- my fertility. The one thing I wanted more than anything else was to get pregnant, and my go-to items were ruining my chances of having children without me even realizing it. (It's crazy what American companies are legally allowed to put in their products!)
I decided enough was enough. I dove into every non-toxic resource I could find to un-learn everything that society has taught us about what's okay to use. After making a ton of lifestyle changes to eliminate these toxins from my life, I was blessed with two miracle babies.
Once I learned about the toxicity of our everyday products, it was super important for me to keep my babies safe from these toxins. Babies can end up being the ones most affected by these toxins- because of their rapid growth rate, they're especially vulnerable to carcinogens and toxicants.
Baby shampoo, soap, lotion, and other bath products often contain harmful chemicals that can be detrimental to their health. Personally, I will continue to try my best to keep these toxins out of my household for the health and wellbeing of my whole family. This is why I'm sharing what toxins to avoid in baby shampoo and wash, and what organic baby bath products are the safest options!
What does "Organic" Baby Shampoo Mean?
When I say "organic" baby shampoo, it's important to note that currently there is no federal regulation for organic cosmetics. Only food items are certified organic, but it's extremely important to me that I'm purchasing baby products that use safe ingredients. I don't condone using baby products (or any products) that include toxic or harmful chemicals. Personally, I don't always need every baby product to be "organic" or use "organic" ingredients, I just need it to be totally safe and as free of toxins as possible. But, if I'm going to spend extra money on any product to have it be organic, its going to be organic baby shampoo and organic baby bath wash!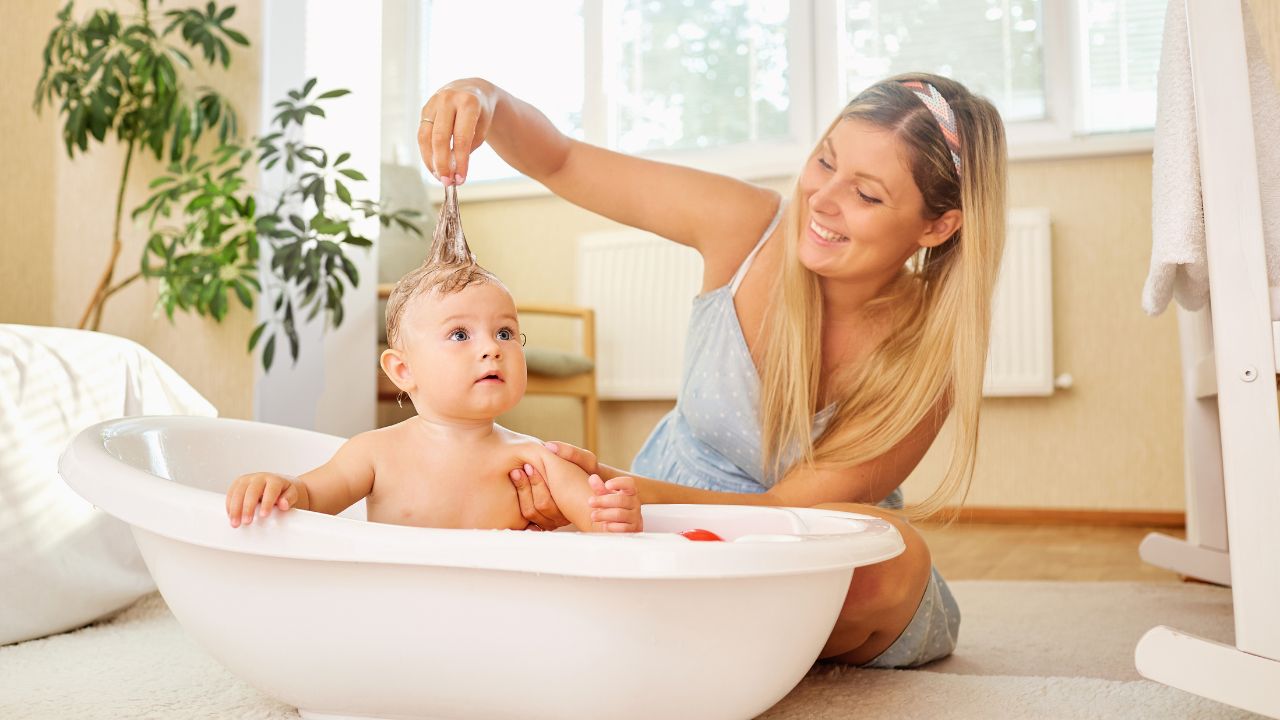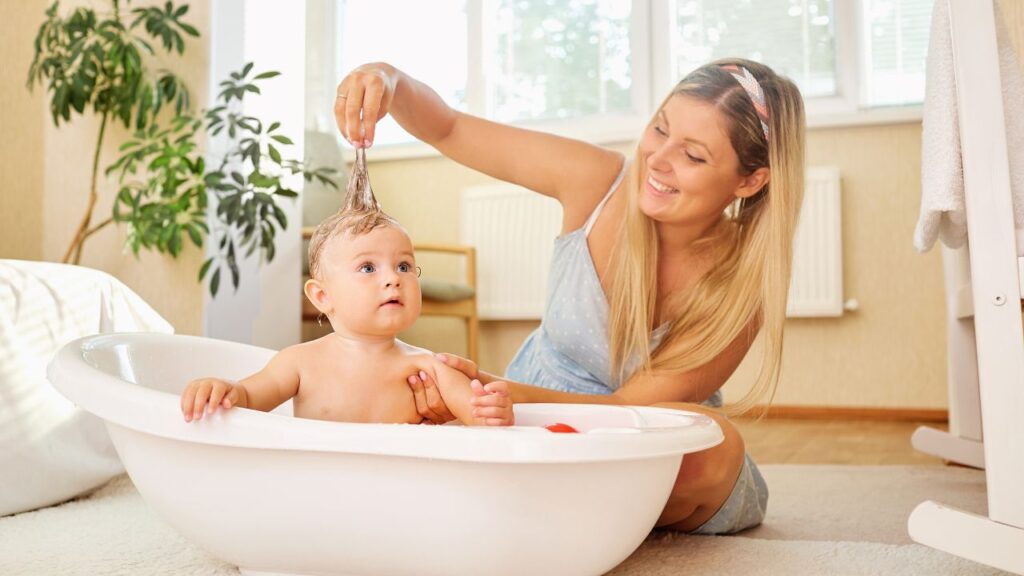 The Safety of Baby Shampoo
Unfortunately, many chemicals (even in baby bath products like baby shampoo) are dangerous for both you and your baby. Ingredients such as synthetic fragrance, parabens, and anesthetizing agents such as synthetic alkyl polyethoxylates and/or alkylphenol polyethoxylatesare (which make products "tear-free") are linked to negative health outcomes.
I'm going to guide you through what to consider when selecting a baby shampoo. There are a handful of good, organic baby shampoo brands that are safe for you and your little one (see all my favorite non-toxic products here!), and I'll share some of my personal favorite baby shampoo brands in this post.
Shopping for yourself?
Check out these posts:
What to Consider When Shopping for the Best Baby Shampoo
When you're deciding on the best baby shampoo for your little one, consider ingredients, your unique baby's needs, allergens, sensitives, age, and the brand ethics. Always make sure the ingredients are squeaky clean and don't include any of the toxic chemicals listed below. Pick gentle, trustworthy ingredients like organic oils, plant extracts, and aloe vera.
Babies are extra-vulnerable to skin irritation, so make sure to choose sensitive formulas- especially if your baby has specific sensitivities and allergies! Baby products should always be specifically formulated to be extra-gentle and pH-balanced to maintain your baby's natural acidity levels and prevent dryness and discomfort. (Many organic and non-toxic baby shampoos are already formulated for sensitive skin.)
Make sure to do research on any brand before purchasing, especially for baby products. I always go for brands that care about their environmental footprint to protect our planet. Look for brands that source their ingredients ethically, responsibly, and transparently. Check for reviews from other parents to make sure that the products are safe and effective.
When you investigate a brand with these factors in mind, it's much easier to pick the right baby shampoo that will work well and protect your baby. Every baby has different needs when it comes to allergens and sensitivities- you know your child best!
I know you want to know how to pick the best organic baby shampoo, so let's move right along . . .
Is "Tear-Free" Safe in Baby Shampoo?
The old fashioned "tear-free" brands used toxic ingredients to de-sensitive eyes, but modern baby shampoos just use diluted soap or surfactants. Many of the "best" baby shampoos don't claim to be "tear-free" but their soap concentrations are very diluted and should be fine. I have been using soap-based baby shampoos with my children their whole lives and their eyes have never burned or "teared."
Brands that are claiming "tear-free" aren't doing any much more special than the other brands, except potentially being surfectant-based, instead of soap based. Some surfectants are safe, some aren't, more on that below!
Don't be deterred if the organic baby shampoo you are considering doesn't have "tear-free" on the product label.
Quick Guide for Selecting a Clean Baby Shampoo
Are the Ingredients Safe?
No Essential Oils- babies should have unscented; some okay in toddlers and kids if tolerated
Don't obsess about "tear-free"
Extra-gentle for sensitive skin
Is the brand ethical and trustworthy?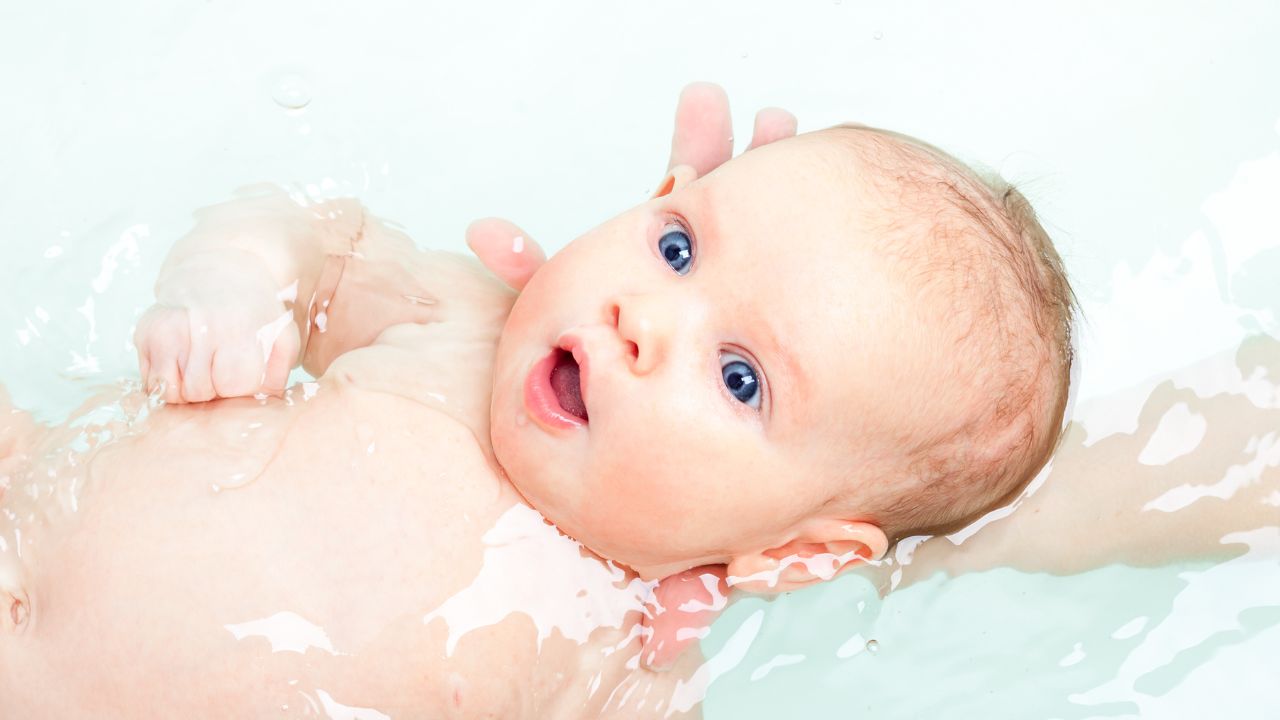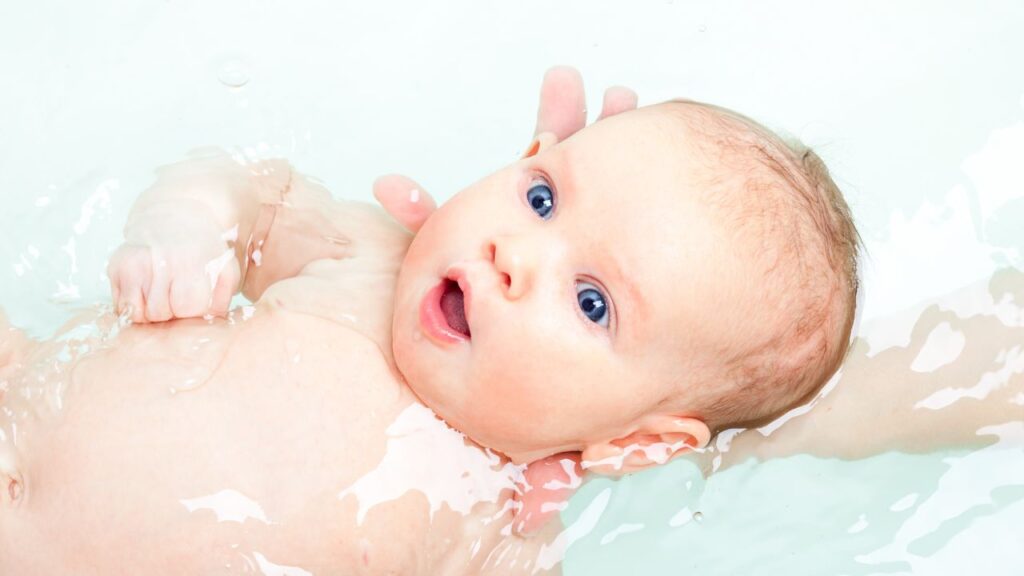 Avoid These Toxic Ingredients in Baby Shampoo
Fragrance
Fragrance is used in many personal care products, but there's a concerning lack of transparency as to what fragrance is. We know that synthetic fragrance contains phthalates, which are linked to a number of health concerns including increased risks of behavioral and cognitive disorders (ADHD, autism, reduced physical and mental development, and emotional issues), and other health issues such as cancer and infertility.
Fragrance companies aren't required to disclose what goes into their fragrance… so we have no idea what we're putting on our bodies! I go for brands that choose to disclose what their fragrance is made of so there are no questions about it. (I have a blog post all about how to avoid phthalates.)
If a brand uses essential oils, they need to declare what they are and not just say "fragrance." I trust brands more that are transparent, and I don't trust brands that are hiding ingredients. By the way, I prefer to avoid essential oils in baby bath products, but I think they're okay for adult use and for children who tolerate them.
Polyethene Glycol (PEG Compounds)
Used in many cream formulas like lotion or baby bath bubbles, it uses ethylene oxide in production and can be contaminated with 1,4-dioxane, which is carcinogenic.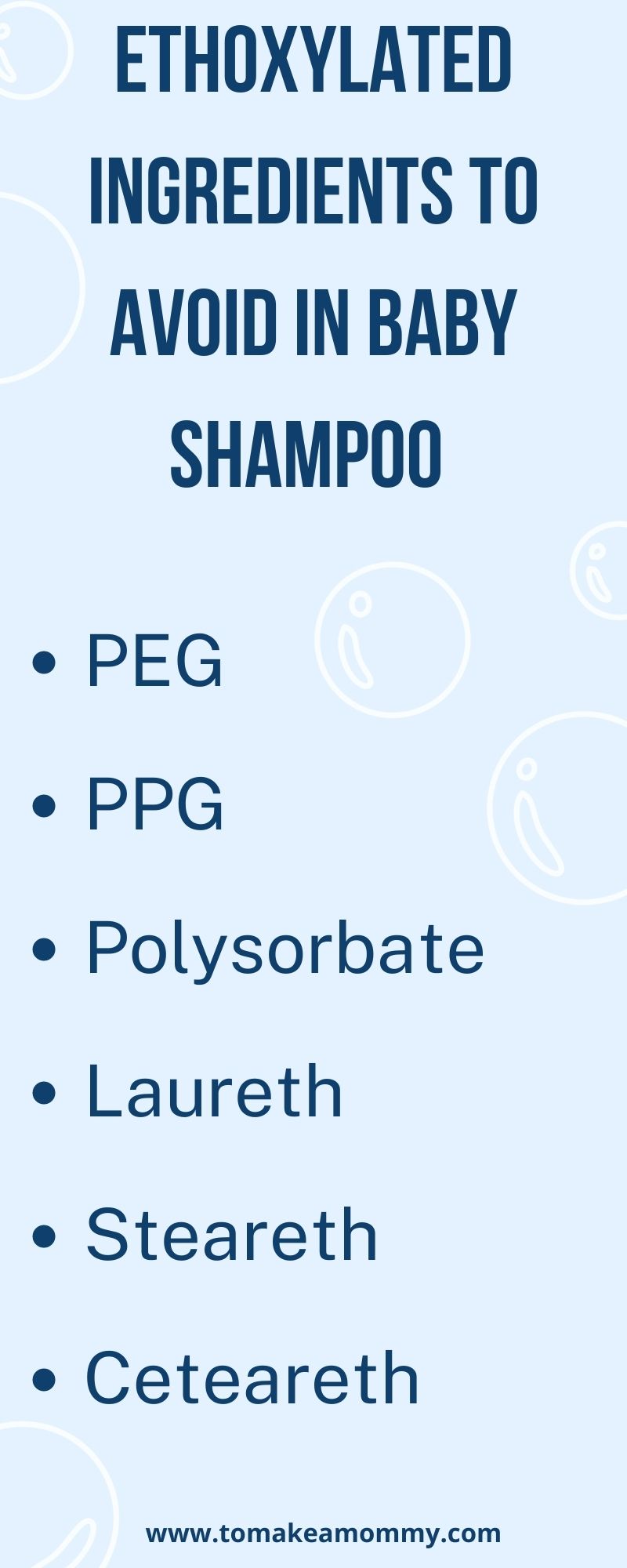 Ethyoxylated Ingredients
Ethoxylated ingredients show up on the label as PEG, PPG, polysorbate, or any ingredient ending in "-eth" such as laureth, steareth, or ceteareth. These ingredients have the potential to be contaminated by ethylene oxide and 1,4-dioxane, which are carcinogenic.
Benzyl Alcohol
Benzyl alcohol is found in some baby lotions and has been linked to central-nervous-system dysfunction, hypotension, and newborn death.
Cocamidropropyl Betaine
Cocamidpropropyl betaine can be found in products like baby shampoo and body wash. It's an ingredient that can cause irritation and has been associated with contact dermatitis. The EWG Skin Deep database notes that the risk associated with this ingredient depends on whether or not it will be immediately rinsed off due to skin absorption. Some EWG-verified products contain this ingredient, but it's important to note the risks associated and to take contact time and how it's used in the formula into consideration.
Parabens
Parabens are a class of preservatives commonly used in self-care products to prevent microbial growth. They act as endocrine disruptors and include ingredients like methylparaben, ethylparaben, propylparaben, or butylparaben (anything ending in -paraben). Parabens imitate your estrogen, resulting in disrupted hormone functions and linked to impacted fertility. There are also links to social and intellectual development, cancer, weight gain, abnormal fetal development, and depression.
I'm not saying preservatives are a no-go, but there are much less toxic alternatives. (Safe) preservatives are VERY important in water-based products to protect against harmful bacterial growth.
Sulfates
There are many types of sulfates that may be found in baby bath products like baby shampoo and body wash, including ammonium laureth sulfate (ALS), sodium stearyl sulfate (SLS), sodium laureth sulfate (SLES), and sodium lauryl sufoacetate (SLSA). These chemicals can cause reduced lung function and complications for those who have lung or heart diseases.
Phthalates
Phthalates are endocrine disruptors with links to​​ higher risks of behavioral and cognitive disorders like ADHD, autism, impacted physical and mental development, emotional issues, cancer, childhood development issues, and and other health issues. They're often in products labeled "fragrance" or "parfum" that hide the true components of their fragrances.
Formaldehyde
Formaldehyde is a carcinogen used in some baby bath products like bubble baths and lotions. Exposure to formaldehyde has been linked to increased risks of childhood asthma. It's also important to avoid formaldehyde releasers like quaternium-15, DMDM hydantoin, imidazolidinyl urea, diazolidinyl urea, polyoxymethylene urea, sodium hydroxymethyl glycinate, or bromopol.
Talc
Talc can be found in many powder formulas (like baby powders) and has been linked to cancer. SKIP THE TALC!
Oxybenzone
Oxybenzone is commonly found in sunscreen. It's linked to Hirschsprung's disease and is a potential endocrine disruptor.
Triclosan
Triclosan is an antibacterial agent that can be found in personal care products like baby shampoo and toothpaste. It can cause hormone disruption, antibiotic resistance, and other health issues.
Butylated Hydroxytoluene (BHT)
This endocrine disruptor is used as a preservative in personal care products like baby lotion. (Side note… it's also often found in our FOOD. Yikes.) BHT is linked to enlargements in the liver, renal dysfunction, and inflammatory effects in the lungs.
Methylisothiazolinone and Methylcholoroisothiazolinone
These are commonly used preservatives used in products like baby shampoo, which are known to be irritants and cause skin allergies. They're also potentially carcinogenic and linked to neurotoxicity.
DMDM Hydantoin
DMDM Hydantoin is a formaldehyde-releasing preservative that can be found in baby bath products like baby oil. Formaldehyde is linked to cancer and increased risks of childhood asthma.
Phenoxyethanol
Phenoxyethanol is considered a safe broad-spectrum preservative that is used in place of more toxic alternatives. It's used in places like Europe, where there's much more rigidity surrounding the ingredients that they allow. It also doesn't have any proven hormonal effects.
Phenoxyethanol is not safe in nipple cream for a breastfeeding baby or for people who are allergic to the ingredient. Never use a product with Phenoxyethanol in it if you have a known allergy to it. I personally have no issue using phenoxyethanol; I appreciate the preservation and love several skincare products that include it. As far as baby products go, this isn't as bad as fragrance, in my opinion, but will kick a brand out of my "best" category.
How to Find Safe Baby Products & Organic Baby Shampoo
More and more baby shampoo brands are coming out with safer alternatives to the toxic products that have infiltrated our supermarkets for years. The growing list of toxic and harmful ingredients can feel impossible to keep track of- which is why I love the EWG's Skin Deep database. They list out every questionable ingredient to help you make informed decisions about which products you include in your day-to-day life. I try to use products that are either EWG Verified or have a low score (1 or 2) on the Skin Deep Scale.
Limitations with the EWG Skin Deep Database
Keep in mind that while the EWG Skin Deep is super helpful, it's not perfect! Ingredients may be classified incorrectly or scored differently with different brands. Some ingredients are safe at low levels but still receive a worse score. Oftentimes, a clean, non-toxic skincare product can receive a bad score on the EWG because of something like a citrus essential oil that they use. Grapefruit extract used to receive a score of 6, but now, I believe it's a 3 or 4. Personally, grapefruit extract doesn't bother me. Please use your own common sense and discretion when deciding which products to buy!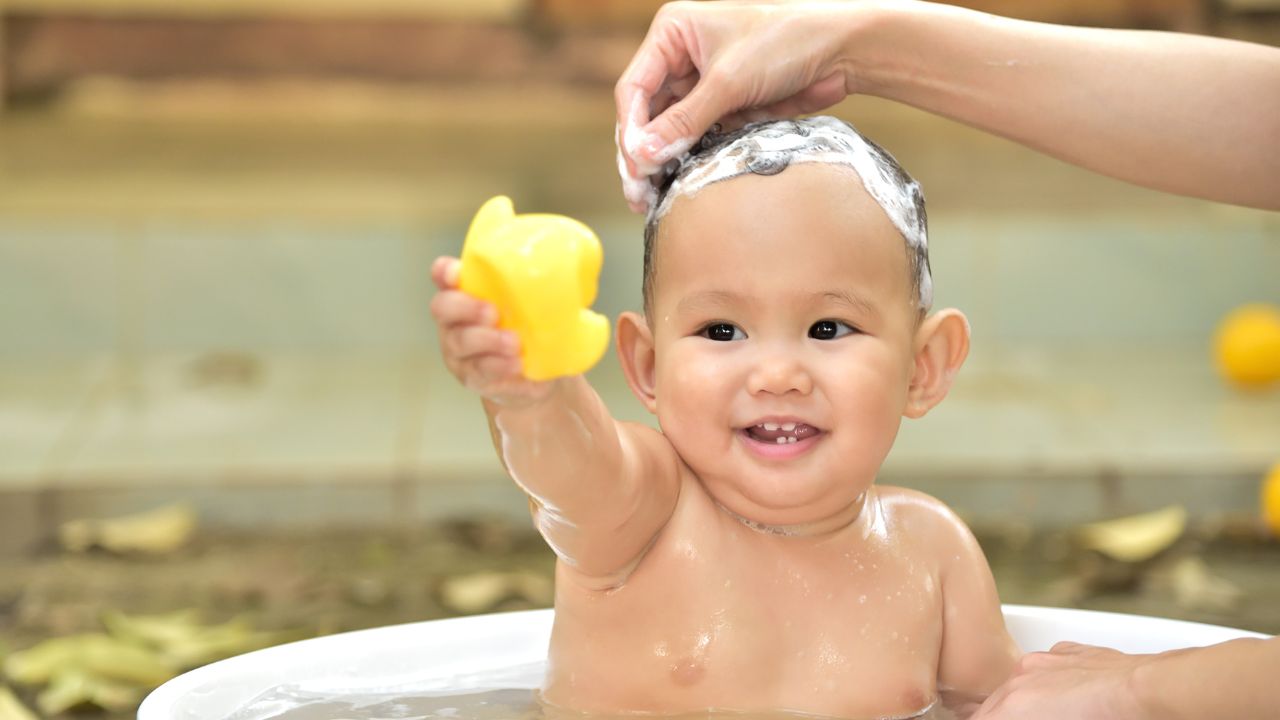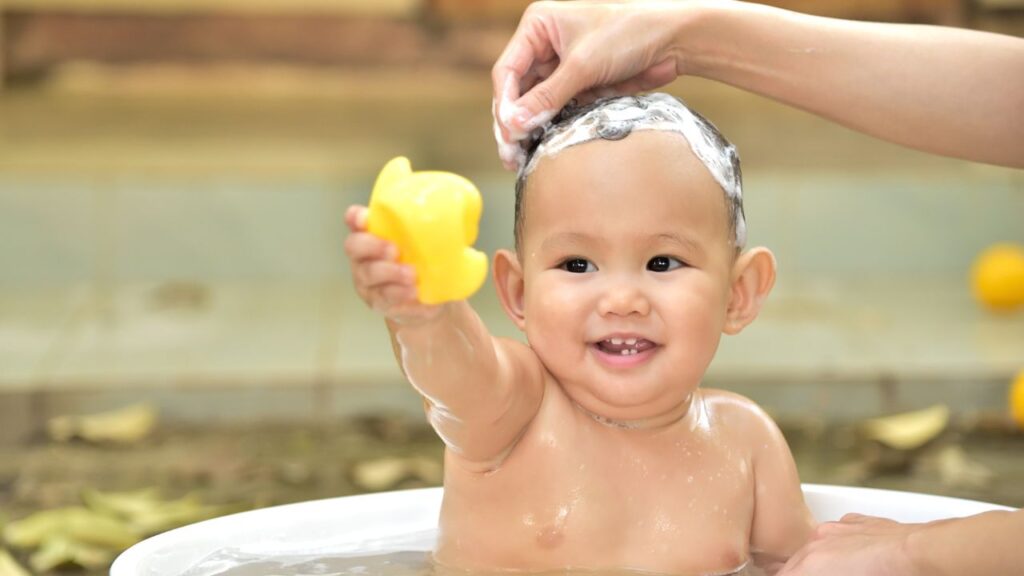 Best Organic Baby Shampoo Brands
Best Organic Baby Shampoo Brand- Pure Haven
Pure Haven is my favorite baby shampoo choice for product quality and transparency. I love what this brand stands for and how thorough they are when it comes to which products meet their standards. Here are a few things that make Pure Haven special:
​​They require their suppliers to sign an affidavit to disclose every ingredient and sub-ingredient, including how the ingredient was processed and/or grown.
They will not accept any incoming raw materials unless they've been tested.
They conduct their own 3rd party testing for PFAS, heavy metals, stability, safety, bacteria, yeast, etc.
They have their own manufacturing facility, which is USDA-certified organic and controls the entire manufacturing process, starting with incoming water.
Every single batch of water that they use is micro-tested for contamination and then purified using 5-stage technology (even in cleaning products).
They even control what their machines are cleaned with at their manufacturing facility!
Pure Haven Organic Baby Shampoo and Baby Bath Products
They have some really great baby bath products that you can use in full confidence that you're not accidentally purchasing a toxic product. Here are the baby products that they offer:
Pure Haven is committed to delivering high-quality products that don't contain any endocrine disruptors. They only use products that are both safe for you and the planet. Their products are completely free of fragrance or parfum, phthalates, formaldehyde releasers, parabens, and other potentially toxic ingredients like benzisothiazolinone (potential skin sensitizer), cocamidopropyl betaine, ethoxylated ingredients, methylchloroisothiazolinone, and methylisothiazolinone.
Second Best Organic Baby Shampoo Brand- Crunchi
Crunchi is an amazing non-toxic brand that I have been loving for a while now. They're an environmentally friendly, 4-Ocean certified Plastic Neutral brand with a giant list of banished ingredients so you can feel good about what you buy from them. Additionally, they're dedicated to low/zero waste packaging, which I appreciate! (They're also a favorite on my non-toxic makeup list!) Crunchi uses all safe ingredients and tests their products for common contaminants such as heavy metals and PFAS.
My Favorite Crunchi Organic Baby Shampoo & Products
Crunchi Littles 3-In-One Bathtime Bar – Made with all certified organic ingredients like coconut oil, chamomile flower extract, oat flour, and shea butter. This 3-in-1 bar is gentle enough for daily use on the hair, skin, and face. 
My Third Favorite Organic Baby Shampoo Brand- Earth Mama Organics
I love Earth Mama Organics! These are the baby bath products that I personally used before finding Pure Haven. Their products are non-toxic and made with ingredients you can feel safe using. The brand as a whole is organic and non-GMO, plastic-neutral, clean, and cruelty-free. They have tons of great products and are also available on Amazon for convenient shipping.
My Favorite Earth Mama Organics Baby Shampoo & Bath Products
Simply Non-Scents Castile Baby Wash – Made with all certified organic ingredients like coconut oil, olive fruit oil, shea butter, calendula flower extract, and aloe leaf juice. This super gentle baby wash is perfect for everyday use and works great!
Organic Diaper Balm – This stuff is so hydrating and super effective in treating and preventing diaper rash. It uses organic ingredients like olive fruit oil, shea butter, beeswax, jojoba seed oil, lavender flower oil, calendula flower extract, St. John's Wort extract, chickweed extract, plantain extract, and tea tree leaf oil. It's actually certified organic made with food grade ingredients!
Calendula Baby Oil – I love the short ingredient list on this product- it's made of only grape seed oil, jojoba seed oil, and calendula flower extract. It's soothing, nourishing, and gentle enough for baby skin, and great for healing cradle-cap.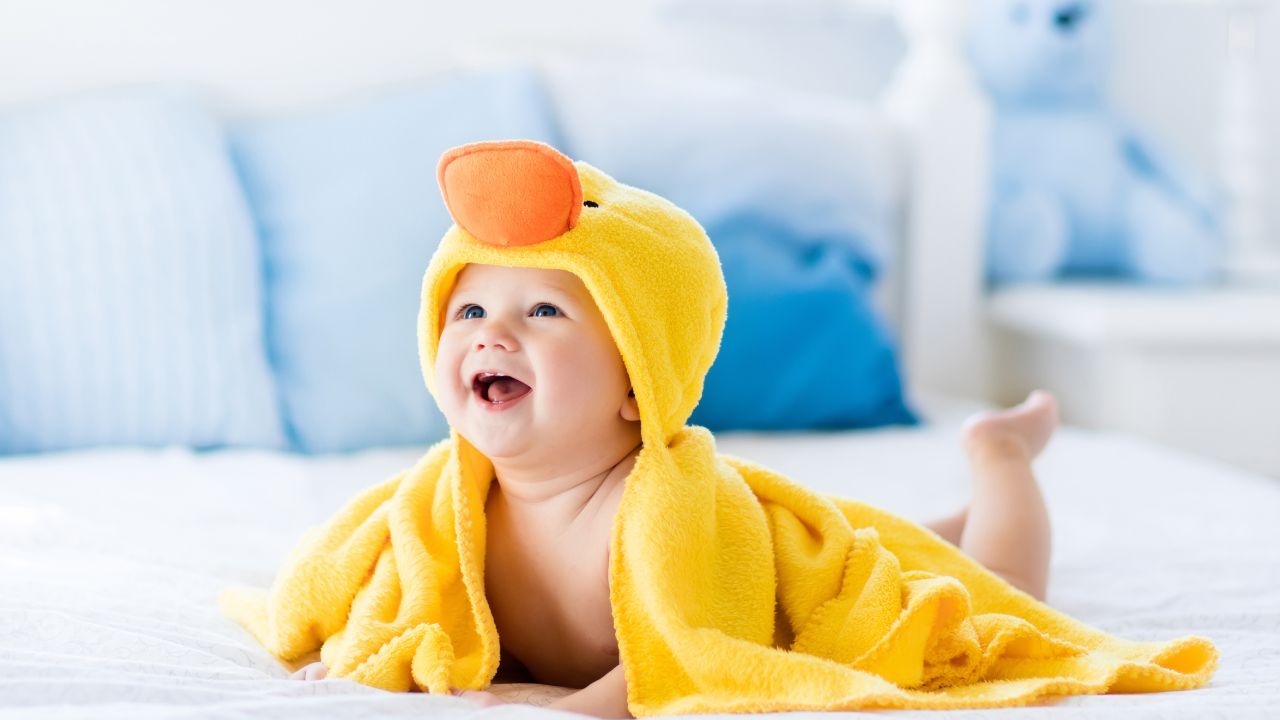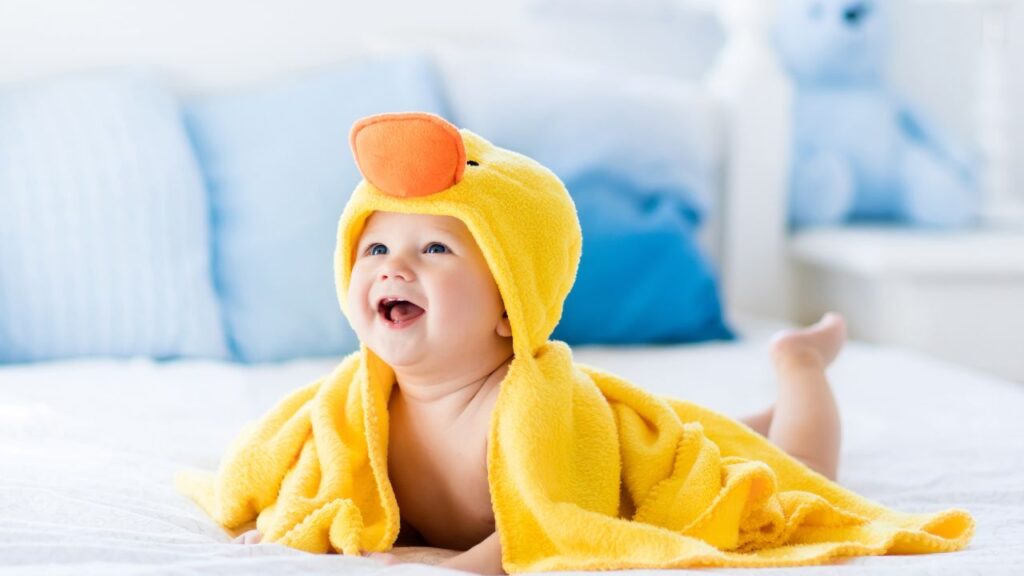 Best Organic Baby Shampoos & Clean Baby Shampoo Brands
Okay Organic Baby Shampoo Brands
Many of these brands were put in the "okay" not "best" category due to essential oils in their products. Essential oils are something that I'm personally fine with using, but I don't like recommending them for babies. I like to avoid them in baby bath products since they're on Europe's allergenic substance list. Some people are fine with using essential oils in baby products. Use at your own discretion- making informed decisions is the best way to protect your little ones!
Some of these brands are in this list because of phenoxyethanol as well, which I use personally, but believe should not be used in baby products because of the chance of allergic reaction.
Babyganics
Burts Bees
Puracy
Scented Earth Mama Organics
Scented Hello Bello
Scented Honest
Scented Dr. Bronners
AVOID THESE BABY SHAMPOO BRANDS
Aquaphor – They use cocamidopropyl betaine, sodium benzoate, and PEGs. No thanks!
Cetaphil – Uses fragrance, sodium laureth sulfate, cocamidopropyl betaine, and PEGs.
Dove Baby – Their products use fragrance, stearamidopropyl dimethylamine, behentrimonium chloride, and PEGs.
Johnson & Johnsons – Uses PEGs, fragrance, cocamidopropyl betaine, and sodium benzoate.
Mustela – Mustela has some EWG-verified products, however, many of their products use cocamidopropyl betaine, fragrance, and PEGs. Make sure to check before buying!
Weleda – They use fragrance from essential oils, however, they use scents like limonene and geraniol, which both score poorly on the EWG scale.
Baby Magic – Baby Magic advertises their products as "made with wholesome ingredients". However, their baby shampoo and bath products include cocamidopropyl betaine, retinyl palmitate, PEGs, fragrance, phenoxyethanol, sodium laureth sulfate, polysorbates, and steareth. Yikes!
For healthier living, check out my other non-toxic posts->
Anna Rapp is a fertility journalist and non-toxic living expert. When Anna Rapp was struggling with infertility and recurrent early miscarriage, she was diagnosed with diminished ovarian reserve, High FSH, low AMH, low follicle count, endometriosis, and an MTHFR mutation. Despite being told donor eggs were her only solution, Anna used her graduate training in research methods and analysis to read everything she could find on fertility and egg health. Ultimately, she lowered her FSH and got pregnant naturally (twice). She blogs about how she did it and encourages her readers to take charge of their fertility journey and get happy, healthy, and pregnant!