Trying to conceive and wondering about exposure to PFAS and infertility? Wondering how to avoid PFAS and boost your fertility? I was too!
We have known for many years that per-and polyfluoroalkyl substances (PFAS), "forever chemicals" are linked to certain cancers, reproductive issues, and other health problems. A recent study published in 2023 has demonstrated that higher PFAS exposures are associated with decreased fertility in women.
Toxic PFAS is terrible for the planet and for us. It is found in several products, notably in non-stick cookware, waterproof or water repellent outdoor gear, stain resistant fabric, food packaging, and firefighting foam. But recently, it has been discovered in a host of other products, including cell phone touchscreens, food packaging, floss, makeup, and skincare.
Many years of advocacy will probably eventually win a ban on toxic PFAS chemicals in the United States. But, until that ban comes, consumer need to protect themselves and learn how to avoid PFAS!
My name is Anna Rapp, and I am a dedicated non-toxic living and fertility blogger, who overcame infertility naturally through drastically reducing my exposure to toxic substances, including PFAS and Phthalates, eating an evidence-based fertility diet, strategically supplementing, and completing a robust mind-body program. If you want to know more, grab my list of 79 Things I Did to Get Happy, Healthy, & Pregnant!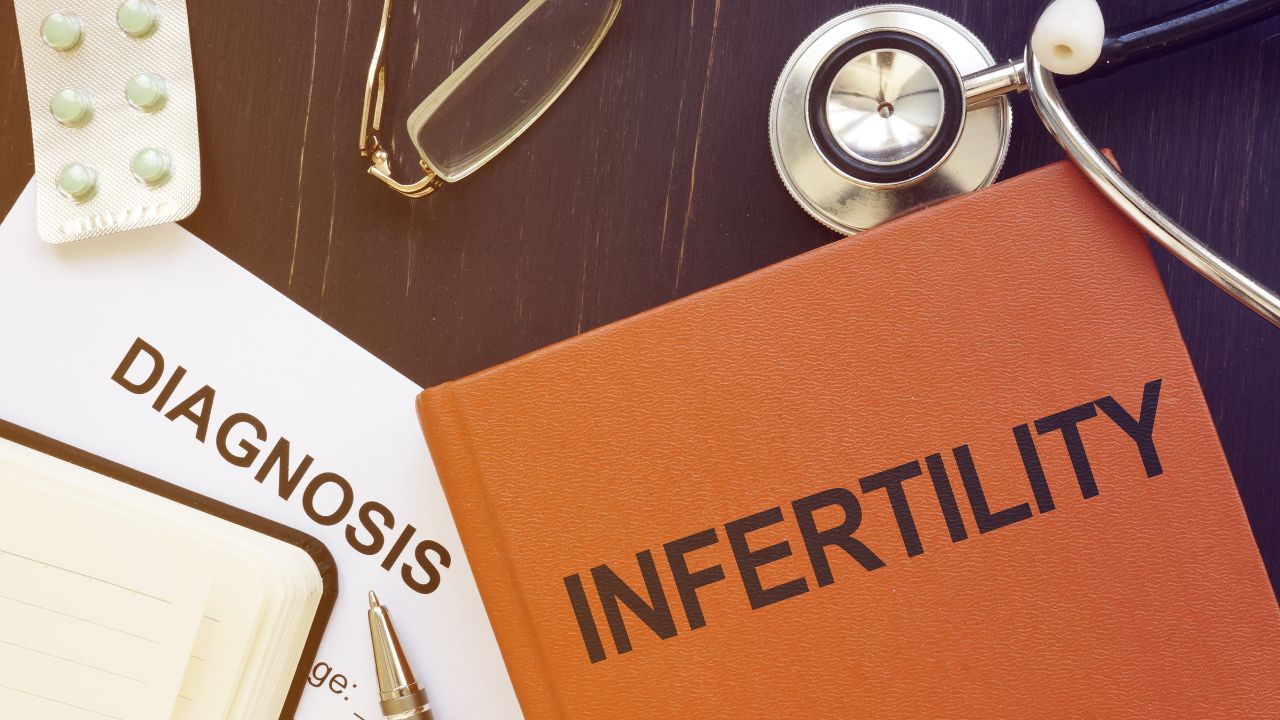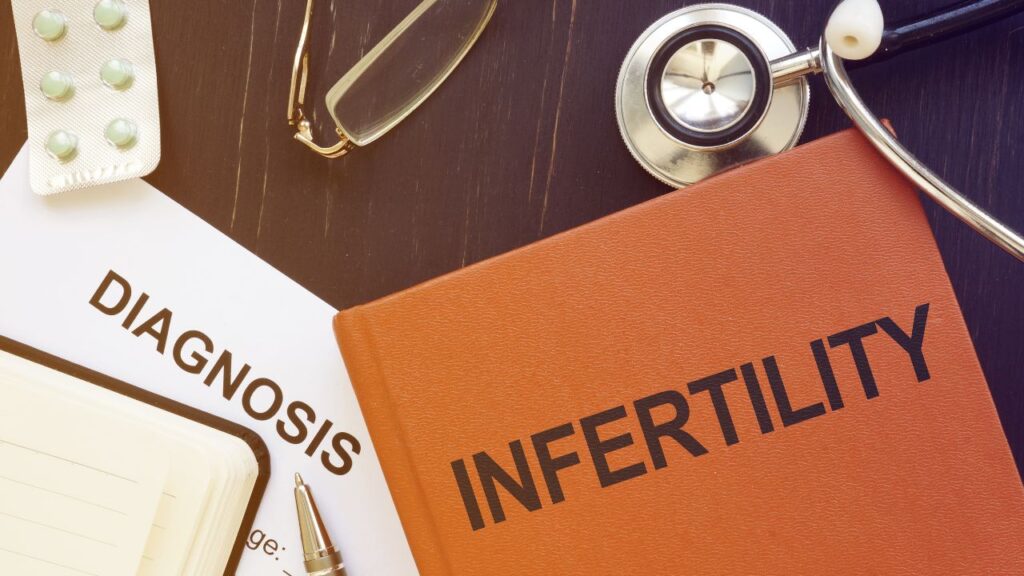 PFAS and Infertility: Forever Chemicals Linked to Lowered Fertility
This is a guest post by fertility expert Dr. Jessica Dupont.
Working in fertility, I am deeply concerned about the potential impact of forever chemicals on female fertility. These chemicals, also known as PFAS (per- and polyfluoroalkyl substances), are synthetic compounds that are found in a wide range of products, from food packaging to non-stick cookware. They are called "forever chemicals" because they do not break down in the environment and can persist in our bodies for years.
Singapore Study: PFAS Linked to Infertility in Women
Recently, The Guardian published an article highlighting the potential link between PFAS exposure and female infertility. Those with higher levels of PFAS in their blood had a 40% lower chance of conceiving within a year of trying.
The study, published in the journal Science of the Total Environment, included more than 1,000 women of child-bearing age in Singapore who were trying to conceive. It found a range of PFAS levels in the women's blood and assessed the chemicals' impact at each quarter between the lowest and highest exposure level.
Those women with PFAS mixture levels one quarter higher than the average had a:
40% lower likelihood of becoming pregnant within a year
34% lower chance of having a live birth within 12 months
While the study does not prove a causal link between PFAS exposure and infertility, it does provide strong evidence that there may be an association. PFAS have been shown to disrupt hormonal balance and may interfere with ovarian function, both of which could contribute to infertility.
PFAS Affects Babies In-Utero, Placenta, and Breast Milk
The study results found more than the link between PFAS and infertility. The study noted that "Many PFAS have been detected in cord blood, the placenta, and breast milk. Preventing exposure to PFAS is therefore essential to protect women's health as well as the health of their children".
Science has already established that high levels of PFAS can mean an increased risk of high blood pressure or pre-eclampsia in pregnant women, and decreases in infant birth weights.
Start avoiding PFAS before you conceive!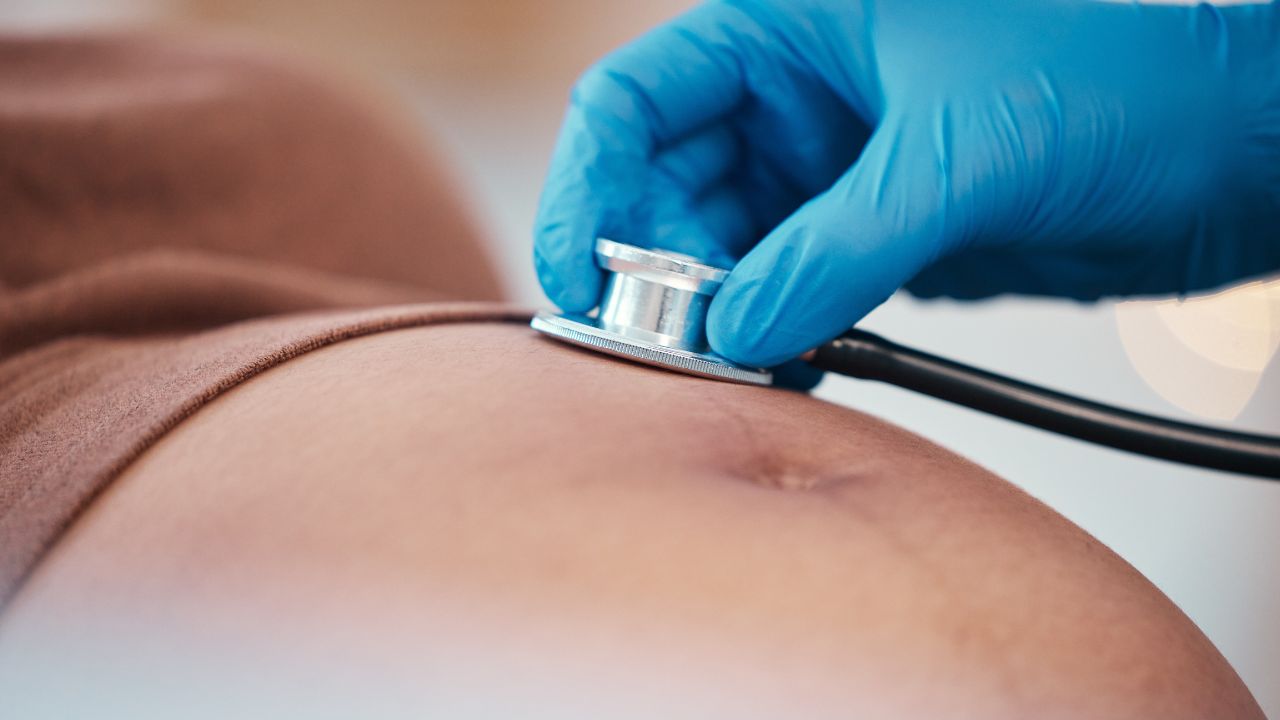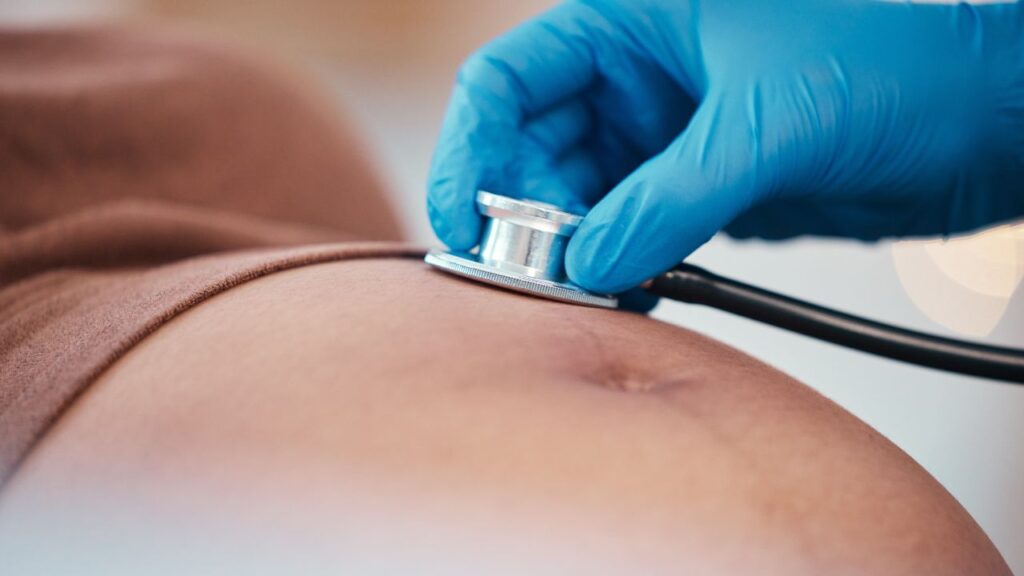 PFAS Linked to Multiple Negative Health Outcomes
PFAS exposure has been linked to a range of other adverse health effects, including thyroid disease, high cholesterol levels, liver damage, and cancer. Given the widespread use of these chemicals in consumer products and their persistence in the environment, it is essential that we take action to limit our exposure.
PFAS and Disadvantaged Communities
An 18-state wide water study found that PFAS levels were higher in areas with lager proportions of the population that are people of color.
Senior author Elsie Sunderland, Fred Kavli Professor of Environmental Chemistry and professor of earth and planetary sciences at the Harvard John A. Paulson School of Engineering and Applied Sciences and professor of environmental science and engineering in the Department of Environmental Health at Harvard Chan School said, "Our findings are particularly concerning because past work on environmental disparities for other pollutants shows marginalized populations are susceptible to greater risks of adverse health outcomes compared to other populations, even at the same exposure levels."
How to Avoid PFAS
Avoid non-stick cookware. Non-stick cookware is a common source of PFAS exposure. Consider using alternative cookware, such as stainless steel, cast-iron, ceramic or glass. See Anna's favorite non-toxic products here.
Filter your water. PFAS can be found in drinking water, so consider installing a water filter that is certified to remove these chemicals. Dr. Dupont choose the Berkey water filter, Anna Rapp choose Pure Effects. See this water filter for fertility shopping guide!
Be cautious with food packaging. PFAS are commonly used in food packaging, such as microwave popcorn bags, fast food wrappers, and takeout food boxes or bowls . Try to avoid these products when possible, or transfer food to a different container before heating.
Choose PFAS-free floss.. Most conventional flosses test positive for PFAS, so choose a PFAS-free floss! Anna likes Dessert Essence.
Choose skincare and makeup products carefully. Scientists have found in lotions, body oil, foundation, concealer, blush, eye cream, hair creams, lip balms, lipstick, sunscreen, hand sanitizer, and much more. Several "green" beauty brands have tested positive for PFAS as well. Choose companies like Crunchi and Beautycounter that carefully test for these contaminants and have tested clear of PFAS in consumer-protection studies.
Avoid fabrics that are waterproofed, water resistant, or "Stain resistant." These are likely to have been treated with PFAS. Outdoor gear companies are "racing" to go PFAS free, but the only company that has succeeded so far is Swedish company Fjallraven. Cotopaxi is close.
Wash your hands after using touchscreens. PFAS is on most cell phone screens, tablet screens, and computer screens. So wash your hands before eating!
Consider a Cleanse. Lastly, consider cleansing your liver, reproductive organs, and kidneys as much as possible before conceiving. If you haven't already, check out my 4 week pre-pregnancy cleanse program, The FertiliTox Method.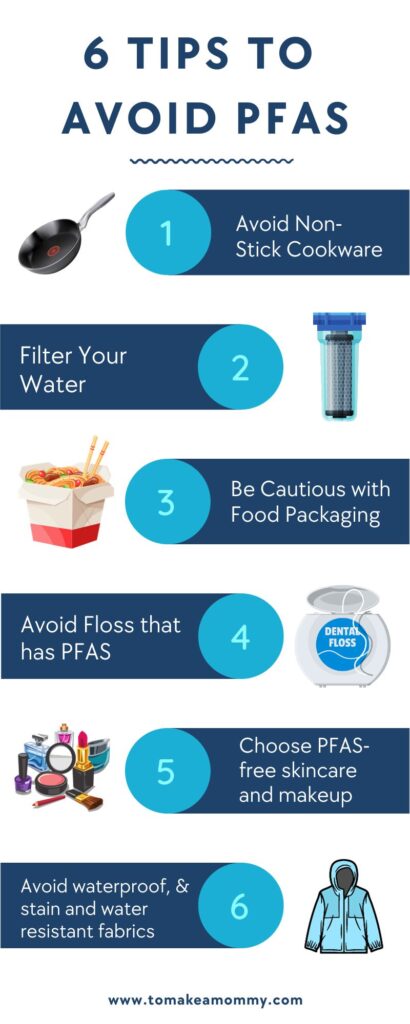 By taking these simple steps, you can help reduce your exposure to PFAS and potentially lower your risk of infertility and other adverse health effects. As more research is conducted on the potential impacts of forever chemicals, it is essential that we take action to protect ourselves and our future generations.
Interested in learning more about toxins and fertility? Consider these posts:
Resources:
Adam Vaughan. (2023, April 6). 'Forever chemicals' linked to infertility in women, finds study. The Guardian. Retrieved from https://www.theguardian.com/environment/2023/apr/06/forever-chemicals-infertility-women-pfas-blood
Mattei, F., Johnson, C., & Tang, L. (2020). Association of per- and polyfluoroalkyl substances (PFAS) with reproductive health outcomes: a systematic review of the epidemiologic evidence. Environment international, 143, 105820. doi: 10.1016/j.envint.2020.105820
Parks, L. (2022, March 21). Forever chemicals linked to female infertility in new study. The Guardian. Retrieved from https://www.theguardian.com/environment/2022/mar/21/forever-chemicals-linked-to-female-infertility-in-new-study
✕
Want to get pregnant fast?
Love lists? Me too. Grab my 79 Things I did to transform my life and get pregnant in less than 3 months after 2 years of infertility and miscarriages! Totally free!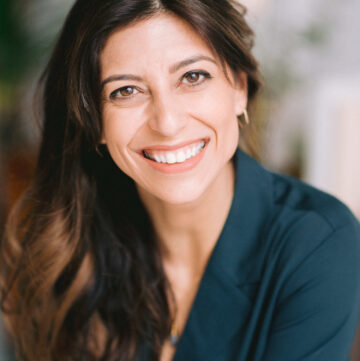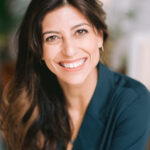 Dr. Jessica Dupont is a Naturopathic Doctor, Birth Doula, mother and plant-based foodie. She maintains a General Family practice with a focus in Hormonal Regulation, Women's Health (PMS, Fibroids, PCOS, Endometriosis, Menopause, etc.), Fertility, & Perinatal Care. Outside of the clinic, she teaches the Naturopathic Doula Course to associate Naturopathic Doctors across North America and the UK, is founder of York Region Naturopathic Doulas, and is the Creator of the noteworthy online fertility program Baby Bloomers. Dr. Jessica integrates conventional medical research with Naturopathic principles and modalities giving you a unique integrative approach to your health to allow the body to restore balance and achieve optimal health.