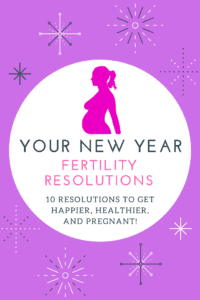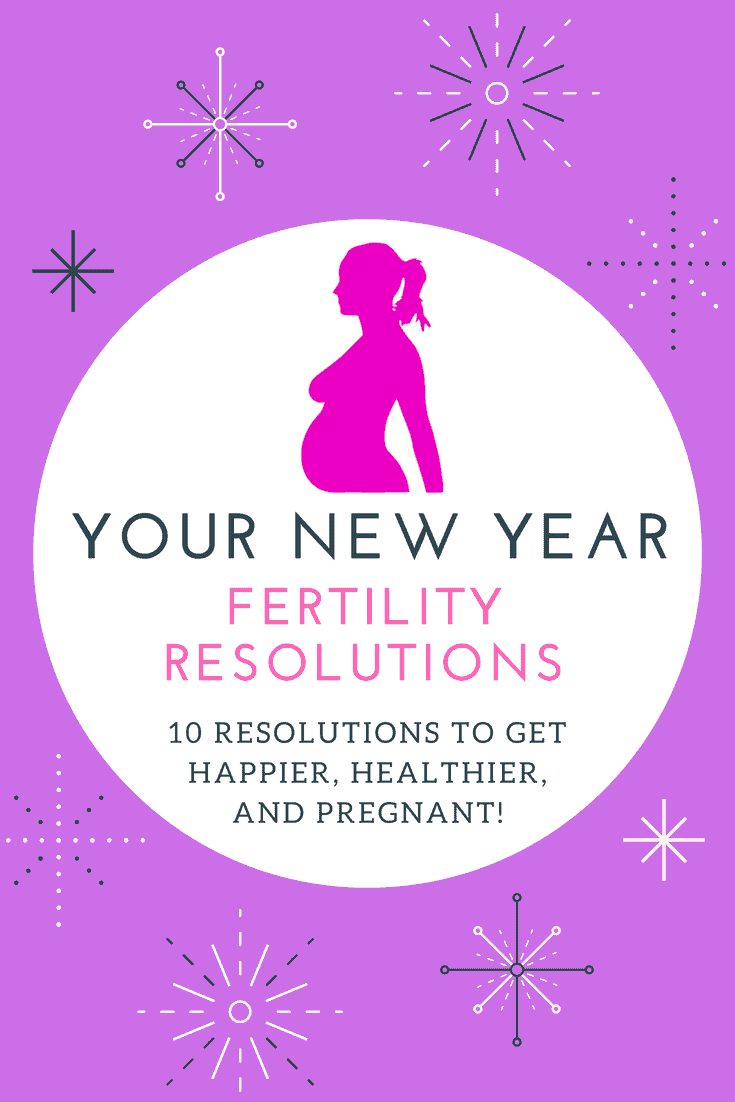 Happy New Year!
What a perfect time of year for making some resolutions to improve your fertility!  Here's the good news- improving your fertility is all about making you HAPPIER and HEALTHIER.  This means that any of these resolutions you make will be part of your path to becoming happier and healthier overall. Why wouldn't you want to make them?  If you can, make ALL of them! If you can't, pick a few and get started!
Go through your house and get rid of anything with the most offensive fertility-harming toxins: BPA, Phthalates, Parabens, Sodium Lauryl Sulfate, Pesticides, Triclosan & Nonstick pans. These are shown to increase the time to pregnancy and icnrease the risk of miscarriage. Read all about the science of each in this overview blog post. See all my posts on this topic here. AND, click here for the list of all my non-toxic favorites!
If you haven't already fully committed to the evidence-backed Fertility Diet that got me pregnant TWICE, then consider committing completely. If you can't, then choose something to give up to increase your fertility- sugar, caffeine, alcohol, dairy, gluten, soy, trans fats, processed foods. You can do it! Don't cheat! Your body will thank you!
If you have already fully committed to the diet. consider upping your game by tracking your macros so you are getting the ideal ratio of protein/fat/carbs for fertility, according to recent research!
Commit to a daily fertility smoothie and have your hubby commit to the daily male fertility smoothie! Make sure you aren't putting fertility harming foods like bananas or raw spinach in your daily smoothie– if you didn't realize these were harmful, read why here!
Create a  fertility mind-body practice, or add something new to your existing one. Get yourself a Circle & Bloom fertility meditation/visualization program, sign up for a Fertile Heart teleconference series, develop a Gratitude Practice, buy yourself the Restoring Fertility Yoga DVD (the best!), overhaul your prayer practice, and above all, commit to visualization/meditation EVERY SINGLE DAY of 2018!!
Commit to regular sex!  Daily sex increases your chances of getting pregnant and if you use it as an excuse to spice things up in the bedroom, you can wind up improving your relationship!
Figure out what activities you can ditch from your schedule. Sometimes we get so busy we don't have time to get pregnant! Take this January as a chance to overhaul your schedule and simplify, simplify, simplify.
Filter your water! I can't emphasize this enough! If you aren't already filtering your water, it is time to start! Read my whole post on WHY this is so important and WHICH filters are great, or just buy the one we use and recommend here!
Commit to 7-8 hours of sleep EVERY NIGHT.  Being overtired increases infertility in men and women. I did this by having my husband hold me accountable and ALWAYS getting ready for bed ONE hour before I needed to be asleep.
Make a fertility plan.  If you are endlessly pursuing one kind of baby-making- natural, IUI, IVF, or other, MAKE A PLAN with your partner that limits the time you spend on each part of your journey, saves you money and emotional pain, and gets you to baby faster. Read my full post on Managing Infertility Like a Boss here and start making your plan!
Already doing all these? Hungry for more? Check out my 79 Things I did to get Happy, Healthy, and Pregnant, to see my full list of lifestyle changes I made to increase my fertility!
Baby dust everyone!!!  Leave a comment and let us know what you are committing to!!