This post has been medically reviewed for accuracy by Dr. Sarah Mathis, D.O.
Male factor infertility is responsible for 40%-50% of all infertility cases, and I often get emails from my readers asking if I can share what male fertility supplements my husband took when we were trying to conceive. Although I was the one in dire shape re: infertility (High FSH, Low AMH, Endometriosis, Low Follicle Count, MTHFR, repeated miscarriage, etc., etc., ugh), my husband was in reasonably good shape. But, when we were trying for our second, his sperm count had dipped, and his sperm motility and morphology weren't looking so good. So we decided to get serious with the male fertility supplements, lifestyle changes, and the male fertility smoothie! Within two months, his numbers had bounced back!
Read my tips on maximizing sperm health here!
Male Infertility is a Huge Problem, and it is Increasing.
Did you know that in up to five out of ten couples having a fertility evaluation, the man will show some degree of infertility, aka sperm issues (Source: Shady Grove Fertility, aka my old haunt)? Add in the fact that we are in a significant male fertility crisis, and we've got a big problem.
What's that? You didn't know about our significant fall in sperm counts in the Western world? Sperm counts fell by 59% between 1973 and 2011, and at this rate, we could reach sperm count ZERO in the Western world by 2045. ZERO. Anyway, it's a pretty big issue. If you want to be terrified, read Dr. Shanna Swan's book, Countdown.
Why is it happening? Well, the doctors hypothesize it's because of the way fertility-damaging toxins like BPA and phthalates are fricking everywhere, and they are the destroyers of sperm. Read here on how to decrease your BPA & Phthalate exposure!
Can You Increase Your Sperm Count Naturally?
Heck yes. There are SO many ways. Read all my posts on male fertility to get the full spectrum of diet, lifestyle, and supplement ideas. Diet and exercise, getting enough sleep, limiting alcohol and smoking, and keeping stress at a minimum are all foundations of overall health and will improve your chances of increasing your sperm count.
And remember, it isn't just the sperm count that matters- it's the motility (and the morphology to some extent). You need live, robust, swimming sperm that are moving toward the egg. The healthier and more robust, the better chances of 1) the sperm actually reaching the egg and 2) the combined sperm and egg making a healthy, sticky embryo that makes it past the first couple weeks of pregnancy. There are tons of great male fertility supplements on the market that aid in sperm count, motility, and morphology.
What Should a Man Avoid When Trying to Conceive?
As helpful as it is to incorporate supplements into your lifestyle to boost your chances of conception, it's also important to know what lifestyle changes to make to optimize male fertility. It's essential to eliminate toxins, revamp your diet to avoid pesticides and junk, limit alcohol and caffeine intake, and stay away from hot tubs or baths, tight-fitting clothing, or smoking. I have a ton of posts on eliminating toxins and one on lifestyle changes for men that can improve sperm quality.
HEY GUYS AND GALS. I am not a doctor. I am not a health practitioner. I'm just a girl trained in research who overcame fertility. PLEASE talk with your doctor, acupuncturist, naturopath, fertility specialist, or other LICENSED health practitioners to help decide what supplements to take.
Are there supplements that can improve sperm count, motility, and morphology?
Yes! There is A TON of scientific evidence to suggest that some supplements may help improve sperm health, aka male fertility. It's almost like they've done a ridiculous amount of studies on sperm health (as opposed to egg health). Things that make you go, hmmmmmm.
A 2019 review analyzed ingredients in male fertility supplements and found that only 17% had a demonstrated and evidence-based positive effect on male fertility.
The supplements with the best-proven effectiveness for improving sperm health were:
CoQ10
Zinc
Vitamin C
Vitamin E
L-Carnitine
There are other male fertility supplements that have been shown to have beneficial impacts on sperm health such as:
Selenium
Lycopene
Folic Acid/Folate
Vitamin D
Several studies have shown that sperm quality issues (i.e. morphology and motility) may be due to higher levels of oxidative stress. This is when free radicals damage the sperm. Antioxidants help manage this process and lower your oxidative stress. No surprise, many of these male fertility supplements are antioxidants- CoQ10, Vitamin E, Vitamin C, Selenium, Lycopene, and Zinc.
A Note on MTHFR
Although folate is a popular topic among prenatals, folate is not limited to female fertility- it's essential for male fertility and sperm quality as well! However, when it comes to taking male fertility supplements that contain folate, there's something called an MTHFR gene mutation, which is linked to both physical and mental health outcomes.
One complication of having an MTHFR gene mutation is that your body may not process folic acid into L-methylfolate efficiently (or at all). The other kicker is that you likely don't know if you even have this mutation. This is something that not everybody knows they have, but 30-40% of the American population may have this mutation. If you can get tested for it, great; if you can't, you may just want to assume you have it and avoid synthetic folic acid altogether.
If you have MTHFR or want to air on the side of caution, seek out folate that comes in the form of the 5-methyl-THF derivative of methylfolate versus synthetic folic acid. People with MTHFR also require a higher dosage to receive the complete benefits- instead of 400-600 mcg, the recommended dose is upped to 600-800 mcg.
Please note that having inflammatory bowel disease (IBS) or celiac disease can affect how your body absorbs folic acid, so talk to your doctor and do further research. Also, note that many processed foods contain synthetic folic acid, so if you're taking it while consuming foods with folic acid, there's a possibility that you're WAY overdoing it. Overdosing on folic acid is linked to immune dysregulation and an increase in cancer instances. As with any personal decisions related to health, be sure to conduct your own research and consult with a medical professional to receive advice that's tailored to your unique situation.
The Best Supplements for Male Fertility and Sperm Health
There are a lot of supplements to choose from when choosing the best male fertility supplements. As a heads up- my husband took CoQ10, Vitamin E, Vitamin C, Folate, Zinc, R-lipoic acid, Selenium, a men's multivitamin, a probiotic, and cod liver oil. I'll share my favorite brands below.
CoQ10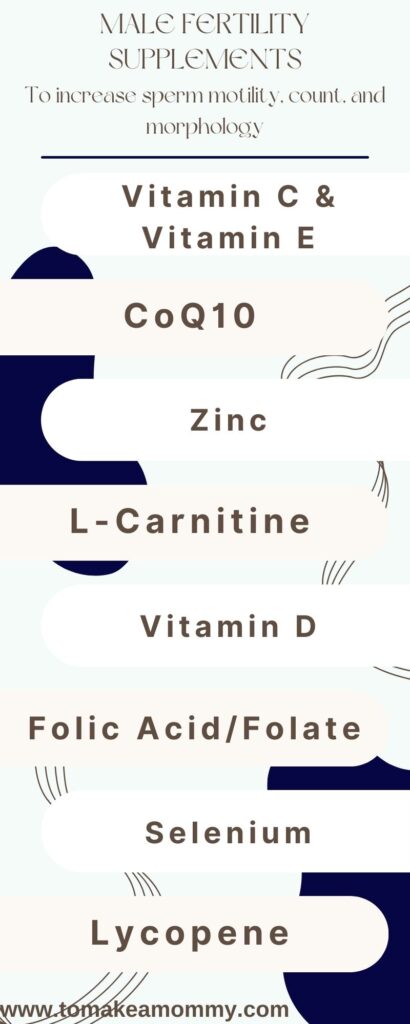 According to studies, the amount of CoQ10 (a pretty amazing natural antioxidant) in seminal fluid is correlated to sperm count and motility. Several studies have shown that supplementing with CoQ10 improves sperm motility, and some have found it improves sperm count as well (meta-analysis->Lafuente, et.al, 2013).
Studies suggest that just 200mg a day can significantly improve sperm count and motility and that there is an even greater improvement with 400 mg/day (Ahmed 2019).
Our favorite CoQ10 is Pharma Nord's Bio-Quinone Gold. It is highly bioavailable (perhaps the best in the world), and has been documented as effective in more than 78 human studies. It is also the CoQ10 used in recent studies on boosting egg health. You can read more about it and COQ10 in my article on improving egg health in age-related infertility.
Vitamin C & Vitamin E
These two antioxidants help protect sperm from oxidative stress and free radicals. Vitamin C is super essential to keeping sperm healthy! Vitamin E protects the sperm's cell membrane from oxidative damage.
We know that Vitamin E improves sperm motility (yay) and that Vitamin C increases sperm count, motility, AND morphology. Vitamin E supplementation has increased IVF success as well.
Zinc
Studies show that an adequate concentration of zinc is essential for sperm function and fertilization. On the other hand, levels of zinc that are too high may become toxic to sperm quality. Like any dietary supplement, just don't overdo it! The recommended dosage is 11 mg a day for men over the age of 19.
L-Carnitine
L-Carnitine, which is derived from amino acid, plays a key role in energy production. Taking L-Carnitine can lead to improved sperm motility and sperm quality.
Vitamin D
Studies have shown links between vitamin D deficiencies and an increased prevalence of testosterone deficiency. Vitamin D has a direct effect on the quality of semen and can aid in improving sperm motility.
Folic Acid/ Folate
Research has associated low seminal folate levels with lower sperm quality and count. Due to the possibility of having an MTHFR mutation (mentioned above), I like to recommend finding folate in the form of 5-methyl-THF versus synthetic folate.
Selenium
Studies have shown that selenium levels are important to an optimally functioning reproductive system. Selenium deficiencies are linked to deteriorated quality of semen and sperm motility.
Lycopene
Lycopene has strong antioxidant properties and can reduce oxidative stress, making sperm less susceptible to oxidative damage. Studies have shown that lycopene aids in reducing sperm DNA damage and improving sperm viability and count.
Other Supplements for Male Fertility
So, while we don't have as robust studies backing these up, there are several other supplements that people may use to boost their sperm health. Here's a quick review.
R-Lipoic Acid
R-lipoic acid is the most bioavailable form of alpha-lipoic acid. Studies have shown that ALA could improve sperm quality by increasing sperm motility rate and reducing sperm DNA damage.
Ashwagandha
Ashwagandha is believed to be an aphrodisiac that can be used to treat male sexual dysfunction and infertility. A study conducted on 46 men with low sperm counts showed a 167% increase in sperm count, a 53% increase in semen volume, and a 57% increase in sperm motility after 90 days of three doses of 65 mg per day.
Probiotics
Probiotics are amazing for so many things- gut health is so intertwined with our general health. In terms of male fertility, research has shown that supplementing with probiotics increases testosterone levels, motility levels, sperm density, and sperm quality. We certainly know that gut health is linked to fertility!
Buy my favorite Probiotic Here!
Cod Liver Oil/ Fish Oil
Healthy fats are essential to a healthy diet. Cod liver and fish oil contain omega-3 fatty acids, which have been linked to sperm morphology, sperm motility, semen volume, and sperm concentration.
Tribulus Terrestris
Tribulus terrestris is known as puncture vine and one study showed that it improved erectile function and libido.
Do Male Fertility Supplements Work?
The short answer is while they're not a definite solution, they can improve your chances of conception. In this day and age, where infertility rates are rising, there are specific measures we can take to protect ourselves and our fertility. Male fertility supplements are a science-backed way to improve sperm count, motility, and morphology to increase fertility. Although it will not guarantee a pregnancy, prioritizing male fertility through supplements is a great way to boost your odds and improve overall sperm health.
Who Should Take Male Fertility Supplements?
In my opinion, ANY man trying to conceive should take male fertility supplements (as long as you've done adequate research and spoken with a medical professional)! Make sure that you consult with a doctor before taking supplements, and keep in mind daily intake recommendations to ensure you aren't overdoing it.
Paired with healthy, fertility-friendly lifestyle choices, supplements can be a fantastic tool in boosting fertility and chances of conception. As long as you are thoroughly doing your research before beginning any supplements, I would recommend incorporating them into your daily routine if you're trying to conceive!
Best Male Fertility Supplements
Here is my list of what are, in my opinion, the best male fertility supplements in 2023 based on fertility, sperm count, sperm motility, and sperm morphology. When choosing a supplement, I look for a product that has adequate levels of beneficial nutrients without any of the extra additives.
What Supplements Increase Male Fertility?
Supplements that increase male fertility aid in sperm motility, count, and morphology. This list covers supplements that address each of those concerns. I am pro/conning each one based on: how many times you have to take it per day, cost, ingredients, and if they're third-party tested for harmful additives like plasticizers or heavy metals. These are not FDA-approved male fertility supplements (the FDA doesn't approve dietary supplements!), however, they're science-backed products that check all of my boxes. These are some of the best supplements on the market to increase male fertility!
What Male Fertility Supplements Improve Sperm Count?
The best male fertility supplements for improving sperm count are CoQ10, vitamin C, folate, lycopene, and ashwagandha. Below are some great male fertility supplements that support overall sperm health but are extra great for boosting sperm count. Here are the details on each supplement:
What Male Fertility Supplements Improve Sperm Motility?
The best male fertility supplements to improve sperm motility are CoQ10, vitamin E, vitamin C, L-Carnitine, vitamin D, selenium, R-lipoic acid, ashwagandha, probiotics, and fish oil. These male fertility supplements are packed with ingredients to improve sperm motility and increase sperm health:
Thorne R-Lipoic Acid– R-lipoic acid is shown to increase sperm motility rates and reduce sperm DNA damage. Pros: The serving size is one capsule, which is super easy. For a 60-day supply, it costs $45 for a bottle. Thorne practices four rounds of testing on their supplements, and their manufacturing facility is third-party certified. Cons: This doesn't contain any other fertility-boosting ingredients besides R-lipoic acid, so it's a good idea to seek out additional supplements.
Pharma Nord Bio-Quinone Gold– Pros: This supplement is great for both sperm count and sperm motility. A 60-day supply costs $45, which isn't crazy expensive, and the serving size is only one soft gel. It's third-party tested, highly bioavailable, and science-backed, which I appreciate. Cons: Since this is only CoQ10, it's missing some other key male fertility ingredients that you'll want to supplement with otherwise.
Fairhaven Health MotilityBoost for Men– This supplement is specifically formulated for boosting motility. Pros: Made with L-Carnitine, CoQ10, vitamin B12, and B6, these vitamins are pretty budget-friendly at $21. They're easy to take since they're 2-a-day capsules. They're third-party tested as well. Cons: My only complaint is that this doesn't include selenium, lipoic acid, or vitamin D!
What Male Fertility Supplements Improve Sperm Morphology?
In addition to the supplements listed in this post that improve sperm health and can improve sperm morphology, you'll want to make sure you add an extra Omega-3 to REALLY boost morphology. (Make sure you're not JUST taking Omega-3!)
I listed below a great Omega-3 supplement, followed by a few great fertility supplements that help deliver some of the other important ingredients for overall sperm count, motility, and health.
Nordic Naturals Omega-3– In addition to taking a multivitamin (any of the ones on this page will be good!), if you struggle with low morphology, you're going to want to make sure you're getting sufficient Omega-3s through fish oil or cod liver oil. Nordic Naturals is my favorite.
Fairhaven Health FertilAid– This is a great male fertility supplement to take in addition to Omega-3. They contain lots of great nutrients like vitamins A, C, D, E, K, B6, B12, L-5-MTHF, zinc, selenium, and L-Carnitine. Pros: At $31 for a 90-day supply, these are on the more affordable side. The serving size is three capsules a day, and they're third-party tested and aid in overall sperm health and fertility. Cons: This would be better if it included CoQ10!
Beli Vitality for Men– This multivitamin is made to strengthen sperm and improve sperm count. It also includes ingredients that support sperm motility and sperm morphology. Pros: It's third-party tested and was awarded the Clean Label Purity Award. It has ingredients like vitamin C, D3, E, B6, B12, folate, zinc, selenium, L-Carnitine, and CoQ10. The serving size is two capsules per day, so it's easy to take. The folate comes in the form of L-5-MTHF-Ca, so you don't have to worry about synthetic folic acid. Cons: At $50, they're a little pricier. The levels of folate are high on this supplement- I would speak with a doctor before taking it. 
Best Sperm Supplements
The best sperm supplements for male fertility improve sperm motility, morphology, and count. These vitamins to boost sperm are, in my opinion, the gold standard of male fertility supplements. Here's a detailed list of the best male fertility supplements:
How long does it take for male fertility supplements to work?
Typically it will take at least two to three months to see benefits from male fertility supplements– so consider taking them a few months before trying to conceive. The male body is constantly making new sperm, but it takes about 74 days to create new sperm from beginning to end. There's no guarantee that male fertility supplements will work for everyone- I'm sorry, I know that's not the answer you want to hear! However, there is a ton of science-backed evidence to support that fertility supplements will significantly boost your odds.
How can a man tell if he is fertile?
The best way to know if you are fertile is to have a complete sperm analysis done by a doctor. You'll be asked to provide a semen sample- sometimes this can be done at home, and sometimes it is done at the doctor's office in a private room. If you have a suspicion that you're not fertile, testing your sperm quality is a good starting point to figure out your next steps. There ARE at-home tests for sperm, but to get a complete analysis, you'll need to see a doctor.
When should a man see a doctor for male fertility?
If you haven't conceived within one year of trying, it may be a good idea to consult with a doctor and see what your options look like. Getting tested for fertility is a great option to provide insight into your sperm health and fertility levels. Knowledge is power! From there, you can decide what your next steps will be. If you're still actively trying, your best bet to conceive naturally is to make lifestyle changes that support fertility.
I hope that these male fertility supplements have been helpful! To learn more about male fertility, check out my 10 tips for maximizing sperm health and male fertility.
As always, consult with a medical professional before taking any vitamins or supplements to make sure it's the right fit for you.
✕
Want to get pregnant fast?
Love lists? Me too. Grab my 79 Things I did to transform my life and get pregnant in less than 3 months after 2 years of infertility and miscarriages! Totally free!

When Anna Rapp was struggling with infertility and recurrent early miscarriage, she was diagnosed with diminished ovarian reserve, High FSH, low AMH, low follicle count, endometriosis, and an MTHFR mutation. Despite being told donor eggs were her only solution, Anna used her graduate training in research methods and analysis to read everything she could find on fertility and egg health. Ultimately, she lowered her FSH and got pregnant naturally (twice). She blogs about how she did it and encourages her readers to take charge of their fertility journey and get happy, healthy, and pregnant!