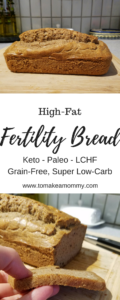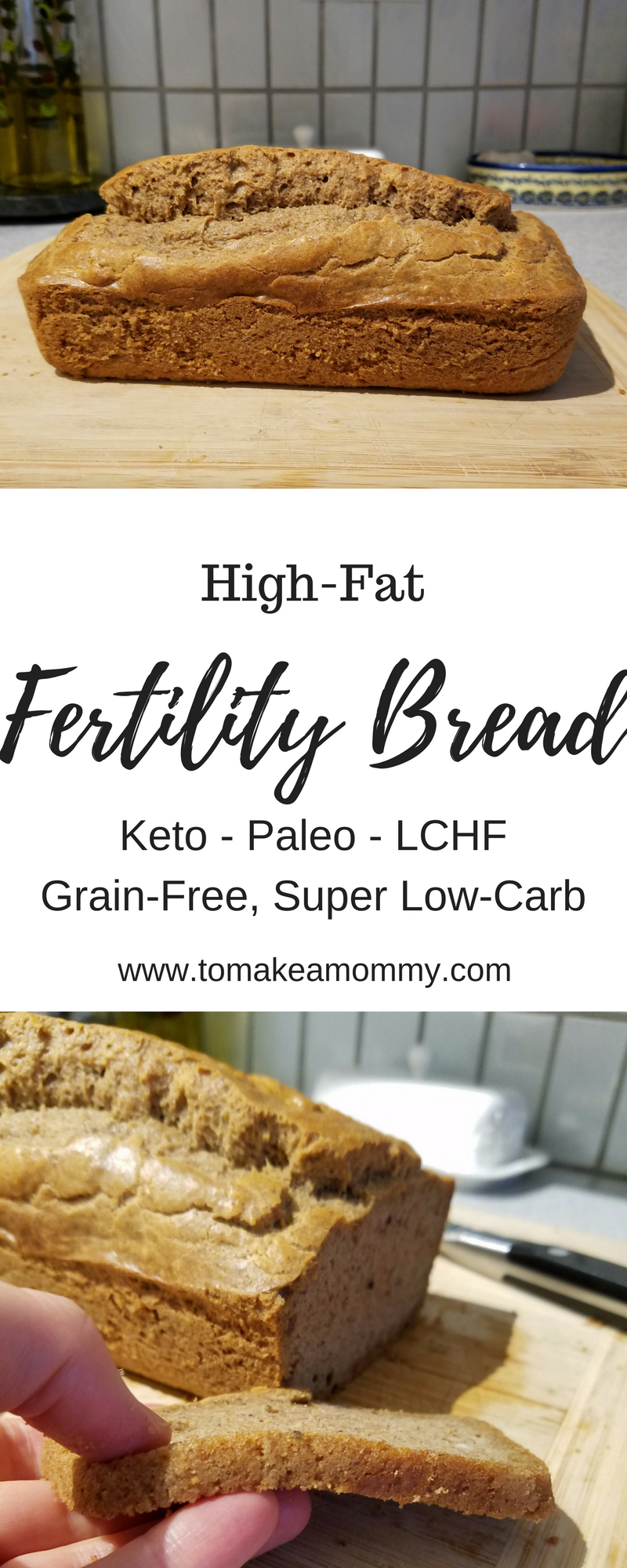 *This post contains affiliate links which at no cost to you provide me with some small change to help keep this blog running! If you decide to buy something I recommend, please consider clicking through one of my links to help support this blog and my family!  Thank you!
This is the first in a series of posts on Fertility Diet Friendly Recipes.  Most of these recipes are also Keto, Whole 30, Paleo, Auto-Immune Protocol and Clean Eating Friendly!  All recipes are gluten-free, dairy-free, sugar-free, and free of all harmful and toxic ingredients.
**Whole30 Note: Although this bread is compliant with the ingredients of Whole30, Whole30 requires that for the first 30 days you don't bake anything with compliant ingredients. It is something about the psychological aspect of the program. So, if you're in your first 30 days, don't let me be the one who gets you in trouble!
This High-Fat bread is a saving grace when you are on a gluten free diet but need a heavy hitting breakfast that is pre-prepared. It adheres to these diets: Keto, LCHF, Paleo, Banting, and Clean-Eating.
Whether you have it for a to-go breakfast or have it as an afternoon snack it is a great way to make sure you are getting your organic pasture raised eggs every day, even when you don't have time to scramble them up in the morning!
This is also a very, very, simple bread to make  It packs a punch with each slice having  a solid 261 calories per serving.  Although you can use it for sandwiches, burgers, etc., there are so many calories in a single slice that I prefer it as a stand-alone.  When I've tried to eat it with other meals I am too full to eat anything else.
When I have this for a to-go breakfast,  I follow up within an hour or 2 with a fertility smoothie packed with berries, greens, and more proteins and fats, so its easy to make it until lunch.
It looks beautiful, and slices even better. Personally, I think it tastes like chocolate cake, but that is probably because I've been off of sugar for months and months!
To be clear, this recipe is not my own, I did not make it up!  It is slightly altered from recipes I found at two blogs- Free the Animal and Cooking Caveman.  They both did the heavy lifting of finding ingredients that worked.
Each slice has about 24g of fat, 8 grams of protein, and 8 grams of carbs.  So although this is part of my series on hitting your daily fertility macronutrient ratio goal of at least 35% protein and less than 40% carbs, you need to make sure you get plenty of other sources of protein throughout your day!
You can also make this recipe with ALL almond (or other nut) butter and nix the coconut butter.  It ups the protein and lowers the fat a bit.
This recipe is also filled with foods very beneficial for fertility. Almonds are packed with protein, healthy fats (including Omega 3s), Vitamin E, and amino acids.  Coconut butter is packed with medium-chain triglyceride fatty acids that can help balance your blood sugar, manage your thyroid, up your weight loss, and help you get pregnant.
Organic, pasture raised eggs are one of the best fertility foods out there. They have high-quality protein, fats, vitamins, and minerals.  When you buy organic and pasture raised you are also getting eggs packed with much needed omega-3 fatty acids.  Enjoy without regret!
UPDATE: My readers have been experimenting with this recipe and have found success with all sorts of fun ingredients including: berries, orange or lemon zest, ground flax (pre-ovulation only for seed cycling), goji berries, sliced almonds, and more.
Additionally, some have made these into muffins. They cook for just 15 minutes in regular size muffin tins.
Recipe:
Method:
Blend the coconut butter, almond butter and eggs until smooth.  Add in other ingredients.  Grease a non-toxic 8.25 x 4.5 loaf pan (we use glass) with coconut oil, and pour ingredients in.  Bake at 350 for 30- 45 minutes Eat after it has cooled.  Keep in the fridge- it stays good for a week!  Enjoy!
High-Fat Keto Fertility Bread
Recipe type:
Gluten Free Bread
Cuisine:
Keto, Paleo, Whole 30, Clean
Prep time:
Cook time:
Total time:
A delicious gluten-free, dairy-free, grain-free, sugar-free bread that provides a nice high-fat punch!
Ingredients
5 organic, pasture raised eggs
¾ cup organic coconut butter
¾ cup organic, unsweetened almond butter
1½ Tbsp Braggs Apple Cider Vinegar
¾ Tsp Baking Soda
¼ Tsp Sea Salt
Instructions
Blend the coconut butter, almond butter and eggs until smooth.
Add in the other ingredients and blend.
Grease a loaf pan with coconut oil.
Pour ingredients in.
Bake at 350 for 30-45 minutes.
Let Cool.
Notes
Keep in the fridge- lasts for over a week!
Nutritional Information
Serving size:
1 slice
Calories:
269
Fat:
25
Saturated fat:
11
Unsaturated fat:
9
Trans fat:
0
Carbohydrates:
9
Sugar:
2
Sodium:
194
Fiber:
4
Protein:
7
Cholesterol:
93