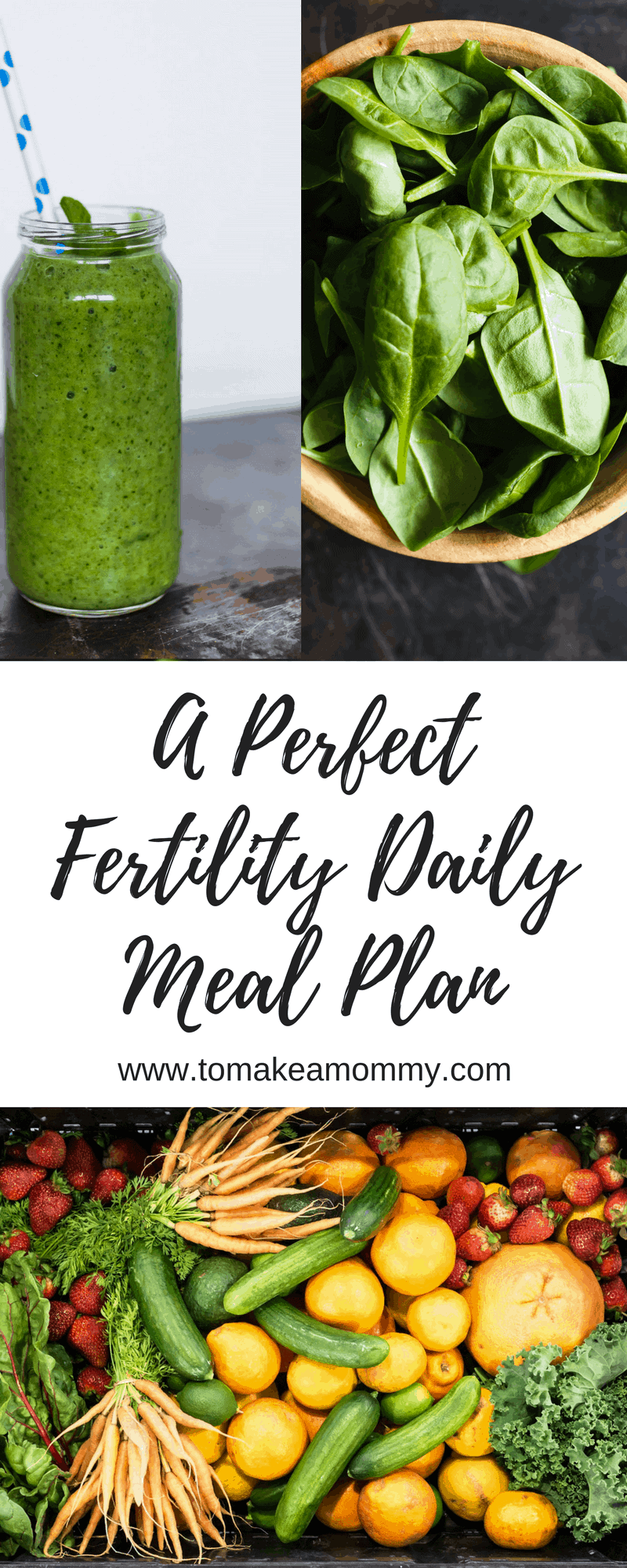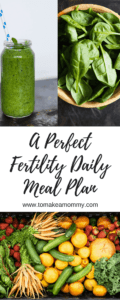 The absolutely number one question I get asked is- okay, but WHAT do you eat?  I'm committing right now to developing a week or maybe a month of recipes and meal plans, but for now I want to share what just ONE day looks like in the Fertility Diet that helped me get pregnant!.  
Concurrent with this post I am launching a new Fertility-Friendly Recipe Series on the Blog featuring the recipes in this post, and that will be in my more extensive meal plans.   Meals will be gluten-free, dairy-free, sugar-free, and most will comply with Keto, Paleo, and Whole 30 Diets.  All are what I consider to be "clean eating recipes."
About the Fertility Diet
This daily meal plan meets all the criteria I used to get pregnant with my first miracle baby (read about everything else I did here), adheres to the fertility recommendations of the Harvard Nurses Study (except it eliminates dairy), and meets the new macro nutrient ratios  (carbs/protein/fats) that research shows QUADRUPLES the pregnancy rate.  Read more about the fertility diet here, and about the research on macro nutrient ratios here.  Of course, I'm also a firm believer that every woman should TAILOR the fertility diet to her needs and diagnoses. Click here to get my free e-book on how to do just that- tailor the fertility diet to be perfect for YOU!
Quick overview of the diet:
Absolutely no: Caffeine, Alcohol, Sugar, Sweeteners (natural or artificial), high-sugar fruits (like bananas), Soy, White/Simple carbs (pasta, white bread, white rice), Trans Fats. It also includes no raw veggies that are harmful to you or can exacerbate a Chinese Medicine Diagnosis of Cold uterus.  It also includes no gluten, although when I got pregnant with my miracle baby I was including some organic whole wheat.  As I am trying for number 2 however, I have eliminated it.
Plenty of organic: leafy greens, green & white veggies, organic + free range eggs, legumes, berries, seaweeds, healthy fats (avocado, olives, olive oil, nuts seeds), filtered water.
Limited amounts of organic: whole grains (brown rice, quinoa, millet, etc.), meat, fish, other fruits, orange vegetables (sweet potatoes, carrots, squashes)
Supplement with super foods tailored to your diagnosis.  For me that is wheatgrass and spirulina in a Fertility Smoothie.
This meal plan doesn't include actual vitamins/supplements.  Please click here for my overview on supplements!  Just remember, nourish first with food, tweak to ideal health with supplements.
A note on meat:  So when I got pregnant the first time I was focused on a more macrobiotic approach, and I didn't limit grains like brown rice or quinoa, and I did limit meat.  This was because of research from the Harvard Nurses Study that showed increased ovulatory fertility with less meat in the diet and because research shows red meat is linked to higher rates of endometriosis.  Since that time however, I have learned new things:
1- All those studies were based on women eating regular non-organic, hormone-laden red meat.
2- You really need to keep your carbs under 40% of your total diet to maximize egg and embryo quality, and that is hard to do with unlimited brown rice and quino!
3- You really need a lot of protein and fat in your diet.
So, my new meal plans tend to have a bit more meat and bit less whole grains.  Also, please note that I have a vast array of seafood-related allergies that prevent me from being able to avoid things like Salmon.  If you can enjoy seafood, be sure to include fresh-caught Salmon in your meals (not farm-raised).
This Daily Plan
I'm assuming this is a to-go day, i.e., a day where you work and you need breakfast and lunch ready to go, and a simple dinner.  When I do the longer meal plans I'll include more exciting meals that take longer to cook (like an omelet and sausage for Sunday breakfast!).
This one meal plan ensures that you hit your 35% protein macronutrient ratio, and keep your carbs under 40%.   I'm not going to lie.  It is really, really, really hard to keep your protein over 35%.  Like, super hard.  It is, however, easy to keep your carbs under 40%.  As I began tracking my meals I realized that I was eating way more Keto than I imagined.  Without effort my days come out around 25% protein, 10% carbs, and 65% fat.  Which, actually, is pretty darn good for fertility given what evidence we have.  And the research recommending the 35% protein didn't have a good control to test to see if it was really the higher protein or if the same results would have happened with higher fat.
So in general I'd say- try to keep your carbs well under 40% each day, and don't sweat the rest too much.  Make sure you are getting at least 25% protein, or if you feel great eating meat, pump it up to 35%!
This daily plan is super low-carb.  Feel free to add in some brown rice if you feel you aren't full enough.  I stay very full on this kind of a diet.
Enjoy!  Look for the longer package coming soon!
Sample Daily Meal Plan for Fertility Diet: MACROS: 12% Carbs, 53% Fat, 35% Protein
Breakfast to-go
1 slice High Fat Fertility bread (the version made with all almond butter)
2 Brazil Nuts (you and hubby should be eating 2 a day each for fertility!)
Morning Snack 
Fertility Smoothie tailored to YOUR needs
I make mine at home and bring to work in a mason jar or in Nutribullet cup
For this day's calculations I used the exact recipe in the fertility smoothie post with steamed kale as the green and blueberries as the berry.
Lunch (eat as soon as you get hungry)
2 hard boiled eggs with some sugar-free mustard (best way to hard boil eggs- put the eggs in the water, heat to boiling, when it boils, turn burner off, set timer for 12 minutes.  At 12 minutes, take eggs out and plunge into icy water)
Sauteed Spinach and garlic (sauteed in virgin cold pressed organic coconut oil)
2 Clean Eating Turkey Muffins – at some point I will post my own edited version of this recipe.  I do whole eggs, and sometimes substitute blanched almond flour (find an organic option at your local health food store if you can) for the oats. If you are gluten free, remember to get gluten-free oats.
Early Afternoon Snack
Mug of Bone Broth (est. 1.5 cups)
Late Afternoon Snack
Dinner
1 Large Fertility Romaine Salad- I made it just like in the recipe, except I skipped the goji berries, did 7 olives, and no additional nuts or seeds.  Top it with chicken made from your weekly InstantPot whole chicken prep!
Full day: 
Total Calories: 1,944  Total Carbs: 63  Total Fat: 119   Total Protein: 172
MACROS: 12% Carbs, 53% Fat, 35% Protein
Phew!!  That was a lot of work!!
Enjoy, and may the protein-fat-carb ratios be with you!!
Are you ready to discover YOUR perfect fertility diet?
Tired of all the conflicting fertility diet information? It is up to YOU to take control of your fertility journey and do the research to figure out YOUR perfect fertility diet. I've developed this free e-book as a guide to jumpstart the process. It includes tailored diet information for many infertility diagnoses, such as PCOS, Endometriosis, Anovulation, Luteal Phase Defect, Thyroid Problems, Fibroids, Unexplained Infertility, and more! It is completely free to download! Enjoy!
✕
Want to get pregnant fast?
Love lists? Me too. Grab my 79 Things I did to transform my life and get pregnant in less than 3 months after 2 years of infertility and miscarriages! Totally free!

When Anna Rapp was struggling with infertility and recurrent early miscarriage, she was diagnosed with diminished ovarian reserve, High FSH, low AMH, low follicle count, endometriosis, and an MTHFR mutation. Despite being told donor eggs were her only solution, Anna used her graduate training in research methods and analysis to read everything she could find on fertility and egg health. Ultimately, she lowered her FSH and got pregnant naturally (twice). She blogs about how she did it and encourages her readers to take charge of their fertility journey and get happy, healthy, and pregnant!