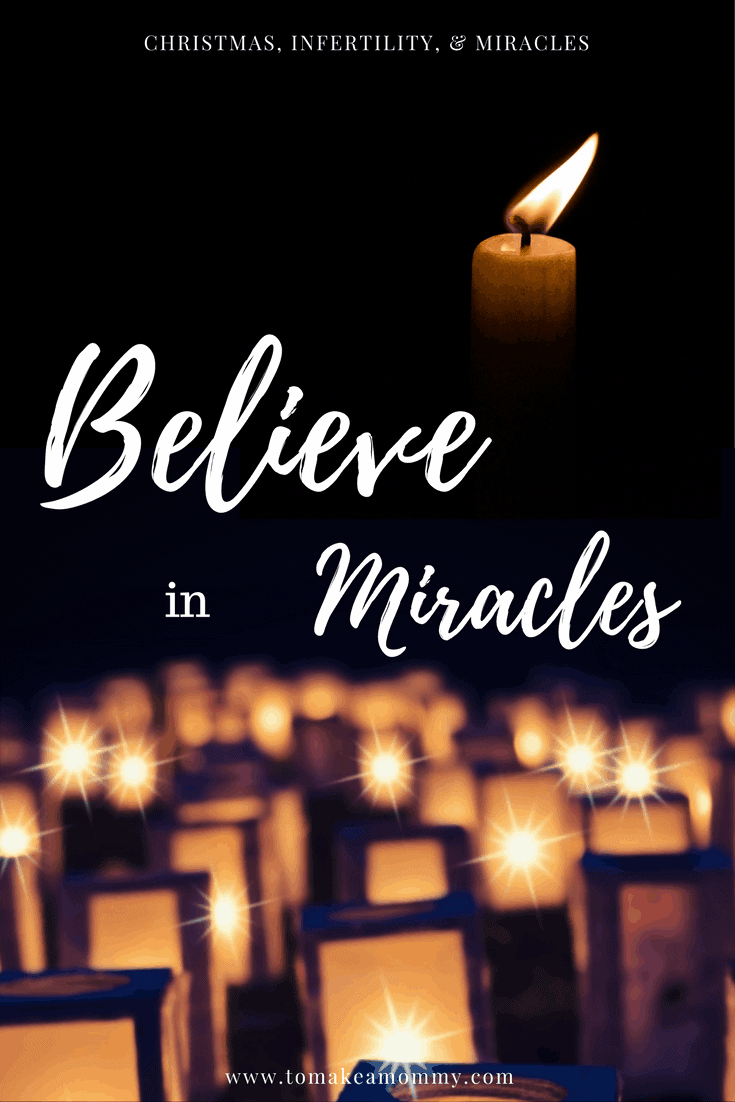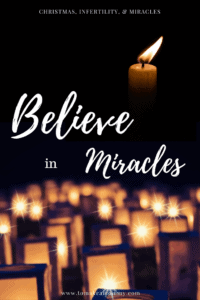 Christmas is a time for miracles.  So what better time of the year is there for you to start believing in your own miracle?  
For a long time I didn't fully embrace my longing for a miracle. We had been trying to conceive for years, and I was miserable after the doctors told me I'd never have children with my own eggs. Yes, I wanted a child of my own. But I always held loosely to that desire, even before my diagnosis. Why?  
Because I was afraid if I clung to it too tightly I would be too disappointed.  
So I would say things to myself like, "Well I really, really hope we are able to have a baby naturally, but if not, there are many options, and we'll do them, and adoption would always be okay."  And, yes we would have done them, and yes, adoption would have been okay. But, I was lying to myself about my deepest desires.
Inside, I knew what I wanted.
I wanted a miracle. I wanted an honest to goodness natural God-given MIRACLE. I didn't care that the doctors told me I'd never have a baby with my own eggs.  I wanted desperately to have a baby naturally- conceived the old fashioned way.  Some kind of weird mix of old school Catholicism, old earth-based spirituality, and a connection to my ancestors made me feel this way. That's a story for a different blog post.
So, I changed the way I thought about it.  Instead of constantly hedging my desires, I decided to fully embrace it, and shout it to the rooftops.
I WANT MY OWN BABY.
I WANT MY OWN BABY WITH MY EGGS.
I WANT TO GROW MY OWN BABY IN MY BODY.
I WANT TO CONCEIVE NATURALLY.
I was open to all the other avenues to have a baby- but I started asking God/ the Universe for exactly what I wanted.  
I also prayed for it.  I stopped praying for a general, "please let us have children," and instead prayed, "please heal my body and my eggs so that I might conceive a child naturally and have a healthy pregnancy."
I started envisioning it.  I would imagine our life with our baby.  I started dreaming about decorating the nursery.  I started trying to rearrange my life to make myself more available for the pregnancy.  
I cut back on extra activities; I spent more time nourishing myself and snuggling with my husband and cat.  I switched to a job that had less travel. I stopped buying new clothing because any minute I'd be pregnant and they wouldn't fit.
These were all things I hadn't let myself do before- because I hadn't wanted to make changes and then FAIL. I didn't want to completely overhaul my life and NOT have a baby.  I was worried I'd be embarrassed. I was worried I'd feel like a failure.  I was worried that wanting it SO much and changing my life for it, and then NOT having a baby would hurt worse than where I was.
But you know what? It already hurt. I was already grieving. I was already very, very sad. I was depressed and I was anxious. And I already really, really wanted- I just couldn't admit it to myself.
So I decided to try believing in miracles. I decided to try asking for exactly what I wanted. I decided to completely overhaul my life and do EVERYTHING I possibly could to meet God halfway for my miracle. To SHOW UP for my miracle.
And, miraculously, it worked.
(You can read my full story here.)
(And you can download the list of everything I did here!)
It worked, I got pregnant, and I have a gorgeous 3.5 year old miracle. 
And then, it worked again. I now have a gorgeous 8 month old baby as well.
Despite the doctors saying it wouldn't happen, I got pregnant, and with my own eggs – twice.
That doesn't mean it will happen for everyone. It doesn't mean that everyone's miracle shows up the way they want it to. And it doesn't mean that the miracle YOU want is the same as what I wanted.
And sometimes God/ the Universe has alternative plans for us.
Other miracles.  
But that doesn't mean you shouldn't want your miracle.
ASK for it. Tell God and the Universe EXACTLY what you want. Put it out there.
And then- SHOW UP! Show up EVERY SINGLE DAY. Meet God halfway for your miracle. He has led you to so many different ways to make yourself healthier, happier, and more fertile. Don't ignore those messages. They are from Him. They are from the higher You. They are your path to your baby.
Commit to the diet and don't cheat. Get rid of all the toxins. Do the daily mind-body self care. DO IT ALL.  
Maybe YOU will make your miracle through hard work. And maybe you'll discover some other miracles along the way- health, happiness, connections to your spouse, or learning how to eat well. I know I found some serious other miracles along the way.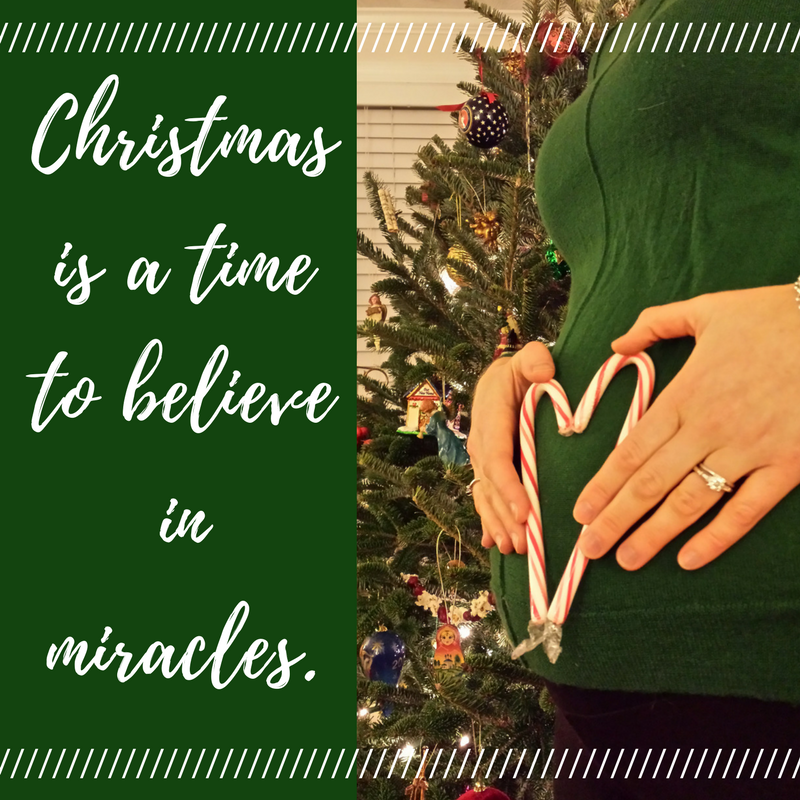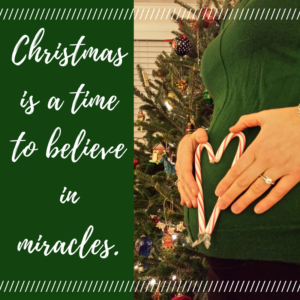 So this Christmas, my wish for you dear reader, is to believe in miracles.  If my blog didn't do it for you, watch a couple Hallmark holiday movies. Because Christmas is a time to believe. A time to hope. And in just a week it will be a New Year- a time to make your new resolution to show up for your Miracle. To ask for it, to be open to alterations, and to work your butt off for it.
Merry Christmas, everyone!
The 79 Things!
Want to know how I got happy, healthy, and pregnant in less than 3 months after 2 years of infertility and miscarriages?
You need my list of the 79 diet and lifestyle changes I made that transformed my life and brought my miracle baby to me!
✕
Want to get pregnant fast?
Love lists? Me too. Grab my 79 Things I did to transform my life and get pregnant in less than 3 months after 2 years of infertility and miscarriages! Totally free!

Anna Rapp is a fertility journalist and non-toxic living expert. When Anna Rapp was struggling with infertility and recurrent early miscarriage, she was diagnosed with diminished ovarian reserve, High FSH, low AMH, low follicle count, endometriosis, and an MTHFR mutation. Despite being told donor eggs were her only solution, Anna used her graduate training in research methods and analysis to read everything she could find on fertility and egg health. Ultimately, she lowered her FSH and got pregnant naturally (twice). She blogs about how she did it and encourages her readers to take charge of their fertility journey and get happy, healthy, and pregnant!