St. Anthony of Padua is the Patron Saint of Lost Objects, and is best known for being a friend of the baby Jesus and for helping people find lost objects. There is a very powerful prayer to St. Anthony to Find Lost Things!
Saint Anthony is also the patron saint of pregnant women, and barren women, and for that reason, you may want to pray to him when struggling to conceive a baby. So whether you have just started your fertility journey, or you are looking for a miracle during infertility, consider turning to St. Anthony for intercession!
In this blog post I am going to talk about St. Anthony and ways to pray with him! I will also share an original prayer for becoming pregnant and finding your miracle baby to him that I wrote, and several traditional prayers to him.
Read here my blog post on all the patron saints of infertility and TTC!
Check out my list of Fertility Prayers for Catholics!
Saint Anthony of Padua

, Patron Saint of Lost Items

St. Anthony was born and raised in a well-to-do family in Lisbon, but gave up wealth and power in order to join the Augustinian order in Lisbon when he was a young man. Later he was inspired by the Franciscan martyrs and joined the Franciscan Order in the hopes of traveling and preaching the gospel. Instead he became ill and went to Italy where he spent his time praying and reading the Scriptures.

St. Anthony's big break came when no one was prepared to give the sermon at an ordination. St. Anthony's spontaneous sermon was spirit-filled. From then on he became known as a friar devoted to prayer and the Scriptures. He became the first friar to teach theology to other friars. He finally was able to travel, preach, and convert believers as he had always wished.
Because his life changed directions many times he is thought to be a patron for those who find themselves at a major crossroads or who have had a major change thrust upon them and are heading in a new and unexpected direction. Thus, he is a good patron for those of us suddenly overwhelmed by a new diagnosis of infertility. He is also an example of someone so devout he easily turned over his life and trust to God. He is someone to pray with when you are struggling to turn your trust and life over to God!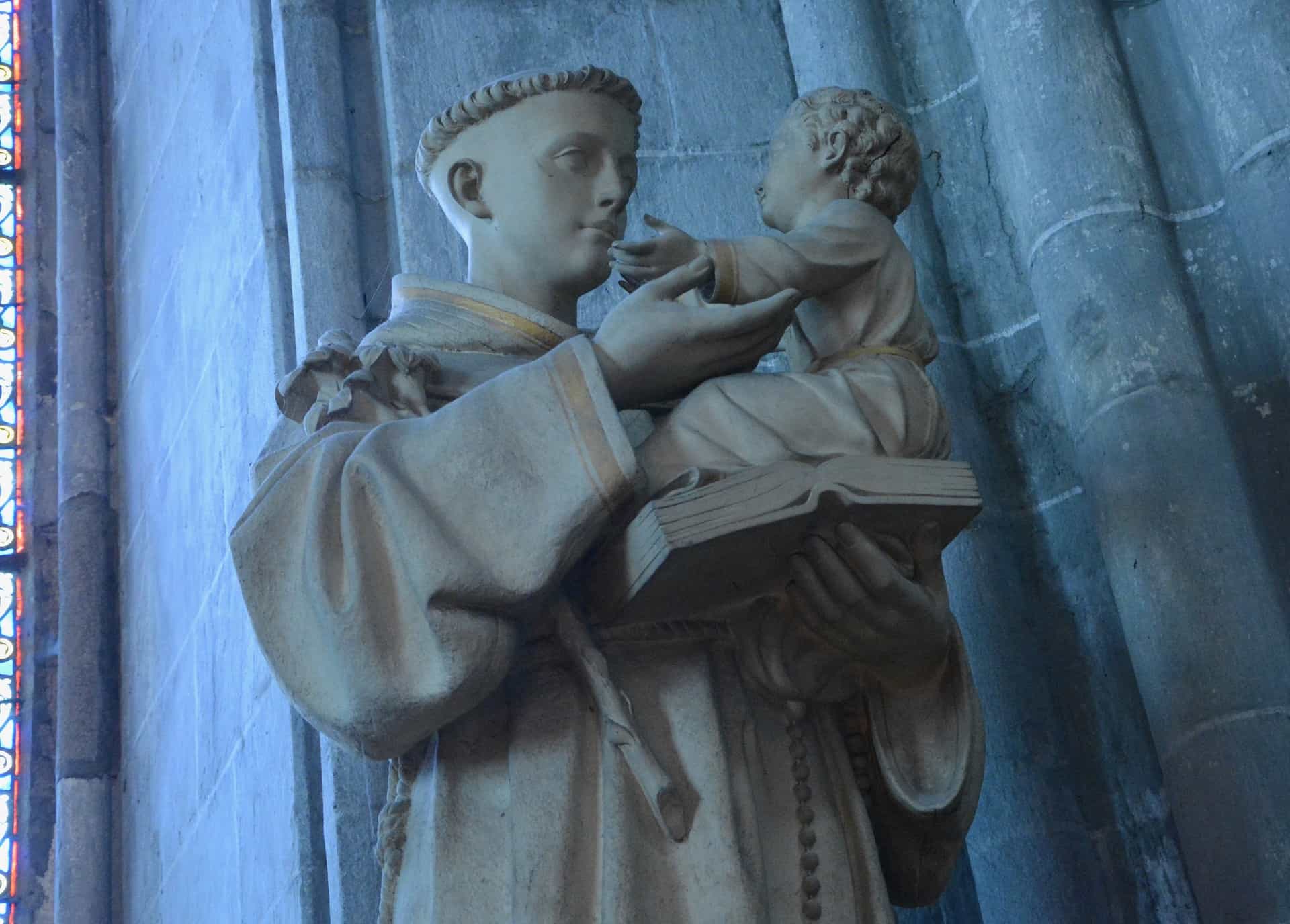 Saint Anthony, Patron Saint of Barren Women
Among many other things he has become the patron saint to pray to against barrenness, and for pregnant women. Some speculate this is because he is often shown in art holding the baby Jesus. Others speculate it is because he is the finder of lost things- and so he can help you find your baby (or your fertility). I can't find any definitive stories explaining this connection. BUT, I do believe St. Anthony to be a powerful advocate in heaven for those of us on Earth, so he is worth praying to!
My Story of Prayer to St. Anthony
It was years before I was trying to conceive that I lost my great-grandmother's diamond. It had been her engagement ring, and my mother had it turned into a single diamond necklace for me as a graduation gift. I lost it and was very upset- I felt I had disappointed my great grandmother! I looked up a prayer to St. Anthony to find lost things. I prayed it fervently and then closed my eyes and prayed/meditated for almost thirty minutes. When I opened my eyes I saw something sparkle (I AM NOT MAKING THIS UP). Right on the floor, maybe 3 feet in front of me was the necklace. It was laid out perfectly as if it was in a jewelry box. I was amazed!! (Side note: my father suggested the cat had come by while I prayed and found the necklace, played with it, and dropped it there. Okay, maybe, but obviously the cat was led by St. Anthony!!)
I only prayed to St. Anthony while trying to conceive as part of a larger personal litany to many saints (I promise to publish that in a later blog!). But many have prayed to him successfully while trying to conceive, and if his story connects or resonates with you, I suggest trying to pray with him. He is also a saint to pray to during a difficult pregnancy for a safe delivery of a healthy baby.
Read here for my story of my first miracle pregnancy and here for my second miracle pregnancy.
*This post contains affiliate links which at no cost to you provide me with some small change to help keep this blog running! If you decide to buy something I recommend, please consider clicking through one of my links to help support this blog and my family! Thank you!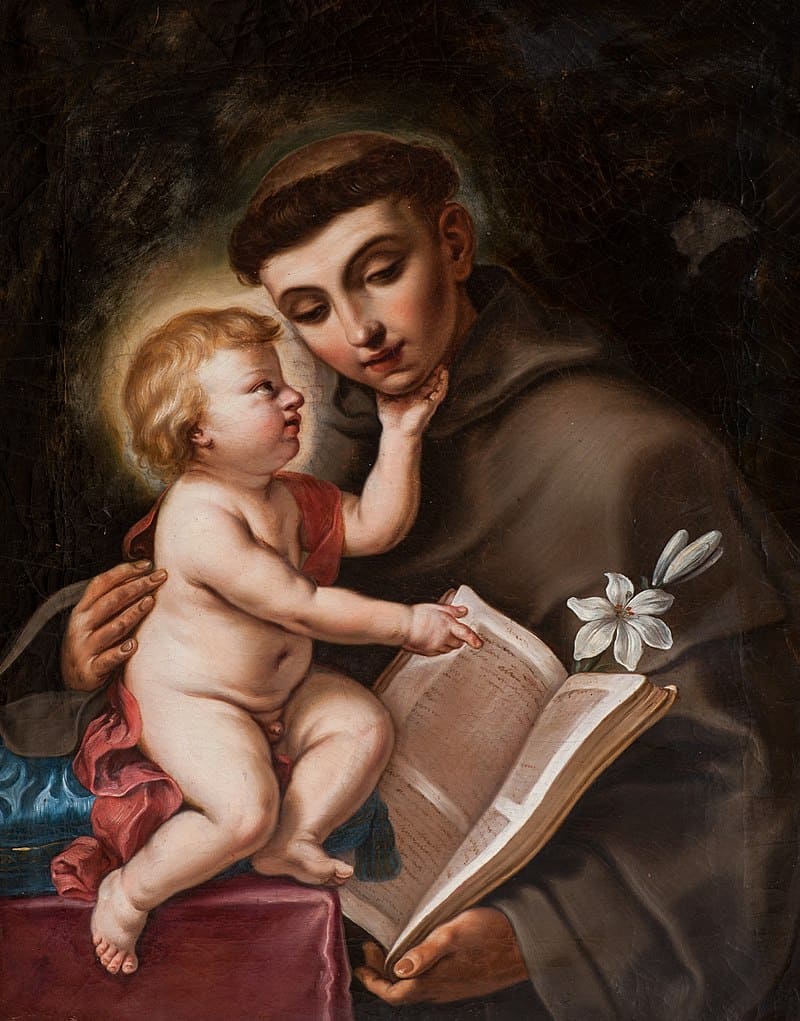 Ways to Pray with St. Anthony
There are many ways to grow closer to a Saint! The first is to read as much about them as you can. The second is to keep a statue of them, or wear their medal, or keep a prayer card nearby. All of these are reminders to you to pray with them.
You can also pray original prayers, or use traditional prayers to them. Finally, you can be sure that after you find your miracle you acknowledge them and spread the word about them (like I do in this blog). It might mean mentioning them to a friend in need, donating in their name to a charity, or something else meaningful for you!
Here are a few ideas for growing closer to St. Anthony:
Read more about St. Anthony. Here is the

highest rated book on Amazon about St. Anthony!

Keep a

statue of St. Anthony.

Wear a

St. Anthony medal.

Keep a

St. Anthony prayer card

with you.

Say a

novena

to him.

Honor him on his feast day- June 13.

And of course- pray to him! See the prayers below.

An Original Prayer to St. Anthony Patron Saint of Infertility
St. Anthony of miracles, through your intervention God heals the barren woman and makes her a happy mother of children. Deliver me from barrenness, and restore my lost fertility. I am confident that you will hear my prayers and intercede for me to the Lord, Our God. Heal my body. Heal my soul. Guide me to make the right choices. Help me to find my baby. I pray with certainty that my happy, healthy baby will soon be in my arms. In Jesus' name we pray. Amen.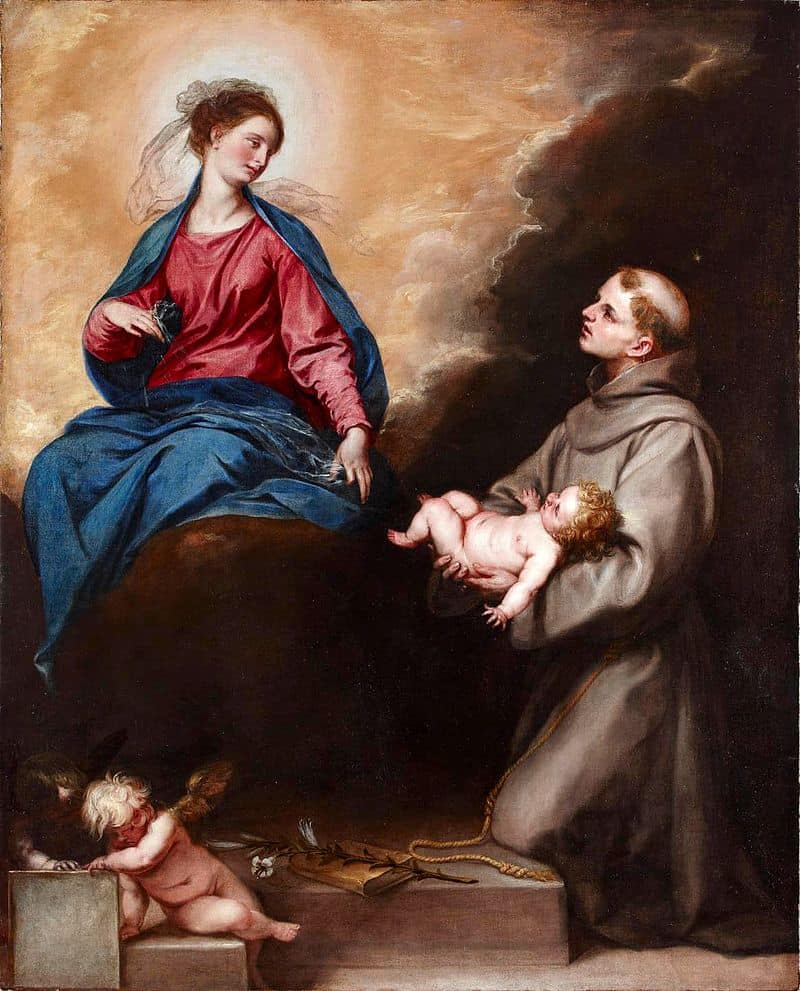 Traditional Prayers to St. Anthony
Prayer to Find Something Lost- Saint Anthony Prayer for Lost Things
Good Saint Anthony, look around, something's lost and must be found. Please help me find [what you seek]!
Prayer to St. Anthony for Lost Things
Glorious Saint Anthony, you have exercised the divine power to find what was lost. Help me to recover the grace of God, and make me zealous in the service of God and in the practice of living the virtues. Let me find what I have lost, thus showing me the presence of your goodness.(Our Father, Hail Mary, Glory Be) Let us pray. Anthony, glorious servant of God, famous for your merits and powerful miracles, help us to find what was lost. Give us your help in times of temptation; and enlighten our minds in searching the will of God. Help us to find again the life of grace, which our sin destroyed, and lead us to the possession of the glory promised us by the Savior. We ask this through Christ our Lord. Amen.
Invocation to Saint Anthony
Dear Saint Anthony, I extend my prayer to you, confident in your compassionate goodness, which can listen and console everyone: be my intercessor before the Lord. You who led an evangelical life, help me to live mine with faith and Christian hope; you who preached the message of charity, inspire the whole of humanity to search for  peace and brotherhood; you who supported, even through miracles, the suffering and all those who were facing injustice, please sustain the poor and the forsaken of this world. Bless especially my work and my family, taking away illnesses of body and soul; make me capable of always remaining close to God, both in times of joy or sorrow, with the faith and the love of a son. Amen!
St. Anthony Miracle Prayer
Admirable Anthony, so glorious for your miracles and for the favor that Jesus showed on you by coming in the guise of the Divine Child to rest in your arms, obtain from His goodness the grace I long for within my heart. You, so compassionate toward poor sinners, pay no attention to my defects, but to the glory of God which will once again be exalted by you and to my eternal salvation, not separated from the request I am now earnestly making. (Say the grace that lies in your heart). Let my love and charity towards the poor be a token of my gratitude. May I be given the grace to enter heaven with them through your intercession by the grace of Jesus the Redeemer. Amen
St. Anthony of Padua Prayer
Holy Saint Anthony, gentle and powerful in your help, your love for God and charity for His creatures, made you worthy, when on earth, to possess miraculous powers. Miracles waited on your word, which you were always ready to request for those in trouble or anxiety. Encouraged by this thought, I implore you to obtain for me (request). The answer to my prayer may require a miracle. Even so, you are the Saint of miracles. Gentle and loving Saint Anthony, whose heart is ever full of human sympathy, take my petition to the Infant Savior for whom you have such a great love, and the gratitude of my heart will ever be yours. Amen.
Pray to St. Anthony the Wonder Worker
After you died, St. Anthony, God chose to make your holiness known to the world and to draw people by working miracles in answer to prayers made in your name. Since then, people have asked God to continue to honor you by working wonders through your intercession. Those who have experienced the power of prayers offered in your name have told how God has answered them. God has healed the sick, restored peace of mind, relieved poverty and granted favors of all kinds. Now in this time of need, I ask you, St. Anthony, to pray with me for the things I desire. I pray that God may again give me a sign of loving care and providence, and that through you, God may draw us all to the fullness of life and love in eternity. Amen.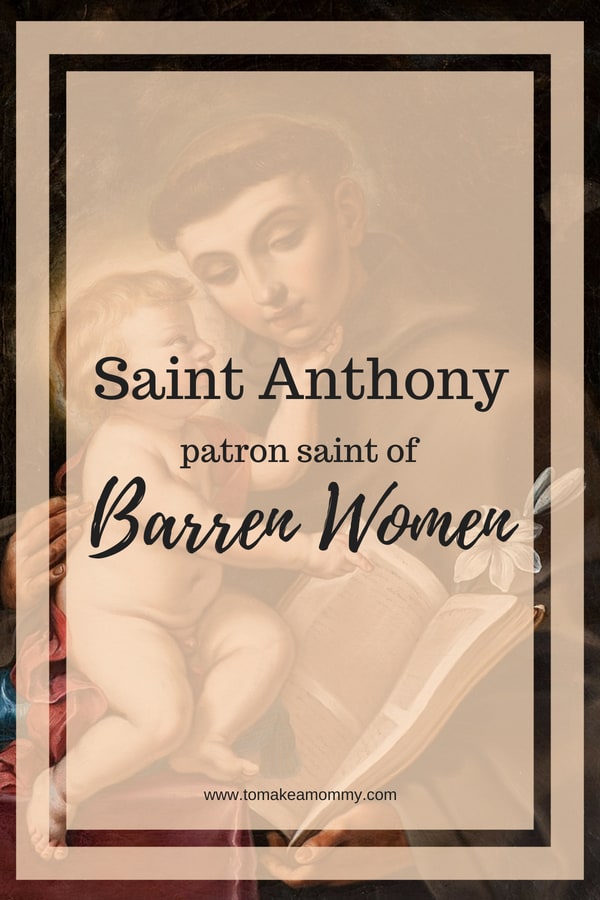 St Gerard Majella versus St. Anthony
Both St. Gerard Majella and St. Anthony are patron saints of pregnant women, as is St. Gianna. If there is any confusion between Saint Anthony and St Gerard Majella this will help. St. Gerard Majella, a beloved Catholic saint, is renowned for his deep spirituality and compassionate nature.
Born in 1726 in Muro Lucano, Italy, he is venerated as the patron saint of the expectant mother, unborn children, children, and childbirth. Gerard's life was marked by his unwavering devotion to God and his remarkable ability to offer comfort and aid to those in need.
His miraculous interventions, particularly in matters related to motherhood, pregnancy and childbirth, have earned him a reputation as a powerful intercessor. His humility, selflessness, and commitment to a life of prayer continue to inspire countless believers, making him a source of solace and hope for those facing challenges or seeking spiritual guidance.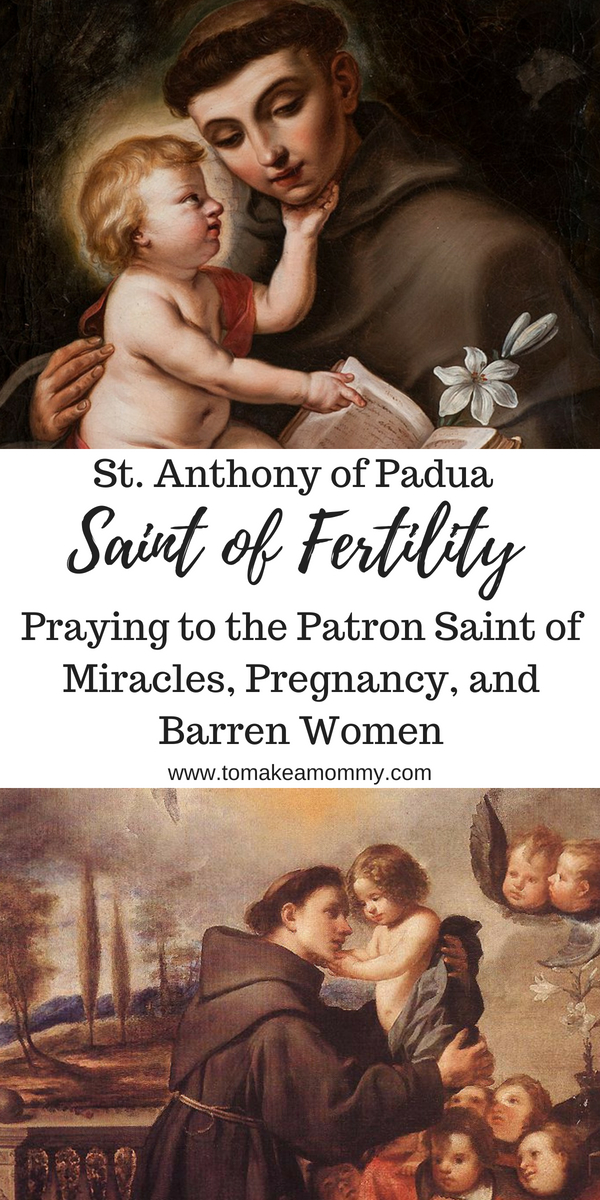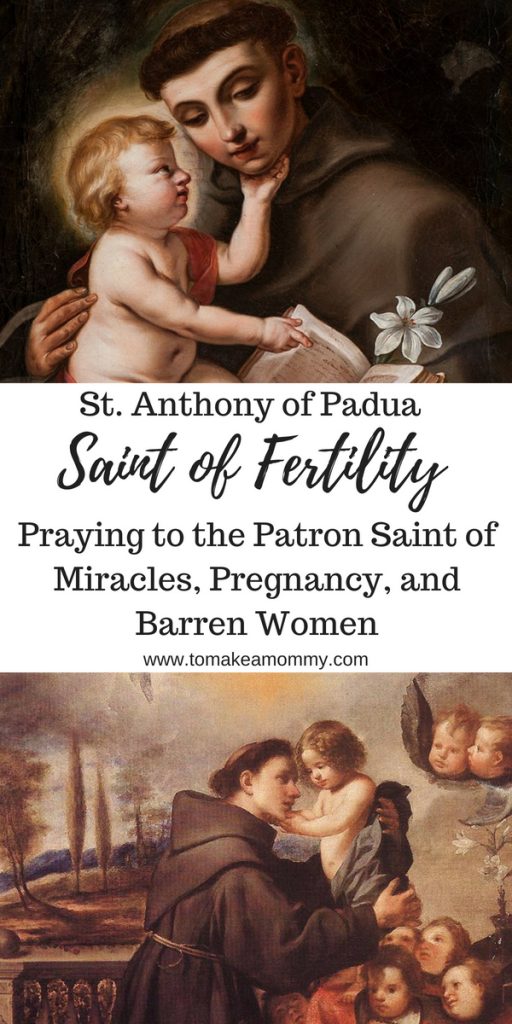 Anna Rapp is a fertility journalist and non-toxic living expert. When Anna Rapp was struggling with infertility and recurrent early miscarriage, she was diagnosed with diminished ovarian reserve, High FSH, low AMH, low follicle count, endometriosis, and an MTHFR mutation. Despite being told donor eggs were her only solution, Anna used her graduate training in research methods and analysis to read everything she could find on fertility and egg health. Ultimately, she lowered her FSH and got pregnant naturally (twice). She blogs about how she did it and encourages her readers to take charge of their fertility journey and get happy, healthy, and pregnant!