St. Gianna Beretta Molla is a Catholic Saint who is a Patron for Infertility, Fertility, Pregnant Women, and Mothers.
Saint Gianna is one of the few catholic saints who was a mother, and she is often pictured holding one of her children.
Gianna was also a pediatrician- making her a working mother. She is also a more modern saint, as she lived from 1922 to 1962. Her feast day is celebrated on April 28.
Praying with the saints was an important part of my infertility journey-> Read all my posts on Catholic Saints for Fertility here!
Also don't miss my list of 21 Powerful Fertility Prayers for Catholics!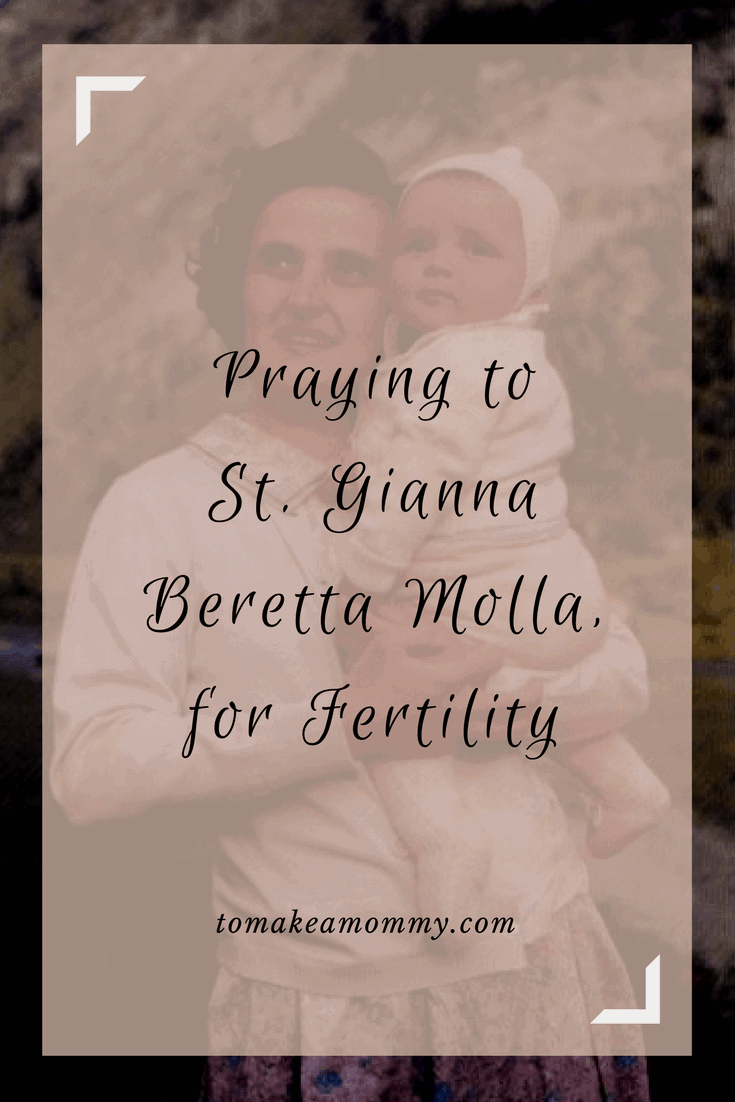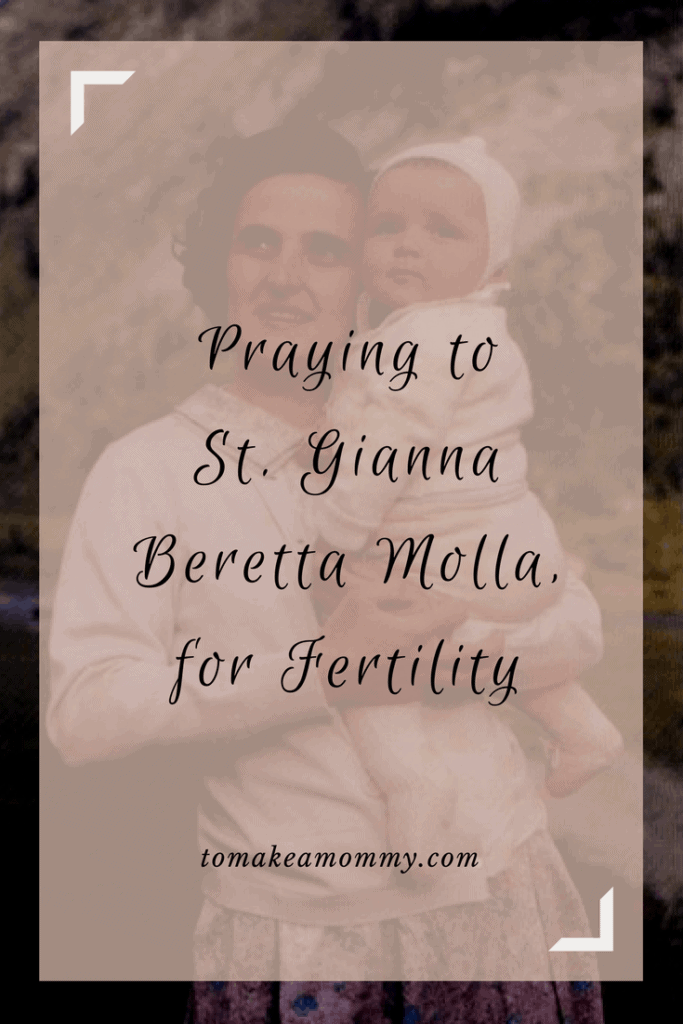 St. Gianna, Patron Saint of Infertility and Pregnant Women
Gianna was a devout Catholic and Italian pediatrician who lived from 1922 to 1962. She had long painful unmedicated labors, and was completely in love and devoted to her four children, Pierluigi, Mariolina, Laura, and Gianna Emanuella . During her second month of pregnancy with her fifth pregnancy she was diagnosed with a cancerous fibroid in her uterus. Although she was advised to have an immediate hysterectomy, or an abortion and removal of the fibroid, she declined both options in an effort to save the baby.
During her dangerous pregnancy she repeatedly told the doctors and her husband to save the child instead of herself. She gave birth to a healthy, 10-pound baby girl, and died seven days later. Technically she died from septic peritonitis, an infection of the lining of the abdomen, which was likely caused by the Caesarean section she had to give birth.
Read here about how I asked God for a fertility miracle!
St. Gianna was canonized as a saint in May, 2004, but Pope John Paul II and was the first "working mom" saint ever in the Catholic church. She is also the first canonized woman physician. Many of the miracles attributed to her are about saving dangerous pregnancies, but there are many testimonies from women with infertility who pray to her and believe it was her intercession that finally brought them their successful pregnancy. An organization devoted to her publishes personal testimonies and you can search for "infertility" so see reports of such miracles.
Many of the women who believe St. Gianna has blessed them with a pregnancy, have visited the St. Gianna Shrine at Nativity of Our Lord Parish, Warminster, in Bucks County, Pennsylvania. One more place I need to go visit!
You can also submit a petition to be remembered in daily prayers by the members of the Society of St. Gianna and the Molla family at this link on the St. Gianna website. About a week after I added my personal petition they sent me two free prayer cards, a brochure on her life, and a free St. Gianna medal that had been touched to her relics.
Definitely go add your petition! Also, here are some beautiful "thank you's" from people who have gotten pregnant, or had their prayers answered through St. Gianna. Let their success stories give you encouragement!
Read everything I did to get pregnant here!
*This post contains affiliate links which at no cost to you provide me with some small change to help keep this blog running! If you decide to buy something I recommend, please consider clicking through one of my links to help support this blog and my family! Thank you!
How to Pray With/Celebrate St. Gianna

, Saint of Pregnancy
Say a novena to her. This means you say the same prayer for 9 days. Her traditional novena is copied below! To make it extra special, start it on April 20th, nine days before her Feast Day so you end your last day of the novena on April 28.
Go to mass on her Feast Day of April 28, and offer the celebration up for her intercession.
Visit her shrine in Warminster, Pennsylvania. If you go on her feast day, you can participate in the celebrations. Email them ahead of time so someone will meet you and you can hold her relics (her gloves, for example)
On her feast day (or any day) gather with a group to pray a litany to her. Her traditional litany is copied below!
Wear her medal to remind you to pray to her daily.
Display her saint card somewhere you can see it on a daily basis. You can get one from the St. Gianna society when you submit a prayer petition.
Read more about her online, or in a book like this one.
Submit a prayer petition and the group who maintains her shrine will add them to their website and pray them. They also print the prayers and put them in a basket by the foot of the St. Gianna statue.
Decorate your house with her images and sayings. The crafters on Etsy LOVE St. Gianna. They have turned her sayings and prayers in beautiful artwork, they have made statues, the have bracelets, etc. Have fun!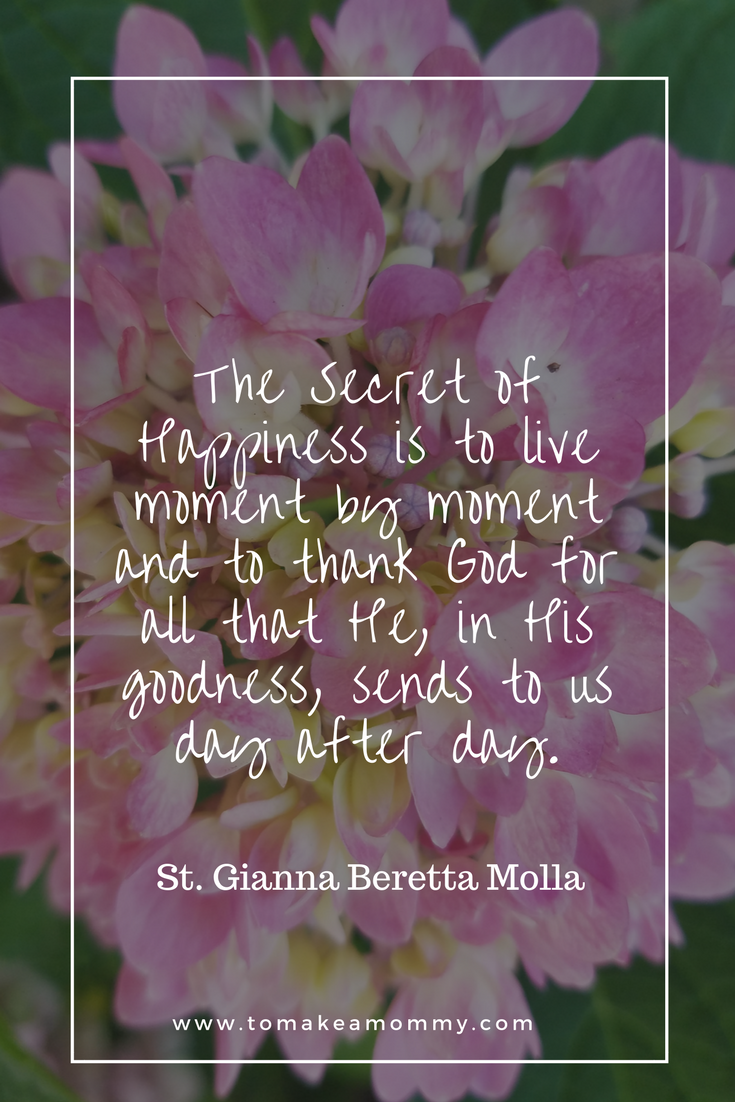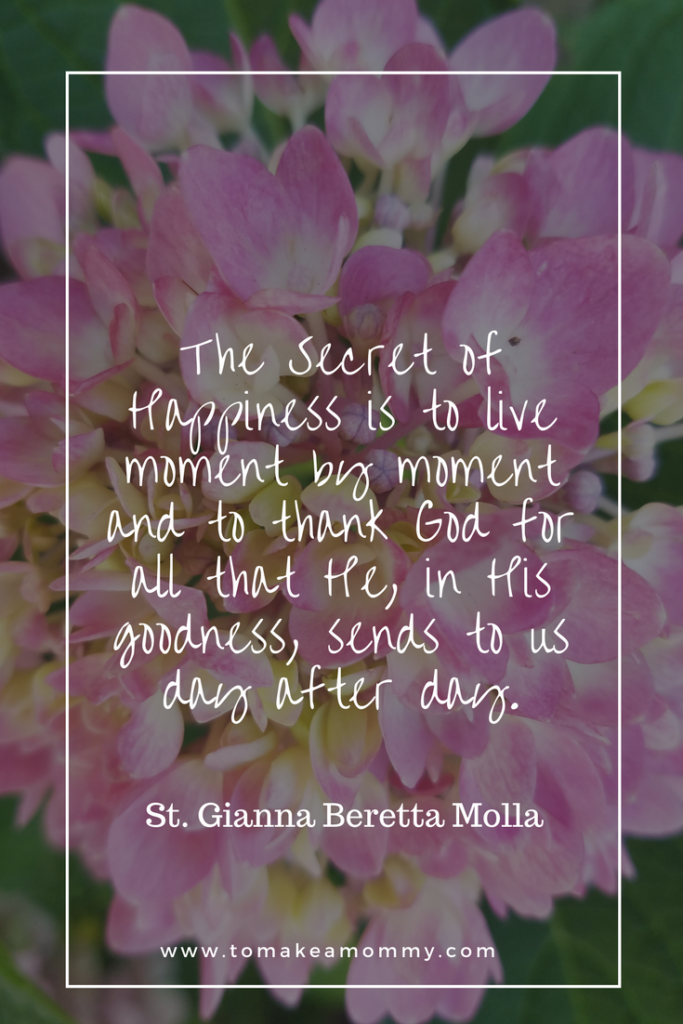 Praying to St. Gianna for Fertility
There are two standard prayers to St. Gianna, one is a novena (meaning you say it for nine days in a row), and one is a litany (which would typically be done in a group setting with call and response). Both are shared at the bottom of this post. Before that, however, I am sharing an original prayer I have written to St. Gianna. I hope it brings fertility and grace to you, me, and many other women.
Prayer to St. Gianna for a Child (by Anna Rapp)
St. Gianna, you are an incredible example of motherhood, selflessness, and devotion to God.
Please fill me with your piety, your charity, and your goodness.
St. Gianna, you were filled with love for your children.
You understand the longing in my heart for children.
You understand my desire for a family filled with love and the giggles of babies.
Please, St. Gianna, in your compassion, as a mother, as a wife, as a Saint of the Church, intercede on my behalf to our Lord, Christ Jesus.
Blessed St. Gianna, hear my prayers and ask that God, in his mercy, grant me a healthy baby that I will raise to be a loving child of God.
In Jesus' Name.
Amen.
Novena to Obtain Graces Through Saint Gianna Beretta Molla
God, our Father, You have granted to Your church the gift of Gianna Beretta Molla. In her youth she lovingly sought You and drew other young people to You, involving them, through apostolic witness and Catholic Action, in the care of the sick and aged, to help and comfort them.
We thank You for the gift of this young woman, so deeply committed to You. Through her example grant us the grace to consecrate our lives to Your service, for the joy of our brothers and sisters.
Glory be …
Jesus, Redeemer of mankind, You called Saint Gianna to exercise the medical profession as a mission for the comfort of bodies and souls. In her suffering fellow men and in the little ones, deprived of all support, she saw You.
We thank You for having revealed Yourself to this servant as "one who serves" and who soothes the sufferings of men. Treasuring her example may we become generous Christians at the service of our brothers and sisters, especially those with whom You deign to share Your Cross.
Glory be…
God, Sanctifying Spirit, who love the Church as Your Bride, You poured into the heart of Saint Gianna a share of Your Love so that she could radiate it in her family, and thus cooperate with You in the wonderful plan of creation, and give life to new children who could know and love You.
We thank You for this model wife and, through her encouraging witness, we beg You to grant to our families the serene and Christian presence of mothers committed to transform their homes into cenacles of faith and love, rich with generous activity and sanctifying service.
Glory be…
O God, Creator and lover of mankind, You were close to Saint Gianna when, affected by illness, she was in the painful dilemma of choosing between her own life and the life of the child whom she was carrying in herself, a gift long-awaited. Trusting You alone, and aware of Your Commandment to respect human life, Gianna found the courage to do her duty as a mother and to say "yes" to the new life of her baby, generously sacrificing her own. Through the intercession of Mary, Mother of Jesus, and after the example of Gianna, inspire all mothers to welcome with love the sparkle of new life. Grant us the grace we are praying for …………. and the joy to find an inspiration in Saint Gianna who, as a model spouse and mother, after the example of Christ, gave up her life for the life of others.
Hail Mary…
Litany of Saint Gianna Beretta Molla
Lord, have mercy. Lord, have mercy.
Christ, have mercy. Christ, have mercy.
Lord, have mercy. Lord, have mercy.
Christ, hear us. Christ, graciously hear us
Response: Have mercy on us
God the Father in Heaven.
God the Son, Redeemer of the world.
God the Holy Spirit.
Holy Trinity, one God.
Response: Pray for us
Holy Mary.
St. Michael the Archangel.
St. Joseph.
St. Gianna, filled with love for God.
St. Gianna, filled with love for children.
St. Gianna, filled with love for Our Lady and her Rosary.
St. Gianna, filled with love for the Most Blessed Sacrament.
St. Gianna, who sought the will of God in all things.
St. Gianna, generous with those in need.
St. Gianna, devoted to prayer.
St. Gianna, willing to lay down your life for the sake of the gospel.
St. Gianna, patient in suffering.
St. Gianna, united to Jesus on the Cross.
St. Gianna, called to the vocation of marriage.
St. Gianna, who welcomed children as a blessing.
St. Gianna, physician to the ill.
St. Gianna, faithful daughter of the church.
St. Gianna, witness to the sanctity of human life.
Response: Deliver us Lord through the intercession of
St. Gianna From neglecting God through prayer.
From refusing to se God in the sick and poor.
From callousness to the sufferings of others.
From selfishness.
From a lack of trust in God's providence.
From blindness to the dignity of the human person.
From denial that human life begins at conception.
Lamb of God, You take away the sins of the world,
Spare us, O Lord.
Lamb of God, You take away the sins of the world,
Graciously hear us, O Lord.
Lamb of God, You take away the sins of the world,
Have mercy on us.
Let us pray.
Lord of life, we thank You for the heroic witness of
Saint Gianna Beretta Molla. You have taught us that
there is no greater love than to lay down one's life
for others. Saint Gianna did this, not only as she
gave birth to her last child, but also in her everyday
life as she died to herself so that she could live
wholly for You. What selflessness we see in her!
Help us, we pray, that through the intercession of
Saint Gianna, our society may regain a sense of the
sacredness of all human life. Fill us with her spirit
of courage to suffer any struggle rather than deny
You and the sanctity of human life. We ask You
this through our Lord, Jesus Christ, your son, who
lives and reigns with You and the Holy Spirit, one
God, forever and ever. Amen
(Composed by a priest from Alabama and offered to the Society of Saint Gianna Beretta Molla)
Nihil Obstat: Rev. Joseph G. Prior, Censor Librorum
Imprimatur: Justin Cardinal Rigali, Archbishop of Philadelphia, Sept. 29, 2004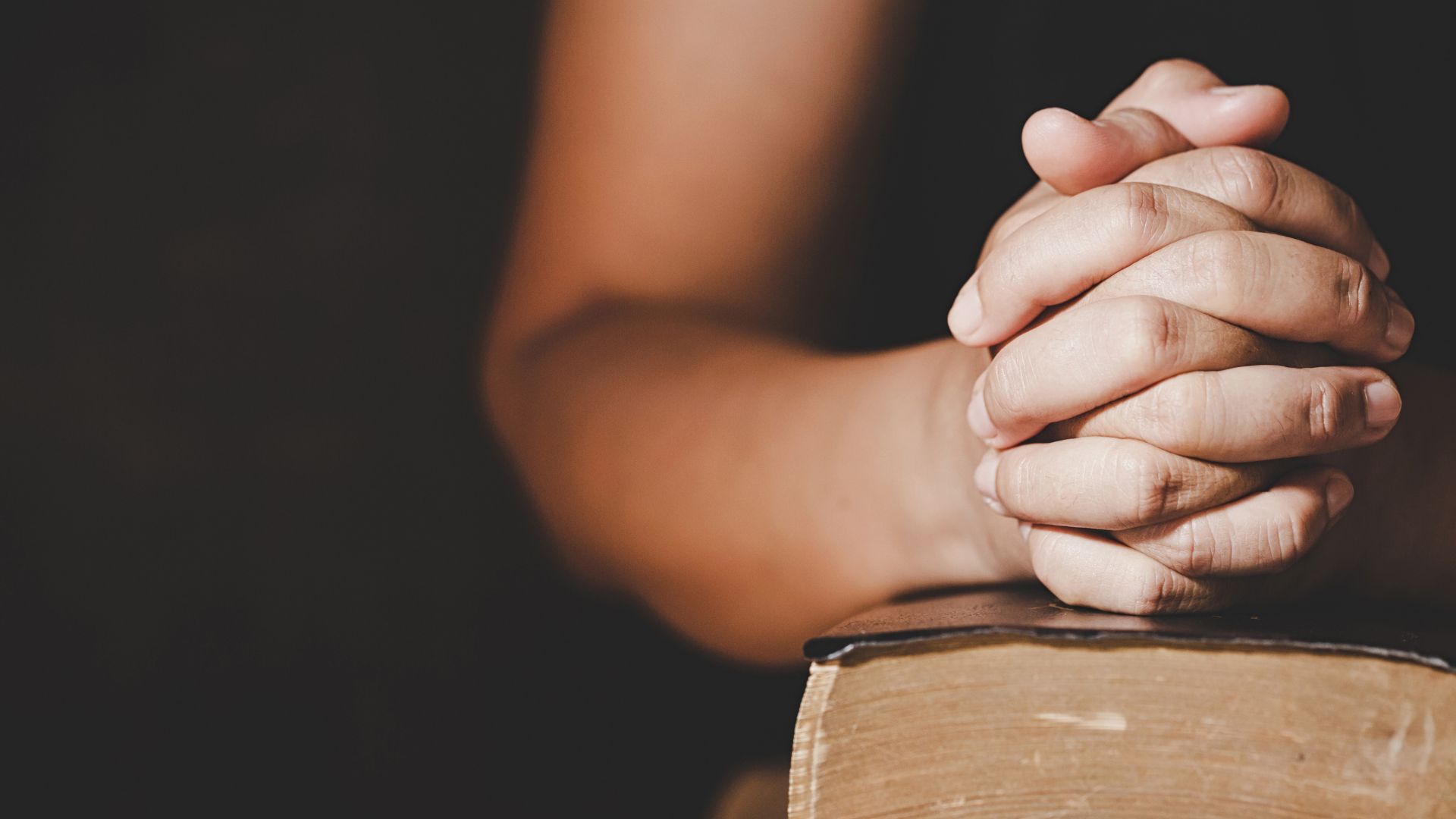 Anna Rapp is a fertility journalist and non-toxic living expert. When Anna Rapp was struggling with infertility and recurrent early miscarriage, she was diagnosed with diminished ovarian reserve, High FSH, low AMH, low follicle count, endometriosis, and an MTHFR mutation. Despite being told donor eggs were her only solution, Anna used her graduate training in research methods and analysis to read everything she could find on fertility and egg health. Ultimately, she lowered her FSH and got pregnant naturally (twice). She blogs about how she did it and encourages her readers to take charge of their fertility journey and get happy, healthy, and pregnant!