When we got serious about trying to conceive and overcoming my multiple infertility diagnoses (High FSH, low AMH, endometriosis, MTHFR mutation, and recurrent early loss/chemicals/miscarriage), we realized that we needed to make a lot of diet and lifestyle changes! As we invested in non-toxic products, made daily smoothies with superfoods (his and hers), took prenatals and supplements, and started buying organic, we realized that this was going to be a more expensive lifestyle than we had been used to.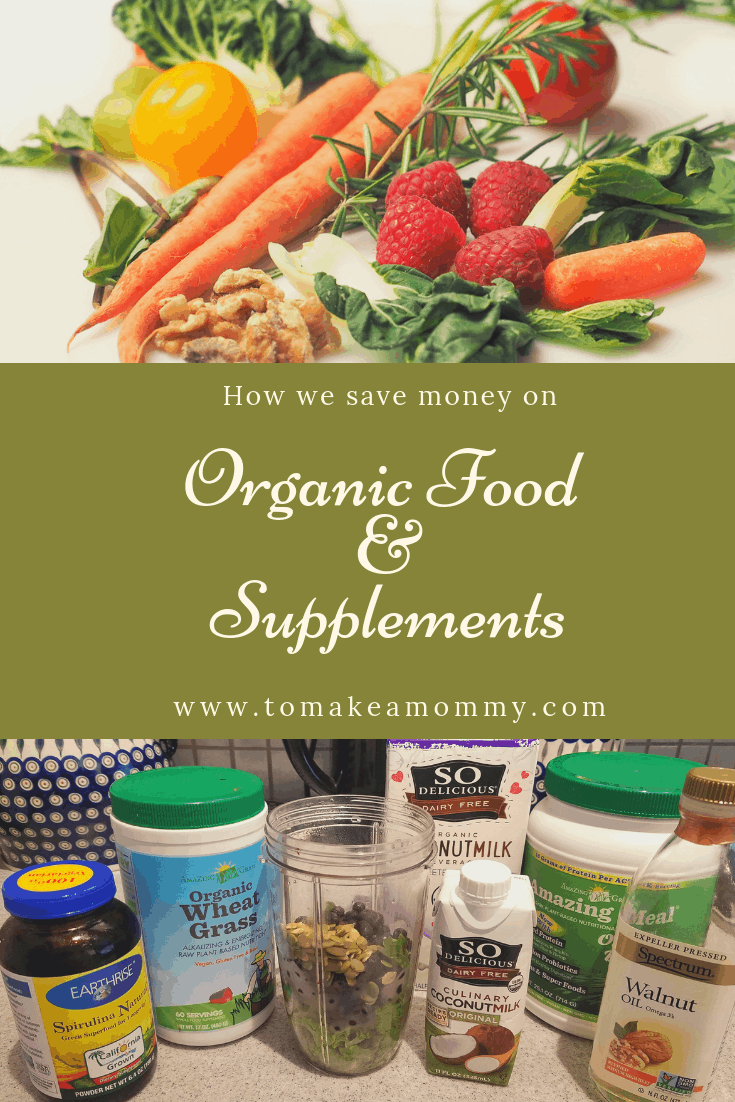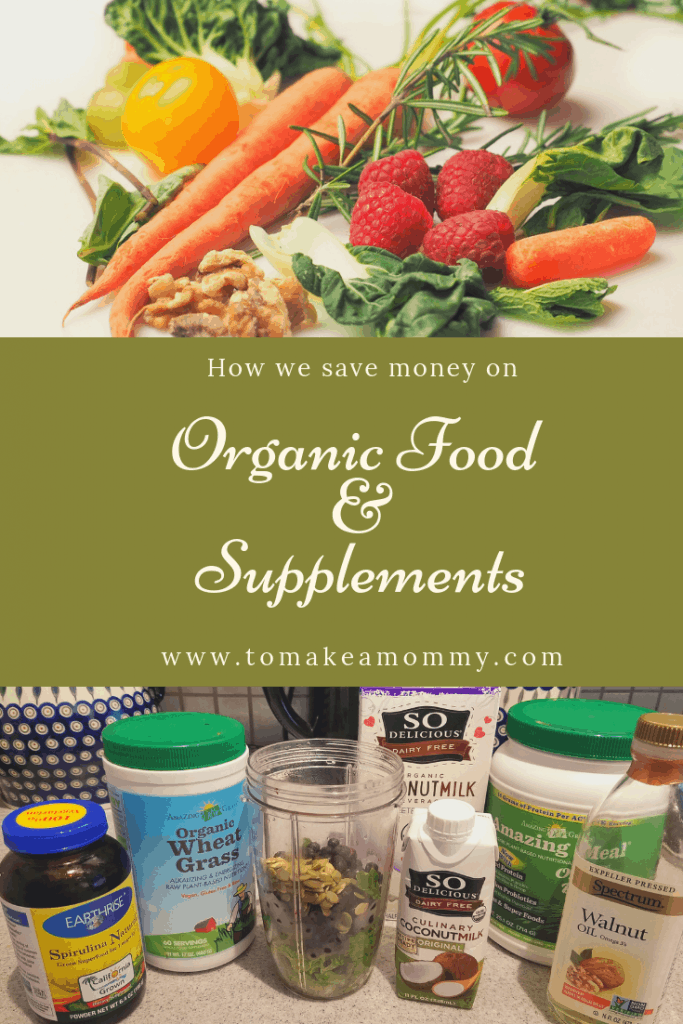 Buying organic groceries and tons of fertility superfoods and supplements is not cheap, no matter how you look at it. BUT, you can make it CHEAPER and save money where you can.
When we started we were easily spending $2k per month on food and supplements. We slowly figured out ways to reduce our spending as much as possible. Now, we're down to a solid $1K a month. Still a lot more than a regular family budget, but regular familes are eating non-organic and consuming a lot of cheap processed food that is terrible for health.
And, you have to remember, that one of the big parts of our lifestyle change was we stopped eating out. No more restaurants, bars, or take-out. And no trips to Starbucks. So even though our grocery bill grew, we cut a tremendous amount of costs in these other areas!
Below is a list of ways that we save money on organic food and fertility supplements! After this list is a list of OTHER ways to save money- ways that my readers have tried and love.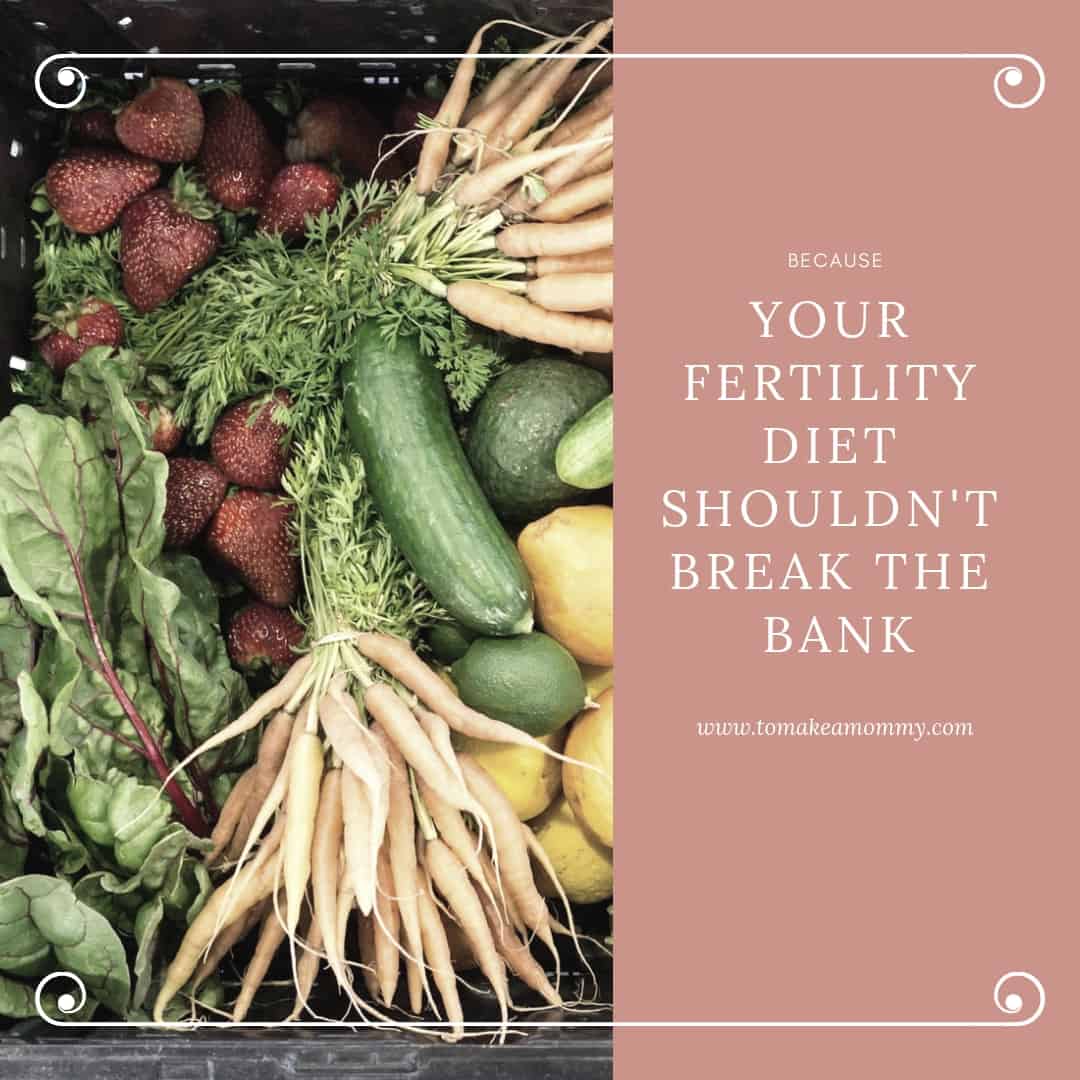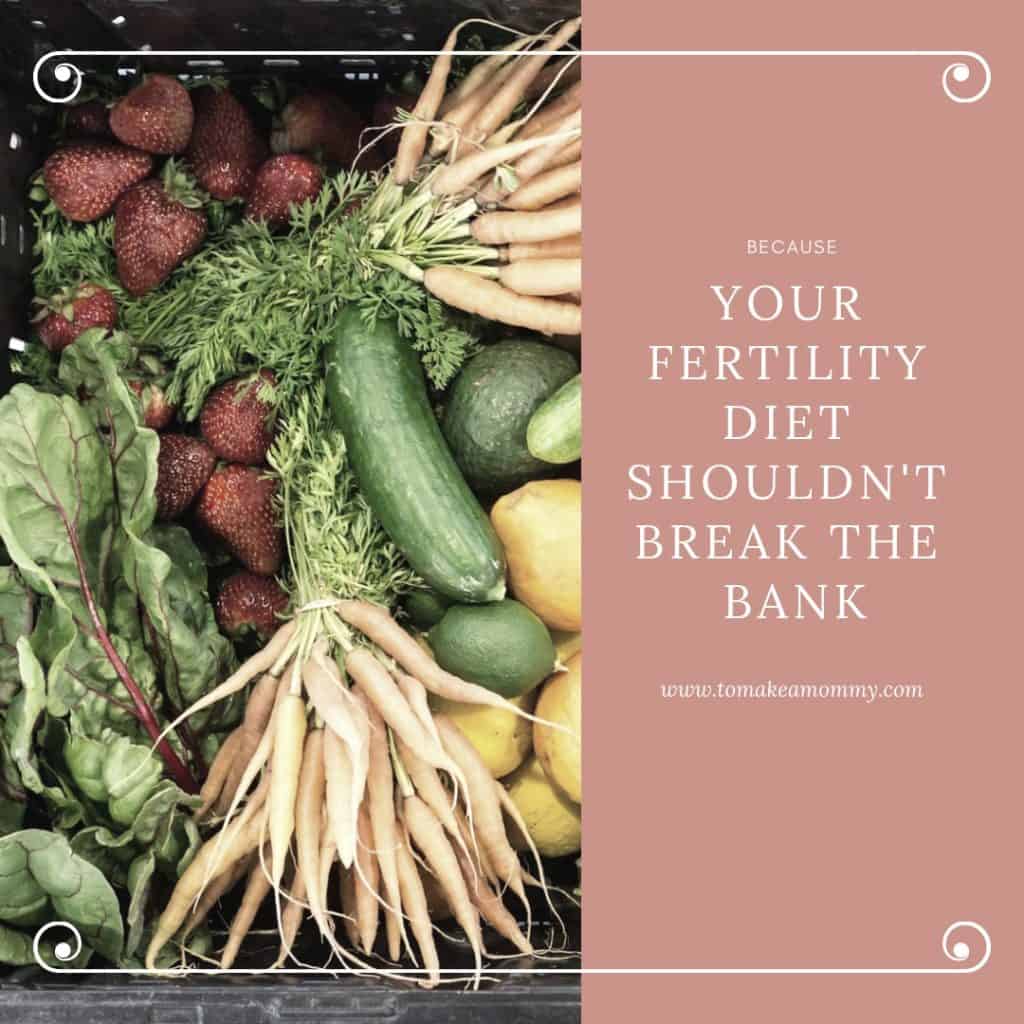 How We Save Money on Organic Groceries & Supplements
Thrive Market. We check all prices at Thrive against our local stores and Amazon Subscribe & Save, and we often find the best prices are at Thrive. They don't have as big a selection as Amazon, so we can't buy EVERYTHING there. We are relying on them heavily during the current pandemic to avoid going out shopping!
Perfect Supplements. This company is awesome- their brand supplements are well below those of major brands, yet they are organic, test every batch for pesticides and heavy metal contamination, and they share their test results. Also, they often offer bulk order discounts, and they've offered myself and my readers a 10% off code of ANNA10. We buy protein powder, superfoods (like Acai and Spirulina), supplements like Resveratrol and Vitamin D, and our multi-vitamins through here and save a lot of money. The only sad thing is they don't have EVERYTHING. So we have to go to Amazon sometimes.
Buy groceries in bulk whenever possible. We belong to one of those big warehouse grocery stores (BJs) and we go once a month and stock up on enormous bags of frozen organic broccoli, spinach, kale, blueberries, and mixed berries. We also get huge discounted things of fresh organic romaine, berries, onions, garlic, sweet potatoes, etc., when we shop there. We also buy organic dry goods in bulk at the our local organic store; things like beans, seeds, rice, and nuts. We save a lot of money buying them this way instead of bagged items an aisle over!
Get case discounts. I didn't know about these until I met my husband who used to work in a grocery store. At our local organic store, we always ask how much of an item for a case discount. So, for example, black bean pasta is wicked expensive, but when we buy 6 at a time we get a 10% discount. They do this for almost EVERYTHING in the store that comes in a package. You can even do this for supplements. Most stores do this- you just have to ask. We only go to the grocery store once a month, so stocking up makes sense anyway!
Grocery Delivery like Amazon Fresh. Since the fall of 2018 we've been using Amazon Fresh grocery deliveries for 3 out of the 4 weeks of the month (the other week we go to the actual stores and stock up). We try to keep our order around $50-75 plus a tip for delivery. We generally get organic romaine, collards, another green (kale or mustard greens or chard), bananas (for hubby), fresh berries, sweet potatoes, meat (whole chicken usually for our weekly recipe), eggs, cashew milk, coconut milk, avocados, string beans, and whatever other veg or fruit we want for the week. We are saving SO MUCH because we spend a TON of money when we walk into our local organic store. Just staying out of that store 3 out of 4 weeks a month saves us a ton of money. We simply don't have the self-control to limit our spending in the store. But, it's easy online. We pay $14.99 a month for this service and tip our delivery driver, but have calculated we are saving $400-$600 a month avoiding frivolous purchases at the store.
Stock up during sales. This one seems obvious, especially for dry or frozen goods. But, you can actually do this for fresh produce or meat also. Fresh, local, organic berries on a super sale? Buy them all and freeze them. We once found organic chicken breasts on sale for a ridiculously low price (I think it was about $3/lb) and we bought every single one in the store and put them in the freezer. This month there is a coupon at BJs that let's us get a pound of organic grass fed and finished ground beef for $5/lb. Our deep freezer is full!
Prioritize what you buy organic. Some things are more important than others. We use the Environmental Working Group's Dirty Dozen and Clean Fifteen to guide our choices. For example, avocados have thick skin and so don't carry a lot of pesticide residue on them. Also, organic avocados are ridiculously expensive. We buy these non-organic. Organic berries are also ridiculously expensive but they carry quite a bit of pesticide residue- we always buy these organic.
Amazon Subscribe and Save. We use Amazon Subscribe & Save for superfoods, supplements, and some food items. We make sure we always have at least 5 items in the Subscribe & Save delivery. You get 5% off each item, then an additional 10% off if you have subscribe to at least 5 items. So basically, we get all our supplements at 15% off. So, Collagen Peptides costs $43 normally on Amazon, but we get it for $36.55. We always double check the prices with our local store to make sure we are saving money. Some examples of items we Subscribe & Save to and are cheaper than our local store with 15% are:
Automate everything you can and stop playing with different brands. Seriously. I used to spend so much money wandering the health food store picking out random non-toxic mascara, or trying a new laundry product. It adds up! Find a great product, and just order it online, and STOP PLAYING. Playing around with new products adds up. For example, I spent hundreds and hundreds of dollars on crummy non-toxic make-up and skin care before I finally just bought Beautycounter products. Now I will NOT let myself just "pick up something to try" at the store. I get what I need from Beautycounter (at a discount because I'm a consultant!) and then I'm done! Also, we LOVE My Green Fills for non-toxic monthly laundry detergent refills. I'm done playing with other brands that have toxins sneaking in and don't work. I just have the monthly delivery set up and don't have to worry! *Sign up for my Beautycounter newsletter to learn how to save money on safer, cleaner make-up and skin care!
Start a garden. Okay, this seems obvious, but if you can produce anything at home or in your yard, it will be cheaper than buying it! We do extensive herb gardens and then harvest and freeze over the winter. It means we never have to buy things like fresh basil or rosemary at the store. Unfortunately, we don't have a vegetable garden- no sun and plenty of deer prevent that!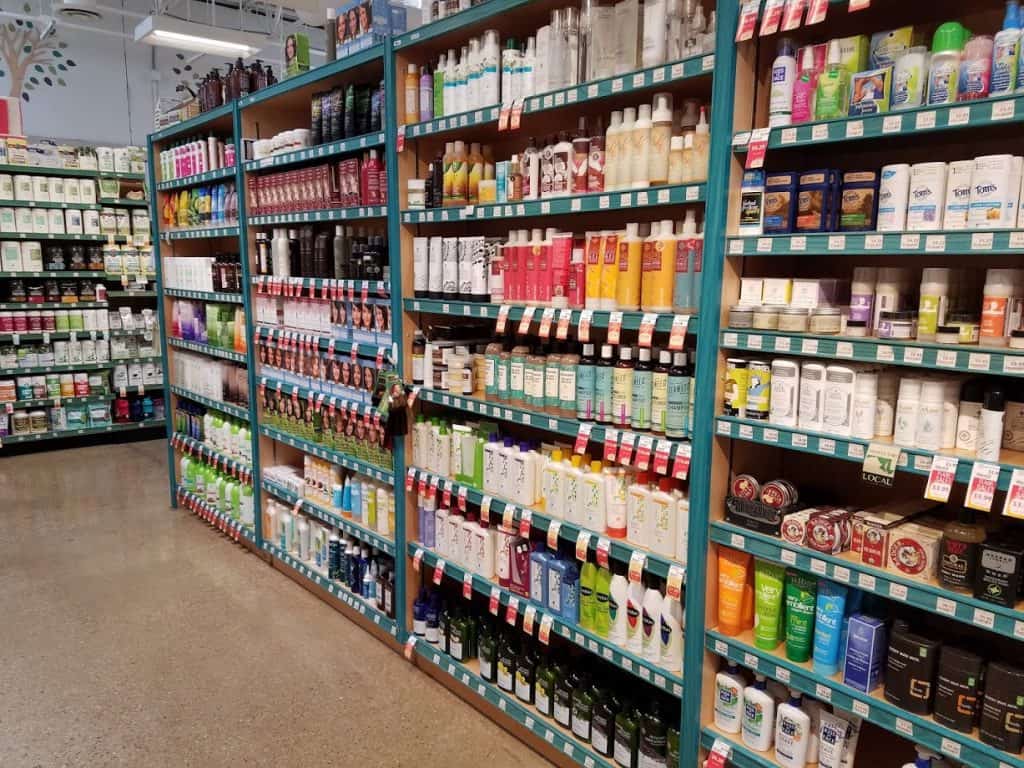 Other ways to Save
There are also plenty of other ways to save money that we haven't tried. Here are some ways members of my Clean Eating & Green Living for Fertility Facebook group have suggested:
Find a discount supplement website.
Find an app that earns you cash back.
Use a produce, fish or meat delivery service.
Buy a farm-share to have produce delivered
Shop around at stores for sales/ Shop at discount stores like Aldi/Lidl. (We used to do this but it took too much time!)
UK readers recommended Abel & Cole and Riverford delivery services.
Good old fashioned coupons!
What do you do to save money on supplements and organic food? Leave a comment and share with other readers!
✕
Want to get pregnant fast?
Love lists? Me too. Grab my 79 Things I did to transform my life and get pregnant in less than 3 months after 2 years of infertility and miscarriages! Totally free!

When Anna Rapp was struggling with infertility and recurrent early miscarriage, she was diagnosed with diminished ovarian reserve, High FSH, low AMH, low follicle count, endometriosis, and an MTHFR mutation. Despite being told donor eggs were her only solution, Anna used her graduate training in research methods and analysis to read everything she could find on fertility and egg health. Ultimately, she lowered her FSH and got pregnant naturally (twice). She blogs about how she did it and encourages her readers to take charge of their fertility journey and get happy, healthy, and pregnant!