Saint Colette is a patron saint for couples who want to conceive and for pregnant women. Although for many saints it isn't exactly clear why they became patron saints of infertility or how they are related to fertility at all- for Saint Colette it is clear. This Saint was both a miracle child herself, and performed miracles related to babies while still alive.

I actually didn't know that much about Saint Collette until I started researching, and I have to say, she is truly special!
Check out my post here on all the different patron saints of infertility, fertility, preventing miscarriage and couples trying to conceive!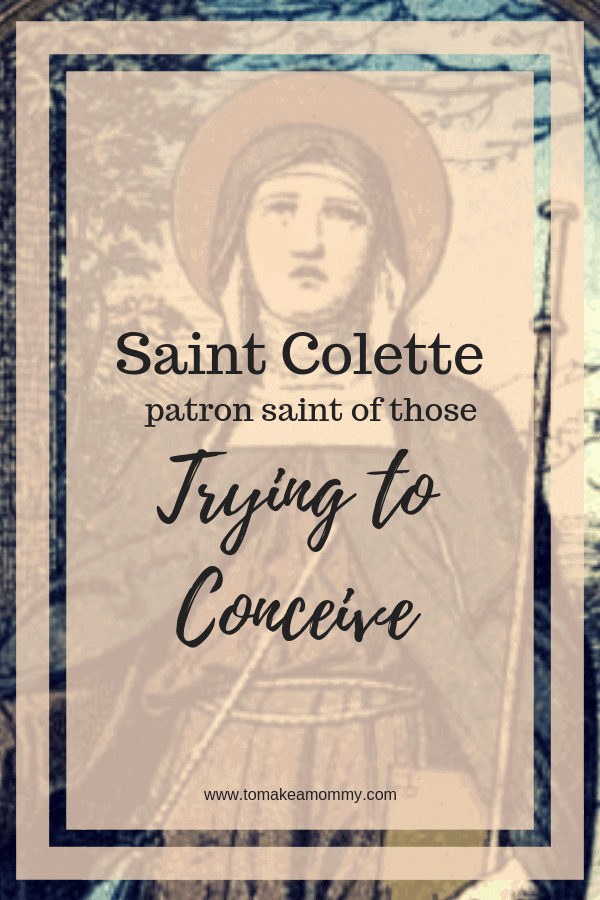 Saint Colette of Corbie
She was born in 1381 in France as a miracle baby to parents who were in their sixties! Her parents prayed diligently to St. Nicholas for a miracle pregnancy (another one of my favorite saints!), and so they named her Nicollette, which got shortened to Collette. This is the first reason why she is a patron saint to couples wanting to conceive!

She was known as a sweet, hard-working, quiet child. Her parents died when she was a teenager and she gave her inheritance to the poor and joined to different orders of sister (nuns). First, the Beguine, and then the Benedictine. Finally she became a Franciscan. When she was 21 she locked herself in a cell to spend her life in penance and prayer- but in 1406 she had a dream that she should reform the order of the Poor Clares.

She became head of the order and turned it into a very strict group- they lived in extreme poverty, went barefoot, and practiced perpetual fasting. Intense!! She was known for her visions, and she helped heal a papal schism and founded seventeen convents! Wow!

Saint Colette's Miracles
A local man's wife had just given birth to a stillborn baby, and, grieving, he wrapped the baby and took it to the priest for baptism. The priest refused to baptise a dead baby and sent him to the nuns. He arrived at St. Colette's house. She took off her veil and wrapped it around the baby, and told him to take the baby back to the priest. When he got the baby to the priest, the baby was crying and alive! The priest baptised the baby. This is the reason she is the second reason she is the patron saint of those who want to conceive a baby, and why she is a patron saint of expectant mothers.

Colette was on her way to see the Pope, when she arrived at the home of a friend, whose wife was in labor with their third daughter, and was in grave danger. Colette prayed in the chapel and the mother successfully delivered and the family felt the life was owed to Colette's prayers. Later on that baby joined as a sister in Colette's convent and became her biographer. This is another reason she is known as a patron saint of expectant mothers.

*This post contains affiliate links which at no cost to you provide me with some small change to help keep this blog running! If you decide to buy something I recommend, please consider clicking through one of my links to help support this blog and my family!  Thank you!

Working with Saint Colette for Fertility
Pray with her. Use the traditional prayers below, or the prayer I have authored, to grow in your closeness with her. Or use your own prayers. Ask her to intercede on your behalf to Jesus. If you are nervous to pray your own words, check out my post on Asking God for a Miracle.
Think of the miracle of her birth, and the endless possibilities for miracles when we work with God.
Read more about her. This 2010 book is available affordably on Kindle or in a very pricey hardcover – Colette of Corbie: Learning and Holiness.
Wear a medal in her honor. Everytime you touch it, see it, or think of it, say a prayer to her!
Grab a prayer card or St. Colette artwork from an artist on Etsy! Some of my favorite are below.
Tell people about her. Share her story. There is a special grace given when you tell others about Saints that are special to you.
Celebrate her feast day- March 6th- with prayer and perhaps a light fast in honor of her faith journey. Consider starting a novena to her 9 days prior, on February 26 (for non-leap years), or February 27 (for leap years).
Original Prayer to Saint Colette for Trying to Conceive a Baby
Saint Colette, Miracle Child, and Daughter of the Church.

You spent your life in love and dedication to the Cross.

You were a miracle worker in life, and you are a miracle worker in heaven.

You know my desire to conceive a healthy baby and deliver them successfully that they may have a long and happy life.

Please intercede on my behalf to Jesus Christ. Please help me to conceive a miracle baby and have a blessed pregnancy and delivery.

And, with the grace of God, please be with me to grant me dedication I need to remain constant and unswerving in my faith while I wait patiently to meet my baby.

Amen.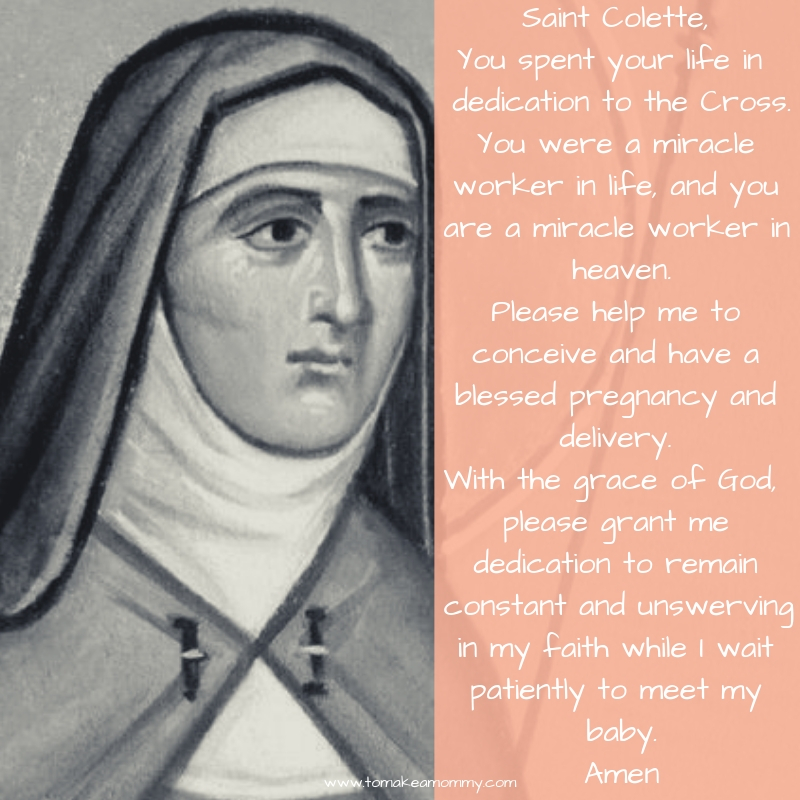 Traditional Prayers to Saint Colette
Dedication Prayer of St. Colette
O blessed Jesus,
I dedicate myself to thee
in health, in illness, in all my deeds,
so that I may never work henceforth except for thy glory,
for the salvation of souls, and for that which thou hast chosen for me.
From this moment on, dearest Lord,
there is nothing which I am not prepared
to undertake for love of thee.
Amen.
Prayer to St. Colette
O glorious ST. COLETTE,
I beseech you
through the burning love which
inflamed your heart for Jesus
in the Most Blessed Sacrament
through the marvelous graces
with which He enriched you and
the loving compassion you did bear
to Him in His bitter sufferings,
obtain from Him for me
my requests which I hope
to receive through your
powerful intercession.
Amen!
Group Prayer to St. Colette
O Lord Jesus Christ,
who have enriched Your spouse,
SAINT COLETTE,
with heavenly graces,
grant, we beseech You,
that we may imitate her virtues
here on earth,
and with her enjoy the eternal happiness of heaven.
Amen.
Chaplet of Saint Colette
Blessed be the hour
in which our Lord Jesus Christ,
God and Man was born.
Blessed be the Holy Spirit
by whom he was conceived.
Blessed be the glorious Virgin Mary
of whom the Incarnate Word was born.
May the Lord hear our prayers
through the intercession
of the glorious Virgin Mary
and in memory
of that most sacred hour
in which the Incarnate Word was born,
that all our desires may be accomplished
for your glory and our salvation.
O good Jesus!
O Jesus our Redeemer,
do not abandon us as our sins deserve,
but hear our humble prayer
and grant what we ask
through the intercession
of the most blessed Virgin Mary
and for the glory of your Holy name.
Amen.
As God pleases
As God wills (always prayed ten times)
Let us praise the Father in his mercy
and the Son by his passion
and the Holy Spirit
the fountain of peace and sweetness and love.
Amen, amen without recall!
Copyright © Ty Mam Duw Poor Clare Colettine Community 2000 – 2009.
Leave a prayer to Saint Colette in the comments, if you would like!