Did you know that women experiencing "infertility" report psychological distress similar to cancer patients? (Domar, 1993). And did you know that stress delays time to conceive? So basically, you are stressed, this increases infertility, which then increases stress. (Shapiro 2010)
It's a damn vicious cycle.
And you know what doesn't help? Doctors or loved ones saying, "You should relax." Honestly, that just makes it worse! We KNOW we need to relax! But HOW?
(Don't worry, its easy, its science, I'm going to tell you how, and you don't have to purchase anything. You just need time and commitment)
Read Now-> Mind-Body Work for Fertility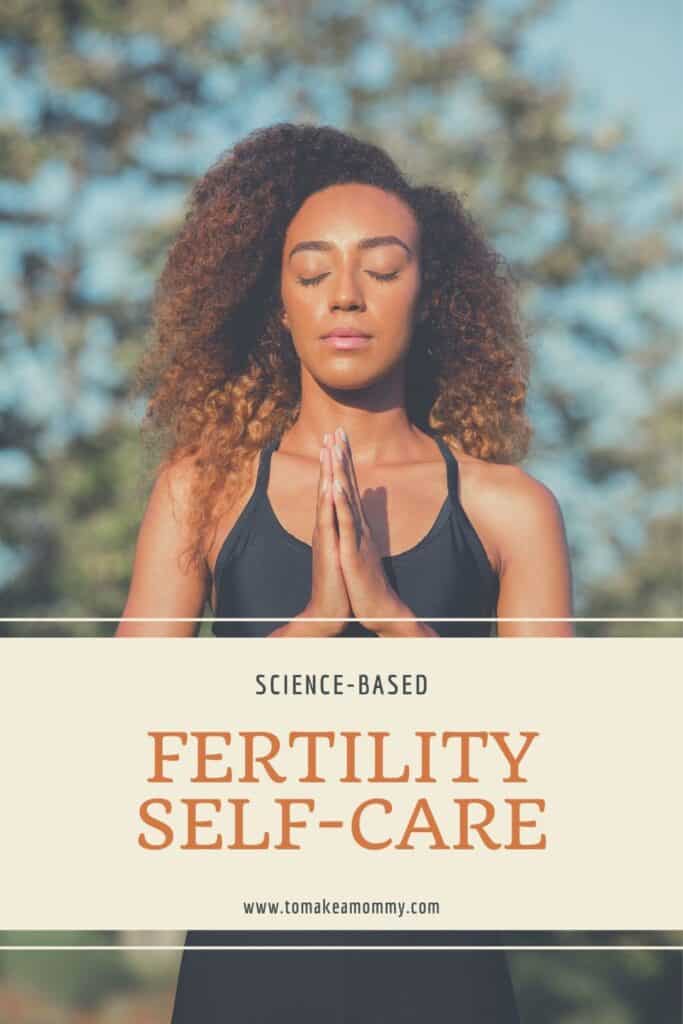 Trying to Conceive in a time of Pandemic and Political Upheaval
Here's the bad news- I'm writing this for women trying to conceive, and at this moment we have an international pandemic, and in the United States we have incredible upheaval as we experience a wave of civil rights protests across the country.
So, basically, what I'm trying to say is, it's a freaking stressful time.
And, the ONLY way to manage the stress, to care for our bodies, to relax our cortisol responses, and make way for happiness, health, and life, is RADICAL SELF-CARE.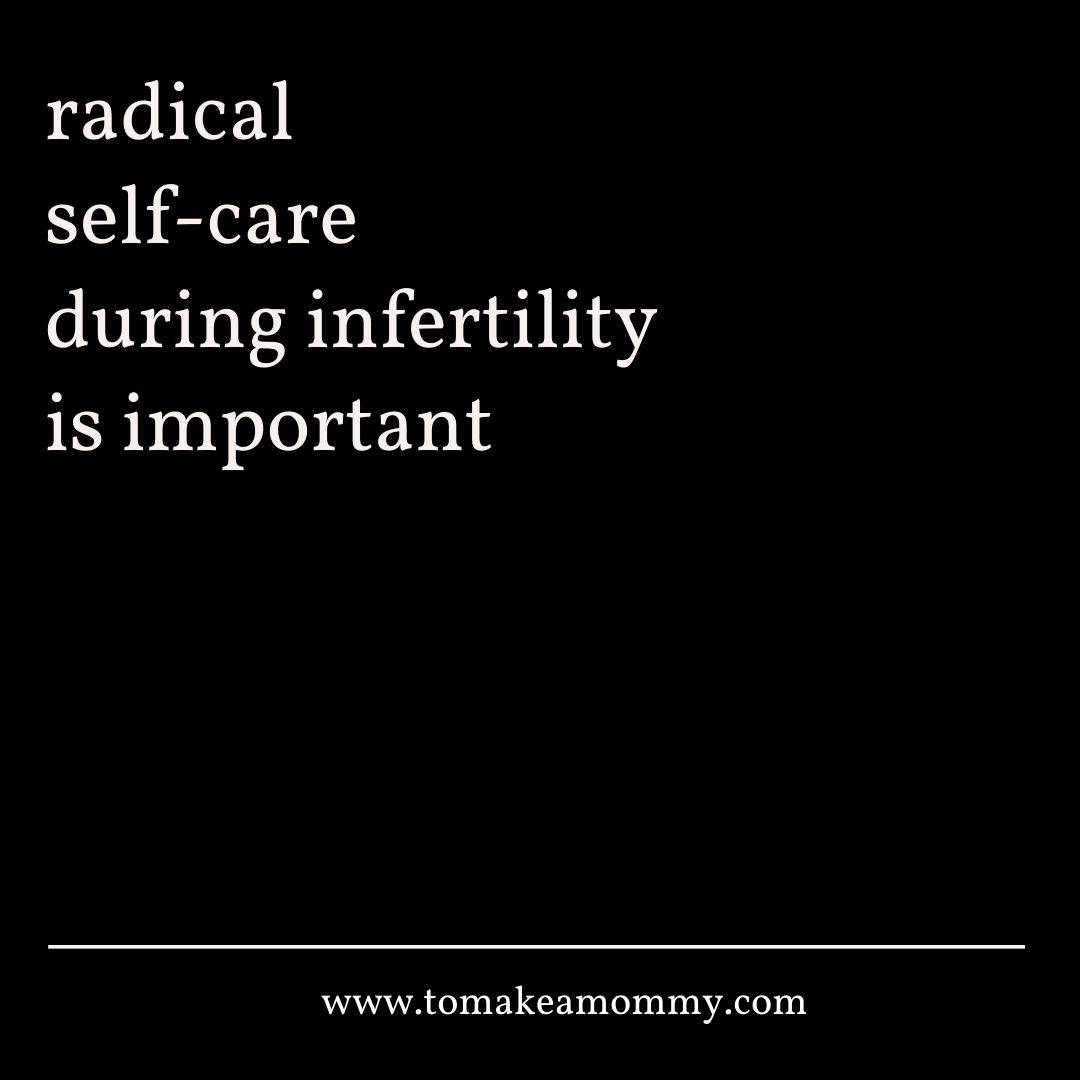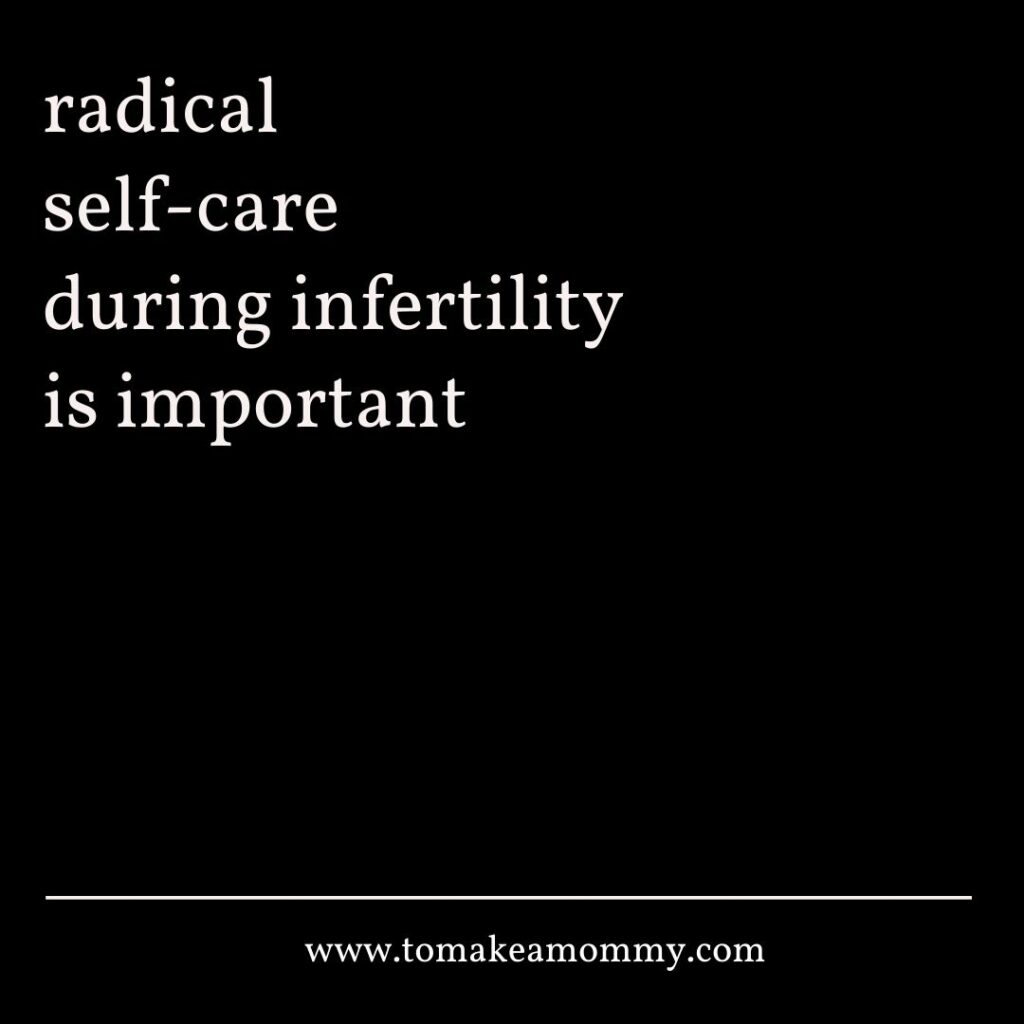 What is Radical Self-Care
What is radical self-care?
It is giving yourself permission to rest. Giving yourself permission to cancel other things out of your schedule and put YOURSELF on the schedule.
It's knowing that you don't every have to feel guilty for taking care of yourself.
You are not less of a wife, daughter, mother, or citizen if you take the time to care for yourself.
You can show up with more love and more energy each day, when you've refilled your cup the day before.
Radical self-care is showing up every single day for yourself. It's not missing a SINGLE SLICE of the delicious self-care pie it's time to bake.
Sorry, I introduced a baking metaphor . . . Baking is part of self-care for me :-). But I keep it healthy, try my fertility bread recipe if you haven't already!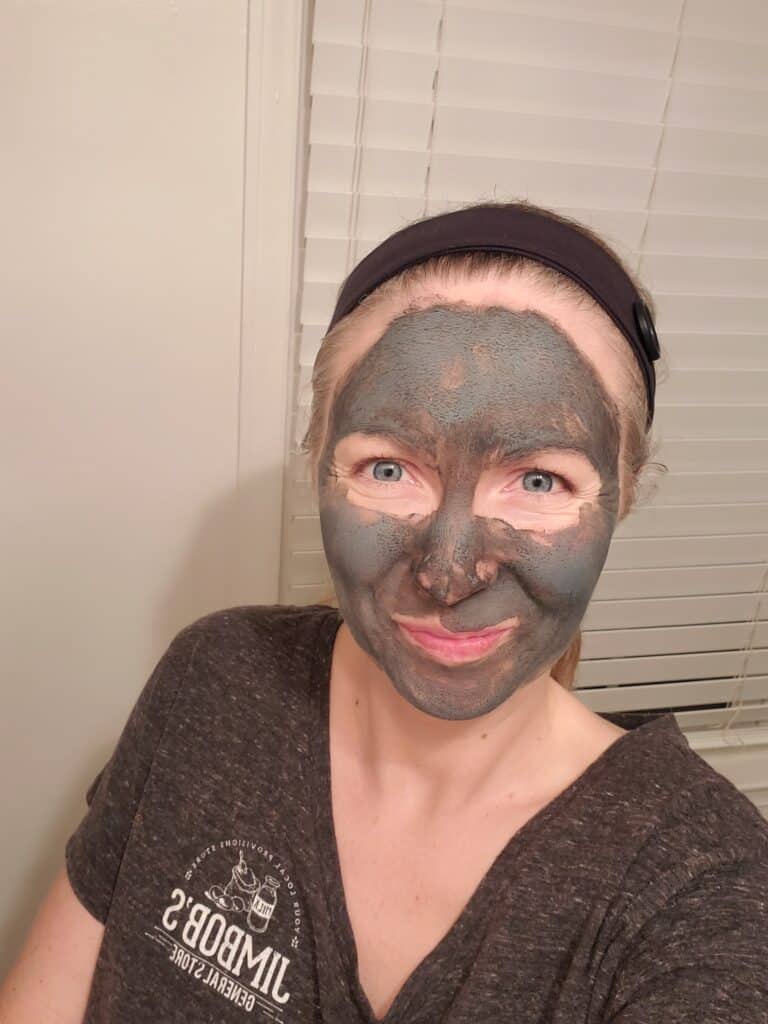 But, I'm too BUSY to do self-care
Well, it's time to change that. Because the universe knows if you are too busy for a baby. You need to slow down, and make room for yourself. That will, eventually, give you the room you need for baby.
Read more here -> Simplify your Schedule for Fertility
Babies take a lot of work. They take up your energy, they literally feed off of you, and they are completely dependent on you.
You need to prove to the universe that you have the energy, health, and TIME to take care of a baby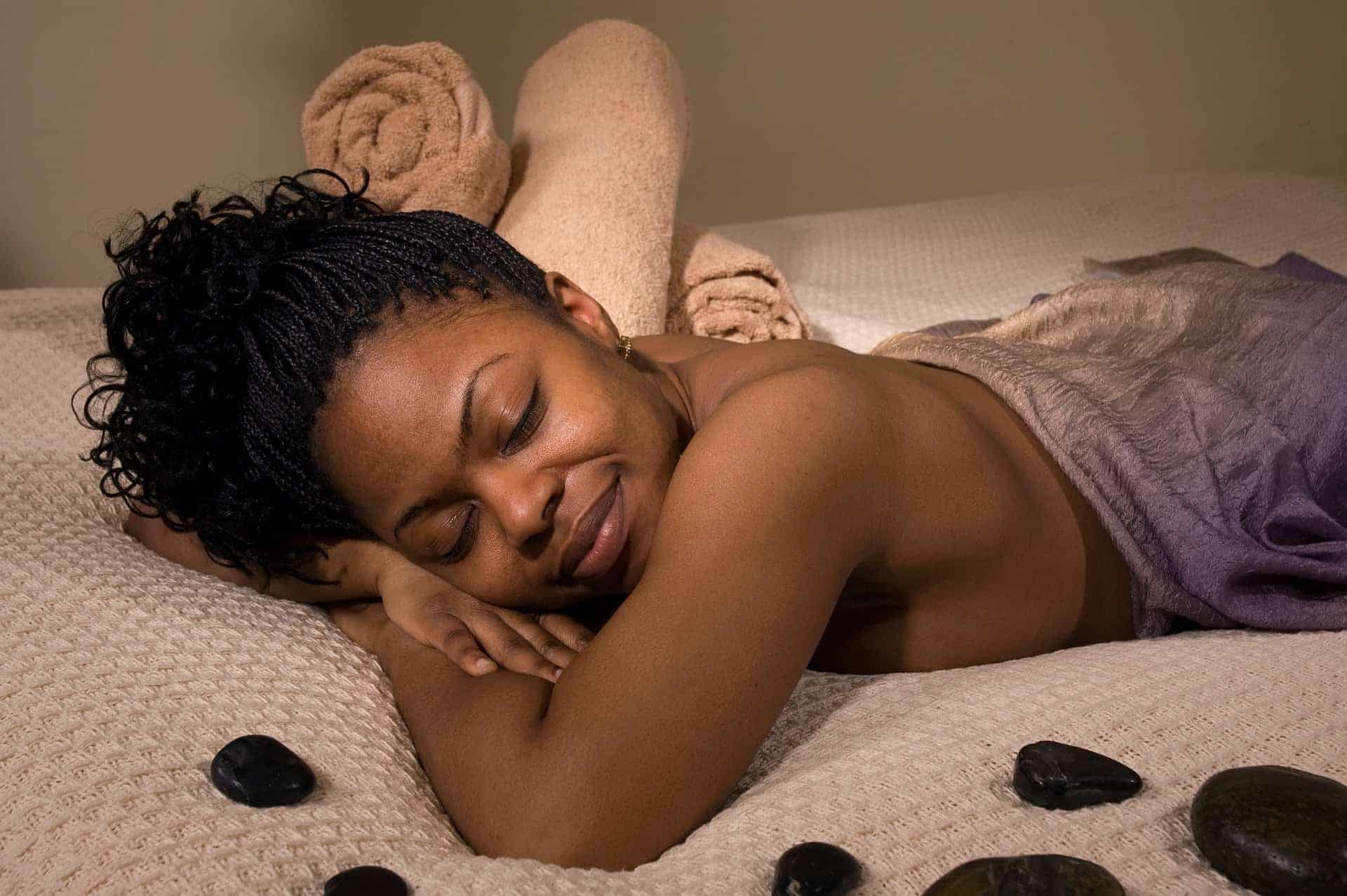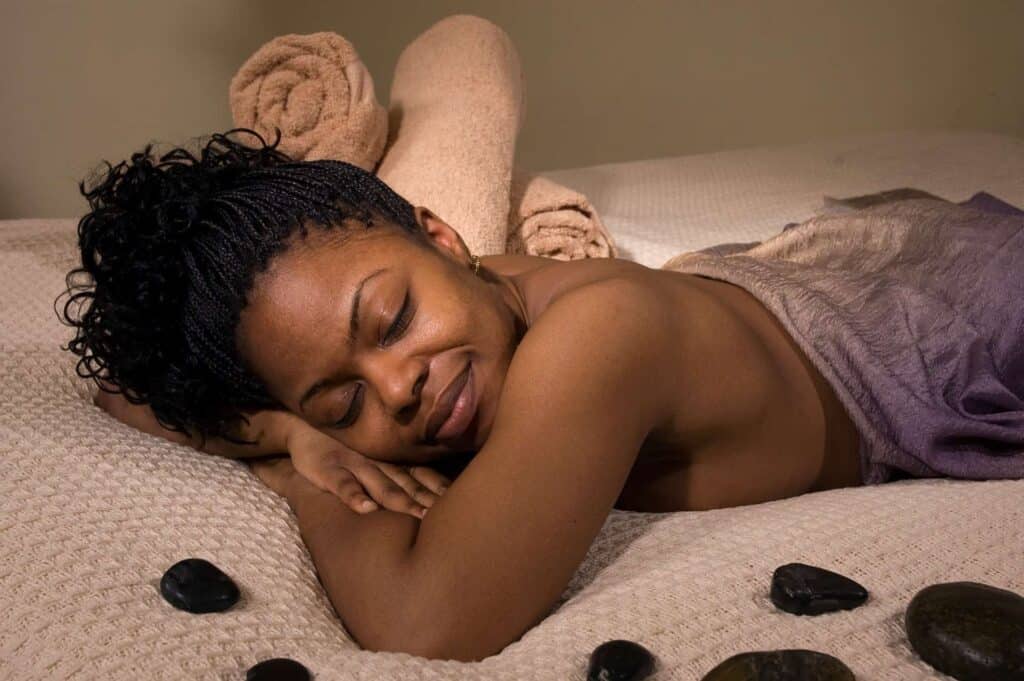 How to relax in the middle of great stress
Okay, you're convinced you owe it to yourself, your partner, your loved ones, and yes to the world, to take care of yourself during this time.
Whether you simply want to conceive, or you also want to change the world, you have to take care of your body, your heart, and your mind.
You have to work to find peace at the end of the day.
That way you can show up for yourself and your work tomorrow.
Yes, but HOW Anna?!?!?
Here's the great news- there are multiple, science-backed ways to lower your cortisol, calm your nervous system, and experience bodily relaxation, without ever consciously deciding to "just relax."
You literally can achieve all the benefits you need to decrease inflammation, boost your immunity and fertility, and feel soooo much better without miraculously achieving some kind of psychological breakthrough.
And, as a bonus, you'll improve your cardiovascular health, slow your heart rate, lower your blood pressure, improve your digestion, help maintain normal blood sugar levels, reduce your stress hormones, increase blood flow to major organs, and reduce muscle tensions and chronic pain.
WebMD, the MayoClinic, and Harvard say so.
You just have to put the time in every day.
Are you ready?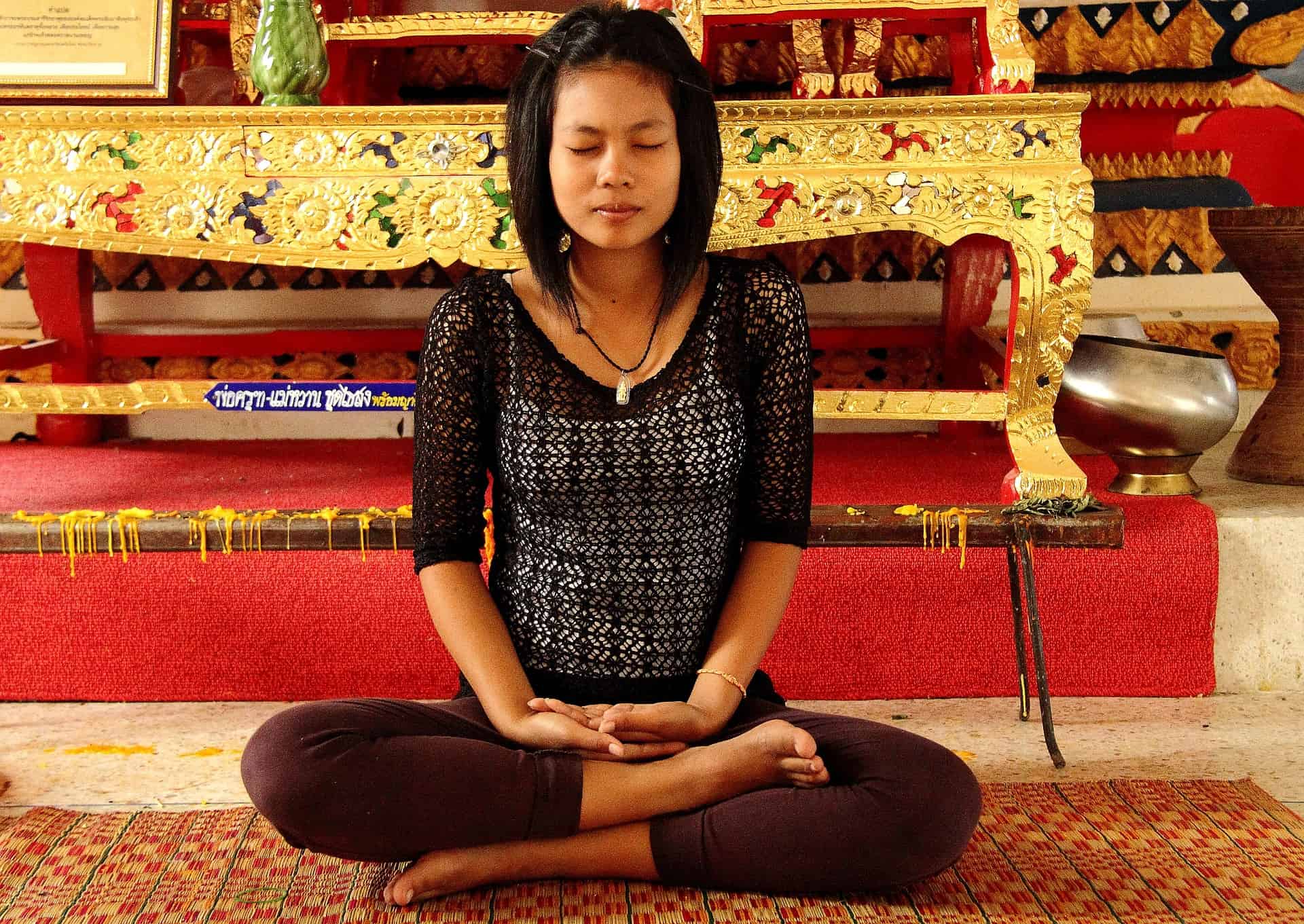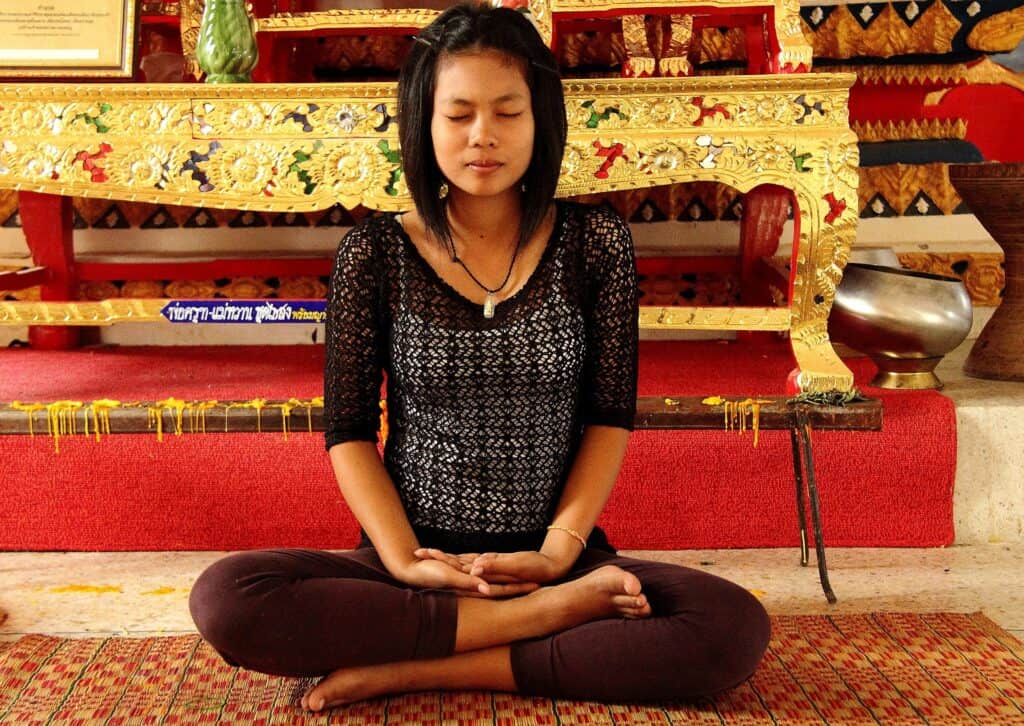 The First Science-Backed Way to Reduce Your Stress and Boost Your Fertility
Achieve what scientists call "the relaxation response" and maintain it for 15-20 minutes every single day. That's it.
Okay, that's not it, there are SO MANY other evidence-backed ways to reduce stress and improve healthy, happiness, and fertility.
But this one . . . well, this is the first one you should tackle. I'll list the rest below.
What is the relaxation response?
The relaxation response is a physical state of deep rest that can change a person's physical and emotional responses to stress. Achieving the relaxation response every day both physically relaxes your body every day AND teaches your body how to release chemicals and brains signals that make your muscles and organs slow down and increase blood flow to the brain.
Scientists have demonstrated is to lower heart rates and blood pressure, and to reduce symptoms of a ton of conditions, including infertility, depression, cancer, anxiety, insomnia, hypertension, arthritis, and even lower cardiovascular risk. (American Psychological Association)
If you've ever "zenned" out while listening to a guided relaxation or meditating, THAT IS IT. Or if you've ever sort of floated in and out of regular consciousness during a really good massage- that's it. Or if you've reached a state of transcendence during prayer or meditation- that's it.
If you have experienced that, good. Do it every day. If you haven't, no worries, I'll tell you how.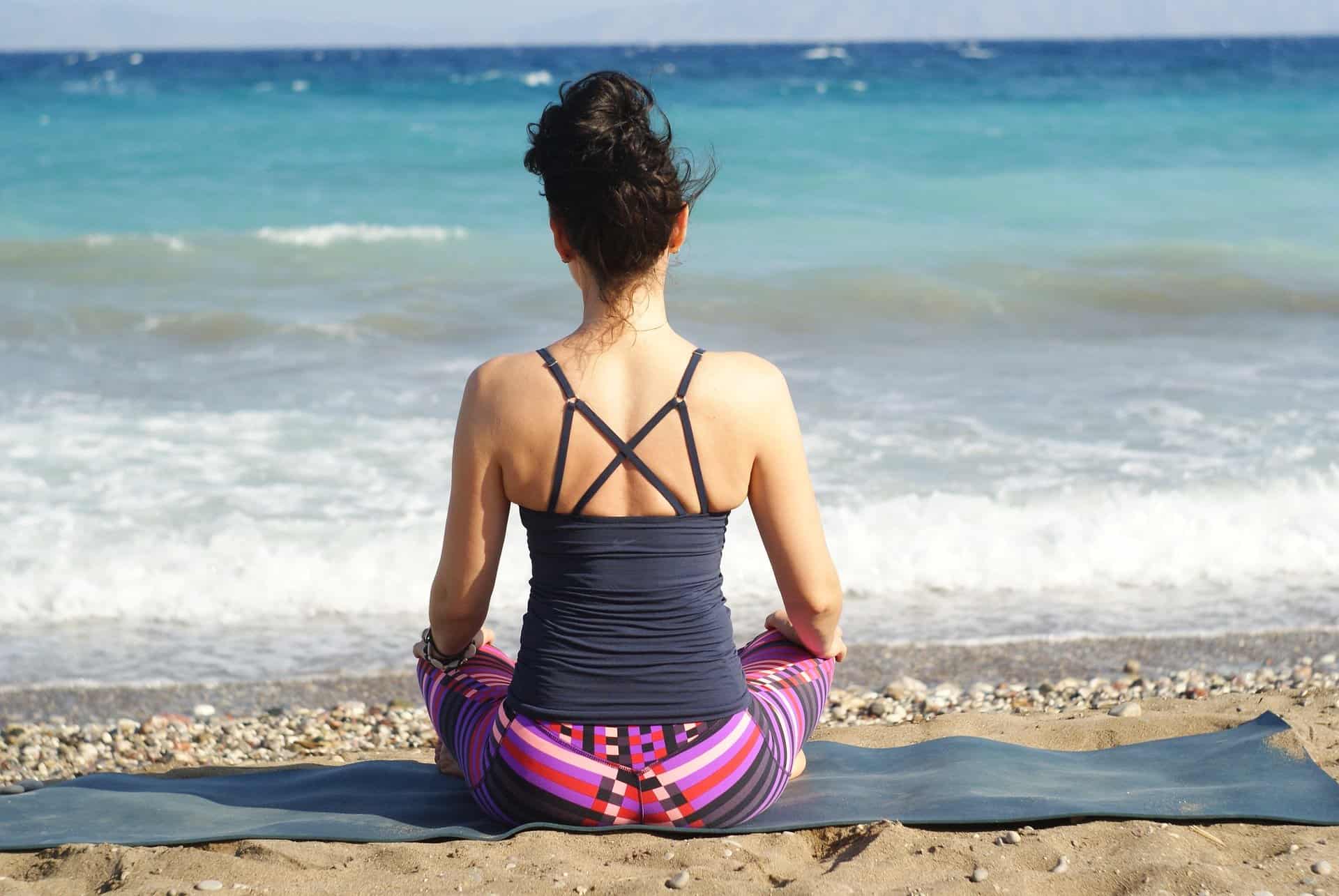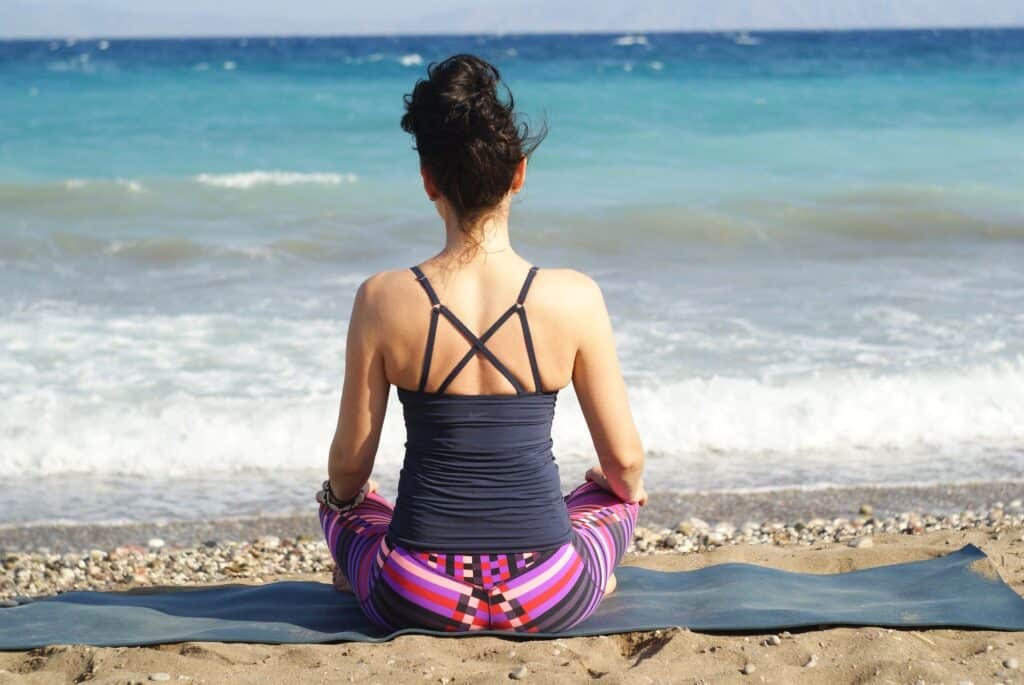 The Relaxation Response and Fertility
Achieving the "relaxation response" is not only linked to many positive health outcomes, but it is linked to tripling the successful pregnancy rate.
How to Achieve the Relaxation Response
Great news!! There are sooo many ways!! My favorite is meditating and visualizing while listening to a guided full-body relaxation or yoga nidra.
Other ways include progressive muscle relaxation, prayer, meditation, various breathing techniques, tai chi, qi gong, massage, biofeedback, music, art, dance, hydrotherapy, and yoga.
Try a few and see what works for you. I've achieved the true relaxation response through meditation, visualization, breathing techniques, yoga nidra (but not regular yoga), and massage.
BUT, the easiest, and by far most consistently successful way for me personally to achieve the relaxation response is by listening to a guided meditation.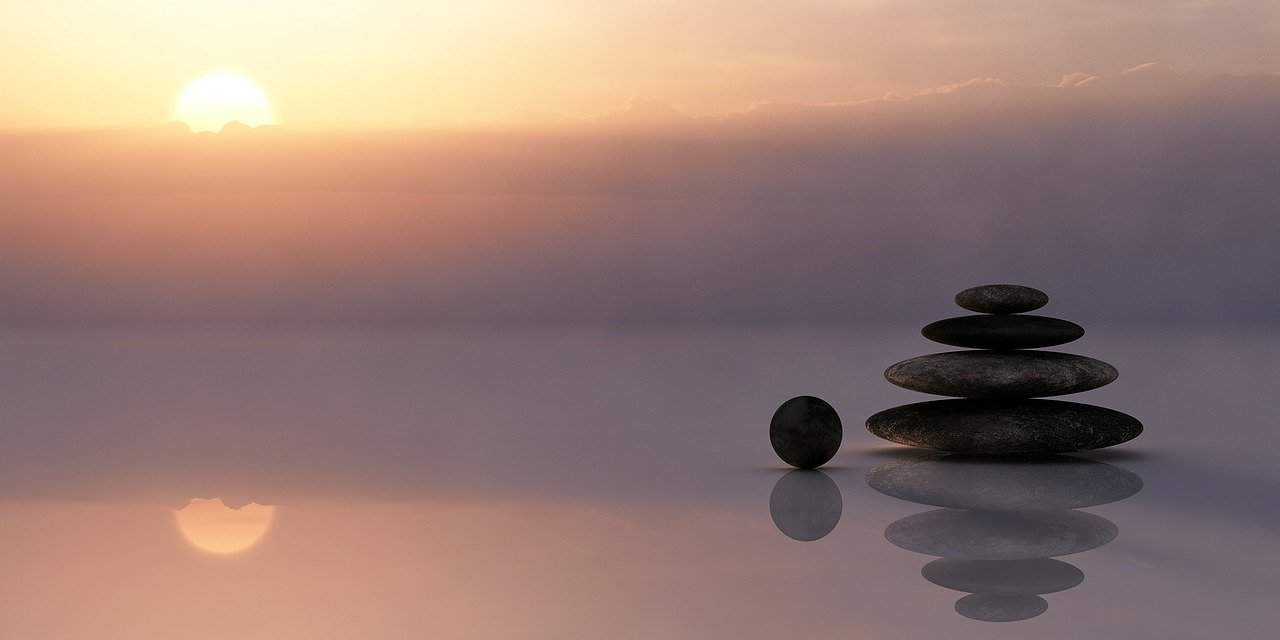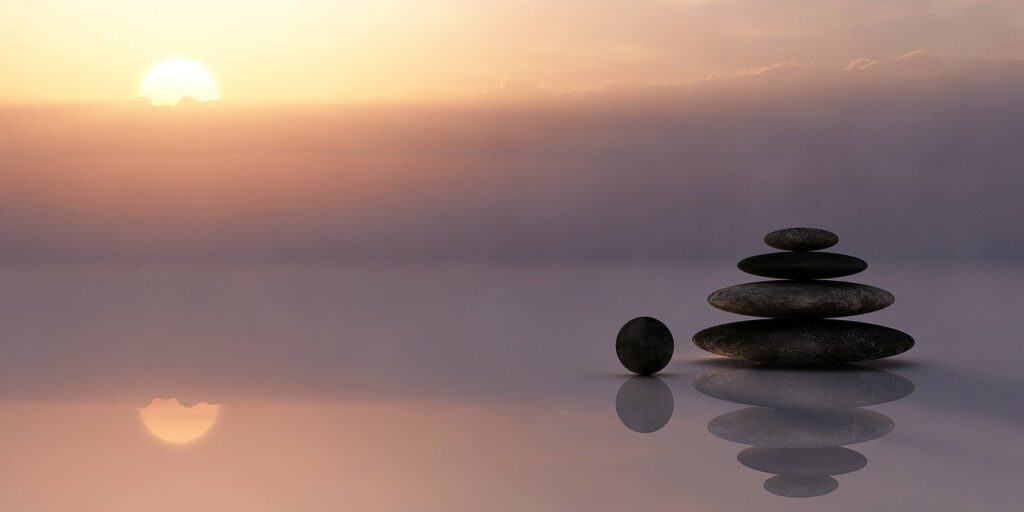 The Easiest Ways to Achieve the Relaxation Response
The key is to hit the "relaxation response" for 15-20 minutes a day. Here are my favorite ways to meditate (because I can't just sit down and OHMMMM or I lose my mind):
Yoga Nidra– you can download one from Amazon. One hour a day is better, but there are 20 minute sessions. I've enjoyed ones by Robin Carnes and Marc Halpern.
Circle & Bloom– My favorite fertility, pregnancy, and cancer-recovery meditation company also has programs for Stress Reduction, Happiness, Deep Sleep, and Body Detox. Both months I got successfully pregnant I was listening daily to their Natural Fertility program. Use my code tomakeamommy for 20% off.
Heartmath. For those science and math inclined, this is a great program that tracks your heart rhythm patterns and helps you reduce stress through achieving clinical emotional balance and coherence. You can actually see your heart rate patterns and challenge yourself to achieve greater levels of what they call "coherence." I use the Inner Balance Tool and love it. This tool is widely used in clinical settings, especially by psychotherapists. It uses Bluetooth technology near your head, which is weird, but I do it anyway because I find it so incredibly helpful.
Any other meditation tool or app– Headspace, Calm, Insight Timer, etc. Insight Timer has Yoga Nidras also!
Other Methods of Self-Care
I would never, ever limit myself to 20 minutes a day of meditation as my only self-care. There are so many ways to be radically self-indulgent and replenish your emotional, mental, and physical stores.
Whenever we focus on being happier and more in balance, we are boosting our fertility.
This investment in yourself is just as important as any investment in IVF!
So here are 10 Ways to do Radical Fertility Self-Care!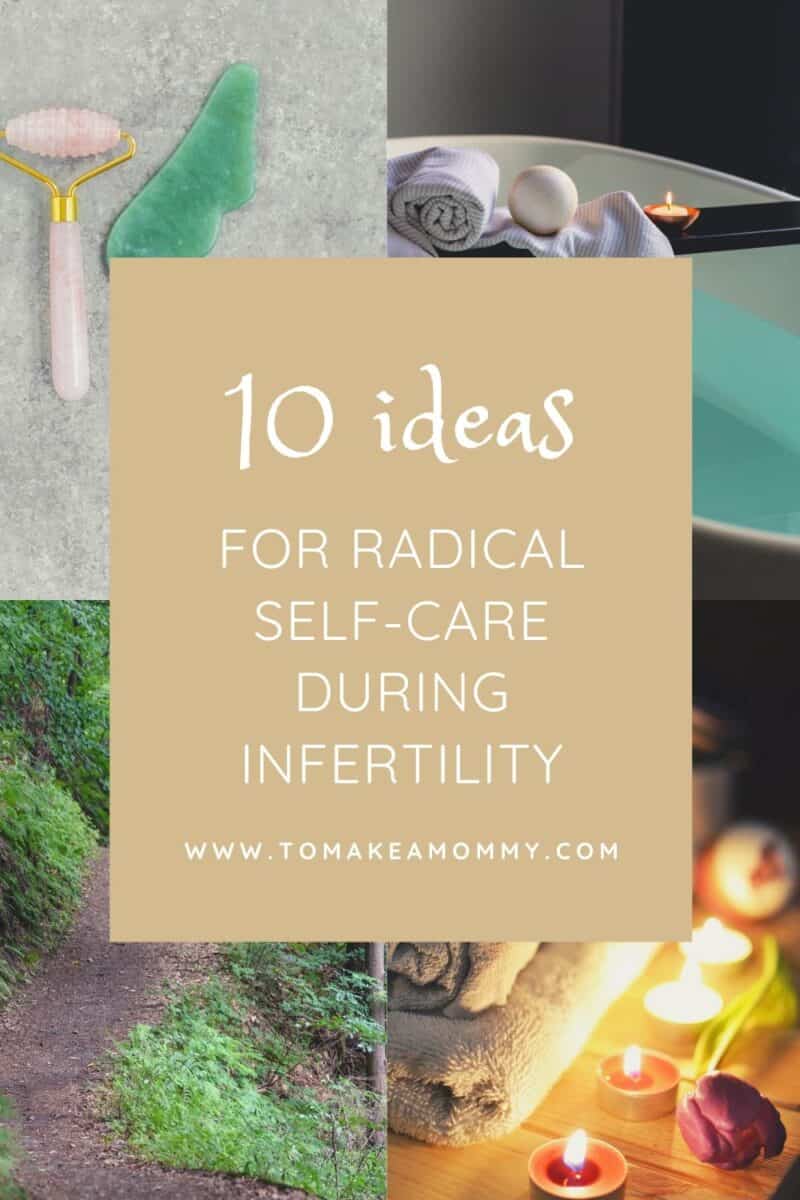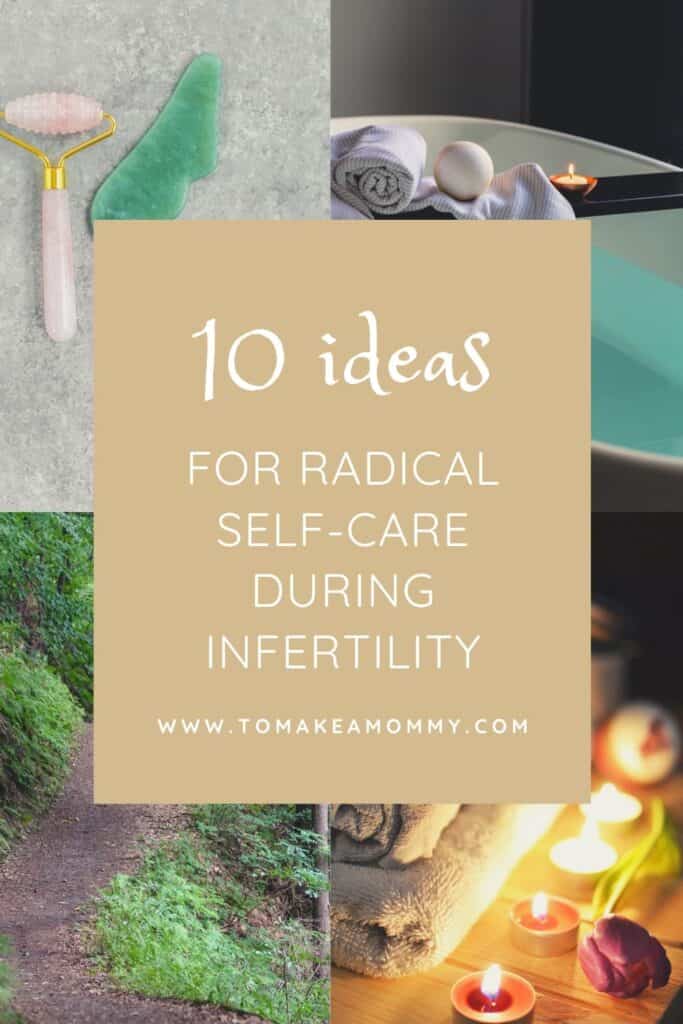 10 Ideas for Radical Self-Care for Fertility
How do you do self-care while trying to conceive?
✕
Want to get pregnant fast?
Love lists? Me too. Grab my 79 Things I did to transform my life and get pregnant in less than 3 months after 2 years of infertility and miscarriages! Totally free!

When Anna Rapp was struggling with infertility and recurrent early miscarriage, she was diagnosed with diminished ovarian reserve, High FSH, low AMH, low follicle count, endometriosis, and an MTHFR mutation. Despite being told donor eggs were her only solution, Anna used her graduate training in research methods and analysis to read everything she could find on fertility and egg health. Ultimately, she lowered her FSH and got pregnant naturally (twice). She blogs about how she did it and encourages her readers to take charge of their fertility journey and get happy, healthy, and pregnant!