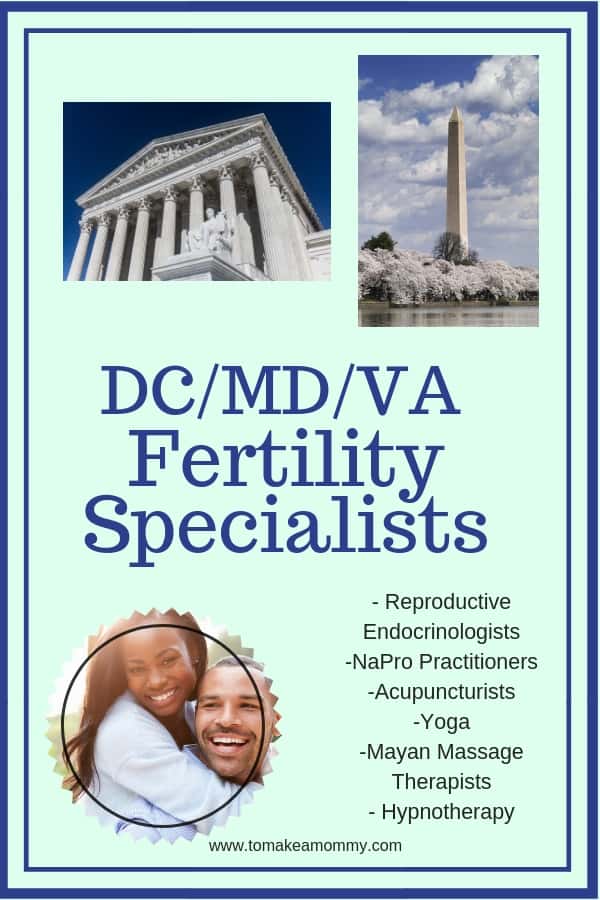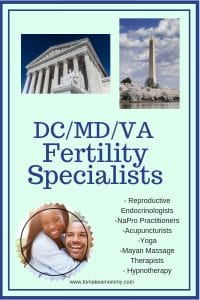 Since I've gotten pregnant TWICE naturally after the doctors told me it was impossible, I get emails all the time from readers asking who my doctors were, who my acupuncturist was, etc. Honestly, I wish I'd seen more local practitioners so I could recommend more! But I decided I would go ahead and make a post that included first- who I saw and recommend, and second- a list of all fertility specialists in the DC Metro area (the "DMV"- DC, Maryland, and Virginia capital region).  
Click here to read my story of my first miracle!
Click here to read my story of my second miracle!
**If you are a fertility specialist in this area and aren't on my list, please shoot me an email, and I will add you!
**If you struggle with or have struggled with infertility and would like to share your thoughts on one of these, please do so in the comments! If you'd like me to add someone you can add in comments or shoot me an email!
Fertility Specialists that I saw
Acupuncture– My brilliant acupuncturist was and is Clair Jung. She practices in Woodbridge, Alexandria, and Arlington. She actually specializes in pain management and not fertility, but she helps a lot of women get pregnant. She spent a whole year of her training in a woman's hospital focusing on OB/GYN acupuncture. And, she is getting a whole lot of ladies pregnant! I saw her before both successful pregnancies. Her website is OMDPeaceAcupuncture. Tell her I sent you! You can read my post on finding a great acupuncturist for fertility here!
Hypnotherapy– My lovely hypnotherapist was and is Lindsey Vick of Sunflower Wellness in Alexandria. Hypnotherapy with her helped me process a lot of fear and trauma I had around pregnancy after miscarriage. I truly believe it helped me achieve my first successful pregnancy. She is also an intuitive reiki practitioner, and you can book a double session- hypnotherapy and reiki. Lindsey is also a brilliant hypnobirthing professional, and we did her course and used hypnobirthing for both births. She even came to the hospital and gave me reiki and did a hypnotherapy session with me while I was being induced with my first. You can find her website at Sunflower Wellness. Tell her I sent you!
Reproductive Endocrinologist– I first went to GW Infertility, but switched to Shady Grove. Although both of my pregnancies were natural miracles, I am indebted to the late Dr. Stephen Greenhouse who would not let me even try IVF unless my FSH went down to a reasonable level. He saved me from myself. Unfortunately, he passed away recently. I don't have another doctor I recommend there, but I have no problems with the establishment itself.
Unfortunately, that is it!  Below is my ever-growing, aiming to be comprehensive, coverage of fertility specialists in the DMV area!  
***Please note that this is simply a list of fertility practitioners and resources in the DC area. I am in no way in endorsing any of them (well, except for my acupuncturist and hypnotherapist). Do your own research and see them at your own risk!
Infertility Doctors- Reproductive Endocrinologists in the DC/Maryland/Northern Virginia Area
Shady Grove– A gigantic fertility complex with 43 doctors and a location in almost every city in the area. When you walk in there are huge signs saying "Every three hours, a Shady Grove baby is born." They offer the works, including their own egg donors and their own embryo donation bank. Some people don't like them because they feel like they are a, and I quote, "baby factory." I was like, "Heavens! Sign me up for the baby factory!!" Personally, I feel this is the best option in the area. But if you are looking for a more personalized approach, you might want to look elsewhere.
GW Fertility & Infertility– I actually started with them, because my OB/GYN was at GW. They are smaller, and a non-profit research organization. I left them because I wanted a second opinion and couldn't believe the results they were giving me. Unfortunately, it turned out their results were correct. And I wanted the "best," and at the time Dr. Greenhouse at Shady Grove was the "best." Their procedures are a bit cheaper than Shady Grove's if you are paying out of pocket.
Dominion Fertility– Known locally as the  "boutique" infertility center, they advertise themselves as being a very personalized center. They also are open to things like Natural Cycle IVF, which you'd be hard pressed to convince a Shady Grove doctor to do!
Washington Fertility– I don't know anyone who has gone here, but they advertise themselves as having more affordable options than the other centers. Indeed, with an egg donor cycle costing only $13,900, that is way cheaper than Shady Grove.
CCRM Northern Virginia– This is a DC area offshoot of a national chain of IVF Centers. Our local centers are in Vienna, Olney, and Columbia. One nice thing about CCRM is that they advertise right on the front page of their website that they are happy to work with LGBTQ Couples.
Caritas FertilityCare– Creighton Model & NaPro practitioners in the Greater D.C. Area. These are Catholic practitioners who will work with you on everything related to fertility and infertility from a western medicine standpoint, but will not support conception outside of the body. One big benefit of NaPro practitioners is that because they don't have IUI, IVF, or donor/egg/embryo as tools, they are more likely to help you heal your body to make yourself more fertile, or to pursue other tools (like surgery or other medicinal approaches).
Gaithersburg FertilityCare– Creighton Model & Napro Practitioners in the Greater D.C. Area 
Acupuncturists for Fertility in the 
DC/Maryland/Northern Virginia Area
Clair Jung of OMDPeaceAcupuncture– My acupuncturist who helped get me pregnant twice! She practices in Woodbridge, Alexandria, and Arlington.
Barbara Mikula of Mikula Fertility Acupuncture practices in Leesburg (close to Ashburn, Purcellville, Herndon, and Sterling). Good for our Loudoun/Fairfax county ladies! She does acupuncture, acupressure, herbs, nutrition, moxibustion, and gua sha!
Dr. Kelly Welch & Kate Yonkers– DC based acupuncture practice with a fertility specialty.
Fertile Living– Acupuncture practice in Alexandria specializing in fertility, pregnancy, and menstrual health.
The Wellness Center at Shady Grove Fertility– This was formerly Pulling Down the Moon DC, but has now become part of Shady Grove in their bid to take over all things infertility in the DC area. They offer acupuncture, massage therapy, and nutrition assistance. The have offices in Rockville, K-Street, and Fair Oaks.
Yoga for Fertility
Angelyn Shapiro–  Angelyn is a yoga instructor who focuses on working with women struggling to become pregnant. She teaches a small group fertility-focused class on Monday evenings and also works with clients one-on-one in their homes, offices, or in a studio setting.
Other Fertility Practitioners in the DC Area
Hypnotherapy- Lindsey Vick at Sunflower Wellness in Alexandria
Vaginal Steaming- Skyline Wellness in Alexandria
Ashley Miya– Mayan Abdominal Massage & Vaginal Steaming in DC.
Kamala Oliver– Mayan Abdominal Massage in DC
Connie Calaway– Mayan Abdominal Massage in Bethesda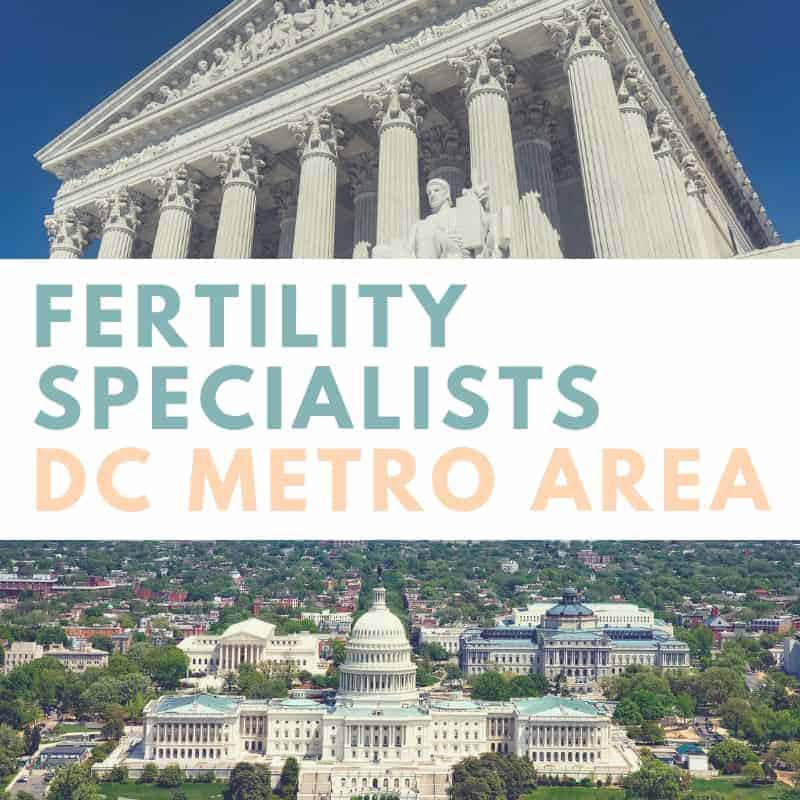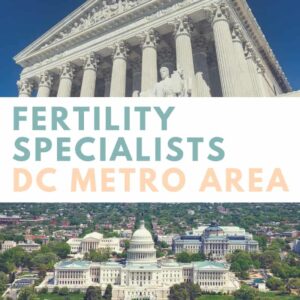 ✕
Want to get pregnant fast?
Love lists? Me too. Grab my 79 Things I did to transform my life and get pregnant in less than 3 months after 2 years of infertility and miscarriages! Totally free!

Anna Rapp is a fertility journalist and non-toxic living expert. When Anna Rapp was struggling with infertility and recurrent early miscarriage, she was diagnosed with diminished ovarian reserve, High FSH, low AMH, low follicle count, endometriosis, and an MTHFR mutation. Despite being told donor eggs were her only solution, Anna used her graduate training in research methods and analysis to read everything she could find on fertility and egg health. Ultimately, she lowered her FSH and got pregnant naturally (twice). She blogs about how she did it and encourages her readers to take charge of their fertility journey and get happy, healthy, and pregnant!