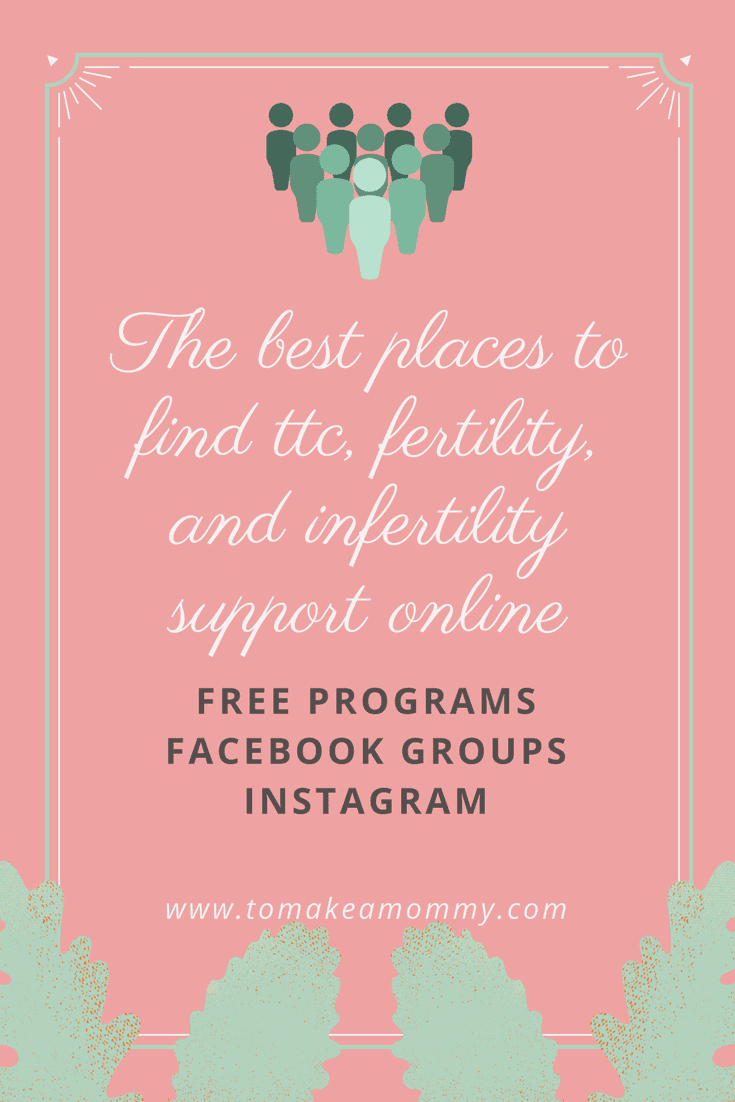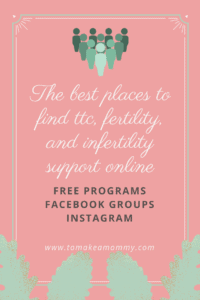 We all know one of the great things about the internet is not only that it provides us with information but it can provide us with support.  If you're anything like me you've come across multiple web forums with people sharing stories, passing on hope, and giving you the answers that you wanted but your doctor wouldn't give.  In the last year, while blogging, I've realized that there are so many other resources out there (beyond web forums!) to provide support on your trying to conceive journey. Some of these are just informative, but most of them are social-media gold- women supporting women in their journey to baby.  In this post I'm going to cover my favorite free fertility programs, my favorite fertility-related Facebook Groups, and the TTC and Infertility Community on Instagram.
Free Fertility Programs:
Gabriela Rosa's 14 Day Fertility Challenge– Ladies, Gabriela is AMAZING.  Seriously, she is incredible, and the 14 Day Challenge is AWESOME!  If you are having a hard time getting started on your journey to a clean organic whole foods fertility diet, toxin free living, and a mind-body routine, start with this challenge!  You get a daily email that gives you access to that day's video and and transcript (which is good, because I hate videos).  You also get access to her fantastic facebook support group where there are other women going through and who have gone through the 14-Day Challenge. The knowledge in this group is great, and Gabriela weighs in directly on many questions posed in the group.  
How is this free?  Well, Gabriela has a crack team of fertility naturopaths and healers, and for a fee they will give you a private consultation.  You don't have to do that though, and you can always unsubscribe from her newsletters after the challenge is over.
Free 30 Day PCOS Diet Challenge
The woman who blogs at Smart Fertility Choices actually overcame her infertility and got pregnant naturally WHILE blogging about how to beat PCOS and deal with infertility. Her IVFs had failed, but her diet and mind-body work did it! I love stories like that!  Her free 30 Day PCOS Diet Challenge is filled with meal plans, shopping lists, and recipes that are tailored for PCOS.  Much of this is good for anyone struggling with infertility however, and it is a great free resource!  
How is it free?  Well, she has a PAID Beat PCOS 10 Week Program that she wants you to join afterward.  But you don't have to, you can just enjoy the Free 30 Day program and then unsubscribe!  She also has a facebook group you can join after you are in the program.
Facebook Groups:
In the last year facebook groups have become HUGE.  I have found them to be a tremendous place for support in the trying to conceive and "infertility" journey.  These are safe places- most groups are secret or at least private- where you can ask your questions, post pictures of your BBT charts, ask questions about your ovulation tests, etc.  Some groups, like the one I help moderate, are about how to implement a clean diet and toxin free lifestyle.  

Here are my favorites:
Clean Eating & Green Living for Fertility– This is the group I started and help moderate and I LOVE IT!  It is small, and we feel safe to talk like crazy, crunchy, non-toxic people.  We share ideas on non-toxic products, DIY non-toxic items, fertility friendly diet ideas, etc.  Everyone here has already bought into the whole no sugar/no sweeteners, natural healing, etc. idea, and we are trying to support each other on the journey.  Many women are doing IVF, though some are trying naturally.  Many have dire diagnoses, but are keeping the faith! Come join us today!
Natural Fertility and Wellness- private group chat – This group is moderated by Fertility Blogger Donielle Baker and some of her helpers.  It is meant to be ONLY about natural fertility healing, with no discussion of IUI, IVF, etc.  But, I have noticed that those questions sneak in!  It certainly doesn't bother me.  This is a large group but they have good answers on many topics, and people definitely share their LH ovulation test strips, their BBT charts, etc., and ask for help and opinions.  A good overall group for detailed TTC (trying to conceive) support.
Fab Fertile Support Group– This group is run by Fertility Coach Sarah Clark.  The best thing about this group is freebies-  free fertility yoga videos, free downloads, mini-raffles for free fertility coaching sessions, etc.  She also does FB live series where you can ask questions.  Sarah does a great job of being PRESENT in this group and providing support.
Fertility Warriors Support & Chat Group – This is a group led by Infertility Warrior, writer, and blogger Robyn Birkin.  She is passionate about creating a tribe of women who support themselves in their quest for baby.  She leads the group in special days- Manifest Monday, Grateful Wednesday, and Feel Good Friday.  This is a great group for emotional support!
There are also plenty of facebook groups that are tailored to specific diagnoses.  For example I belong to the High FSH and TTC support group and I love it.  Although it is mostly women who are going through IVF, I love sharing my story of success as inspiration.  You'll have to search but you can probably find a great facebook group tailored to YOUR specific situation.
Instagram
Ladies, Instagram is AMAZING for finding support!  Whether you have just started trying to conceive or you are struggling with infertility, the support you can find on Instagram is truly amazing! Some women create completely secret TTC accounts that no one in their family or circle of friends know about so they can be completely honest about their journey.  These women are honest about the pain and struggles they are going through, and the community gives them love and support in return.  They celebrate the positive tests, the steadily rising HCG, and they mourn the miscarriages and chemical pregnancies.  It is also totally normal and understood if you unfollow someone who is pregnant if it is too much for you.  I really can't speak highly enough about this community!  It can provide you with great support, which is so crucial to this journey!
If you want to start a TTC account on Instagram here is how to do it:
Pick a fantastic name that makes it obvious you are trying to have a baby. People use names like: makingbabyjones, myivfrainbow, ttcbabyjones, ivfbabydust, ttcscienceandfaith, thejonesbabyproject, waitingformyrainbow, etc.  

Make sure your Profile Description is clear.  Many women have private accounts and they specifically say "TTC-only please," which means that only other women trying to conceive should ask to follow them. Many women put their whole TTC journey into the short amount of characters Instagram gives them.  It will be something with images that shows when they were married, how long they've been trying, any babies in heaven, and what they are trying now (natural, IVF, Clomid, etc.).

Start posting– and use hashtags to find community and build a following.  You both USE hastags on YOUR posts and you can search hashtags to find other people's posts and start following profiles you like.  Here is a list of commonly used ttc, fertility, and infertility hashtags:
#fertility #infertility #ttc #ttcsisters #ttcjourney #ttccommunity #infertilitysucks #ivfjourney #miscarriage #pcos #pcosawareness #ivfsisters #endometriosis #infertility #sisters #infertilitycommunity #ttcwithpcos #ttcwithendo #ovulation #infertilitysupport #unexplainedinfertility #infertilityjourney #fertilityjourney #infertilityawareness #ivf #iui #fet #pcosfighter #conception #getpregnant #letsgetpregnant #fertilitydiet #fertilefoods #ttcafterloss #ttcaftermiscarriage #POAS (pee on all the sticks) #miraclebaby
What other free online fertility resources do you love?
The 79 Things!
Want to know how I got happy, healthy, and pregnant in less than 3 months after 2 years of infertility and miscarriages?
You need my list of the 79 diet and lifestyle changes I made that transformed my life and brought my miracle baby to me!
✕
Want to get pregnant fast?
Love lists? Me too. Grab my 79 Things I did to transform my life and get pregnant in less than 3 months after 2 years of infertility and miscarriages! Totally free!

Anna Rapp is a fertility journalist and non-toxic living expert. When Anna Rapp was struggling with infertility and recurrent early miscarriage, she was diagnosed with diminished ovarian reserve, High FSH, low AMH, low follicle count, endometriosis, and an MTHFR mutation. Despite being told donor eggs were her only solution, Anna used her graduate training in research methods and analysis to read everything she could find on fertility and egg health. Ultimately, she lowered her FSH and got pregnant naturally (twice). She blogs about how she did it and encourages her readers to take charge of their fertility journey and get happy, healthy, and pregnant!