Saint Catherine of Sweden is a Patron Saint of Miscarriage and Recovery from Miscarriage- and is a great Saint to get to know if you have struggled with one or many pregnancy losses. She is also the right Saint to pray with if you are pregnant but are nervous about losing the pregnancy. You can invoke her in prayer during a difficult pregnancy to protect against miscarriage.
Healing After a Miscarriage
Let me start by saying that if you have had a miscarriage, and that is why you have found this post, I am so sorry. I have had several losses and they are heartbreaking.
Make sure to click over to my post on Emotional Healing After Miscarriage for ideas on how I managed emotionally after my losses.
Patron Saint for Help with Difficult Pregnancy and Protection from Miscarriage
If you have found this post because you are pregnant and are fearful of miscarriage, please know that fear is normal, especially if you have had a prior loss or struggled with infertility. The fear will not harm your baby.
If you are struggling with a difficult pregnancy, my prayers go out to you. St. Gerard is of course another great Saint to pray to in this time. Personally I like to always have a female saint to pray to as well!
And, my best advice is to pray, pray, pray, pray, pray.
Also, check out my post with ideas from me on how I managed fear and anxiety in pregnancy after infertility and miscarriage.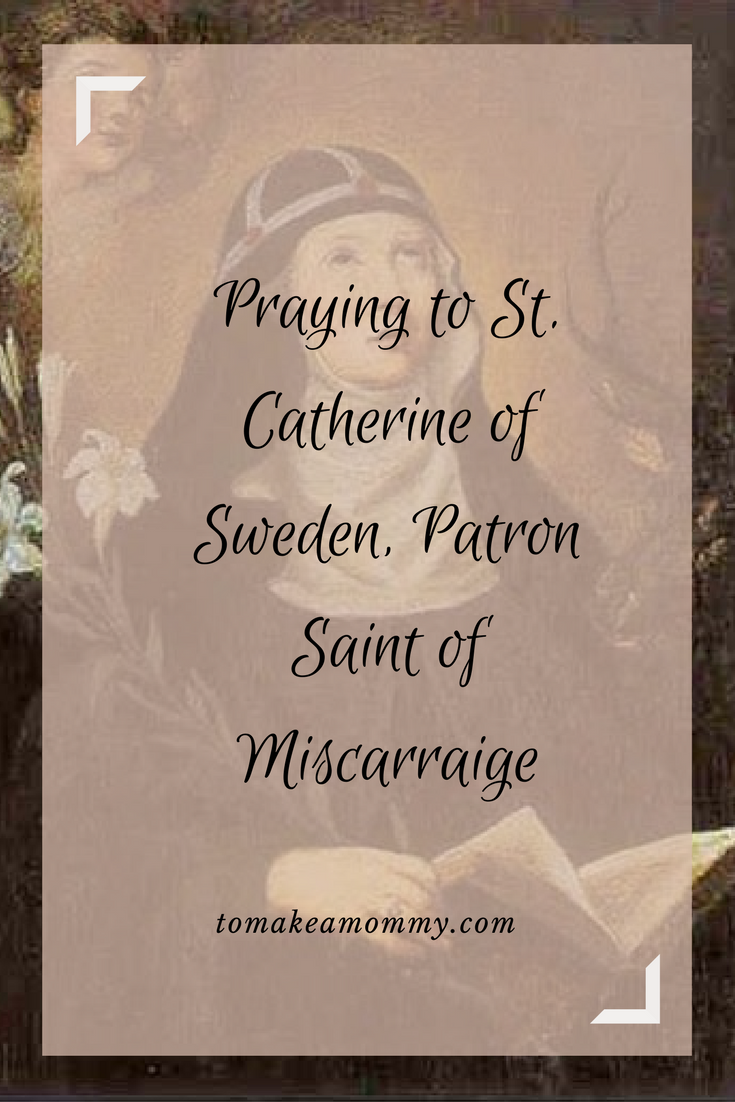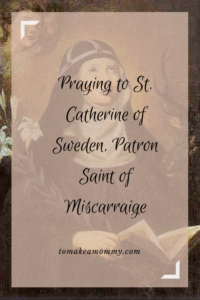 I was raised Catholic, and I find great comfort in praying with the Saints. Knowing that there is someone special in heaven praying for me and advocating for me to Jesus is blessing. It doesn't mean I can't pray directly to Jesus . . . it just means I get a little extra special attention from someone who cares about me and my prayers.
Check out all my posts on Saints and Fertility here!
Saint Catherine of Sweden, Patron Saint of Protection from Miscarriage
St. Catherine of Sweden is a great saint to pray to on your infertility journey, because she is the patron saint for those who have suffered a miscarriage, and for protection from miscarriage.
Her feast day is March 24, and you can pray to her both for healing from miscarriage and for preserving a current pregnancy from miscarriage.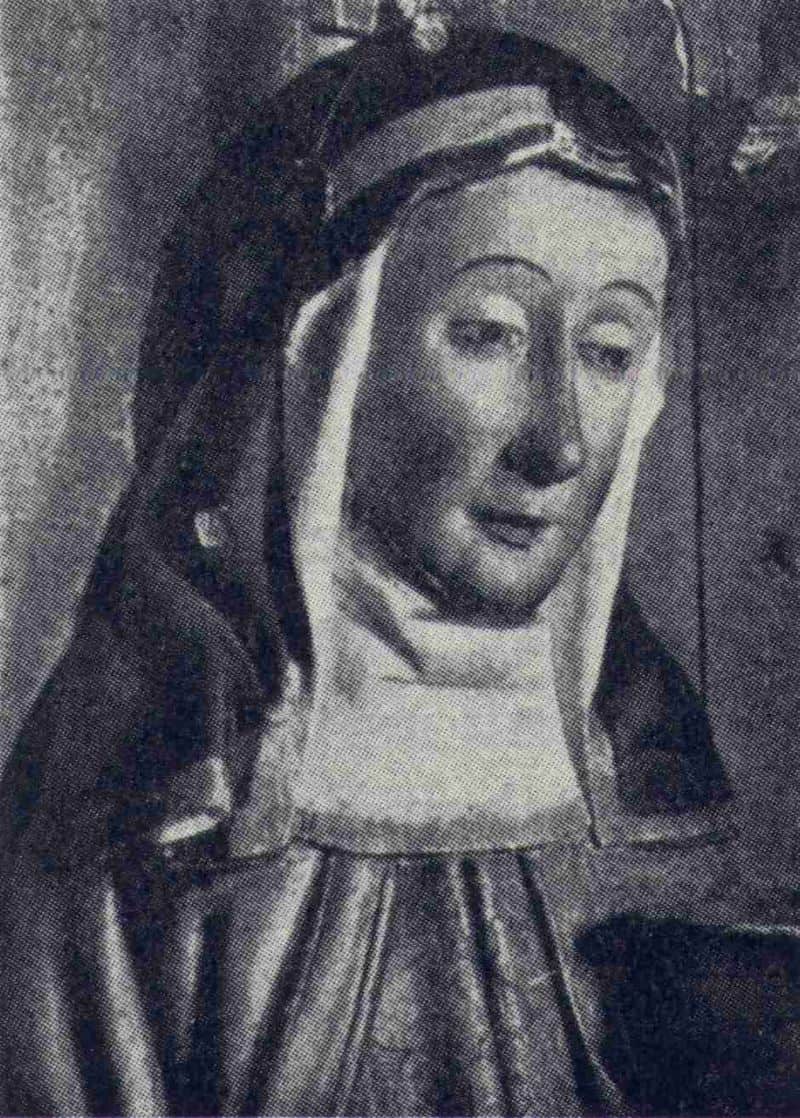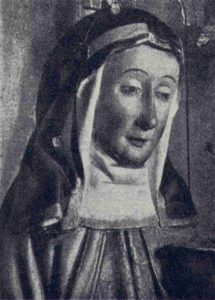 The Life and Miracles of St. Catherine of Sweden
St. Catherine was a Swedish princess who lived in the 1300s and was the daughter of St. Bridget of Sweden. She was married at age 13, but she and her husband both took mutual vows of perpetual chastity. Her husband died, and she followed her mother around Europe doing Christ's work.
During that time she worked with the poor and taught them life skills and Christianity. As her mother did, she counseled women who had suffered a miscarriage or illness during their pregnancy.
It is said that as a beautiful princess widow she was pursued by many suitors after her husband's death- but refused them all.
During her life she was said to perform actual Resurrection miracles. For example, a man working for her fell off her coach and was run over by the wheels and died. Catherine touched him and he came back to life.
Another story is when a workman fell from the roof of a house and was dead and his body twisted. Catherine touched him and he came back to life healthy, and unbroken.
After her mother, Saint Bridget of Sweden died, Catherine returned to Sweden and helped the Order of the Holy Savior which had been started by her mother. Catherine also became friends with Catherine of Siena.
St. Catherine's symbols are the red deer and lilies (for purity). There is a story that deer protected her from an attempted rape.
There are prayers to her for both avoiding miscarriages, and for healing after a miscarriage. Both are shared below.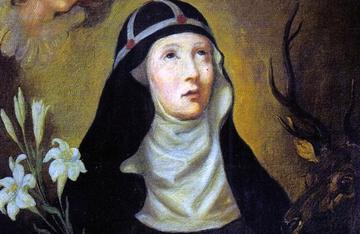 *This post contains affiliate links which at no cost to you provide me with some small change to help keep this blog running! If you decide to buy something I recommend, please consider clicking through one of my links to help support this blog and my family! Thank you!
How to work with St. Catherine of Sweden for Avoiding Miscarriage or Healing from Miscarriage
I like to imagine the Princess Catherine with her mother caring for the poor women of Europe. Maybe when a woman had a miscarriage she made her bone broth or another nourishing soup. Maybe she sat with them and talked about God's promises. Either way, I hope you find a way to work with her to bring you comfort!
Pray with her. Use the traditional prayers below or use your own prayers. Ask her to intercede on your behalf to Jesus. If you are nervous to pray your own words, check out my post on Asking God for a Miracle.
Carry her prayer card with you. Here is a sweet printable you can buy and print from Etsy.
Think of her consoling the poor women of Europe after their miscarriages, and know if you have had a loss, that she is consoling you and sending you healing love from Heaven.
Wear a medal in her honor. Everytime you touch it, see it, or think of it, say a prayer to her! Get yourself a nice one if you feel very connected to her.
Order a Chaplet with her medal, and pray the Rosary with her.
Keep a little peg doll of her in your purse or on you home altar.
Tell people about her. Share her story. There is a special grace given when you tell others about Saints that are special to you.
Celebrate her feast day- March 24th- with prayer and meditation.
Consider volunteering- give of yourself, just as St. Catherine gave of herself.
If you have experienced a miscarriage, there is a sweet and simple prayer to St. Catherine of Sweden asking for healing and consolation.
Traditional Prayers to St. Catherine of Sweden
Prayer to St. Catherine of Sweden for Healing and Consolation after Miscarriage
Dear Saint Catherine, patron of those who have suffered a miscarriage, you know the dangers that await unborn infants.
Please intercede for me that I may receive healing from the loss I have suffered.
My soul has been deprived of peace and I have forgotten what true happiness is.
As I mourn the loss of my child, I place myself in the hands of God and ask for strength to accept His will in all things, for consolation in my grief, and for peace in my sorrow.
Glorious Saint Catherine, hear my prayers and ask that God, in good time, grant me a healthy baby who will become a true child of God.
Amen.
Prayer to St. Catherine of Sweden for a Healthy Pregnancy and for Avoiding Miscarriage
Dear Saint Catherine, you know the temptations of mothers today as well as the dangers that await unborn infants.
Intercede for me that I may avoid miscarriage and bring forth a healthy baby who will become a true child of God.
Dear Heavenly Father, I thank and praise You for the gift of all human life.
I am most especially grateful for the new life within my womb – the unborn child forming deep within me.
Through the prayers of Mary, Mother of Jesus, and the intercession of Saint Catherine of Sweden, I beg You to watch over and protect this little one inside my womb.
In Jesus' Name.
Amen.