After years of struggling to get pregnant, and having multiple early miscarriages and chemical pregnancies, I finally received multiple infertility diagnoses (High FSH, Low AMH, Low antral follicle counts, diminished ovarian reserve, Endometriosis, and MTHFR single mutation). (Don't worry there is a happy ending- otherwise, it wouldn't be my CoQ10 Fertility Success Story!)
Although I was only 32 then, the doctors said- sorry, you have bum eggs, and nothing can be done about it. They said I needed to use donor eggs. Well, I wasn't about to accept that answer (especially when it came with a price tag of $40,000!
How I Learned About CoQ10 for Egg Health.
Enter Dr. Google, and ALL the fertility books ever (haha, at least all the ones published by 2014). I read, and I read, and I read. I took notes, I made lists, I discovered. I did 79 Things because I am Type A and INSANE.
(Note, neither I, nor Dr. Google is a real doctor. Always talk to YOUR doctor before starting any new supplement. You own your fertility & wellness journey, not me!)
And one thing which I read about first in Rebecca Fett's It All Starts with the Egg (a life-changing fertility book, by the way, get it NOW if you haven't already read it), is that there is a developing body of scientific research showing that CoQ10, can do really tremendous things for egg health.
She has an 11 page chapter in the book that goes into full detail on the research behind CoQ10 and egg health if you, like me, enjoy nerding out on these things! In her second edition she also specifically mentions this kind of CoQ10 that I am giving away- The Bio-Quinone Gold – as one of the best kinds!
Update: I wrote my own super nerdy post on the Science of CoQ10 & Age-Related infertility.
*This post contains affiliate links which at no cost to you provide me with some small change to help keep this blog running. If you decide to buy something I recommend, please consider clicking through one of my links to help support this blog and my family!  Thank you!
CoQ10 For Fertility
CoQ10, a substance found inside of everyone, works to energize our cells at the mitochondrial level- the level on which developing eggs and sperm are operating on. Healthy mitochondria=healthy egg and embryo quality. As we age, our CoQ10 levels decrease, and our egg and sperm quality can decrease. The natural order of things.
For some reason, at age 32, I was presenting as if I had a very old, stressed, reproductive system (my clinical results are also called things like Diminished Ovarian Reserve, or the super scary Premature Ovarian Insufficiency).
Among other things, including diet, other supplements, eliminating toxins, and doing mind-body work, I needed CoQ10. I needed energy at the mitochondrial level. I needed a reboot!
Now, eggs take about 90 days to develop, and CoQ10 takes several weeks to build up in our tissues. So, bascially, while I was doing ALL THE THINGS for 90 days to try to improve my egg health, I needed to also be taking CoQ10.
As I did more research, I learned that CoQ10 could also help with sperm health, so my husband started taking it as well.
(By the way, CoQ10 is kind of a miracle drug since its kind of like a capsule of our body's own fountain of youth. Other things CoQ10 has been shown to potentially help with include: high blood pressure, immune system, chronic fatigue syndrome, fatigue, high cholesterol, protection from chemotherapy, gum disease, age-related macular degeneration, Alzheimer's, Parkinson's, and migraine headaches.)
We went to BJ's (our local discount wholesaler) and bought the cheapest Ubiquinol version of CoQ10 we could find. We didn't really feel a difference, but we did get pregnant naturally– twice!! (Now, I recommend this highly-bioavailable CoQ10). Of course I was doing 79 Things, and he was doing a whole slew of things for male fertility as well!
(Click here for my intro story about my first miracle baby, and here for my second miracle baby story)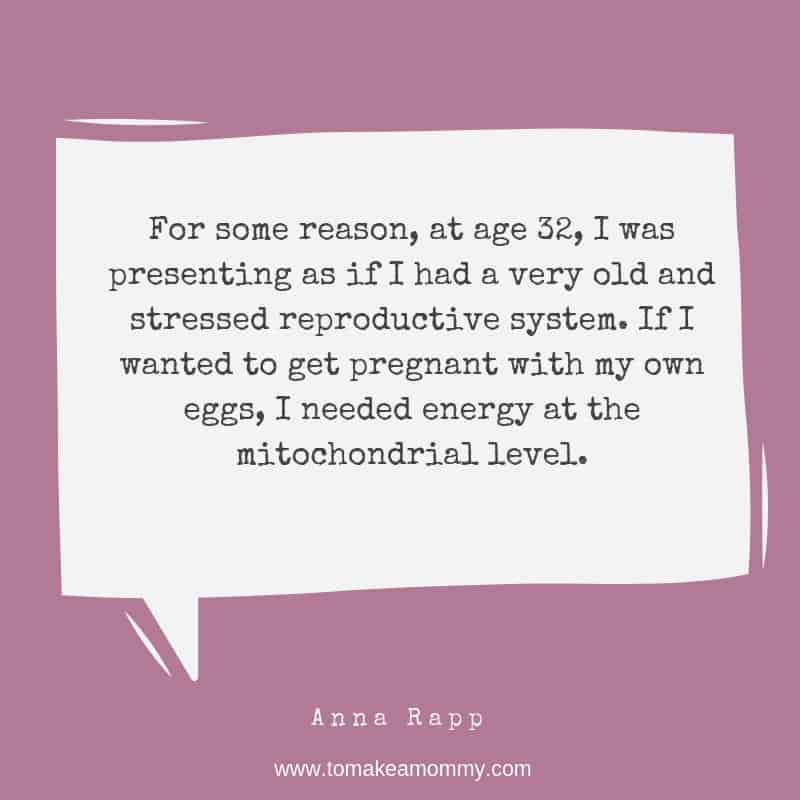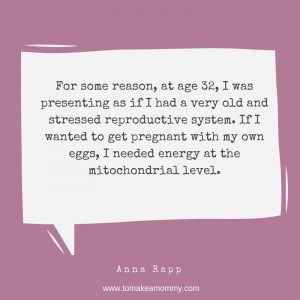 What kind of CoQ10 to Take for Fertility
There are two different kinds of CoQ10 that are sold in capsules- Ubiquinone, and Ubiquinol. Most of the scientific research has been done on Ubiquinone, but some research shows that Ubiquinol is about twice as bioavailable as Ubiquinone. That means you need about half as much. BUT Ubiquinol is more expensive because its more difficult to make in the laboratory. There is also a third class of CoQ10 I've recently learned about- highly bioavailable Ubiquinone that is easily absorbed by the body. You need about the same amount of this type as you do Ubiquinol. It's expensive also.
Now, I'll get to the good stuff. My husband and I finally tried some of the good highly bioavaiable CoQ10 and we have been blown away. About twenty minutes after we take 100mg we are filled with energy. Like drinking a latte only without the sugar and caffeine crash! I can't imagine how much more powerful this formulation is for fertility health than the cheap stuff I was taking before (even though it was Ubiquinol!).
The kind we take is made by a Danish company called Pharma Nord, and we take their Bio-Quinone Active CoQ10 GOLD. They also have an Ubiquinol that is more expensive, but their Ubiquinone is so highly bioavailable, we are happy with it.  In general, you are going to be okay taking any Ubqiuinol (it should say "Kaneka" somewhere on it), or a specialized Ubiquinone.
The people at the company who make this say their internal research shows that the body can only process about 100mg at a time, and any more it generally pees out. So we take our doses with at least an hour or two in between them. AND we always make sure to not take any after 2 in the afternoon or so, so we don't wind up with insomnia!
Did you catch that? Let me say it again . . .
How to take CoQ10
Take your doses spread out- 100mg at a time, with at least an hour in between each dose.
Take them in the morning so you don't get insomnia at night.
Take less if it upsets your stomach (although research shows you can't really overdose on this stuff).
Eat some fertility friendly fats with your dose- avacado, olives, coconut butter, nuts, seeds, etc., to help your body process the CoQ10.
I encourage all my readers to take charge of their fertility journey and make a load of changes for optimal egg (and sperm!) health. I don't know why you wouldn't take CoQ10 unless you couldn't afford it (yes, it gets pricey!).
My CoQ10 Fertility Success Story
I worked so hard at getting pregnant naturally with infertility, and I am so happy to report that I successfully got pregnant twice, carried to term, and have two beautiful children. 
I have since successfully used CoQ10 for general energy, migraines, and for Long-COVID related fatigue.
Read my super nerdy post about CoQ10 here!
✕
Want to get pregnant fast?
Love lists? Me too. Grab my 79 Things I did to transform my life and get pregnant in less than 3 months after 2 years of infertility and miscarriages! Totally free!

When Anna Rapp was struggling with infertility and recurrent early miscarriage, she was diagnosed with diminished ovarian reserve, High FSH, low AMH, low follicle count, endometriosis, and an MTHFR mutation. Despite being told donor eggs were her only solution, Anna used her graduate training in research methods and analysis to read everything she could find on fertility and egg health. Ultimately, she lowered her FSH and got pregnant naturally (twice). She blogs about how she did it and encourages her readers to take charge of their fertility journey and get happy, healthy, and pregnant!