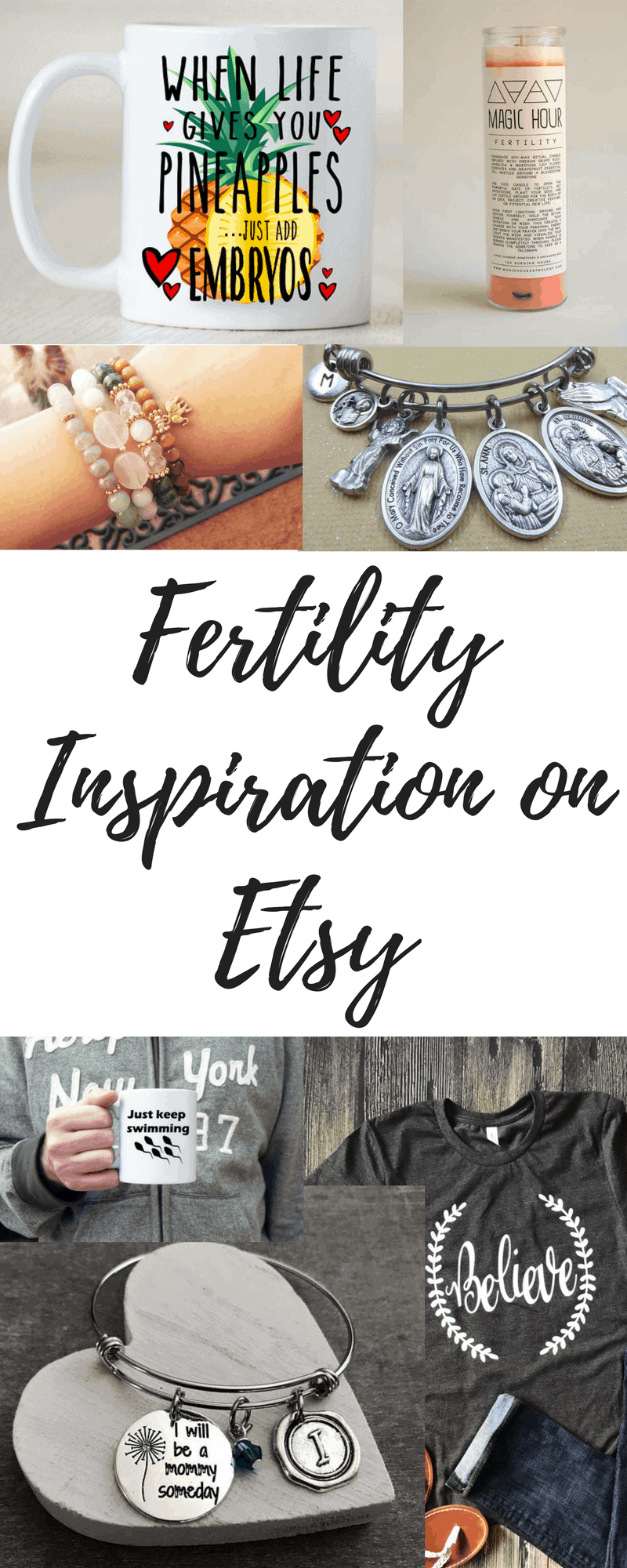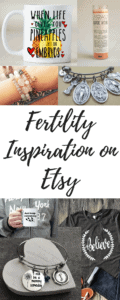 *This post contains affiliate links which at no cost to you provide me with some small change to help keep this blog running! If you decide to buy something I recommend, please consider clicking through one of my links to help support this blog and my family!  Thank you!
I love Etsy. It's true. I can get lost shopping there, and I love how most of the products are so unique.  Etsy is a place where plenty of crafters are aware of the struggle for some of us to conceive, and as such have created plenty of products to support us during TTC, infertility, and pregnancy after infertility and miscarriage. Some of these gifts might be perfect to get for your friend who is trying to conceive, but some you may want to buy for yourself as a treat!
Although the holidays are a time of merriment and gift giving to others, it can be a hard time for people struggling to build a family.  And you know what- there is nothing wrong with buying yourself a little treat! One of the most important lessons of my fertility journey was that I really had to start mothering myself.  That meant spending time doing self-care, feeding myself well, and just generally being gentle and loving towards myself.  And you know what? Sometimes that means buying myself a present.
Before I share the gifts I just want to highlight a couple of special Etsy shops that you might want to browse around:
FertileGems – Fertility jewelry- and its lovely!
TheFertileGarden – Fertility jewelry, infertility gifts, and IVF/IUI support items
FertileLotus– Yoga & Buddhist inspired Fertility Bracelets & Jewelry
LottieandCo – Fertility Apparel and Gifts
I've separated these gifts into a few categories- inspirational,  funny, religious, fertility charms & magick, and pregnancy & birth.  Like I said before, you can't find stuff like this anywhere other than Etsy! Remember, these are just a selection!  Etsy is a treasure trove of fertility-inspired gifts, jewelry, inspiration, and ritual supplies!
Inspirational
Funny
Religious
Fertility Charms & Magick
I really want this ring!!!!
Pregnancy & Birth
✕
Want to get pregnant fast?
Love lists? Me too. Grab my 79 Things I did to transform my life and get pregnant in less than 3 months after 2 years of infertility and miscarriages! Totally free!

Anna Rapp is a fertility journalist and non-toxic living expert. When Anna Rapp was struggling with infertility and recurrent early miscarriage, she was diagnosed with diminished ovarian reserve, High FSH, low AMH, low follicle count, endometriosis, and an MTHFR mutation. Despite being told donor eggs were her only solution, Anna used her graduate training in research methods and analysis to read everything she could find on fertility and egg health. Ultimately, she lowered her FSH and got pregnant naturally (twice). She blogs about how she did it and encourages her readers to take charge of their fertility journey and get happy, healthy, and pregnant!