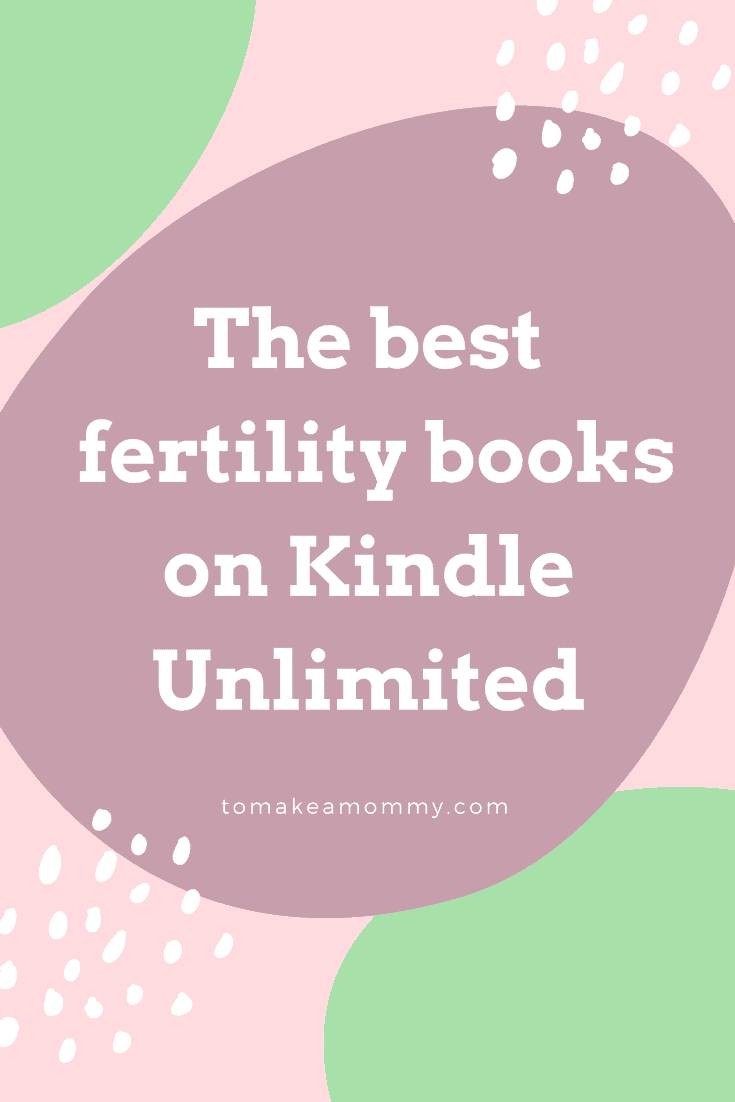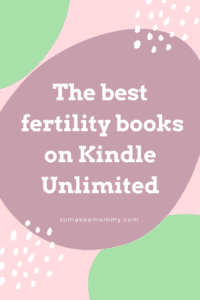 *This post contains affiliate links which at no cost to you provide me with some small change to help keep this blog running! If you decide to buy something I recommend, please consider clicking through one of my links to help support this blog and my family!  Thank you!
So my husband has been devouring novels and it was starting to impact our budget as he couldn't stop buying Amazon kindle books.  We decided it made more sense budget-wise to join Kindle Unlimited so he could read as many novels as he liked.  I was super excited because I had been seeing all sorts of random fertility-related Kindle books that were free on Kindle Unlimited!  So over the last couple of months I've been reading plenty with our subscription and I wanted to provide you all with some reviews.
First-  none of these free ebooks come close to my favorite books- It All Starts with the Egg, The Infertility Cure, and my new favorite, Yes, You Can Get Pregnant!  These are my fertility bibles, and I would highly recommend them.  If you are the nerdy academic type who prefers studies and evidence-based suggestions, get It All Starts with the Egg.  If you are into evidence-based advice but also enjoy eastern medicine mind-body advice, go with Yes, You Can Get Pregnant!  I think everyone should have The Infertility Cure on their bookshelves as a reference to go to after talking with your acupuncturist. Oh!  And of course, my favorite testimonial and infertility success story  is Inconceivable.
But, sometimes, you just want FREE.
There are dozens upon dozens upon dozens of free fertility-related e-books on Kindle Unlimited.  It is truly mind boggling how many people are writing about how to get pregnant.  The good thing is that the GOOD ones are mostly all writing the same story as I am.  Clean eating organic diet, cleansing fertility harming toxins, and develop a mind-body routine for fertility.  Although I like to think you don't NEED anything other than my blog and additional googling for your condition, there is something really reassuring about reading the same thing from multiple authors.  
Now, unfortunately, there are some pretty awful free books on there.  Then there are a number that are pretty good, BUT they give advice I disagree with- like EVERYONE should eat dairy or whole wheat, or legumes.  Or that you only need to minimize alcohol and caffeine (need to ditch those completely, my dear!). But even some of those books have some good recipes or information hiding in them!
There are three different kinds of fertility books that I've been reading on Kindle Unlimited.  One kind is the self-help or "how to get pregnant" book.  These are generally written by nutritionists or women who have "beaten infertility" through lifestyle changes and are mostly about diet and removing toxins.  The second kind are infertility testimonial books.  I don't like any of the books that are just written misery of the infertility journey.  Yuck, been there, don't want to read about it.  I only want success stories! The third kind are the weird miscellaneous books on fertility.  I like a couple, and they are below.
There are also some super smutty "romance" fertility books.  I was amused by their descriptions but couldn't bring myself to read them! Maybe someday I will, I do like smutty romance novels.
Below are the books I recommend from the many available.  If you have Kindle Unlimited, enjoy at your leisure!  If you don't have Kindle Unlimited, you can sign up for A FREE MONTH and then discontinue.  This is awesome because most of these books are only, like, 40 pages long.  So you can do a free month, read all of them (easy, I've organized them here for you), and then cancel your subscription.  Put a note in your Google calendar or planner now to cancel the subscription before you reach the end of the month! Link below on picture for easy sign-up 🙂

Self-Help / Get Pregnant Books
Getting Pregnant Faster: The Best Fertility Herbs & Superfoods for Faster Conception – I actually bought this one a few years ago back before Kindle Unlimited was an option! I really like this one for its detailed look at each herb and superfood.  This book has more detailed and nuanced information than I have found in other locations on the effects of specific herbs.
Fabulously Fertile: I really like this one. The author, Sarah Clark is a health coach and is really passionate about the fertility diet.  She gets it mostly right except she allows for natural sweeteners (honey, maple syrup, etc.), and too much fruit.  Otherwise this is a good book that covers diet and toxin information.  She does  great job of explaining why you need to ditch caffeine, dairy, gluten, etc.
Naturally Knocked Up – This is by the author of the website Natural Fertility & Wellness.   Be aware, she comes from a particularly negative view of interventions like Clomid, IUI, and IVF.   The thing I like best about this book is she covers so much- diet, vitamins, herbs, how to remove toxins, exercise, adrenal fatigue, mind-body therapies, cycle charting, lubricants,etc .  She goes through the 11 different labels you might find on eggs to help you pick the best ones. Wow! Things I don't like: she's pro-dairy (though only eats "raw" dairy), she says you can do mild diet interventions (I say go for the gold), and she goes kind of intensely Christian at some points.  Don't get me wrong, I'm a Christian, but she talks about how she doesn't believe in evolution, and how some alternative healing modalities are evil because they don't align with Christianity.  I still think it is worth the free read for sure, just know I warned you.
How to Improve Egg Quality: The Smart Way to Get Pregnant – This is a well researched book on the topic of egg quality.  It has tons of information although the organization of it is a bit wild, because she's packing so much in.  
The Wise Woman Herbal for the Childbearing Year – I adore this book.  I have it in hard-copy and was pleased to see it in Kindle Unlimited.  It is not just fertility focused but includes herbal remedies for fertility, pregnancy, childbirth, lactation, and newborns.  If you like Susan Weed's style and the idea of the Wise Woman Tradition check out her (non-kindle) book Healing Wise (another one I adore).
Personal Testimonials/Memoirs (I only have one now that I really like, I'll add more if I find them).
Screw Infertility!  This is the only infertility testimonial/memoir  that I found on Kindle Unlimited that I really liked.  Although it talks about her trials, it is mostly focused on being an "infertility warrior" and staying positive.  Best of all, I like that Robyn, the author, gets her happy ending!
Prayer & Random
The Two Week Wait Challenge: A Sassy Girl's Guide to Surviving the TWW – So I'm not a huge fan of this author's writing style or the writing at the beginning of the book.  But the actual "Challenge" is very nice.  It gives you a self-care activity for each day of the two week wait.
Prayer Book and Prayers for the Childless: 21 Days Prayer Action to Overcome Infertility Book – So these prayers are a little intense, but is it just me or is there something kind of hot about a husband praying over his wife's body and declaring her fertile?  Example, "In the name of JESUS I command your body to respond to the word of GOD and I declare you to be pregnant."  Whew.  This is like a Christian prayer meets the Law of Attraction prayer book.  And, you know, free!
The Process, The Promise: a journal for infertility prayer – So this book is kind of weird.  It is kind of prayer book, kind of the author's personal journal, and kind of a Christian look at infertility.  And you know what? It's beautiful. The author's prayers and thoughts are more authentic than most I've seen in this genre.  

What are your favorite fertility books on Kindle Unlimited?
✕
Want to get pregnant fast?
Love lists? Me too. Grab my 79 Things I did to transform my life and get pregnant in less than 3 months after 2 years of infertility and miscarriages! Totally free!

Anna Rapp is a fertility journalist and non-toxic living expert. When Anna Rapp was struggling with infertility and recurrent early miscarriage, she was diagnosed with diminished ovarian reserve, High FSH, low AMH, low follicle count, endometriosis, and an MTHFR mutation. Despite being told donor eggs were her only solution, Anna used her graduate training in research methods and analysis to read everything she could find on fertility and egg health. Ultimately, she lowered her FSH and got pregnant naturally (twice). She blogs about how she did it and encourages her readers to take charge of their fertility journey and get happy, healthy, and pregnant!