This post has been medically reviewed by Dr. Sarah Mathis, D.O.
This is the second in a series of guest posts written by women who got pregnant after loss or infertility. Each post will focus on a special natural fertility or wellness tool that boosted the author's health, happiness, and fertility on their journey!
This is a guest post about running and infertility from Samantha Kellgren of Simply Well Coaching. She struggled with Hypothalamic Amenorrhea while trying to conceive, due to her intense marathon training. After shifting her mindset, cutting WAY back on her exercise, and increasing her body fat, she successfully got pregnant.
If you're new to Anna's blog, here is her story of how she got pregnant after infertility!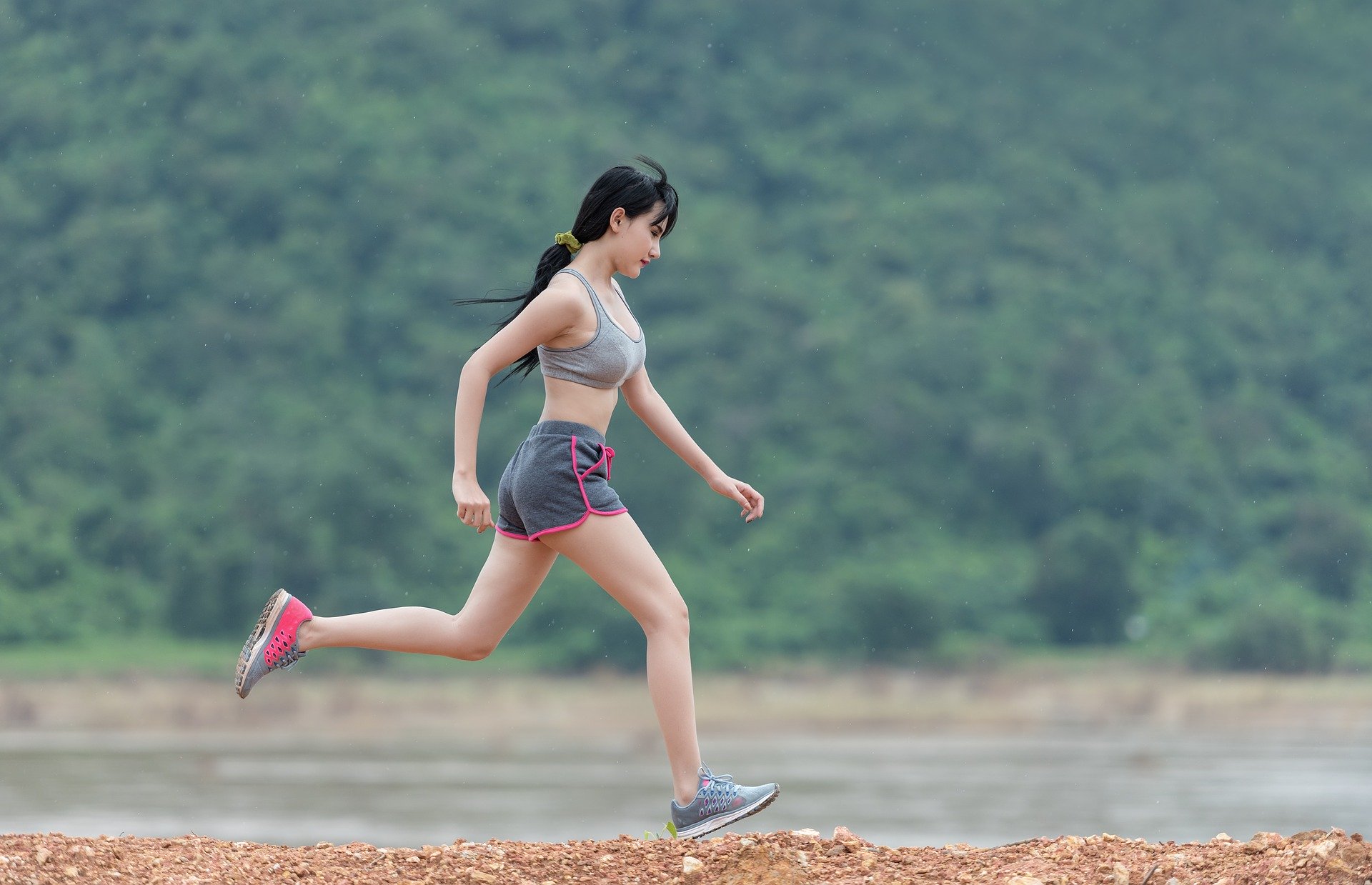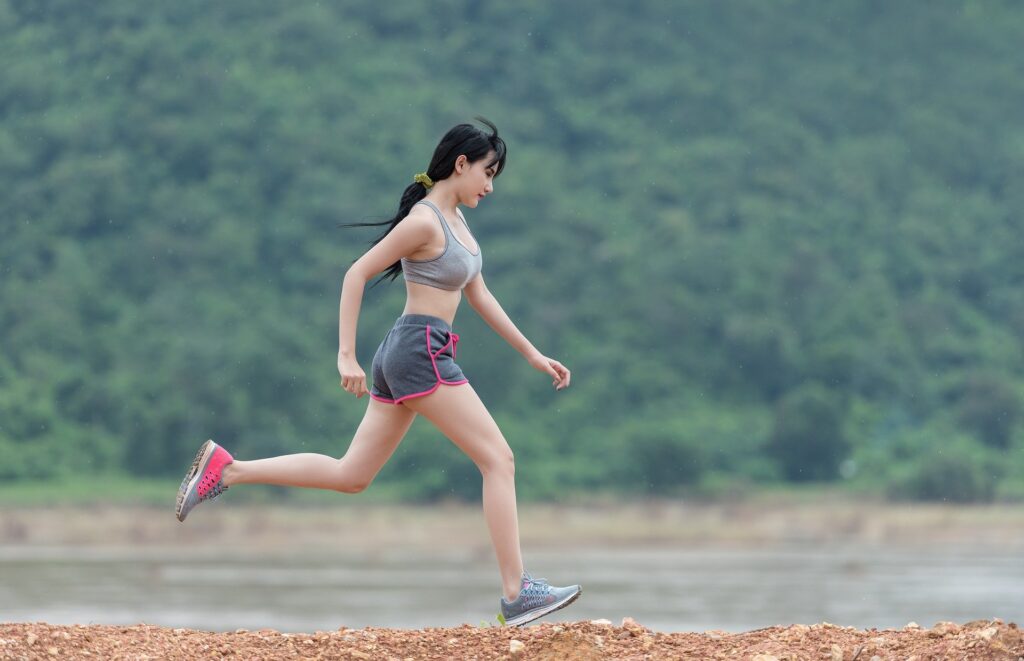 Samantha's Story: Breaking My Exercise Addiction Helped Me Have My Baby
My husband, Brett, and I got married in 2013 (a short 9 years after we started dating!) and while we always knew we wanted kids, we weren't ready until the beginning of 2016.

That January I ran my 7th marathon (this will be important later), and in February I stopped taking birth control. Being the Type A person that I am, I went to my OB, told her we were planning to start trying and was there anything I needed to know.

Her response was a big reason I am now a preconception & prenatal health coach. She basically told me to take a prenatal vitamin with Folic Acid, that I may need to cut back on endurance running (with no real explanation on what that meant for me) and that it could take a while to get a period but if I didn't get it in 3 months to come back.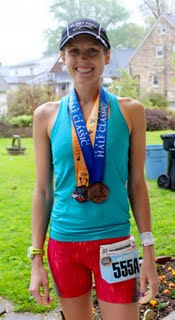 Running Marathons Made Me Infertile

As you likely guessed, I didn't get my period back, and wasn't pregnant. I went back to the OB immediately, somehow assuming there would be a simple change I could make that would start my period and I'd be good to go. Oddly enough, she tried to do just that by starting me on the Provera Challenge.

When I had no withdrawal bleeding I was sent to a reproductive endocrinologist, and unbeknownst to me, started a journey that would lead to IVF and a huge change in my lifestyle.

What Dr. Cohen found was the complete absence of a uterine lining. I had practically zero estrogen.
I mentioned my marathon running, and Dr. Cohen talked to me about the negative effects low body fat and intense exercise can have on fertility. He said I should up my body fat and do less intense exercise. I was never given the reason for my issues and was labeled "unexplained infertility."

This was such a huge and shocking blow. I knew I was ready for a baby, but being in that office talking about fertility treatments made a lump form in my throat and a cloud of worry and doubt appear over my head.

I realized how ready I was to start our family, and the thought of it being so out of my control was a helpless and frustrating feeling. I was determined to do what my body needed to bring my baby into my arms.
Hypothalamic Amenorrhea and Infertility

After a lot of searching online, and even speaking with another doctor, I found a name: Hypothalamic Amenorrhea. In a nutshell, I had messed with my hypothalamus, the epicenter of reproductive activity resting in the center of the brain.

My love of a great workout turned out to not be so great for my body. Like I mentioned, I was on the Pill for 13 years, so I don't even know when I lost my natural cycle, but I knew things had to change to have my baby.

Even though I was working with Dr. Cohen in a very western medicine fashion, I was determined to make lifestyle changes that would boost my fertility, and ability to carry a healthy pregnancy, naturally. For me, the biggest piece of this puzzle was exercise, specifically my endurance running.

At that point, running was a huge part of my life, and who I was. Running was my stress relief, my Me-Time, and the primary way I set, tracked, and crushed goals. It was nearly impossible to imagine a life that running wasn't a part of. But, it was clear I needed to.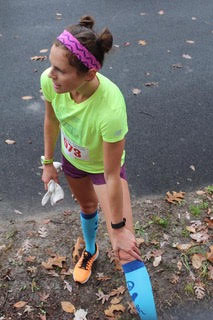 Here are four steps I went through to not only change my exercise habits, but to feel happy and fulfilled doing so.
How I cured my Hypothalamic Amenorrhea and got pregnant

Researching Hypothalamic Amenorrhea for confirmation

I needed to be confident that cutting way back on running and intense exercise would not be in vain. I wanted facts to back this change so when I felt the urge to go back to the comfort of my old routine, I could look at research that proved I was doing the right thing.

The overwhelming amount of information out there regarding exercise and fertility focuses on exercising more. The assumption is that – like most Americans – women aren't getting the exercise they need and likely have excess body fat and weight.

For every woman with Hypothalamic Amenorrhea, this is the exact opposite advice than they need. When it comes to fertility, it's not beneficial to be at the low end of the BMI chart, and having low body fat. It took some reading to discover that even though a healthy BMI is 18-25, the ideal BMI for fertility is actually 20-25. (Here's a great site explaining why and that will help you calculate your BMI)
When your BMI falls below 19, your body can go into starvation mode, and your fertility can shut down.

Read This: Optimal Weight, Body Fat, and Exercise for Fertility

To confirm this concept and hear personal accounts, I turned to the amazing Nicola Rinaldi. Her website, noperiodnowwhat.com, and book, No Period. Now What? are packed with research and personal stories of recovery, proving that too much exercise – and too little body fat – has a negative effect on fertility.
Intensive Exercise & Infertility: What the Research Says
It is easy to find the studies on how exercise HELPS fertility.
The problem is that high intensity exercise, such as long-distance running, can actually hurt fertility, especially if you have a lower body mass index (BMI). And, in fact, exercise in general CAN be detrimental to fertility.
Much of this is due to energy deficits- many women are simply unable to match the caloric intake needed to make-up for what they lose in exercise.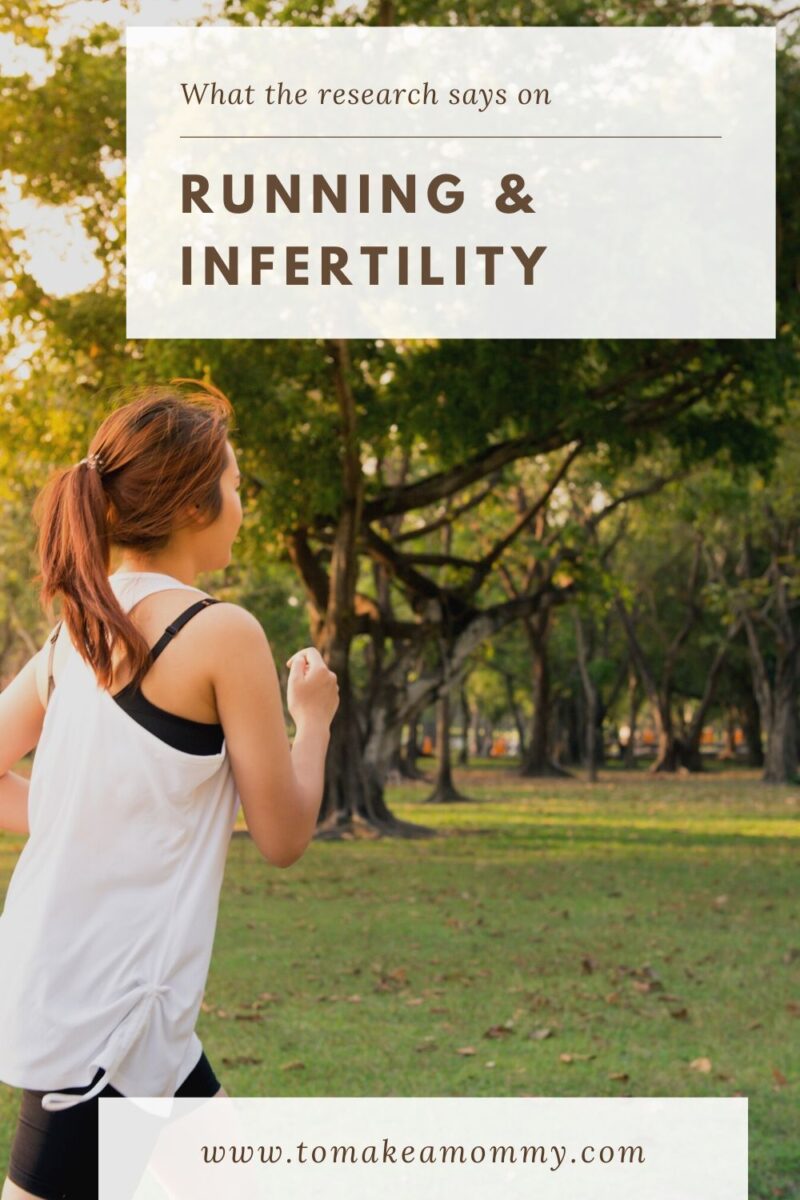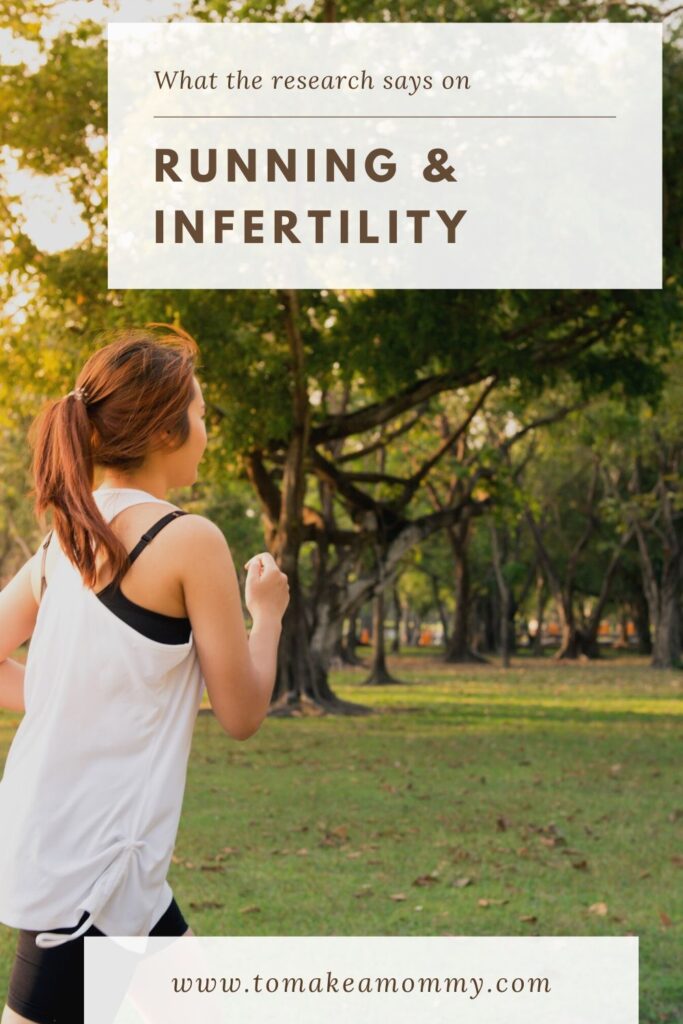 Here is what the research says about intensive exercise and infertility:
Here is the good news- almost all of this can be corrected by fixing the issue of the caloric deficit. Choosing less intense exercise, increasing caloric intake, and gaining weight if you have a lower BMI, can all help you move towards increased fertility

New running plan for fertility
As a planner, and someone who loves following a training plan, the idea of not having a game plan put me on edge. I had been running anywhere from 25-50 miles a week, 4-5 days a week for a decade, and simply stopping made me feel like something in my life was missing.

I made a new goal. Instead of a race on the calendar, my goal became training my body to carry a baby. The research, over and over again, shows that over-exercising reduces chances of conception.
I decided to take out all of my interval runs – meaning I would only run at a moderate pace where I could hold a conversation as opposed to intervals of pushing myself very hard and recovering – and reduce my running days to 2-3 a week, running no longer than 30 minutes each session.

This way, I still had a routine, but it was in the normal healthy range of activity. I still had my outlet of running, but wasn't exhausting my body.

Mind-Body Exercise for Fertility

Just because I cut way back on my running, didn't mean I became a couch potato. Moving my body is essential to my happiness, and I was determined to find a way to move without impacting my fertility.

Yoga and walking fit that bill perfectly. Stress has been linked to fertility issues and yoga is a well known stress relief. I had been doing yoga for around 3 years before trying to conceive, but I was not regular in my practice, and certainly wasn't looking for fertility boosting yoga poses.

Once I cut back on running and intense bootcamp style classes, being intentional about getting to yoga class or following a fertility friendly yoga video became part of my weekly exercise routine. I aimed for 3 sessions a week, and still do, of either a class or at least 30 minutes on my own or following a YouTube video.

Walking became my new running. A big reason why I ran was the mental space it gave me to be alone and let my mind wander. Luckily, walking provides the same benefits without the intensity of running. Walking has also been shown to improve your chances of getting pregnant.

Adding in yoga and walking helped me fill the void that was left when I cut back on running, and helped me feel more connected with my body. Running and intense exercise was all about pushing myself and doing more. Yoga and walking made me slow down and listen to what my body really needed.
Read This -> Starting Your Fertility Yoga Practice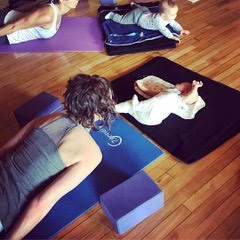 How I cured my Hypothalamic Amenorrhea and got pregnant
Mindset shift around exercise

Having a mindset shift cannot be forced, but I noticed a change in my thinking after a few weeks of this drastic change in my fitness routine. I never could imagine basically ditching running and staying sane. But I did.

Between our first Frozen Embryo Transfer (which ended up being a chemical pregnancy), and our next attempt the following month, I felt happy with the changes I was seeing in my body, and I stopped cringing when I saw my old race photos thinking "I'll never be that fast again!"
I clearly needed to add body fat, and while I wasn't freaking out about it, I still had the idea floating around that I could go back if I wanted once I had a baby.
One day looking in the mirror, that feeling changed. I wasn't "OK" with my new softer features, I liked them. I didn't want to go back.

My new mindset meant a week at the lake with my family or a 3 day music festival weekend wasn't a stress-filled puzzle of when I could workout, or if I was doing enough. I can't explain the freeing feeling of not worrying about my activity level.
No wonder my body was stressed!

Read This: Four Red Flags Your Exercise is Unhealthy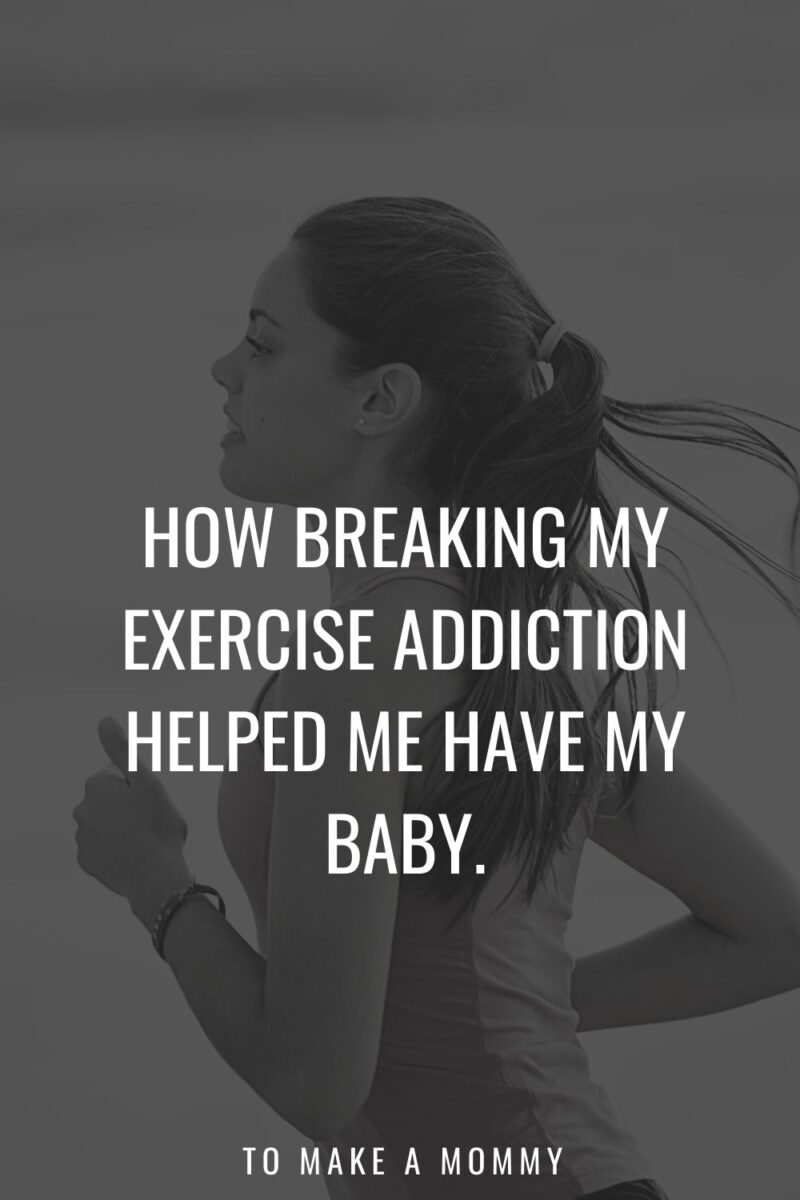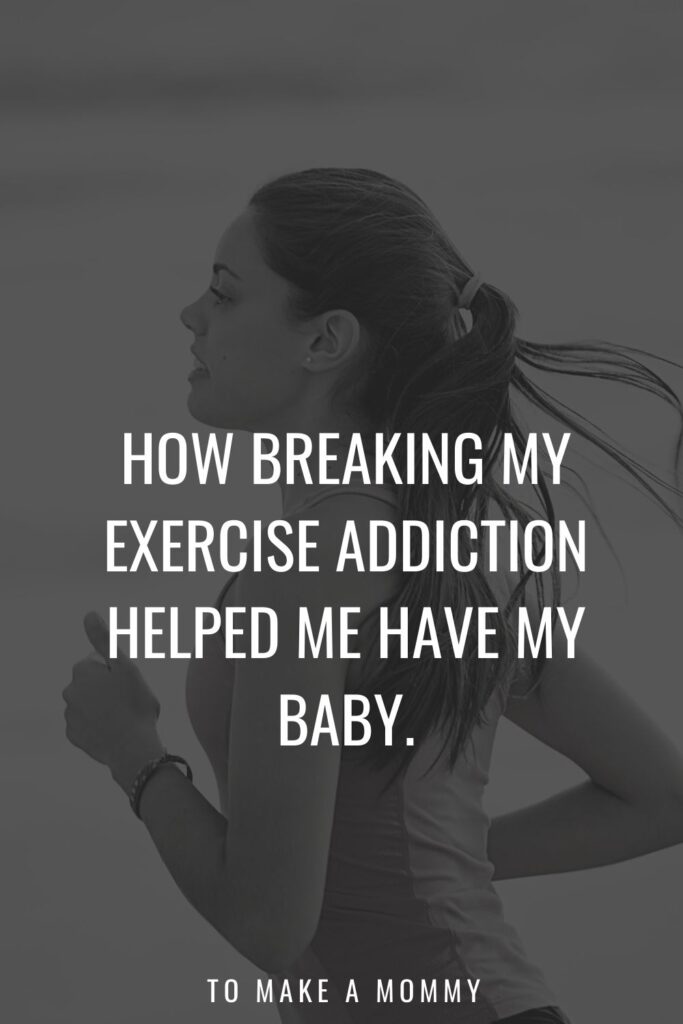 Finally Pregnant after I Quit Running!

I had cut way back on my exercise by the time we did our first Frozen Embryo Transfer. Our first hCG results showed I was pregnant, but my number was low enough to give me pause. By the second reading, the doctor confirmed it as a chemical pregnancy and I was devastated.

Still, I knew the changes I was making were the best thing I could do for my body. After all, as the nurse pointed out, my body was capable of getting pregnant. I regained hope pretty quickly, and I completely stopped all structured exercise just before our second transfer the following month.

This time, things felt different. Our first test showed an hCG of over 700, and in two days it was over 2,000. In the end, I only walked and biked until my OB appointment at 13 weeks, and added in strength and yoga after that. My son was born perfectly healthy on February 1st, 2018 and some days I still can't believe it. As for my running, I started back once I was cleared to exercise around 7 weeks postpartum, but my relationship with running and intense exercise is different now.

I run about once a week when I truly want to. I go purely for the stress relief and haven't done a race since before we started down the IVF road. I am in such a good place with my workouts, and I am so glad I listened to what my body was telling me.

When you enjoy a tough workout, cutting back is not easy. Whether it's running, Cross Fit, or weight lifting, it's part of your identity and giving it up can feel like you're losing yourself. If you're trying to get pregnant and your exercise habits are working against you, it's time for a change. I promise you can do this.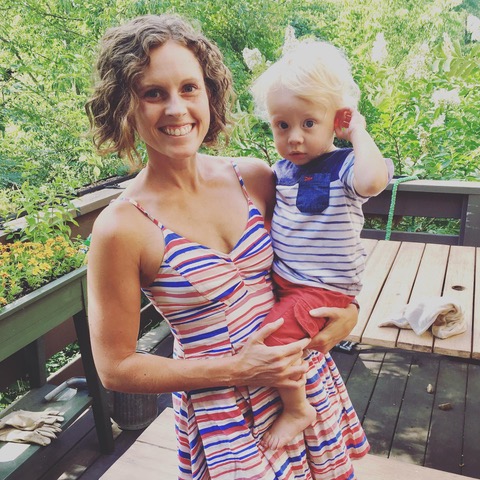 Samantha Kellgren is now a fertility coach specializing in women who undereat and overexercise. If you decide to work with her be sure to mention you found her through my blog for a 10% discount!
✕
Want to get pregnant fast?
Love lists? Me too. Grab my 79 Things I did to transform my life and get pregnant in less than 3 months after 2 years of infertility and miscarriages! Totally free!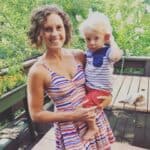 Samantha Kellgren recovered from Hypothalamic Amenorrhea and was able to get pregnant through several lifestyle changes including quitting running. She now maintains a stress-free relationship with exercise and nutrition while being a mother to her miracle. She is now a fertility coach at Simply Well Coaching, specializing in women with hypothalamic amenorrhea, or who overexercise and eat too little.